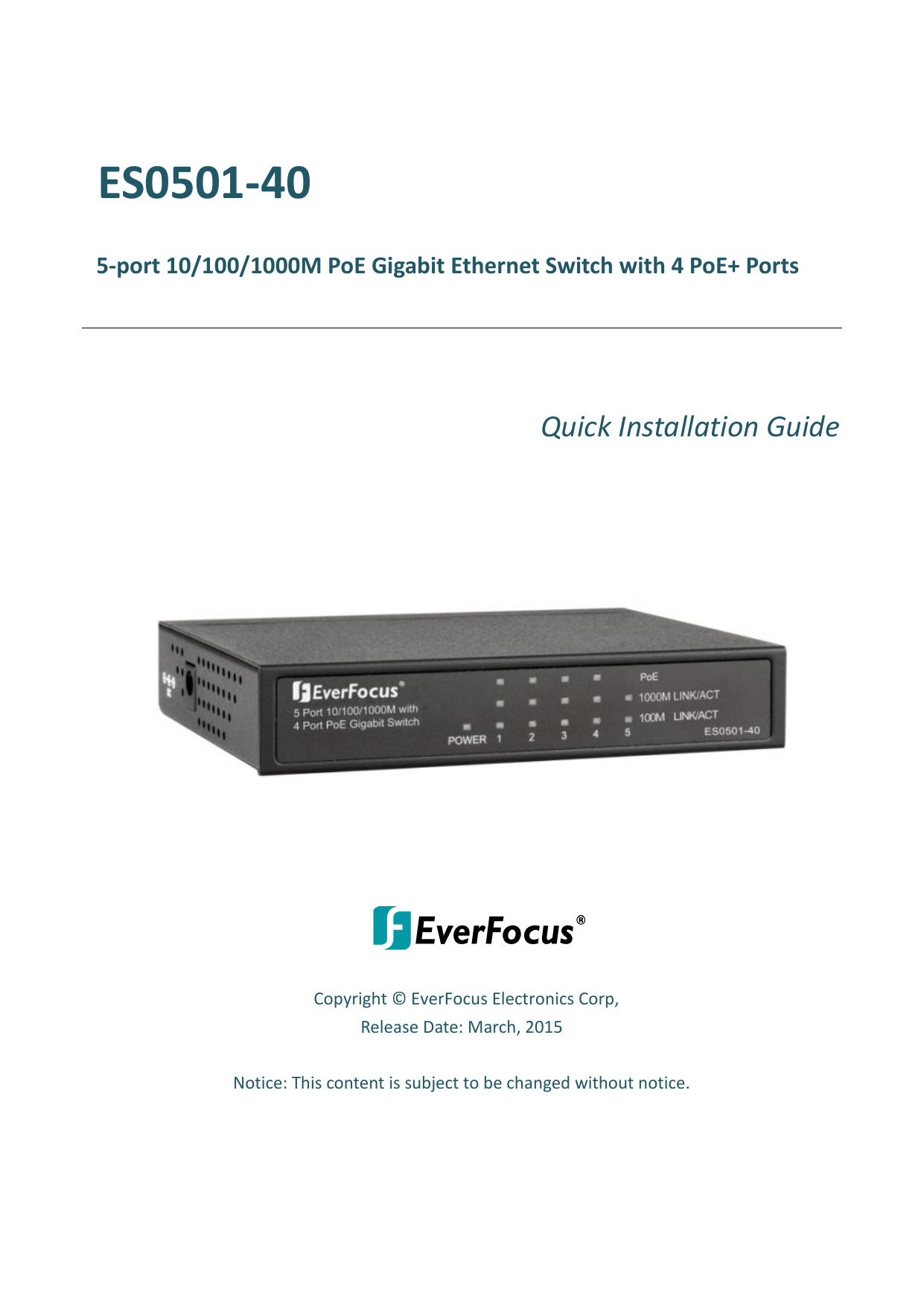 ES0501-40
5-port 10/100/1000M PoE Gigabit Ethernet Switch with 4 PoE+ Ports
Quick Installation Guide
Copyright © EverFocus Electronics Corp,
Release Date: March, 2015
Notice: This content is subject to be changed without notice.
FCC Warning
This device has been tested and found to comply with limits for a Class A digital device, pursuant to Part
15 of FCC Rules. These limits are designed to provide reasonable protection against harmful interference
when the equipment is operated in a commercial environment. This equipment generates and radiates
radio frequency energy and, if not installed and used in accordance with the user's manual, it may cause
interference in which case users will be required to correct interference at their own expenses.
CE Warning
This is a Class A product. In a domestic environment, this product may cause radio interference in which
case the user may be required to take adequate measures.
1. Introduction
This switch provides 5 10/100/1000M ports. It is designed for easy installation and high performance in an
environment where traffic is on the network and the number of users is increased continuously.
It consists of 4 PoE/PSE ports and can solve the limitation of outlet locations. In addition, it will offer a
system designer more flexible solution to locate the network device everywhere.
The compact desktop size is specifically designed for small to medium workgroups. It can be installed
where space is limited; moreover, it provides smooth network migration and is easy to upgrade the
network capacity.
2. Package Contents
Before you start to install this switch, please verify your package that contains the following items:
One PoE+ Gigabit Ethernet Switch
One Power Adapter
One Power Cord
One Quick Installation Guide
Note: If any of these items is missing or damaged, please contact your local supplier for the replacement.
PoE Switch
3. Key Features







5 Port 10/100/1000M Nway (Auto-negotiation) Switch with 4 PSE/PoE ports
4-port shares total power 70W and support the Max. 30 W for each PSE/PoE port
Palm size with metal case
Auto-learn of networking configurations
Auto-detect full/half-duplex modes for any port
Dedicated full-duplex 2000Mbps bandwidth
Store-and-Forward switching methods




IEEE 802.3x flow control for full-duplex and back-pressure flow control for half-duplex
Non-blocking & Non-head-of-line blocking full wire speed forwarding
Auto-MDI/MDI-X function for any port
Smart plug & play
4. Front Panel (LEDs)
LED Indicators of 5 Port with 4 PoE/PSE 10/100/1000M Switch
LED
Power
100M or
1000M
LINK/ACT
PoE
Status
Description
On
Power is on.
Off
Power is off.
On
Port is for connection.
Off
No connection.
Flashing
Data is transmitting or receiving
On
Port is linked to Power Device
Off
No Power Device is connected
LED Display
2
PoE Switch
5. Connections
Switch/Hub to this 5 Port with 4 PoE/PSE 10/100/1000M Switch
This switch provides automatic crossover detection functionality for any port. It is simple and friendly to
up-link to another switch without crossover cable.
6. PC/Other devices to this 5 Port with 4 PoE/PSE 10/100/1000M Switch
Via a twisted pair cable straight through, this switch can be connected to PCs, servers and other network
devices.
7. Power Device to this 5 Port with 4
PoE/PSE 10/100/1000M Switch and
getting 48V power source through a Cat. 5 cable
Using Cat. 5 twisted-pair cables to connect power devices to port 1~4 of this switch. This switch will supply
48V power to each power device via a Cat. 5 twisted-pair cable. Please make sure that the power Device
should also comply with IEEE 802.3af /at standard.
Rear Panel (Power)
Power is supplied by an external DC power adapter.
3
PoE Switch
8. Technical Specifications
Standards
Features
Filtering/
Forwarding Rates
Transmission Media
LED Indicators
Power Input
Power Output
Power Consumption
Dimensions
Weight
Operating Temperature
Storage Temperature
Humidity
Certifications
IEEE 802.3af / at
IEEE 802.3 10BaseT
IEEE 802.3u 100BaseTX
IEEE 802.3ab 1000BaseT
IEEE 802.3x Flow control
Number of Ports: 5 10/100/1000BaseT(X) with 4 PoE/PSE Ports
MAC Address: 2K
Packet Buffer: 1 Mbits
Switching Capacity: 10Gbps
Jumbo Frame: 9K
Method: Store and Forward
1000Mbps port – 1,488,000pps
100Mbps port – 148,800pps
10Mbps – 14,880pps
10/100/1000BaseTX Cat. 5 UTP/STP
Per Port:100M LINK/ACT, 1000M LINK/ACT, PoE
Per Unit: Power
DC 48V / 1.45A
48V/DC
70 Watts
130 × 97 × 24 mm
(L x W x H)
0.3kg
0 to 40°C
-20 to 90°C
10 to 90% RH (non-condensing)
FCC Class A, CE
4
EverFocus Electronics Corp.
EverFocus Taiwan:
EverFocus Europe - Germany:
12F-1, No.79, Sec. 1, Shin-Tai Wu Road,
Hsi-Chih, New Taipei City, Taiwan
TEL: +886 2 2698 2334
FAX: +886 2 2698 3943
www.everfocus.com.tw
marketing@everfocus.com.tw
Albert-Einstein-Strasse 1, D-46446
Emmerich, Germany
TEL: +49 2822 93940
FAX: +49 2822 939495
www.everfocus.de
info@everfocus.de
EverFocus China - Beijing:
EverFocus China - Shenzhen:
Room 609, Technology Trade Building,
Shangdi Information Industry Base,
Haidian District, Beijing 100085, China
TEL: +86 10 6297 3336~39
FAX: +86 10 6297 1423
www.everfocus.com.cn
marketing@everfocus.com.cn
4F, No. 2, D4 Building, Wan Yelong
Industrial Park, Tangtou Road, Shiyan,
Baoan, Shenzhen, Guangdong 518101, China
TEL: +86 755 2765 1313
FAX: +86 755 2765 0337
www.everfocus.com.cn
marketing@everfocus.com.cn
EverFocus USA - California:
EverFocus USA - New York:
1801 Highland Avenue, Unit A, Duarte, CA 91010, USA
TEL: +1 626 844 8888
FAX: +1 626 844 8838
www.everfocus.com
sales@everfocus.com
415 Oser Avenue, Unit S, Hauppauge, NY 11788, USA
TEL: +1 631 436 5070
FAX: +1 631 436 5027
www.everfocus.com
sales@everfocus.com
EverFocus Japan:
EverFocus China ‐ Shanghai:
3F, Kuramochi, Building II
2‐2‐3 Koto‐Bashi, Sumida‐Ku,
Tokyo, 130‐0022, Japan
TEL: +81‐3‐5625‐8188
FAX: +81 3 5625 8189
www.everfocus.co.jp
info@everfocus.co.jp
EverFocus India:
Room 403, Ruijin Business Center, No.96,
Zhaojiabang Road, Luwan district, Shanghai
200020, China
TEL: +86 21 6471 2229 / 6471 2291
FAX: +86 21 6471 0566
www.everfocus.com.cn
marketing@everfocus.com.cn
UBS, 629/1243, 1st Floor, G Block,
Behind Teacher's Colony,
Bandra Kurla Complex, Bandra (E),
Mumbai 400 051, India
TEL: +91 22 6726 4500
FAX: +91 22 6726 4518
www.everfocus.in
sales@everfocus.in
Your EverFocus product is designed
and manufactured with high quality
materials and components which can
be recycled and reused.
This symbol means that electrical and
electronic equipment, at their
end-of-life, should be disposed of
separately from your household waste.
Please, dispose of this equipment at
your local community waste
collection/recycling centre.
In the European Union there are
separate collection systems for used
electrical and electronic product.
Please, help us to conserve the
environment we live in!
Ihr EverFocus Produkt wurde entwickelt
und hergestellt mit qualitativ
hochwertigen Materialien und
Komponenten, die recycelt und wieder
verwendet werden können.
Dieses Symbol bedeutet, dass
elektrische und elektronische Geräte am
Ende ihrer Nutzungsdauer vom
Hausmüll getrennt entsorgt werden
sollen.
Bitte entsorgen Sie dieses Gerät bei
Ihrer örtlichen kommunalen
Sammelstelle oder im Recycling Centre.
Helfen Sie uns bitte, die Umwelt zu
erhalten, in der wir leben!