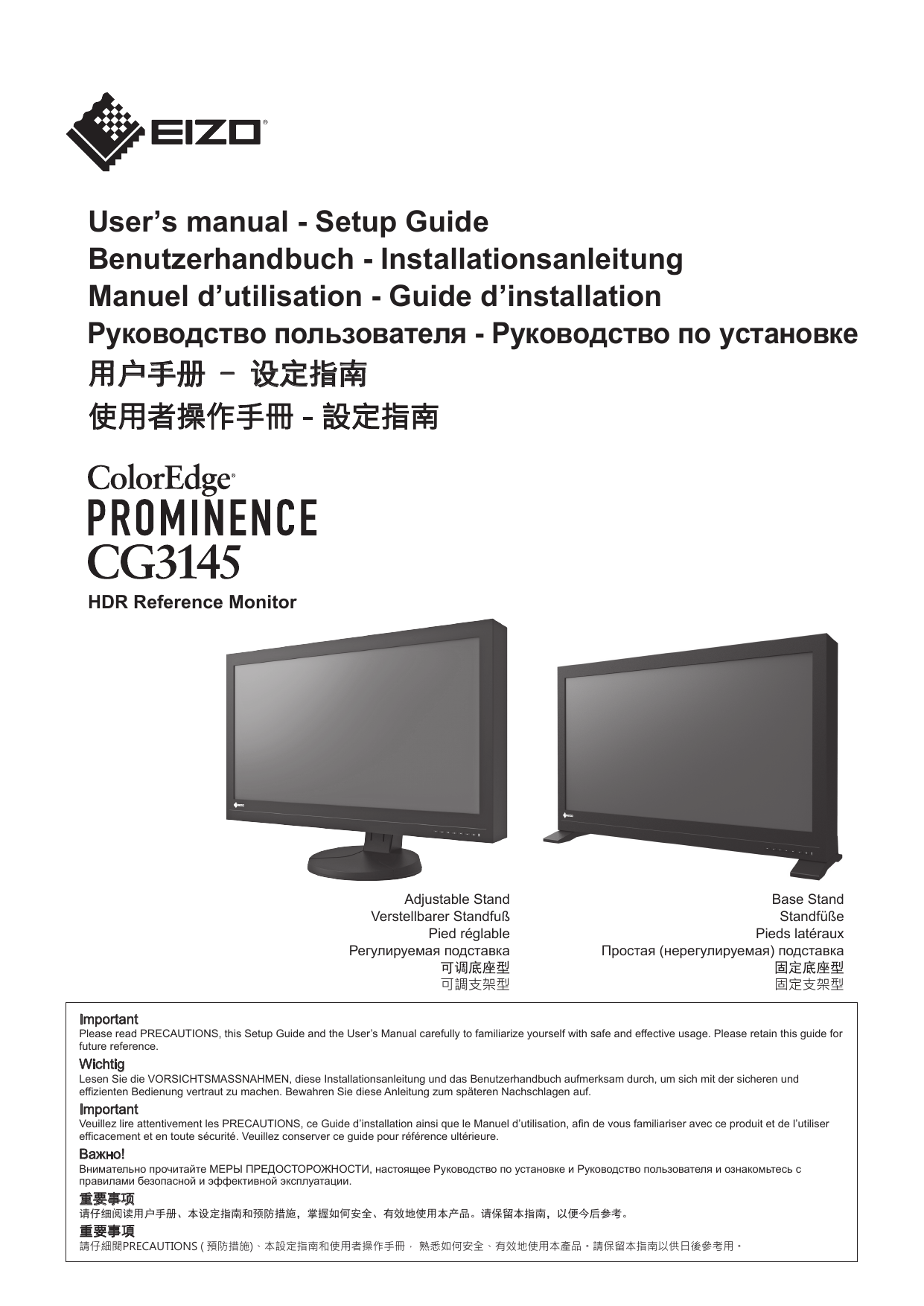 User's manual - Setup Guide
Benutzerhandbuch - Installationsanleitung
Manuel d'utilisation - Guide d'installation
Руководство пользователя - Руководство по установке
用户手册 - 设定指南
使用者操作手冊 - 設定指南
HDR Reference Monitor
Adjustable Stand
Verstellbarer Standfuß
Pied réglable
Регулируемая подставка
可调底座型
可調支架型
Base Stand
Standfüße
Pieds latéraux
Простая (нерегулируемая) подставка
固定底座型
固定支架型
Important
Please read PRECAUTIONS, this Setup Guide and the User's Manual carefully to familiarize yourself with safe and effective usage. Please retain this guide for
future reference.
Wichtig
Lesen Sie die VORSICHTSMASSNAHMEN, diese Installationsanleitung und das Benutzerhandbuch aufmerksam durch, um sich mit der sicheren und
effizienten Bedienung vertraut zu machen. Bewahren Sie diese Anleitung zum späteren Nachschlagen auf.
Important
Veuillez lire attentivement les PRECAUTIONS, ce Guide d'installation ainsi que le Manuel d'utilisation, afin de vous familiariser avec ce produit et de l'utiliser
efficacement et en toute sécurité. Veuillez conserver ce guide pour référence ultérieure.
Важно!
Внимательно прочитайте МЕРЫ ПРЕДОСТОРОЖНОСТИ, настоящее Руководство по установке и Руководство пользователя и ознакомьтесь с
правилами безопасной и эффективной эксплуатации.
重要事项
请仔细阅读用户手册、本设定指南和预防措施,掌握如何安全、有效地使用本产品。请保留本指南,以便今后参考。
重要事項
請仔細閱PRECAUTIONS ( 預防措施)、本設定指南和使用者操作手冊, 熟悉如何安全、有效地使用本產品。請保留本指南以供日後參考用。
1
2
Factory Preset: On
DisplayPort
HDMI
DisplayPort
Monitor (Adjustable Stand)
Monitor (Verstellbarer Standfuß)
Moniteur (pied réglable)
Монитор (с регулируемой подставкой)
显示器(可调底座型)
顯示器(可調支架型)
Monitor (Base Stand)
Monitor (Standfüße)
Moniteur (pieds latéraux)
Монитор (с простой подставкой)
显示器(固定底座型)
顯示器(固定支架型)
Werkseinstellung: Ein
USB
Réglage de fabrication: marche
Заводские настройки: On
恢复出厂设置:开启
原廠預設:開
3
HH200PR
PP200
PM200
UU200SS
4
HDMI
DisplayPort
Mini DisplayPort
Thunderbolt
USB
HH200PR
HDMI:
PP200
PM200
REF
User's Manual (Signal Information)
Benutzerhandbuch (Signalinformationen)
Manuel d'utilisation (Information signal)
Руководство пользователя
(Signal Information (Информация о сигнале))
用户手册(信号信息)
使用者操作手冊(訊號資訊)
PP200
PM200
How to remove
So wird abmontiert
Comment retirer le câble
Извлечение
拆卸方法
如何拆除
UU200SS
5
UU200SS
Required for ColorNavigator NX and the USB hub function.
Notwendig für die Nutzung von ColorNavigator NX und der USB-Hub-Funktion.
Requis pour l'utilisation de ColorNavigator NX et ses fonctions de concentrateur USB.
Требуется в случае использования ColorNavigator NX и USB-концентратора.
使用 ColorNavigator NX或 USB 集线器功能时需要。
使用 ColorNavigator NX 或 USB 集線器功能時需要。
6
Adjustable Stand only
Nur verstellbarer Standfuß
Uniquement avec le pied réglable
Только на регулируемой подставке
仅限于可调底座型
僅限於可調支架型
7
116mm
344°
Adjustable Stand only
Nur verstellbarer Standfuß
Uniquement avec le pied réglable
Только на регулируемой подставке
仅限于可调底座型
僅限於可調支架型
8
REF
9
http://www.eizoglobal.com
WWW
CG3145 User's manual
Change the HDR settings for HDR videos.
Recommended Resolution
HDR-Einstellungen für HDR-Videos ändern.
Empfohlene Auflösung
Modifiez les paramètres HDRI pour les vidéos HDRI.
Résolution conseillée
Перед просмотром HDR изображений требуется изменение настроек HDR.
Рекомендуемое разрешение
显示 HDR 视频时需要更改 HDR 设置。
推荐分辨率
顯示 HDR 影片時需要更改 HDR 設定。
建議的解析度
A calibration using ColorNavigator NX is recommended.
Eine Kalibrierung mittels ColorNavigator NX wird empfohlen.
4096 × 2160
Un calibrage avec ColorNavigator NX est recommandé.
Рекомендуется провести калибровку с использованием ColorNavigator NX.
推荐使用 ColorNavigator NX 进行校准。
建議使用 ColorNavigator NX 進行校正。
Regulatory Compliance Notice
This product is in compliance with FCC rules and regulations.
Conformité aux normes
Ce produit est conforme aux normes et réglementations de la FCC.
REF
User's manual
REF
Manuel d'utilisation
Einhaltung gesetzlicher Bestimmungen
Hinweise zur Auswahl des richtigen Schwenkarms für Ihren Monitor
Dieser Monitor ist für Bildschirmarbeitsplätze vorgesehen. Wenn nicht der zum Standardzubehör gehörigeSchwenkarm verwendet wird, muss
statt dessen ein geeigneter anderer Schwenkarm installiert werden. Bei der Auswahl des Schwenkarms sind die nachstehenden Hinweise zu
berücksichtigen:
Der Standfuß muß den nachfolgenden Anforderungen entsprechen:
a) Der Standfuß muß eine ausreichende mechanische Stabilität zur Aufnahme des Gewichtes vom Bildschirmgerät und des spezifizierten
Zubehörs besitzen. Das Gewicht des Bildschirmgerätes und des Zubehörs sind in der zugehörenden Bedienungsanleitung angegeben.
b) Die Befestigung des Standfusses muß derart erfolgen, daß die oberste Zeile der Bildschirmanzeige nicht höher als die Augenhöhe eines
Benutzers in sitzender Position ist.
c) Im Fall eines stehenden Benutzers muß die Befestigung des Bildschirmgerätes derart erfolgen, daß die Höhe der Bildschirmmitte über dem
Boden zwischen 135 – 150 cm beträgt.
d) Der Standfuß muß die Möglichkeit zur Neigung des Bildschirmgerätes besitzen (max. vorwärts: 5°, min. nach hinten ≥ 5°).
e) Der Standfuß muß die Möglichkeit zur Drehung des Bildschirmgerätes besitzen (max. ±180°). Der maximale Kraftaufwand dafür muß
weniger als 100 N betragen.
f) Der Standfuß muß in der Stellung verharren, in die er manuell bewegt wurde.
g) Der Glanzgrad des Standfusses muß weniger als 20 Glanzeinheiten betragen (seidenmatt).
h) Der Standfuß mit Bildschirmgerät muß bei einer Neigung von bis zu 10° aus der normalen aufrechten Position kippsicher sein.
Hinweis zur Ergonomie:
Dieser Monitor erfüllt die Anforderungen an die Ergonomie nach EK1-ITB2000 mit dem Videosignal, 4096 × 2160, Digital Eingang und mindestens
60,0 Hz Bildwiederholfrequenz, non interlaced. Weiterhin wird aus ergonomischen Gründen empfohlen, die Grundfarbe Blau nicht auf dunklem
Untergrund zu verwenden (schlechte Erkennbarkeit, Augenbelastung bei zu geringem Zeichenkontrast.)
Maschinenlärminformations-Verordnung 3. GPSGV:
Der höchste Schalldruckpegel beträgt 70 dB(A) oder weniger gemäss EN ISO 7779"
Copyright © 2017-2018 EIZO Corporation. All rights reserved.
00N0N046C1
SUG-CG3145-6
3rd Edition-May, 2018 Printed in Japan.

* Your assessment is very important for improving the work of artificial intelligence, which forms the content of this project