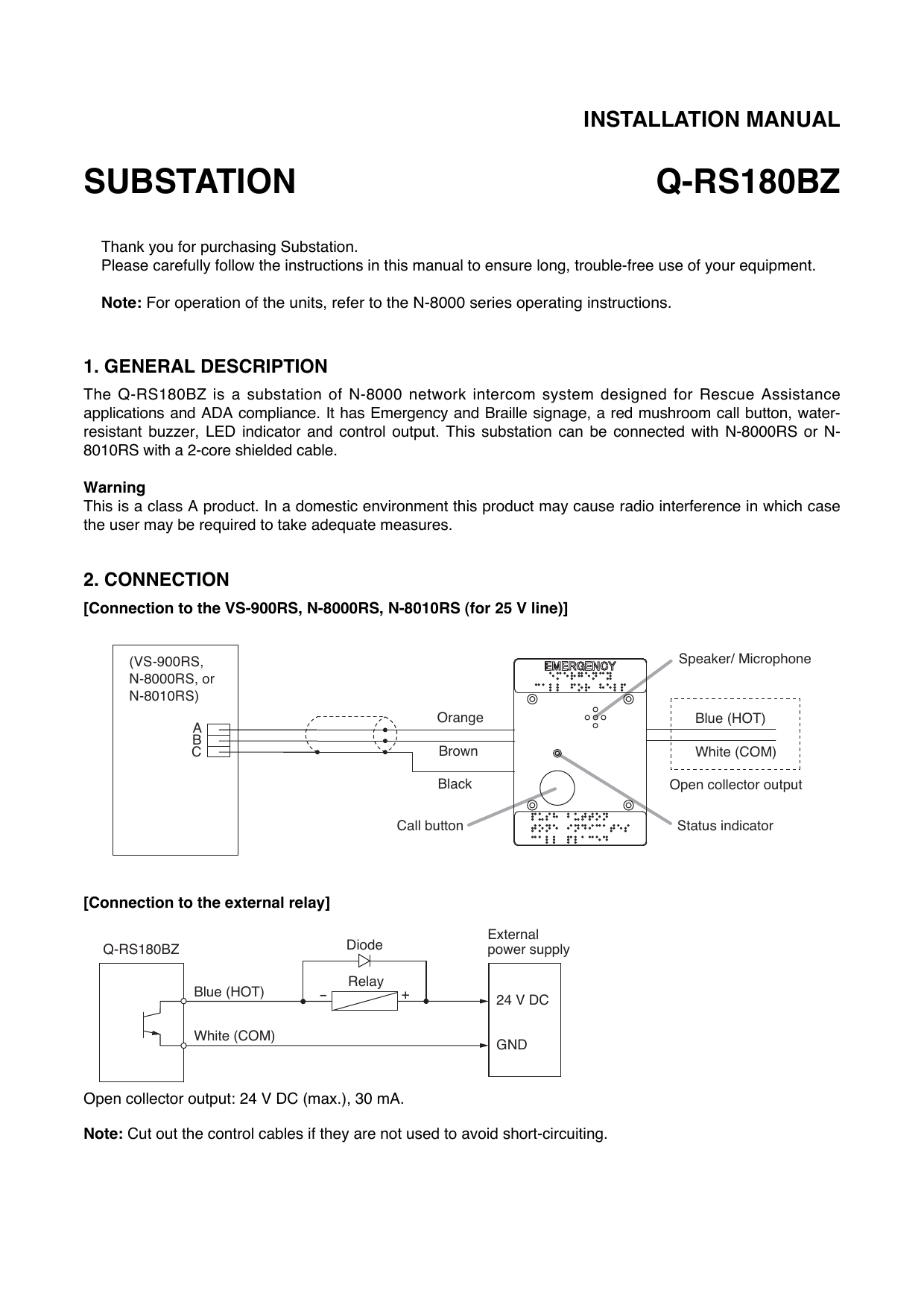 INSTALLATION MANUAL
SUBSTATION
Q-RS180BZ
Thank you for purchasing Substation.
Please carefully follow the instructions in this manual to ensure long, trouble-free use of your equipment.
Note: For operation of the units, refer to the N-8000 series operating instructions.
1. GENERAL DESCRIPTION
The Q-RS180BZ is a substation of N-8000 network intercom system designed for Rescue Assistance
applications and ADA compliance. It has Emergency and Braille signage, a red mushroom call button, waterresistant buzzer, LED indicator and control output. This substation can be connected with N-8000RS or N8010RS with a 2-core shielded cable.
Warning
This is a class A product. In a domestic environment this product may cause radio interference in which case
the user may be required to take adequate measures.
2. CONNECTION
[Connection to the VS-900RS, N-8000RS, N-8010RS (for 25 V line)]
Speaker/ Microphone
(VS-900RS,
N-8000RS, or
N-8010RS)
A
B
C
Orange
Blue (HOT)
Brown
White (COM)
Black
Open collector output
Call button
Status indicator
[Connection to the external relay]
External
power supply
Diode
Q-RS180BZ
Blue (HOT)
-
Relay
+
White (COM)
24 V DC
GND
Open collector output: 24 V DC (max.), 30 mA.
Note: Cut out the control cables if they are not used to avoid short-circuiting.
3. MOUNTING
Mount the substation to a 3-gang electrical box mounted to the wall.
Wall surface
Note
When using the PA paging function,
keep the station as far away from the
PA paging speaker as possible to
avoid acoustic feedback.
Q-RS180BZ
Oval head combination screw
M4 x 25 (accessory)
YC-150 Back box (option)
or 3-gang electrical box
Accessory screws
The Q-RS180BZ come with 2 types of screws: M4 x 25 and UNC No. 6-32 x 18.
For the electrical box provided with unified threads, use the UNC No. 6-32 x 18.
[Dimensional diagram]
162
35
92
Unit: mm
83.5
15.75
3
53
115
4. SPECIFICATIONS
Rated Input
Rated Impedance
Internal Speaker
Buzzer
Control Output
Wiring
Transmission Range
1W
625 Ω (1 W/ 25 V)
4 cm cone type
Water proof type
Open collector, Withstand voltage: 30 V DC, Control current: 30 mA
(The open collector output and the buzzer are kept turned on till the conversation is
finished after the call button was pressed.)
Two-core shielded cable
0.5 km (546 yd)/ ø0.5 mm (AWG24), 0.8 km (874 yd)/ ø0.65 mm (AWG22)
1.3 km (1421 yd)/ ø0.9 mm (AWG19)
Operating Temperature
Finish
–10 to +50°C (14 ºF to 122 ºF) (Temperature range not to freeze the speaker and switch)
Panel:
Stainless steel, hairline
Braille:
"EMERGENCY PUSH FOR HELP"
"FLASHING: CALL PLACED STEADY: CALL ANSWERED"
Call button:
Metal (RED Mushroom)
Printed circuit board: Weather-resistant coating
Dimensions
Weight
Accessory
Applicable Box
115 (W) x 162 (H) x 668.8 (D) mm (4.53" (W) x 6.38" (H) x 2.63" (D))
700 g (1.54 lb)
Box mounting screw (No.6-32 UNC x 8) ... 4, Box mounting screw (M4 x 25) ... 4
3-gang electrical box : YC-150 or YS-13A (option)
Note: The design and specifications are subject to change without notice for improvement.

* Your assessment is very important for improving the work of artificial intelligence, which forms the content of this project