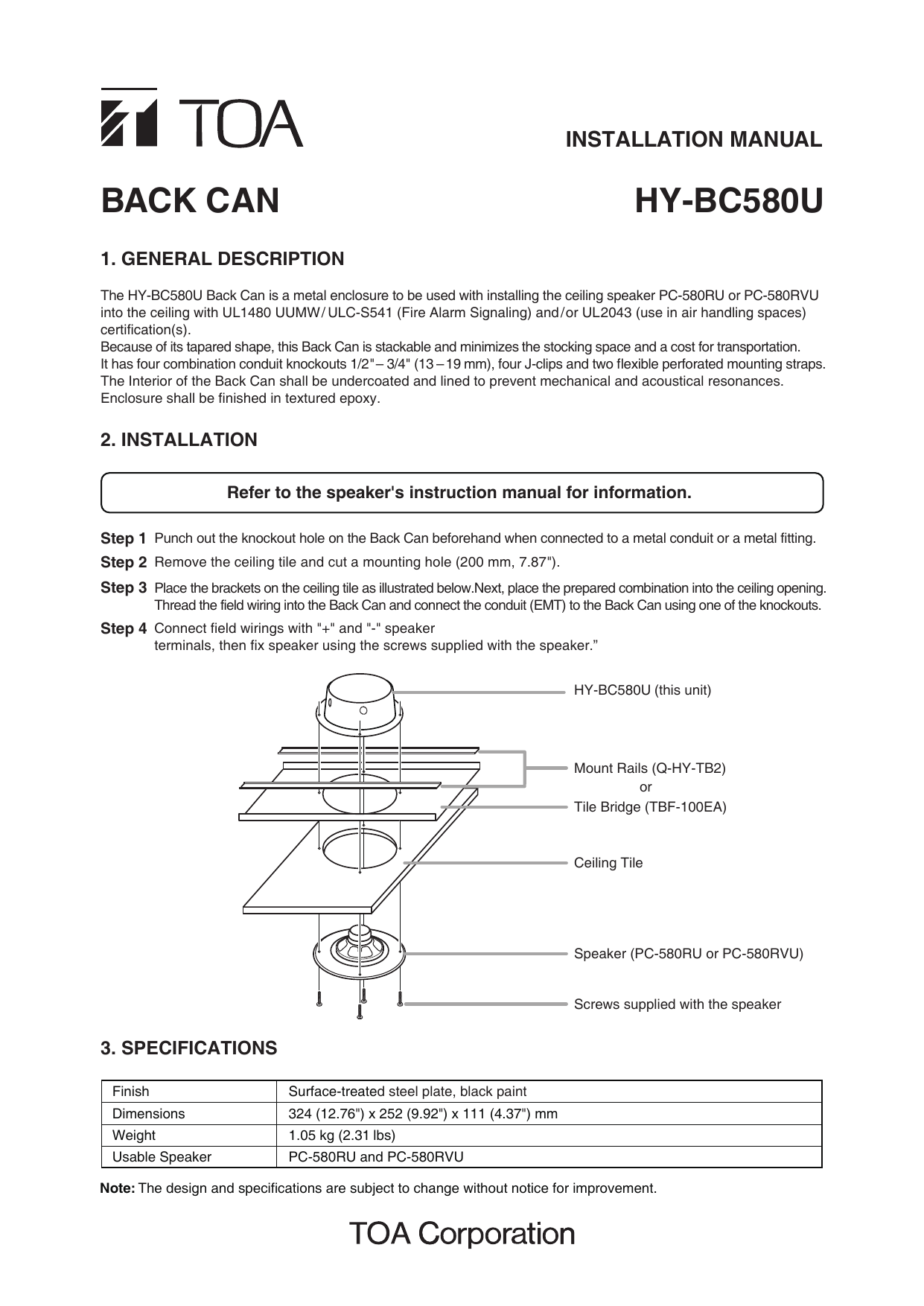 INSTALLATION MANUAL
BACK CAN
HY-BC580U
1. GENERAL DESCRIPTION
The HY-BC580U Back Can is a metal enclosure to be used with installing the ceiling speaker PC-580RU or PC-580RVU
into the ceiling with UL1480 UUMW / ULC-S541 (Fire Alarm Signaling) and /or UL2043 (use in air handling spaces)
certification(s).
Because of its tapared shape, this Back Can is stackable and minimizes the stocking space and a cost for transportation.
It has four combination conduit knockouts 1/2" – 3/4" (13 – 19 mm), four J-clips and two flexible perforated mounting straps.
The Interior of the Back Can shall be undercoated and lined to prevent mechanical and acoustical resonances.
Enclosure shall be finished in textured epoxy.
2. INSTALLATION
Refer to the speaker's instruction manual for information.
Step 1 Punch out the knockout hole on the Back Can beforehand when connected to a metal conduit or a metal fitting.
Step 2 Remove the ceiling tile and cut a mounting hole (200 mm, 7.87").
Step 3 Place the brackets on the ceiling tile as illustrated below.Next, place the prepared combination into the ceiling opening.
Thread the field wiring into the Back Can and connect the conduit (EMT) to the Back Can using one of the knockouts.
Step 4 Connect field wirings with "+" and "-" speaker
terminals, then fix speaker using the screws supplied with the speaker."
HY-BC580U (this unit)
Mount Rails (Q-HY-TB2)
or
Tile Bridge (TBF-100EA)
Ceiling Tile
Speaker (PC-580RU or PC-580RVU)
Screws supplied with the speaker
3. SPECIFICATIONS
Finish
Surface-treated steel plate, black paint
Dimensions
324 (12.76") x 252 (9.92") x 111 (4.37") mm
Weight
1.05 kg (2.31 lbs)
Usable Speaker
PC-580RU and PC-580RVU
Note: The design and specifications are subject to change without notice for improvement.

* Your assessment is very important for improving the work of artificial intelligence, which forms the content of this project