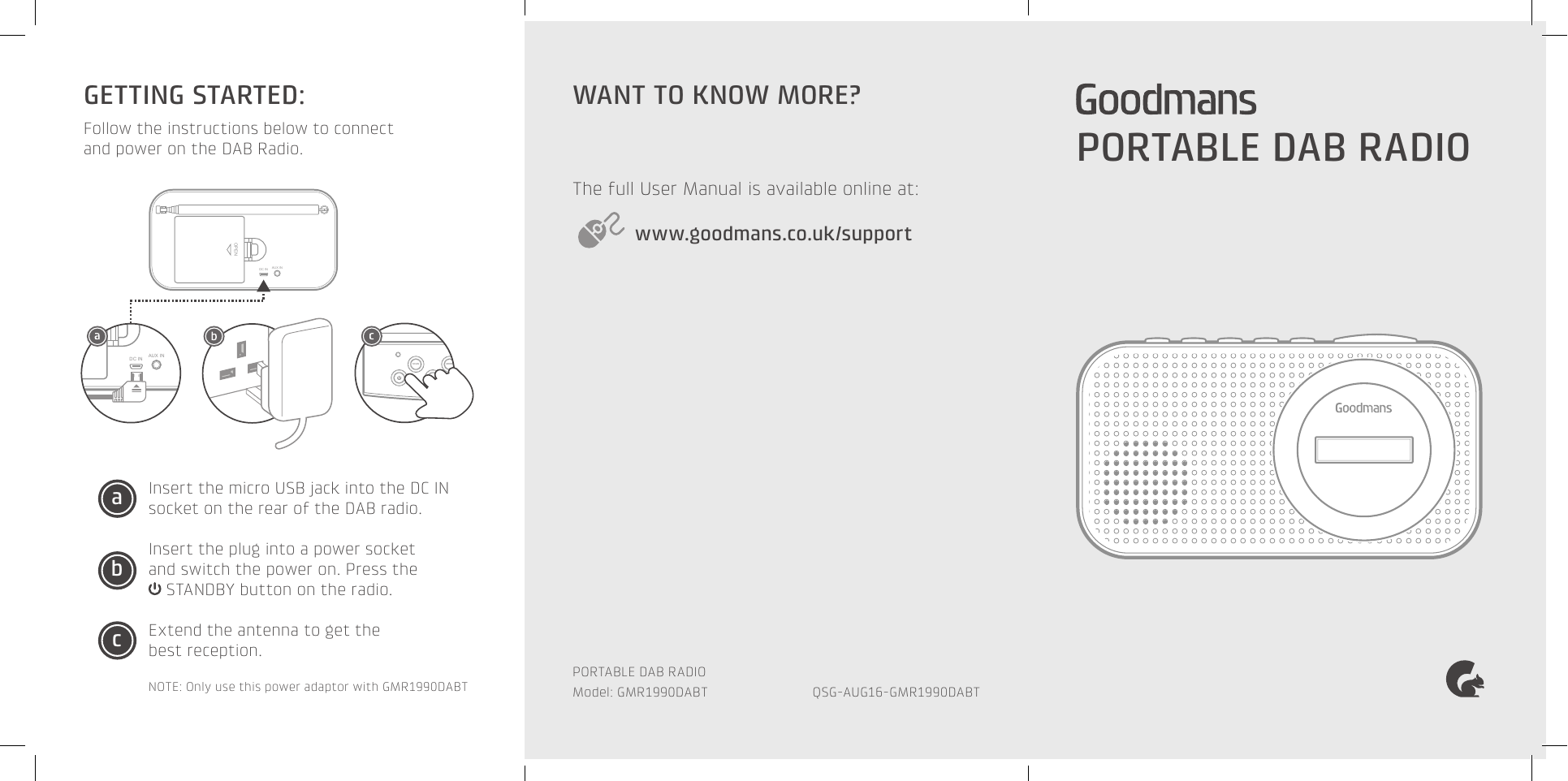 GETTING STARTED:
WANT TO KNOW MORE?
Follow the instructions below to connect
and power on the DAB Radio.
PORTABLE DAB RADIO
The full User Manual is available online at:
OPEN
www.goodmans.co.uk/support DC IN
AUX IN
OPEN
DC IN
AUX IN
SCAN
MODE
PRESET
a
Insert the micro USB jack into the DC IN
socket on the rear of the DAB radio.
b
Insert the plug into a power socket
and switch the power on. Press the
STANDBY button on the radio.
c
Extend the antenna to get the
best reception.
MENU
INFO
NOTE: Only use this power adaptor with GMR1990DABT
PORTABLE DAB RADIO
Model: GMR1990DABT
QSG-AUG16-GMR1990DABT
LISTENING TO AN EXTERNAL
AUDIO SOURCE:
DAB RADIO OPERATION:
DID YOU KNOW?
You can stream music using the Bluetooth connection,
from a Bluetooth audio device within 10 metres of
the GMR1990DABT unit.
V+
SCAN
MODE
SELECT
PRESET
MENU
INFO
V
V+
SCAN
MODE
SELECT
PRESET
MENU
INFO
V
14
SCAN
MODE
V+
SCAN
MODE
SELECT
PRESET
MENU
INFO
Bluetooth devices:
SELECT
PRESET
V
OPEN
V+
Scanning...
MENU
INFO
DC IN
AUX IN
V
GMR1990DABBT
V+
SCAN
BT Not Connected
00:00:00
MODE
SELECT
PRESET
MENU
INFO
V
a
Press the MODE button to locate DAB RADIO
mode. When entering the DAB mode for
the first time a full scan of DAB stations is
performed automatically.
a
Connect one end of a 3.5mm aux cable (not
supplied) to the AUX IN input on the rear of
the radio. The other end connects to your
device.
b
To choose the stored DAB stations use the
/
buttons.
b
Press the MODE button to locate AUXILIARY
INPUT mode.
c
When you reach the desired station,
press the
/SELECT button to begin
playback of your chosen station.
c
Press PLAY on the external audio source.
d
Adjust the volume on the unit to the
required listening level.
a
b
c
Press the MODE button to locate BT mode.
The words 'BT NOT CONNECTED' flashes on
the display and the BT indicator LED blinks.
Enable Bluetooth on your audio device and
search for available Bluetooth connections.
Select GMR1990DABT from the list. If you
are asked for a passcode enter '0000'.
Once paired the display will change to 'BT
CONNECTED'.

* Your assessment is very important for improving the work of artificial intelligence, which forms the content of this project