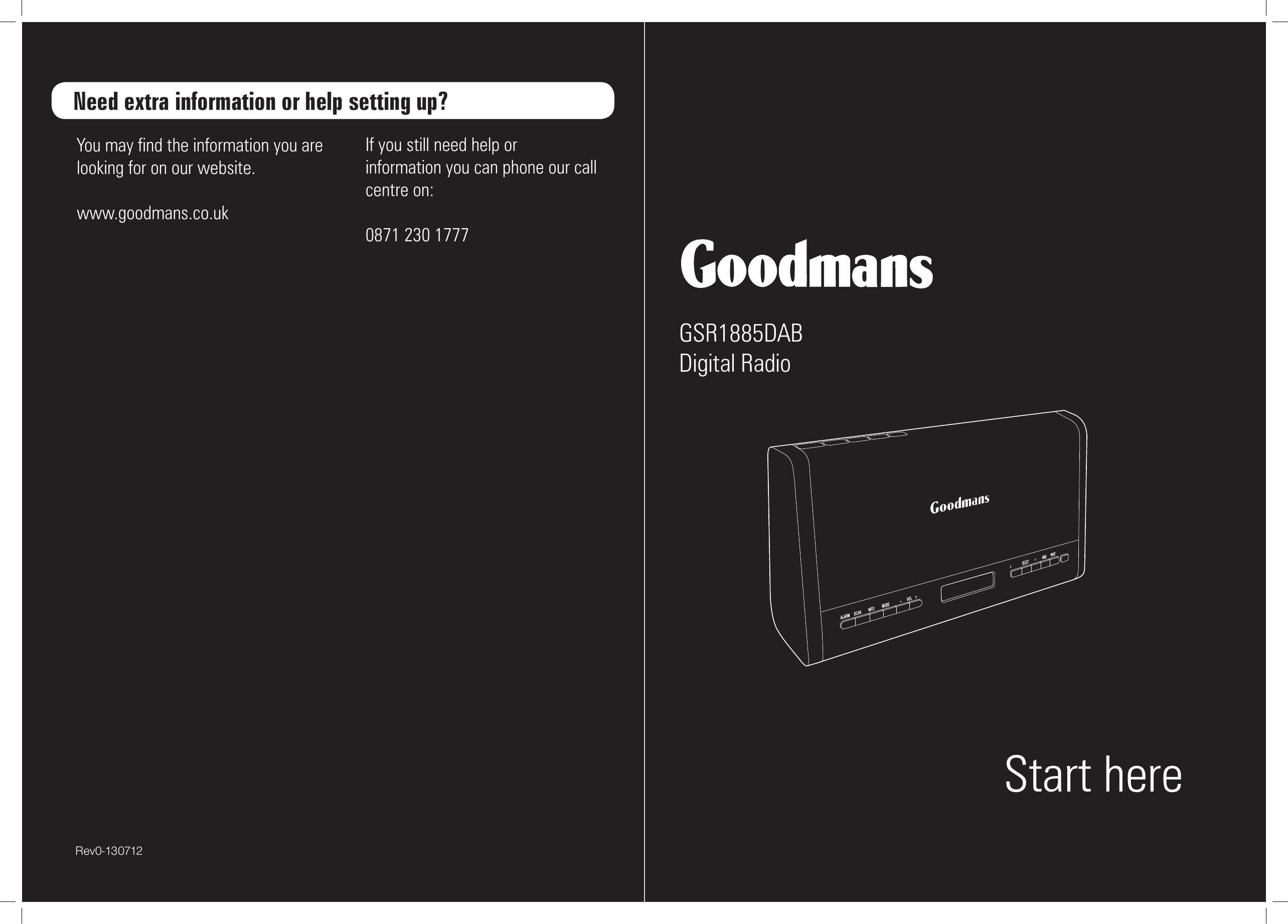 Need extra information or help setting up?
You may find the information you are
looking for on our website.
www.goodmans.co.uk
If you still need help or information you can phone our call
centre on:
0871 230 1777
GSR1885DAB
Digital Radio
Start here
Rev0-130712
You will be setup
in 8 easy steps
1
2
AERIAL RAISED
AND EXTENDED
Place the Digital Radio on a secure, flat level surface
that is not subject to vibration.
3
4
REAR PANEL
SWITCH ON
Best reception will be obtained with the aerial raised
and extended. Find the best direction to point to.
5
REAR PANEL
POWER ADAPTER
MAINS OUTLET
FROM POWER
ADAPTOR
Plug the lead from the Power Adaptor into the
connector on the rear panel as shown.
6
POWER ON/OFF SWITCH
Plug the Power Adaptor into a mains outlet socket
and switch on.
7
Scanning
Press the POWER ON/OFF switch on the rear panel
to turn on the Digital Radio.
8
34
PULL TAB
The LCD display will display a 'scanning' message
similar to that shown above.
Soon after the scanning finishes, the first station stored
in the radio's memory will play.
Pull out the battery safety tab to connect the battery
already fitted in the remote control.
You are now ready to use
your new Digital Radio.
To learn about your Digital
Radio look in the main user
guide.

* Your assessment is very important for improving the work of artificial intelligence, which forms the content of this project