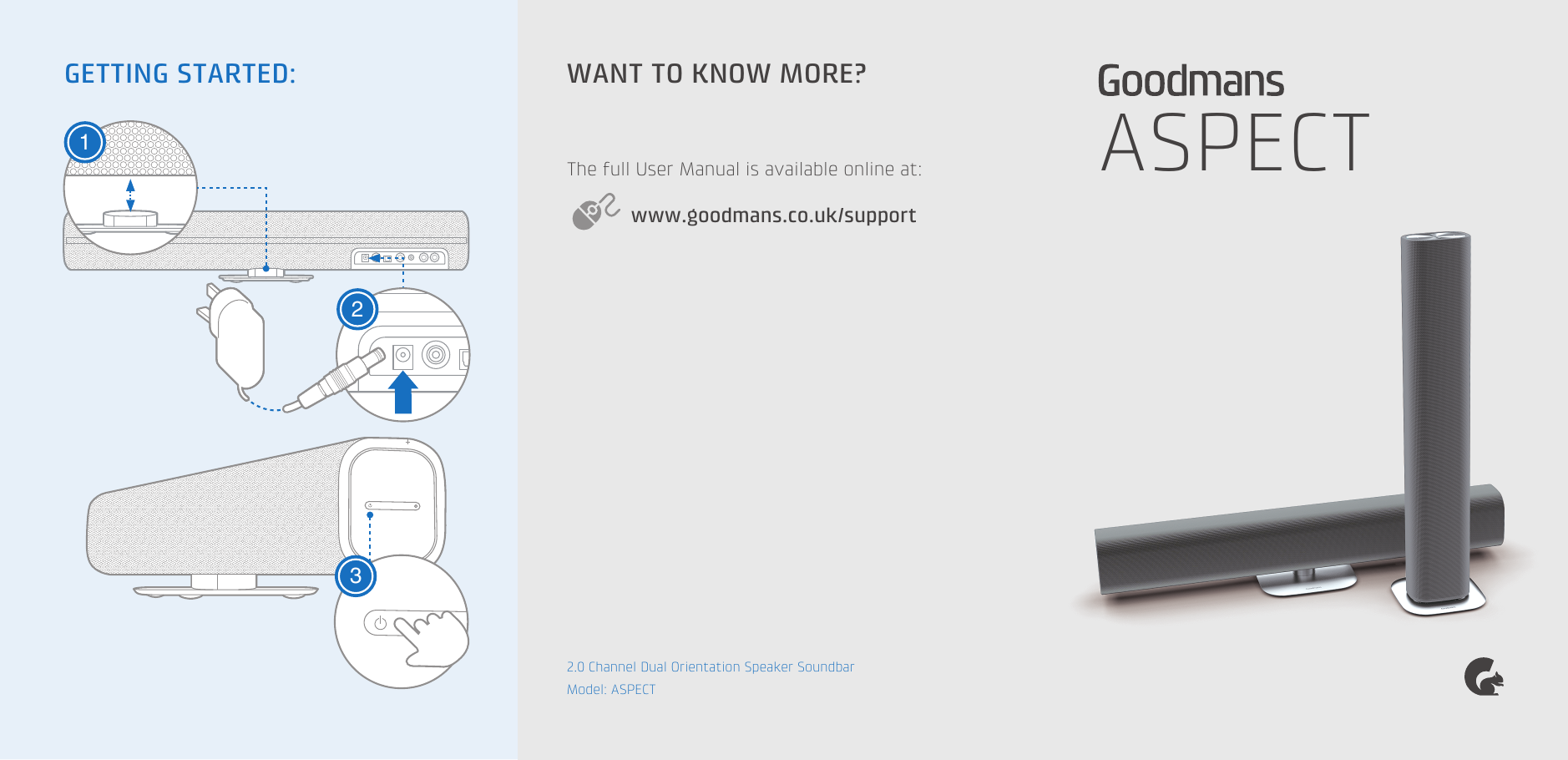 GETTING STARTED:
WANT TO KNOW MORE?
1
The full User Manual is available online at:
www.goodmans.co.uk/support
2
3
2.0 Channel Dual Orientation Speaker Soundbar
Model: ASPECT
ASPECT
THANK YOU
CONNECT TO SOURCE:
Thank you for choosing a Goodmans product. We've been
making electronics for the British people for over 70
years. Each of our products has been carefully designed
to be great at what it does and this one is no exception.
We hope you enjoy your new Aspect Soundbar.
DID YOU KNOW?
You can listen to Aspect vertically, as well as
horizontally.
Optical
Coaxial Aux in
Line in
Please read the Guarantee & Safety booklet before
starting. The full User Manual is available online.
In the box
Aspect
Power Plug &
Cables
Connect one of the provided audio cables to your source
and connect the other end to Aspect.
Remove the end panel and store it in the base of
the stand.
Press ' ' to turn on Aspect.
Rotate and stand Aspect on its base.
Press the LED on the side of Aspect to change the source
type. Identify the source mode using the LED indicator.
Press and hold the Aspect button on the remote to
switch the sound between horizontal and vertical modes.
The led will flash blue 3 times when in vertical mode and
flash red 3 times when in horizontal mode.
Optical
White
Quick Start Guide
Guarantee &
Safety Booklet
Coaxial
Yellow
Aux in
Green
Line in
Bluetooth/NFC
Magenta Blue
To connect via bluetooth, select Aspect from your device's
bluetooth search list. If you're smartphone is NFC enabled,
hold it in the centre of Aspect.

* Your assessment is very important for improving the work of artificial intelligence, which forms the content of this project