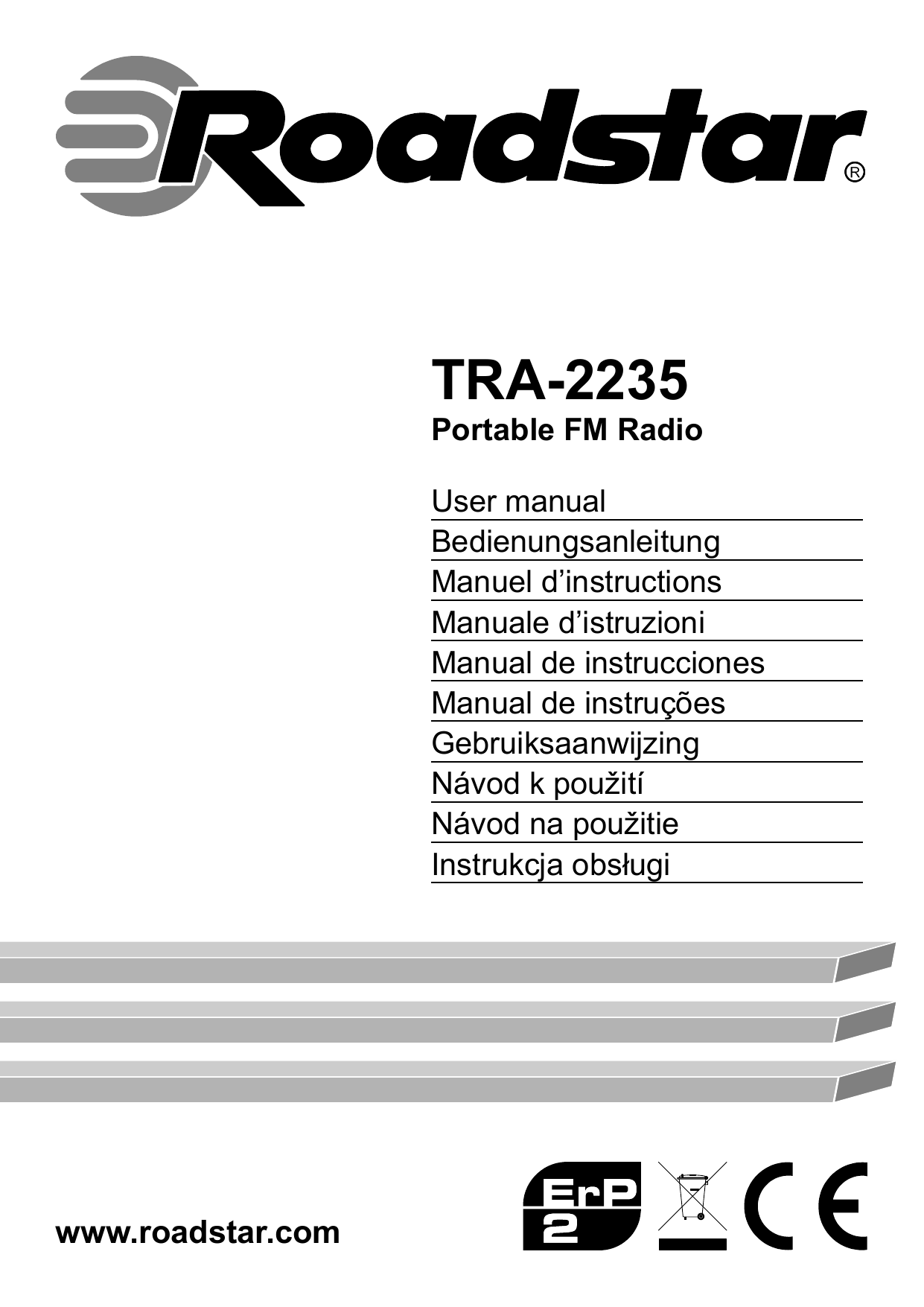 TRA-2235
Portable FM Radio
User manual
Bedienungsanleitung
Manuel d'instructions
Manuale d'istruzioni
Manual de instrucciones
Manual de instruções
Gebruiksaanwijzing
Návod k použití
Návod na použitie
Instrukcja obsługi
www.roadstar.com
INDEX
English
Deutsch
Français
Italiano
Español
Português
Nederlands
Čeština
Slovenský
Polski
Page
Seite
Page
Pagina
Página
Página
Pagina
Strana
Strana
Strona
1
3
5
7
9
11
13
15
17
19
Your new unit was manufactured and assem- Ihr neues Gerät wurde unter Beachtung der
bled under strict ROADSTAR quality control. strengen ROADSTAR Qualitätsvorschriften geThank-you for purchasing our product for your fertigt. Wir danken Ihnen für den Kauf unseres
music enjoyment. Before operating the unit, Produktes und wünschen Ihnen optimalen Hörplease read this instruction manual carefully. genuss. Bitte lesen Sie diese BedienungsanleiKeep it also handy for further future referen- tung durch, und heben Sie sie auf, um jederzeit
darin nachschlagen zu können.
ces.
Votre nouvel appareil a été fabriqué et monté Il vostro nuovo apparecchio é stato prodotto ed
en étant soumis aux nombreaux tests ROA- assemblato sotto lo stretto controllo di qualità
ROADSTAR. Vi ringraziamo di aver acquistato
DSTAR. Nous espérons que cet appareil vous
un nostro prodotto per il vostro piacere
donnera entière satisfaction. Avant de vous
d'ascolto. Prima di procedere all'utilizzo dell'apadonner à ces activités, veuillez lire attentive- parecchio, leggete attentamente il manuale
ment ce manuel d'instructions. Conservez-le à d'istruzioni e tenetelo sempre a portata di mano
portée de main à fin de référence ultérieure.
per futuri riferimenti.
Vuestro nuevo sistema ha sido construido se- Seu novo aparelho foi construido e montado sob
gún las normas estrictas de control de calidad o estrito controle de qualidade da ROADSTAR.
ROADSTAR. Le felicitamos y le damos las Agradecemos por ter comprado nosso produto
gracias por su elección de este aparado. Por para a sua diversão. Antes de usar esta unidade
favor leer el manual antes de poner en funcio- é necessário ler com atençâo este manual de
namiento el equipo y guardar esta documen- instruções pare que possa ser usada apropriatación en case de que se necesite nuevamen- damente; mantenha o manual ao seu alcance
para outras informações.
te.
TRA-2235
3
7
8
1
4
2
5
6
1
English
LOCATION OF CONTROLS
1.
2.
3.
4.
5.
6.
7.
8.
SPEAKER
EARPHONE OUTPUT
DIAL SCALE
TELESCOPIC ANTENNA
BATTERY COMPARTMENT
AC CABLE
TUNING KNOB
VOLUME CONTROL / ON - OFF SWITCH
POWER SOURCES
AC POWER:
You can power your portable radio by plugging the AC power cord into the AC plug (6)
at the back of the unit and into a wall AC power outlet.
Check that the rated voltage of your appliance matches your local voltage.
Make sure that the AC power cord is fully inserted into the appliance.
BATTERY POWER:
To use the radio with batteries, disconnect the AC power cord and insert 4 × "LR6"
batteries into the compartment (5).
Be sure that the batteries are inserted correctly to avoid damage to the appliance.
Remove the batteries when the radio will not be used for a long period of time, as this
will cause leakage to the batteries and subsequently damage to your radio.
RADIO OPERATION
1. Turn the "ON - OFF SWITCH" (8) clockwise to switch the unit ON.
2. Adjust radio frequency to your desired station by using the tuning control (7).
3. Adjust the volume control (8) to the desired level.
4. Turn the "ON - OFF SWITCH" (8) counter clockwise to switch the unit OFF.
Note: For a better reception, reorient the antenna (4).
English
SPECIFICATIONS
Power
Power Supply:
Radio Frequency Coverage
FM:
General
Earphone out:
AC 230V ~ 50Hz.
DC 6V (4 x "LR6" Battery).
87.5 - 108 MHz.
3.5mm jack plug.
Specifications and the design are subject to possible modifications without notice due
to improvement.
WARNINGS
The exclamation point within the triangle is a warning sign alerting the user of important instructions accompanying the product.
The lightening flash with arrowhead symbol within the triangle is a warning sign alerting the user
of "dangerous voltage" inside the unit.
To reduce the risk of electric shock, do not remove the cover. No user serviceable parts inside
the unit. Refer all servicing to qualified personnel.
This unit operates on 230V ~ 50Hz. If the unit is not used for a long period of time, remove the
plug from the AC mains.
Ensure all connections are properly made before operating the unit.
This unit must not be exposed to moisture or rain.
This unit should be positioned so that it is properly ventilated. Avoid placing it, for example, close
to curtains, on the carpet or in a built-in installation such as a bookcase.
Do not expose this unit to direct sunlight or heat radiating sources.
CORRECT DISPOSAL OF THIS PRODUCT
(Waste Electrical & Electronic Equipment)
This marking shown on the product or its literature, indicates that it should not be disposed with other
household wastes at the end of its working life. To prevent possible harm to the environment or human
health from uncontrolled waste disposal, please separate this from other types of wastes and recycle it
responsibly to promote the sustainable reuse of material resources. Household users should contact
the retailer where they purchased this product, or their local government office, for details of where and
how they can take this item for environmentally safe recycling. Business users should contact their
supplier and check the terms and conditions of the purchase contract. This product should not be mixed with other commercial wastes for disposal.
2
3
Deutsch
LAGE DER BEDIENUNGSELEMENTE
1.
2.
3.
4.
5.
6.
7.
8.
LAUTSPRECHER
KOPFHÖRERAUSGANG
ABSTIMMANZEIGE
TELESKOP-ANTENNE
BATTERIEFACH
AC NETZKABEL
ABSTIMM-REGLER
LAUTSTÄRKEREGLER / EIN - AUS-TASTE
STROMQUELLEN
WECHSELSTROM:
Sie können Ihr tragbares Stereosystem mit Strom versorgen, indem Sie das Netzkabel in den Netzstecker (6) an der Rückseite des Gerätes und dann in die Steckdose
an der Wand stecken.
Prüfen Sie, dass die Nennspannung des Geräts mit Ihrer lokalen Spannung übereinstimmt. Stellen Sie sicher, dass das Netzkabel vollständig in das Gerät eingesetzt ist.
BATTERIESTROM:
Um das Radio mit Batterien zu verwenden, ziehen Sie das Netzkabel ab und legen
Sie 4 × "LR6"-Batterien in das Batteriefach (5) ein.
Stellen Sie sicher, dass die Batterien richtig eingelegt sind, um Schäden am Gerät zu
vermeiden. Entfernen Sie die Batterien, wenn das Gerät für längere Zeit nicht verwendet wird, da dies zu einer Leckage an den Batterien führen und in der Folge zu Ihr
Radio beschädigen kann.
RADIO BENUTZEN
1.
Drehen Sie EIN—AUS-TASTE (8) im Uhrzeigersinn um das Gerät wieder einschalten.
2. Wählen Sie den gewünschten Sender mithilfe der Abstimmung (7) an.
3. Stellen Sie den Lautstärkeregler (8) auf die gewünschte Stufe ein.
4. Reduzieren Sie die Lautstärke vollständig LAUTSTÄRKEREGLER / EIN - AUSTASTE (8) mit dem Gerät auszuschalten.
Hinweis: Richten Sie die Antenne (4) für einen besseren Empfang aus.
Deutsch
TECHNISCHE DATEN
Power
Stromversorgung:
Radiofrequenzabdeckung
FM:
Sonstiges
Kopfhörer:
AC 230V ~ 50Hz.
DC 6V (4 x "LR6" Batterien)
87.5 - 108 MHz.
3.5mm jack buchse.
Spezifikationen und Design unterliegen möglichen Änderungen ohne vorherige Ankündigung aufgrund von Verbesserungen.
SICHERHEITSHINWEISE
Das Ausrufszeichen im Dreieck weist den Benutzer auf wichtige Bedienungs- und WartungsanWartungsanweisungen (Service) in diesem Handbuch hin, die unbedingt zu befolgen sind.
Um die Gefahr elektrischer Schläge auszuschliessen, Gehäuse auf keinen Fall abnehmen.
Im Innem befinden sich keine vom Benutzer selbst instandsetz-baren Teile. Reparaturen dürfen
nur von einer autorisierten Fachwerkstatt durchgeführt werden.
Dieses Gerät ist für 230V ~ 50Hz Netzspannung ausgelegt. Bei längerer Nichtbenutzung des Geräts ziehen Sie den Stecker aus der Steckdose.
Setzen Sie das Gerät weder Feuchtigkeit noch Regen aus.
Schalten Sie das System erst dann ein, wenn Sie alle Verbindungen genau geprüft haben.
Stellen Sie das Gerät so auf, dass immer eine ungestörte Frischluftzufuhr sichergestellt ist. Es ist
zum beispiel keinesfalls auf Teppiche und in der Nähe von Gardinen zu stellen oder in Bücherregale einzubauen.
Setzen Sie das Gerät weder direkter Sonneneinstrahlung noch Wärmequellen aus.
KORREKTE ENTSORGUNG DIESES PRODUKTS
(Elektromüll)
Die Kennzeichnung auf dem Produkt bzw. auf der dazugehörigen Literatur gibt an, dass es nach seiner LebenLebensdauer nicht zusammen mit dem normalen HaushaltsmüIl entsorgt werden darf. Entsorgen Sie dieses
Gerat bitte getrennt von anderen Abfallen, um der Umwelt bzw. der menschl i chen Gesundhei t ni cht durch
unkontrol l i erte Mül l besei ti gung zu schaden. Recycel n Si e das Gerät, um di e nachhaltige Wiederverwertung von stofflichen Ressourcen zu fördern. Private Nutzer sollten den Händler, bei dem das Produkt gekauft
wurde, oder die zuständigen Behörden kontaktieren, um in Erfahrung zu bringen, wie sie das Gerät auf umweltfreundliche Weise recyceln können. Gewerbliche Nutzer sollten sich an Ihren Lieferanten wenden und die Bedingungen des Verkaufsvertrags konsultieren. Dieses Produkt darf nicht zusammen mit anderem Gewerbemüll
entsorgt werden.
4
5
Français
POSITIONNEMENT DES COMMANDES
1.
2.
3.
4.
5.
6.
7.
8.
HAUT-PARLEUR
SORTIE CASQUE
AFFICHEUR SYNTONISATION
ANTENNE FM
COMPARTIMENT PILES
CÂBLE ALIMENTATION
CONTRÔLE SYNTONISATION
CONTRÔLE VOLUME / MARCHE - ARRÊT
SOURCES D'ALIMENTATION
ALIMENTATION CA:
Pour alimenter la chaîne stéréo portative, il suffit de brancher le cordon d'alimentation
CA dans la prise CA (6) située à l'arrière de l'appareil et dans une prise de courant CA
murale.
Vérifier que la tension nominale de l`appareil correspond à la tension locale.
Vérifier que le cordon d'alimentation CA est complètement inséré dans l'appareil.
PILES ÉLECTRIQUE:
Pour faire fonctionner la radio avec des piles, débrancher le cordon d'alimentation CA
et insérer 4 piles "LR6" dans le compartiment (5).
S'assurer que les piles sont correctem. insérées pour éviter d'endommager l'appareil.
Retirer les piles lorsque la radio ne sera pas utilisée pendant une longue période de
temps, car cela causera des fuites dans les piles et endommagera la radio.
FONCTIONNEMENT DE LA RADIO
1.
2.
3.
4.
Tourner bouton MARCHE - ARRÊT (8) vers la droite pour allumer l'appareil.
Ajuster la fréquence à la station désirée avec la commande de syntonisation (7).
Régler la commande de volume (8) au niveau désiré.
Tourner bouton MARCHE - ARRÊT (8) completement vers la gauche pour éteindre l'appareil.
Remarque: Pour une meilleure réception, réorienter l'antenne (4).
Français
CARACTERISTIQUES TECHNIQUES
Source d'énergie:
Couverture de radiofréquence
FM:
Général
Sortie écouteur:
AC 230V ~ 50Hz.
DC 6V (4 batteries "LR6")
87.5 - 108 MHz.
prise 3.5mm jack.
Les spécifications peuvent êtres modifiées sans avis préalable.
ATTENTION
Le symbole "point d'exclamation" à l'intérieur d'un triangle avertit l'utilisateur que d'importantes instructions d'utilisation et de maintenance sont contenues dans le mode d'emploi.
Le symbole "éclair" à l'intérieur d'un triangle sert à avertir l'utilisateur de la présence du courant à
l'intérieur du l'appareil qui pourrait constituer un risque.
Afin de minimiser les risques, ne pas ouvrir le boîtier ni ôter le dos de l'appareil. En case de panne, faites
appel aux techniciens qualifiés pour les réparations. L'appareil ne renferme aucune pièce reparable par
l'utilisateur.
Cet appareil a été conçu pour une tension d'alimentation de 230V ~ 50Hz. Débranchez la prise de courant quand on prévoit de ne pas utiliser l'appareil pendant un certain temps.
Mettez l'appareil sous tension seulement après avoir vérifié que tous les raccordements soient corrects.
L'unité ne doit pas être exposée à l'humidité ou à la pluie.
L'appareil doit être gardé dans un endroit suffisamment ventilé. Ne le gardez jamais par exemple près
des rideaux, sur un tapis ou dans des meubles, tels qu'une bibliothèque.
L'unité ne doit pas être exposée à la lumière directe du soleil ou à des sources de chaleur.
COMMENT ÉLIMINER CE PRODUIT
(déchets d'équipements électriques et électroniques)
Ce symbole sur le produit ou sa documentation indique qu'il ne doit pas être éliminé en fin de vie avec
les autres déchets ménagers. L' élimination incontrôlée des déchetspouvant porter préjudice a l'environnement ou a la santé humaine, veuillez le séparer des autres types de déchets et le recycler defaçon
responsable. Vous favoriserez ainsi la réutilisation durable desressources matérielles. Les particuliers
sont invites a contacter le distributeur leur ayant vendu le produit ou a se renseigner auprès de leur mairie pour savoir ou et comment ils peuvent se débarrasser de ce produit afin qu'il soit recycle en respectant l'environnement. Les entreprises sont invitées a contacter leurs fournisseurs et aconsulter les conditions de leur contrat de vente. Ce produit ne doit pas être éliminé avec les autres déchets commerciaux.
6
7
Italiano
LOCALIZZAZIONE DEI CONTROLLI
1.
2.
3.
4.
5.
6.
7.
8.
ALTOPARLANTE
USCITA CUFFIE
SCALA SINTONIA
ANTENNA TELESCOPICA
COMPARTIMENTO BATTERIE
CAVO ALIMENTAZIONE
CONTROLLO SINTONIA
CONTROLLO VOLUME / ACCENSIONE - SPEGNIMENTO
FONTI DI ALIMENTAZIONE
CORRENTE ALTERNATA:
Puoi alimentare la tua radio portatile connettendo il cavo di alimentazione nel connettore AC (6) e alla presa elettrica.
Verifica che il voltaggio della radio corrisponda a quello della tua rete di alimentazione. Assicurarsi che il cavo sia inserito completamente nel connettore.
FUNZIONAMENTO CON BATTERIE:
Per utilizzare la radio con le batterie, disconnettere il cavo di alimentazione e inserire
4 x "LR6" nell'apposito compartimento (5).
Assicurarsi che le batterie siano inserite con la giusta polarità per evitare di dannegggiare la radio. Rimuovere le batterie quando non si usa la radio per un lungo periodo, siccome queste potrebbero avere perdite che danneggerebbero la radio.
UTILIZZO DELLA RADIO
1. Ruotare in senso orario la manopola ACCENSIONE - SPEGNIMENTO (8) per accendere l'apparecchio.
2. Sintonizzare la stazione radio desiderata con il controllo di sintonia (7).
3. Regolare il VOLUME al livello desiderato usando il controllo VOLUME (8).
4. Per spegnere la radio, ruotare completamente in senso antiorario la manopola
ACCENSIONE - SPEGNIMENTO (8).
Nota: Per una miglior ricezione orientare l'antenna (4).
Italiano
SPECIFICHE TECNICHE
Alimentazione:
Copertura radiofrequenze
FM:
Generali
Uscita cuffie:
AC 230V ~ 50Hz.
DC 6V (4 batterie "LR6")
87.5 - 108 MHz.
3.5mm jack.
Le specifiche e design sono soggetti a possibili modifiche senza preavviso a causa di
miglioramenti.
ATTENZIONE
Il punto esclamativo all'interno di un triangolo avverte l'utente che il libretto d'istruzioni contiene delle
importanti istruzioni per l'uso e la manutenzione.
Il simbolo del fulmine all'interno di un triangolo avverte l'utente della presenza di una pericolosa tensione all'interno dell'apparecchio.
Per ridurre i rischi di scosse elettriche, non aprire l'apparecchio. L'apparecchio non contiene parti riparabili dall'utente. In caso di guasto fare appello a tecnici qualificati per le riparazioni.
Questo apparecchio è stato progettato per funzionare a 230V ~ 50Hz. Se non si intende utilizzare
l'apparecchio per un lungo periodo di tempo, rimuovere la spina dalla presa di corrente.
Utilizzare l'apparecchio solo dopo aver verificato che tutte le connessioni siano state eseguite correttamente.
Non esporre l'apparecchio alla pioggia o all'umidità.
Posizionare l'apparecchio in un luogo sufficientemente ventilato. Evitare di sistemarlo vicino a tende,
sul tappeto o all'interno di un mobile quale, ad esempio, una libreria.
Non esporre l'apparecchio alla luce diretta del sole o a fonti di calore.
CORRETTO SMALTIMENTO DEL PRODOTTO
(rifiuti elettrici ed elettronici)
II marchio riportato sul prodotto e sulla sua documentazione indica che il prodotto non deve essere smaltito
can altri rifiuti domestici al termine del ciclo di vita. Per evitare eventuali danni all'ambiente o alla salute
causati dall'inopportuno smaltimento dei rifiuti, si invita l'utente a separare questo prodotto da altri tipi di
rifiuti e di riciclarlo in maniera responsabile per favorire il riutilizzo sostenibile delle risorse materiali. Gli utenti domestici sono invitati a contattare il rivenditore presso il quale e stato acquistato il prodotto a l'ufficio
locale preposto per tutte le informazioni relative alla raccolta differenziata e al riciclaggio per questo tipo di
prodotto. Gli utenti aziendali sono invitati a contattare il proprio fornitore e verificare i termini e le condizioni
del contratto di acquisto. Questo prodotto non deve essere smaltito unitamente ad altri rifiuti commerciali.
8
9
Español
LOCALIZACIÓN DE LOS CONTROLES
1.
2.
3.
4.
5.
6.
7.
8.
ALTAVOZ
SALIDA DE AURICULARES
PANTALLA SINTONIZACIÓN
ANTENA TELESCÓPICA FM
COMPARTIMIENTO DE LA BATERÍA
CABLE ALIMENTACIÓN
CONTROL SINTONIZACIÓN
CONTROL VOLUMEN / ENCENDER - APAGAR
FUENTES DE ENERGÍA
CORRIENTE ALTERNA:
Puede encender su equipo estéreo portátil conectando el cable de corriente alterna
en la entrada de CA (6) situada en la parte trasera del aparato y el otro extremo a una
toma CA en la pared.
Compruebe que la tensión de su aparato sea la misma que la que se usa en su zona.
Asegúrese de que el cable de corriente esté conectado correctamente al aparato.
FUNCIONAMIENTO CON PILAS:
Para que la radio funcione con pilas, desconecte el cable de corriente alterna e
introduzca 4 pilas "LR6" en el compartimento (5).
Asegúrese que las pilas estén colocadas correctamente para evitar dañar el aparato.
Retire las pilas cuando no vaya a usar la radio durante un largo tiempo, ya que
podrían descargarse y dañar la radio.
FUNCIONAMENTO DE LA RADIO
1. Girar el CONTROL DE ENCENDIDO - APAGADO (8) en sentido horario para encender la unidad.
2. Ajuste la frecuencia de la emisora deseada usando el control sintonización (7).
3. Ajuste el volumen al nivel deseado mediante el control de volumen (8).
4. Girar el CONTROL DE ENCENDIDO - APAGADO (8) en sentido antihorario para
apagar la unidad.
Nota: Para una mejor recepción, reoriente la antena (4).
Español
10
ESPECIFICACIONES TÉCNICAS
Fuente de alimentacion:
Cobertura de radiofrecuencia
FM:
General
Salida Auriculares:
CA 230V ~ 50Hz.
CC 6V (4 baterias "LR6")
87.5 - 108 MHz.
3.5mm jack.
Las características tecnicas estan sujetas a cambios sin aviso previo.
ATTENTIÓN
El símbolo de exclamación dentro un triángulo tiene el objeto de advertir al usuario de la presencia de
instrucciones importantes de funcionamiento y mantenimiento en la documentación adjunta con el equipo.
El símbolo del rayo con punta de flecha dentro de un triángulo adverte al usuario de la presencia de tensiones peligrosas en el equipo.
Para reducir los riesgos de descargas eléctricas, no retire la cubierta. La unidad no hay en su enterior
componentes que pueda manipular el usuario. Encargue su reparación a personal cualificado.
Esta unidad funciona con 230V ~ 50Hz. Cuando el equipo vaya a estar un tiempo prolongado sin utilizarse, desenchufar el cable de alimentación.
No conecte la unidad hasta que no se hayan efectuado todas las otras conexiones.
La unidad no debería ser expuesta a lluvia o humedad.
La unidad se debe instalar de forma que su posición no le impida tener ventilación adecuada. Por ejemplo, el equipo no se debe colocar cerca de cortinas o sobre el tapete, ni en una instalación como puede
ser un armario.
La unidad no debería ser expuesta a la luz solar directa ni a fuentes emisora de calor.
ELIMINACIÓN CORRECTA DE ESTE PRODUCTO
(material electrico y electrónico de descarte)
La presencia de esta marca en el producto o en el materiál informativo que lo acompaña, indica que al finalizar
su vida útil no deberá eliminarse junto con otros residuos domésticos. Para evitar los posi bl es daños al medi o
ambi ente o a l a sal ud humane que representa la eliminación incontrolada de residuos, separe este producto
de otros tipos de residuos y reciclelo correctamente para promover la reutilización sostenible de recursos materiales. Los usuarios particulares pueden contactar con el establecimiento donde adqui ri eron el producto, o con
l as autori dades l ocal es pertinentes, para informarse sobre cómo y dónde pueden lIevario para que sea sometido a un reciclaje ecológico y seguro. Los usuarios comerciales pueden contactar con su proveedor y consultar las condiciones del contrato de compra. Este produco no debe eliminarse mezclado con otros residuos
comerciales.
11
Português
LOCALIZAÇÃO DOS COMANDOS
1.
2.
3.
4.
5.
6.
7.
8.
ALTIFALANTE
SAÍDA PARA AUSCULTADORES
VISOR SINTONIA
ANTENA TELESCÓPICA FM
COMPARTIMENTO DA BATERIA
CAVO ALIMENTAÇÃO
CONTROLO SINTONIA
CONTROLO VOLUME / LIGAR - DESLIGAR
ALIMENTAÇÃO
ALIMENTAÇÃO CA:
Você pode alimentar o seu sistema estéreo portátil conectando o cabo de
alimentação CA ao conector (6) e em uma tomada CA de parede.
Verifique que a voltagem nominal do seu aparelho corresponde à sua voltagem local.
Certifique-se de que o cabo CA esteja totalmente inserido no aparelho.
ALIMENTAÇÃO COM BATERIAS:
Para usar o rádio com baterias, desconecte o cabo de alimentação CA e insira 4 baterias "LR6" no compartimento (5).
Verifique que as baterias estejam inseridas corretam. para evitar danos ao aparelho.
Remova as baterias quando não vai usar o rádio por um longo período de tempo,
pois isso causará vazamento às baterias e, consequentemente, danos ao seu rádio.
UTILIZAÇÃO DO RÁDIO
1. Girar o botão LIGA - DESLIGA (8) no sentido horário para ligar o radio.
2. Ajuste la frecuencia de la emisora deseada usando el control sintonización (7).
3. Ajuste el volumen al nivel deseado mediante el control de volumen (8).
4. Girar o botão LIGA - DESLIGA (8) no sentido anti-horário para ligar o radio.
Nota: Para uma melhor recepção, reoriente a antena (4).
Português
12
ESPECIFICAÇÕES TÉCNICAS
Alimentação:
Cobertura de radiofrequência
FM:
Geral
Saida de fones de ouvido:
CA 230V ~ 50Hz.
DC 6V = (4 baterias "LR6").
87.5 - 108 MHz.
Conector 3.5mm jack.
As especificações e o design estão sujeitos a possíveis modificações sem aviso devido a melhorias.
ATENÇÃO
O ponto de exclamação dentro de um triângulo avisa o utilizador que no livrete de instruções
há importantes informações para a utilização e a manutenção.
O símbolo com o raio dentro de um triângulo avisa o utilizador que há tensão perigosa no
interior do aparelho.
Para reduzir o risco de choque eléctrico, não abra o aparelho. O aparelho não contém peças
que podem ser reparadas pelo utilizador. Em caso de defeitos, para a reparação, contacte
um técnico qualificado.
Este aparelho foi projectado para funcionar com 230 V. ~ 50 Hz. Se o aparelho não for utilizado durante muito tempo, tire a ficha eléctrica da tomada de corrente.
Não exponha o aparelho à chuva nem à humidade.
Coloque o aparelho num local suficientemente ventilado. Evite colocá-lo perto de cortinas,
em cima de alcatifas ou dentro de quaisquer móveis como por exemplo uma estante.
Não exponha o aparelho directamente à luz do sol nem a fontes de calor.
ELIMINAÇAO CORRECTA DESTE PRODUTO
(Resíduo de Equipamentas Eléctricos e Electrónicos)
Esta marca, apresentada no produto ou na sua literatura indica que ele não deverá ser eliminado juntamente com
os residuos domésticos indiferenciados no final do seu periodo de vida útil. Para impedir danos ao ambiente e á
saúde humana causados pela eliminação incontrolada de resíduos deverá separar este equipamento de outros
tipos de residuos e reciclá-lo de forma responsável, para promover uma reutilização sustentável dos recursos materiais. Os utilizadores domesticos deverão contactar ou o estabelecimento onde adquiriram este produto ou as
entidades oficiais locais para obterem informaçães sobre onde e de que forma podem levar este produto para permitir efectuar uma reciclagem segura em termos ambientais. Os utilizadores profissionais deverão contactar o seu
fornecedor e consultar os termos e condições do contrato de compra. Este produto não devera ser misturado com
outros residuos comerciais para eliminação.
13
Nederlands
LOCATIE VAN DE BESTURINGSELEMENTEN
1.
2.
3.
4.
5.
6.
7.
8.
LUIDSPREKER
HOOFDTELEFOON UITGANG
AFSTEMSCHAAL
TELESCOPISCHE ANTENNE
BATTERIJCOMPARTIMENT
AC KABEL
TUNING-REGELAAR
VOLUME-REGELAAR / AAN - UIT
STROOMBRONNEN
WISSELSTROOM:
U sluit uw draagbare stereosysteem op de stroom aan door het netsnoer aan het
aansluitpunt (6) aan de achterkant van het apparaat aan te brengen en de stekker in
een stopcontact in de muur te steken.
Controleer of de nominale spanning van uw apparaat overeenkomt met uw lokale
voltage. Zorg ervoor dat het netsnoer volledig in het apparaat is aangebracht.
BATTERIJSTROOM:
Om de radio met batterijen te gebruiken, haalt u de stekker uit het stopcontact en
plaatst u 4 × "LR6" -batterijen in het vakje (5).
Controleer, ter voorkoming van schade aan het apparaat, of de batterijen correct zijn
geplaatst.Verwijder de batterijen als de radio gedurende langere tijd niet wordt
gebruikt. Dit ter voorkoming van lekkage van de batterijen en schade aan de radio.
DE RADIO GEBRUIKEN
1.
Draai de "AAN - UIT SCHAKELAAR" (8) met de klok mee om het apparaat in te
schakelen.
2. Met de afstemregelaar (7) stelt u de radiofrequentie in op de gewenste zender.
3. Stel de volumeregelaar (8) in op het gewenste niveau.
4. Draai de "AAN - UIT SCHAKELAAR" (8) tegen de klok in om het apparaat uit te
schakelen.
Let op: Voor een betere ontvangst, verandert u de richting waarnaar de antenne (4)
wijst.
Nederlands
14
TECHNISCHE SPECIFICATIES
Stroomvoorziening:
Dekking van radiofrequentie
FM:
Algemeen
Koptelefoon-Uitgang:
AC 230V ~ 50Hz.
DC 6V (4 batterij "LR6")
87.5 - 108 MHz.
3.5mm jack plug.
Kenmerken zijn zonder voorafgaande kennisgeving onderhevig aan veranderingen.
WAARSCHUWING
Het uitroepteken in een gelijkzijdige driehoek is bedoeld om de gebruiker erop attent te maken dat de
gebruikershandleiding belangrijke instructies bevat voor het gebruik en het onderhoud.
De bliksemschicht in een gelijkzijdige driehoek is bedoeld om de gebruiker te waarschuwen voor de aanwezigheid van gevaarlijke spanning binnen in het apparaat.
Om het risico op elektrische schokken te reduceren, dient het apparaat niet te worden geopend. Het
apparaat bevat geen onderdelen die gerepareerd kunnen worden door de gebruiker. In het geval van
een defect dient contact opgenomen te worden met een gekwalificeerde technicus voor de reparatie.
Dit apparaat is ontworpen om te werken op 230v~ 50Hz. Als het apparaat voor een langere tijd niet gebruikt gaat worden, dient de stekker uit het stopcontact te worden gehaald.
Stel het apparaat niet bloot aan regen of vocht.
Gebruik het apparaat uitsluitend nadat is gecontroleerd dat alle aansluitingen correct zijn uitgevoerd.
Plaats het apparaat op een voldoende geventileerde plek. Plaats het apparaat niet in de buurt van gordijnen, op het tapijt of in in een stuk meubilair, zoals bijvoorbeeld een boekenkast.
Stel het apparaat niet bloot aan direct zonlicht of aan warmtebronnen.
CORRECTE AFVALVERWERKING VAN HET PRODUCT
(elektrisch en elektronisch afval)
Dit symbool dat staat weergegeven op het product en in de documentatie ervan, duidt erop dat het product niet
kan worden weggegooid met het gewone huisvuil aan het einde van de levensduur. Om schade aan het milieu
of aan de gezondheid door ongepaste afvalverwijdering te voorkomen, dient de gebruiker dit product te scheiden van andere soorten afval op verantwoorde wijze ter bevordering van duurzaam hergebruik van de materiële hulpbronnen. De thuisgebruiker dient contact op te nemen met de verkoper van het apparaat of met de lokale gemeente voor informatie met betrekking tot het scheiden en recyclen van dit type product. Zakelijke gebruikers dienen contact op te nemen met hun leverancier en de algemene voorwaarden van de verkoopovereenkomst te raadplegen. Dit product dient niet te worden gemengd met ander bedrijfsafval voor de verwijdering.
15
Čeština
POPIS PRVKŮ
1.
2.
3.
4.
5.
6.
7.
8.
REPRODUKTOR
PŘEPÍNAČ FUNKCÍ (OFF/FM/AM)
STUPNICE LADĚNÍ
TELESKOPICKÁ ANTÉNA
VENTILAČNÍ OTVOR
PŘÍVODNÍ KABEL AC
KNOFLÍK LADĚNÍ
KNOFLÍK PRO OVLÁDÁNÍ HLASITOSTI
ZDROJE ELEKTRICKÉHO NAPÁJENÍ
NAPÁJENÍ Z ELEKTRICKÉ SÍTĚ:
Vaše stereo zařízení můžete napájet tak, že zastrčíte jeden konec napájecího kabelu
do zásuvky pro napájení střídavým proudem (6) na zadní straně zařízení a druhý do
zásuvky elektrické sítě ve stěně.
Zkontrolujte, zda jmenovité napětí vašeho zařízení odpovídá vašemu místnímu napětí
elektrické sítě. Ujistěte se, že je napájecí kabel pro napájení střídavým proudem
úplně zasunutý do zařízení.
NAPÁJENÍ Z BATERIÍ:
Pro použití rádia s bateriemi odpojte napájecí kabel a vložte 4 baterie "LR6" do
prostoru pro baterie (5).
Ujistěte se, že jsou baterie vložené správně, aby se zabránilo poškození zařízení.
Baterie vyjměte, když se zařízení nebude delší dobu používat, protože v takovém
případě by došlo k únikům z baterií a k následnému poškození vašeho rádia.
POUŽITÍ RÁDIA
1. Nalaďte rádiovou frekvenci na vaši požadovanou stanici prostřednictvím ovladače
ladění (7).
2. Ovladačem hlasitosti (8) nastavte hlasitost na požadovanou úroveň.
3. Pro vypnutí přístroje přepněte přepínač Volume (8) do polohy OFF.
Poznámka: Pro lepší příjem nasměrujte anténu (4).
Čeština
16
TECHNICKÉ ÚDAJE
Zdroj napájení:
Rádiové kmitočty FM:
Všeobecné
Sluchátka ven:
AC 230V ~ 50Hz.
DC 6V = (4 x "LR6" Baterie).
87.5 - 108 MHz.
3.5mm jack zástrčka.
Změny designu a technických údajů vyhrazeny bez předchozího oznámení.
UPOZORNĚNÍ
Vykřičník uvnitř trojúhelníka na zadní straně skříňky přístroje upozorňuje uživatele na důležité pokyny pro obsluhu a
ošetřování přístroje, uvedené v jeho doprovodné dokumentaci. čeština
Symbol blesku uvnitř trojúhelníka na zadní straně skříňky přístroje upozorňuje uživatele na existenci životu nebezpečného napětí na některých dílech uvnitř skříňky přístroje.
Nevyjímejte přístroj ze skříňky – riziko úrazu elektrickým proudem. Uvnitř skříňky nejsou díly, které by mohl opravit
nebo seřídit jeho uživatel bez odpovídajícího vybavení a kvalifikace. Bude-li přístroj vyžadovat seřízení nebo opravu
kontaktujte odborný servis. Zásahem do přístroje v době platnosti záruky se vystavujete riziku ztráty event. záručních
plnění.
Přístroj je konstruován pro napájení střídavým napětím 230 V / 50 Hz z elektrické sítě. Pokud nebudete přístroj delší
dobu používat odpojte jej od elektrické sítě vyjmutím vidlice síťového kabelu přístroje ze síťové zásuvky.
Chraňte přístroj před zmoknutím, postříkáním nebo politím jakoukoliv kapalinou.
Vypnutím přístroje není přístroj odpojen od elektrické sítě. Pro odpojení přístroje od elektrické sítě vyjměte vidlici síťového kabelu přístroje ze síťové zásuvky. Před zapnutím přístroje překontrolujte všechna připojení k přístroji.
Okolo přístroje ponechejte na všech stranách dostatečný volný prostor, nutný pro cirkulaci vzduchu okolo přístroje. Je
tak odváděno teplo vznikající během jeho provozu.
Neumísťujte přístroj na přímém slunci nebo v blízkosti zdrojů tepla. Vysokými teplotami je významně zkracována životnost elektronických dílů přístroje.
POKYNY PRO SPRÁVNOU LIKVIDACI VÝROBKU
(likvidaci použitých elektrických a elektronických zařízení)
Tento symbol na výrobku, jeho příslušenství nebo obalu označuje, že při pozdější likvidaci výrobku (z jakýchkoliv důvodů) nesmí být s výrobkem zacházeno jako s domovním odpadem. Výrobek zlikvidujte jeho
předáním na sběrné místo pro likvidaci použitých elektrických a elektronických zařízení šetrnou
k životnímu prostředí. Zajištěním jejich správné likvidace zabráníte vzniku potenciálních rizik pro životní
prostředí a lidské zdraví, která by mohla vzniknout nesprávným zacházením s odpady. Kromě toho recyklace odpadových materiálů napomáhá udržení přírodních zdrojů surovin pro příští generace. Podrobné
informace k likvidaci tohoto výrobku šetrné k životnímu prostředí získáte u pracovníka ochrany životního
prostředí místního (městského nebo obvodního) úřadu nebo v prodejně, ve které jste výrobek zakoupili.
17
Slovenský
POPIS PRVKOV
1.
2.
3.
4.
5.
6.
7.
8.
REPRODUKTOR
PREPÍNAČ FUNKCII (OFF/FM/AM)
STUPNICA LADENIA
TELESKOPICKÁ ANTÉNA
VENTILAČNÝ OTVOR
PRIVODNÝ KABEL AC
KNOFLÍK LADENIA
KNOFLÍK PRE OVLADANIE HLASITOSTI
ZDROJE ELEKTRICKÉHO NAPÁJANIA
NAPÁJANIE Z ELEKTRICKEJ SIETE:
Vaše stereo zariadenie pripojíte tak, že zastrčíte jeden koniec napájacieho kábla do
zásuvky pre napájanie striedavým prúdom (6) na zadnej strane zariadenia a druhý do
elektrickej zásuvky v stene.
Skontrolujte, či menovité napätie vášho zariadenia odpovedá miestnemu napätiu
elektrickej siete. Uistite sa, že napájací kábel pre napájanie striedavým prúdom je
úplne zasunutý do zariadenia.
NAPÁJANIE Z BATÉRIÍ:
Pre použitie rádia s batériami odpojte napájací kábel a vložte 4 batérie "LR6" do
priestoru pre batérie (5).
Uistite sa, že batérie sú vložené správne, aby sa zabránilo poškodeniu zariadenia.
Batérie vyberte, keď sa zariadenie nebude dlhšiu dobu používať, pretože by mohlo
dôjsť k úniku z batérií a k následnému poškodeniu vášho rádia.
LADENIE FM
1. Nalaďte rádiovú frekvenciu na požadovanú stanicu ovládačom ladenia (7).
2. Ovládačom hlasitosti (8) nastavte hlasitosť na požadovanú úroveň.
3. Pre vypnutie prístroja prepnite prepínač funkcii (8) do polohy OFF.
Poznámka: Pre lepší príjem nasmerujte anténu (4).
Slovenský
18
TECHNICKÉ ÚDAJE
Zdroj:
Rádiové frekvenčné pokrytie FM:
Všeobecný
Vypnutie slúchadiel:
AC 230V ~ 50Hz.
DC 6V = (4 x "LR6" Batérie).
87.5 - 108 MHz.
3.5mm jack sviečka.
Zmeny dizajnu a technických údajov vyhradené bez predchádzajúceho oznámenia.
OPOZORILO
Výkričník vo vnútri trojuholníka na skrinke prístroja upozorňuje užívateľa na existenciu dôležitých pokynov pre jeho obsluhu uvedených v návode.
Symbol blesku vo vnútri trojuholníka upozorňuje užívateľa na nebezpečné napätie na niektorých dieloch
vo vnútri skrinky prístroja.
Nevyberajte prístroj zo skrinky - riziko úrazu elektrickým prúdom. Vo vnútri skrinky prístroja nie sú diely
ktoré by mohol opraviť alebo nastaviť jeho užívateľ bez zodpovedajúceho vybavenia a kvalifikácie. Ak
bude prístroj vyžadovať nastavenie alebo opravu kontaktujte odborný servis. Zásahom do prístroja v
dobe platnosti záruky sa vystavujete riziku straty príp. záručných plnení.
Chráňte prístroj pred zmoknutím, postriekaním alebo poliatím akoukoľvek kvapalinou - riziko úrazu lektrickým prúdom. Nepoužívajte prístroj mimo miestnosti.
Pre odpojenie prístroja od elektrickej siete vyberte vidlicu sieťového kábla prístroja zo sieťovej zásuvky.
Prístroj umiestenie na dobre vetranom mieste. Nezakrývajte vetracie otvory skrinky prístroja - riziko jeho
prehriatia a poškodenia.
Chráňte prístroj pred priamym slnkom, neumiestňujte prístroj v blízkosti zdrojov tepla. Vysokými teplotami je výrazne skracovaná životnosť elektronických komponentov prístroja.
POKYNY PRE SPRÁVNU LIKVIDÁCIU VÝROBKU
(likvidácii použitých elektrických a elektronických zariadení)
Tento symbol na výrobku, jeho príslušenstve alebo obale označuje, že pri naskoršej likvidácii výrobku (z akýchkoľvek dôvodov) nesmie byť s výrobkom zachádzané ako s domácim odpadom. Výrobok zlikvidujte jeho
odovzdaním na zberné miesto pre likvidáciu použitých elektrických a elektronických zariadení šetrnú
k životnému prostrediu. Zaistením ich správnej likvidácie zabránite vzniku potenciálnych rizík pre životné prostredie a ľudské zdravie, ktorá by mohla vzniknúť nesprávnym zachádzaním s odpadmi. Okrem toho recyklácia odpadových materiálov napomáha udržaniu prírodných zdrojov surovín pre budúce generácie. Podrobné
informácie k likvidácii tohto výrobku šetrné k životnému prostrediu získate u pracovníka ochrany životného
prostredia miestneho (mestského alebo obvodného) úradu alebo v predajni, v ktorej ste výrobok zakúpili.
19
Polski
OPIS ELEMENTÓW
1.
2.
3.
4.
5.
6.
7.
8.
GŁOŚNIK
WYJŚCIE SŁUCHAWKOWE
SKALA TUNERA
ANTENA TELESKOPOWA
KOMORA BATERII
KABEL SIECIOWY
POKRĘTŁO STROJENIA
POKRĘTŁO GŁOŚNOŚCI
ŹRÓDŁO ZASILANIA
Przed włączeniem upewnij się, że napięcie w sieci odpowiada temu wskazanemu na
tabliczce znamionowej umieszczonej na spodzie urządzenia. Dla własnego bezpieczeństwa przeczytaj poniższą instrukcje przed podłączeniem do głównego zasilania.
ZASILANIE SIECIOWE (AC)
To urządzenie zostało zaprojektowanie do działania w sieci zasilanej prądem 230V 50
Hz. Podłączenie do innego źródła zasilania może spowodować uszkodzenie urządzenia.
PRACY Z BATERII (DC)
Włożyć 4 baterie typu LR6 z komory baterii (5)
TUNER RADIOWY FM
1. Ustaw ulubioną stację radiową poprzez obracanie pokrętłem do strojenia (7).
2. Ustaw poziom głośności do pożądanego poziomu (8).
3. Aby wyłączyć urządzenie z pokrętłem głośności (8)
ANTENA
Dla zapewnienia najlepszego odbioru stacji radiowych, urządzenie zostało wyposażone w antenę teleskopową (4). Aby uzyskać najlepszy odbiór stacji należy rozłożyć antenę.
Polski
20
SPECYFIKACJA
AC:
Bateria:
FM:
230V ~ 50Hz
4 x LR6
87.5 - 108 MHz
Zmiana specyfikacji technicznej produktu zastrzeżona przez producenta.
UWAGA
SYMBOL WYKRZYKNIKA w trójkącie równobocznym, służy zwróceniu uwagi użytkownika na fakt, że instrukcja obsługi zawiera bardzo istotne dla bezpieczeństwa informacjedotyczące obsługi, utrzymania i serwisowania urządzenia.
SYMBOL BŁYSKAWICY ZE STRZAŁKĄ w trójkącie równobocznym służy ostrzeżeniu użytkownika przed
obecnością niebezpiecznych, nieizolowanych elementów pod napięciem, które grozi ryzykiem porażenia.
Aby zminimalizować ryzyko porażenia prądem, nie należy zdjemować pokrywy. Nie należy samodzielnie
podejmować prób naprawy.
Urządzenie działa pod napięciem 230V ~ 50Hz. Jeżeli nie jest używane należy odłączyć wtyczkę od źródła zasilania.
Przed użyciem należy upewnić się, że wszystko jest prawidłowo podłączone.
Urządzenie nie powinno być wystawione na działanie wilgoci lub deszczu.
To urządzenie powinno być ustawione w miejscu przewiewnym. Unikać miejsc niewentylowanych, blisko
zasłon lub na dywanie.
Nie wystawiać na bezpośrednie działanie promieni słonecznych lub źródeł ciepła.
Likwidacja zużytego sprzętu elektrycznego/elektronicznego
Ten symbol znajdujący się na produkcie, jego wyposażeniu lub opakowaniu oznacza, że z produktem nie można obchodzić się jak
ze zwykłymi odpadami domowymi. Kiedy urządzenie lub bateria/akumulator będą nadawały się do wyrzucenia prosimy, aby Państwo przewieźli ten produkt na odpowiednie miejsce zbiorcze, gdzie zostanie przeprowadzona jego utylizacja. Na terenie Unii
Europejskiej oraz w innych europejskich krajach znajdują się miejsc zbiówki zużytych urządzeń elektrycznych i elektronicznych
oraz baterii i akumulatorów. Dzięki zapewnieniu właściwej utylizacji produktów mogą Państwo zapobiec możliwym negatywnym
skutkom dla środowiska naturalnego i ludzkiego zdrowia. Mogłyby one wystąpić w wypadku nieodpowiedniego postępowania z
odpadami elektrycznymi i elektronicznymi lub zużytymi bateriami i akumulatorami. Utylizacja materiałów pozwala chronić źródła
naturalne. Z tego powodu prosimy nie wyrzucać starych elektrycznych oraz elektronicznych urządzeń oraz akumulatorów i baterii
wraz z odpadami domowymi . Aby uzyskać więcej informacji o sposobach utylizacji starych urządzeń, należy skontaktować się z
władzami lokalnymi, przedsiębiorstwem zajmującym się utylizacją odpadów lub sklepem, w którym produkt został zakupiony.
Hereby, Roadstar Management SA declares that the radio equipment type TRA2235 is in compliance with Directive 2014/53/EU.
The full text of the EU declaration of conformity is available at the following
internet address:
http://roadstar.com/images/ce/TRA-2235.pdf
or by scanning the following QR Code.
Roadstar Management SA erklärt hiermit, dass das Funkgerät vom Typ TRA2235 der Richtlinie 2014/53 / EU entspricht.
Der vollständige Text der EU-Konformitätserklärung ist unter der folgenden Internetadresse verfügbar:
http://roadstar.com/images/ce/TRA-2235.pdf
oder durch Scannen des folgenden QR-Codes.
Nous, soussignés Roadstar Management SA, déclarons que l'équipement radio
de type TRA-2235 est conforme aux exigences de la directive 2014/53/EU.
Le texte complet de cette déclaration de conformité EU est disponible à l'adresse internet suivante:
http://roadstar.com/images/ce/TRA-2235.pdf
ou en scannant le code QR suivant.
Con la presente, Roadstar Management SA dichiara che l'apparecchiatura radio
del tipo TRA-2235 è conforme alla Direttiva 2014/53 / UE.
Il testo completo della dichiarazione di conformità UE è disponibile al seguente
indirizzo Internet:
http://roadstar.com/images/ce/TRA-2235.pdf
o eseguendo la scansione del seguente codice QR.
Por la presente, Roadstar Management SA declara que el equipo de radio tipo
TRA-2235 cumple con la Directiva 2014/53 / EU.
El texto completo de la declaración de conformidad UE está disponible en la
siguiente dirección de Internet:
http://roadstar.com/images/ce/TRA-2235.pdf
o escaneando el siguiente código QR.
Por este meio, a Roadstar Management SA declara que o tipo de equipamento
de rádio TRA-2235 está em conformidade com a Diretiva 2014/53 / UE.
O texto completo da declaração de conformidade UE está disponível no seguinte endereço de internet:
http://roadstar.com/images/ce/TRA-2235.pdf
ou digitalizando o seguinte QR Code.
Wij, ondergetekende Roadstar Management SA, verklaren dat radioapparatuur
van het type TRA-2235 voldoet aan de vereisten van Richtlijn 2014/53 / EU.
De volledige tekst van deze EU-conformiteitsverklaring is beschikbaar op het
volgende internetadres:
http://roadstar.com/images/ce/TRA-2235.pdf
of door de volgende QR-code te scannen.
Společnost Roadstar Management SA tímto prohlašuje, že rádiové zařízení typu
TRA-2235 je v souladu se směrnicí 2014/53 / EU.
Úplné znění prohlášení o shodě EU je k dispozici na této internetové adrese:
http://roadstar.com/images/ce/TRA-2235.pdf
nebo skenováním následujícího QR kódu.
Roadstar Management SA týmto vyhlasuje, že rádiové zariadenie typu TRA2235 je v súlade so smernicou 2014/53 / EÚ.
Úplné znenie vyhlásenia o zhode EÚ je k dispozícii na tejto internetovej adrese:
http://roadstar.com/images/ce/TRA-2235.pdf
alebo skenovaním nasledujúceho kódu QR.
MANUAL VER.: 2.2
21.11.2018
Roadstar Management SA, via Passeggiata 7 CH 6883 Novazzano (Switzerland)
is a registered Trademark of Roadstar S.A. - Switzerland. All rights reserved.