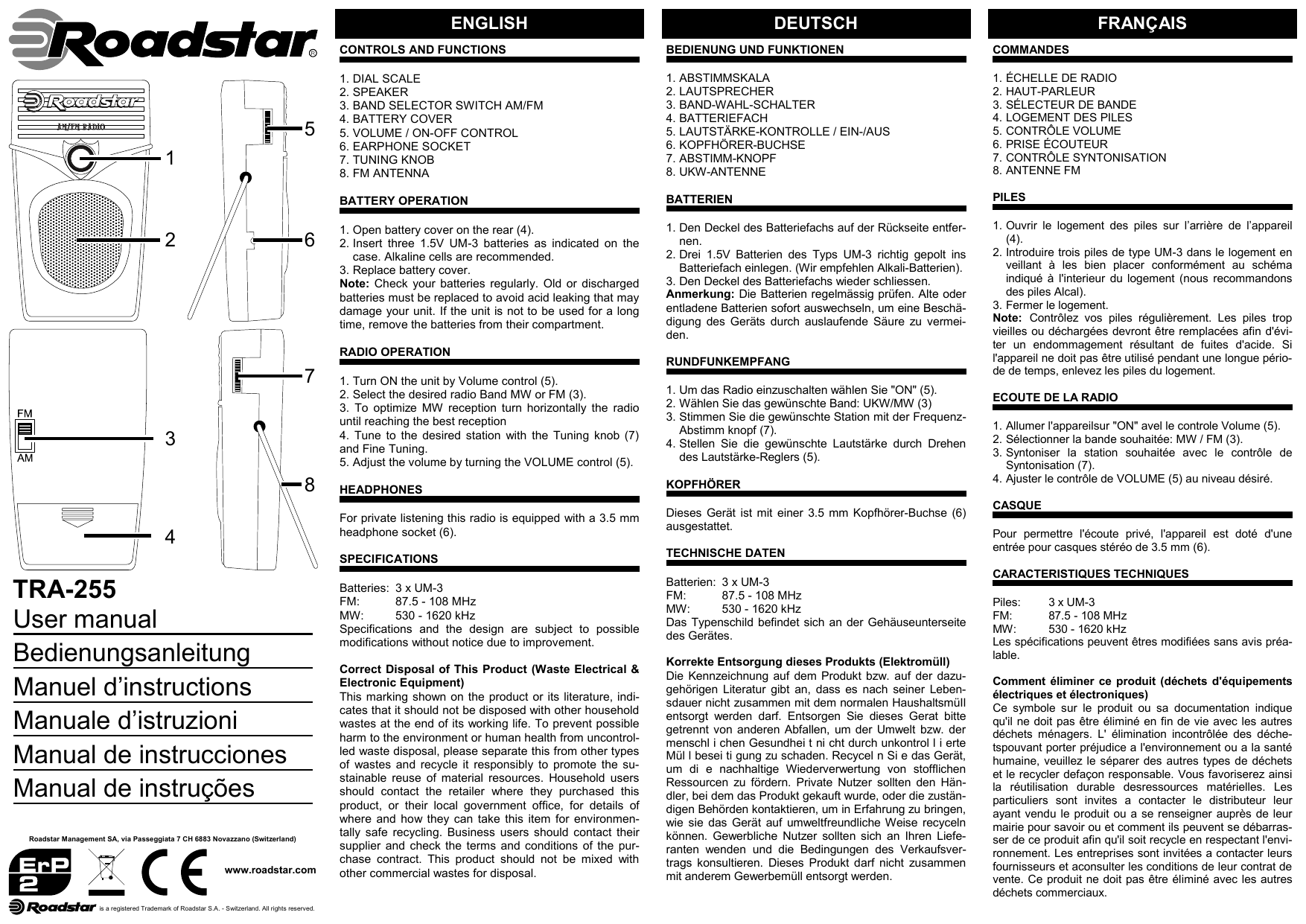 ENGLISH
5
1
2
6
3
8
4
BEDIENUNG UND FUNKTIONEN
COMMANDES
1. DIAL SCALE
2. SPEAKER
3. BAND SELECTOR SWITCH AM/FM
4. BATTERY COVER
5. VOLUME / ON-OFF CONTROL
6. EARPHONE SOCKET
7. TUNING KNOB
8. FM ANTENNA
1. ABSTIMMSKALA
2. LAUTSPRECHER
3. BAND-WAHL-SCHALTER
4. BATTERIEFACH
5. LAUTSTÄRKE-KONTROLLE / EIN-/AUS
6. KOPFHÖRER-BUCHSE
7. ABSTIMM-KNOPF
8. UKW-ANTENNE
1.
2.
3.
4.
5.
6.
7.
8.
BATTERY OPERATION
BATTERIEN
PILES
1. Open battery cover on the rear (4).
2. Insert three 1.5V UM-3 batteries as indicated on the
case. Alkaline cells are recommended.
3. Replace battery cover.
Note: Check your batteries regularly. Old or discharged
batteries must be replaced to avoid acid leaking that may
damage your unit. If the unit is not to be used for a long
time, remove the batteries from their compartment.
1. Den Deckel des Batteriefachs auf der Rückseite entfernen.
2. Drei 1.5V Batterien des Typs UM-3 richtig gepolt ins
Batteriefach einlegen. (Wir empfehlen Alkali-Batterien).
3. Den Deckel des Batteriefachs wieder schliessen.
Anmerkung: Die Batterien regelmässig prüfen. Alte oder
entladene Batterien sofort auswechseln, um eine Beschädigung des Geräts durch auslaufende Säure zu vermeiden.
1. Ouvrir le logement des piles sur l'arrière de l'appareil
(4).
2. Introduire trois piles de type UM-3 dans le logement en
veillant à les bien placer conformément au schéma
indiqué à l'interieur du logement (nous recommandons
des piles Alcal).
3. Fermer le logement.
Note: Contrôlez vos piles régulièrement. Les piles trop
vieilles ou déchargées devront être remplacées afin d'éviter un endommagement résultant de fuites d'acide. Si
l'appareil ne doit pas être utilisé pendant une longue période de temps, enlevez les piles du logement.
Roadstar Management SA, via Passeggiata 7 CH 6883 Novazzano (Switzerland)
www.roadstar.com
is a registered Trademark of Roadstar S.A. - Switzerland. All rights reserved.
RUNDFUNKEMPFANG
1. Turn ON the unit by Volume control (5).
2. Select the desired radio Band MW or FM (3).
3. To optimize MW reception turn horizontally the radio
until reaching the best reception
4. Tune to the desired station with the Tuning knob (7)
and Fine Tuning.
5. Adjust the volume by turning the VOLUME control (5).
1. Um das Radio einzuschalten wählen Sie "ON" (5).
2. Wählen Sie das gewünschte Band: UKW/MW (3)
3. Stimmen Sie die gewünschte Station mit der FrequenzAbstimm knopf (7).
4. Stellen Sie die gewünschte Lautstärke durch Drehen
des Lautstärke-Reglers (5).
HEADPHONES
KOPFHÖRER
For private listening this radio is equipped with a 3.5 mm
headphone socket (6).
Dieses Gerät ist mit einer 3.5 mm Kopfhörer-Buchse (6)
ausgestattet.
SPECIFICATIONS
TRA-255
User manual
Bedienungsanleitung
Manuel d'instructions
Manuale d'istruzioni
Manual de instrucciones
Manual de instruções
FRANÇAIS
CONTROLS AND FUNCTIONS
RADIO OPERATION
7
DEUTSCH
Batteries: 3 x UM-3
FM:
87.5 - 108 MHz
MW:
530 - 1620 kHz
Specifications and the design are subject to possible
modifications without notice due to improvement.
Correct Disposal of This Product (Waste Electrical &
Electronic Equipment)
This marking shown on the product or its literature, indicates that it should not be disposed with other household
wastes at the end of its working life. To prevent possible
harm to the environment or human health from uncontrolled waste disposal, please separate this from other types
of wastes and recycle it responsibly to promote the sustainable reuse of material resources. Household users
should contact the retailer where they purchased this
product, or their local government office, for details of
where and how they can take this item for environmentally safe recycling. Business users should contact their
supplier and check the terms and conditions of the purchase contract. This product should not be mixed with
other commercial wastes for disposal.
TECHNISCHE DATEN
Batterien: 3 x UM-3
FM:
87.5 - 108 MHz
MW:
530 - 1620 kHz
Das Typenschild befindet sich an der Gehäuseunterseite
des Gerätes.
Korrekte Entsorgung dieses Produkts (Elektromüll)
Die Kennzeichnung auf dem Produkt bzw. auf der dazugehörigen Literatur gibt an, dass es nach seiner Lebensdauer nicht zusammen mit dem normalen HaushaltsmüIl
entsorgt werden darf. Entsorgen Sie dieses Gerat bitte
getrennt von anderen Abfallen, um der Umwelt bzw. der
menschl i chen Gesundhei t ni cht durch unkontrol l i erte
Mül l besei ti gung zu schaden. Recycel n Si e das Gerät,
um di e nachhaltige Wiederverwertung von stofflichen
Ressourcen zu fördern. Private Nutzer sollten den Händler, bei dem das Produkt gekauft wurde, oder die zuständigen Behörden kontaktieren, um in Erfahrung zu bringen,
wie sie das Gerät auf umweltfreundliche Weise recyceln
können. Gewerbliche Nutzer sollten sich an Ihren Lieferanten wenden und die Bedingungen des Verkaufsvertrags konsultieren. Dieses Produkt darf nicht zusammen
mit anderem Gewerbemüll entsorgt werden.
ÉCHELLE DE RADIO
HAUT-PARLEUR
SÉLECTEUR DE BANDE
LOGEMENT DES PILES
CONTRÔLE VOLUME
PRISE ÉCOUTEUR
CONTRÔLE SYNTONISATION
ANTENNE FM
ECOUTE DE LA RADIO
1. Allumer l'appareilsur "ON" avel le controle Volume (5).
2. Sélectionner la bande souhaitée: MW / FM (3).
3. Syntoniser la station souhaitée avec le contrôle de
Syntonisation (7).
4. Ajuster le contrôle de VOLUME (5) au niveau désiré.
CASQUE
Pour permettre l'écoute privé, l'appareil est doté d'une
entrée pour casques stéréo de 3.5 mm (6).
CARACTERISTIQUES TECHNIQUES
Piles:
3 x UM-3
FM:
87.5 - 108 MHz
MW:
530 - 1620 kHz
Les spécifications peuvent êtres modifiées sans avis préalable.
Comment éliminer ce produit (déchets d'équipements
électriques et électroniques)
Ce symbole sur le produit ou sa documentation indique
qu'il ne doit pas être éliminé en fin de vie avec les autres
déchets ménagers. L' élimination incontrôlée des déchetspouvant porter préjudice a l'environnement ou a la santé
humaine, veuillez le séparer des autres types de déchets
et le recycler defaçon responsable. Vous favoriserez ainsi
la réutilisation durable desressources matérielles. Les
particuliers sont invites a contacter le distributeur leur
ayant vendu le produit ou a se renseigner auprès de leur
mairie pour savoir ou et comment ils peuvent se débarrasser de ce produit afin qu'il soit recycle en respectant l'environnement. Les entreprises sont invitées a contacter leurs
fournisseurs et aconsulter les conditions de leur contrat de
vente. Ce produit ne doit pas être éliminé avec les autres
déchets commerciaux.
ITALIANO
5
1
2
6
ESPAÑOL
PORTUGUÊS
CONTROLLI E FUNZIONI
FUNCIONES Y CONTROLES
COMMANDES
1.
2.
3.
4.
5.
6.
7.
8.
1.
2.
3.
4.
5.
6.
7.
8.
1.
2.
3.
4.
5.
6.
7.
8.
SCALA SINTONIA
ALTOPARLANTE
SELETTORE BANDA AM/FM
COMPARTIMENTO BATTERIE
CONTROLLO VOLUME / ON-OFF
USCITA AURICOLARE
CONTROLLO SINTONIA
ANTENNA FM
ESCALA DE FRECUENCIA
ALTAVOZ
SELECTOR BAND (MW/FM)
COMPARTIMENTO BATERIÁS
ALTAVOZ
TOMA AURICOLARES
CONTROL SINTONIA
ANTENA FM
ESCALA SINTONIA RÁDIO
ALTIFALANTE
SELECTOR BANDA (MW/FM)
COMPARTIMENTO PILHA
COMANDO DO VOLUME
TOMADA DOS FONES
COMANDO DO SINTONIA
ANTENA FM
INSERIMENTO BATTERIE
BATERÍAS
FUNCIONAMENTO PILHAS
1. Aprire il Compartimento BATTERIA (4) dell'apparecchio ed
inserire tre batterie del tipo UM-3 seguendo la polarità del
diagramma mostrato nel compartimento batteria di questo
apparecchio.
2. Le batterie dovranno essere rimosse dal compartimento se
l'apparecchio non verrà utilizzato per un lungo periodo di
tempo.
3. Le batterie scariche dovranno essere rimosse per poter
evitare la fuoriuscita d'acido.
1. Abrir el Compartimento BATERÍA (4) del aparato e instalar
3 baterías del tipo UM-3 siguiendo la polaridad del diagrama mostrado en el compartimento batería de este aparato.
2. Las baterías tendrán que ser extraídas del compartimento
si el aparato no se utilizará por un período de tiempo prolongado.
3. Las baterías descargadas tendrán que ser removidas para
evitar la pérdida de ácido.
1. Abra o Compartimento das Pilhas (4) atrás do aparelho e
coloque 3 pilhas UM-3 seguindo o diagrama de polaridade
mostrado no interior do compartimento das pilhas.
2. É necessário tirar as pilhas se durante muito tempo não for
utilizar o aparelho.
3. É necessário tirar do aparelho as pilhas descarregadas
para evitar que vaze ácido
UTILIZAÇÃO DO RÁDIO
USO DE LA RADIO
UTILIZZO DELLA RADIO
7
3
8
1. Per accendere l'apparecchio ruotare il Controllo Volume
(5).
2. Selezionare la banda desiderata (FM/MW) con il selettore
Band (3).
3. Sintonizzare la stazione desiderata con la manopola di
SINTONIA (7).
4. Regolare il volume con il controllo VOLUME.
5. Per la ricezione in MW il segnale verrà raccolto da
un'antenna in ferrite incorporata. Dovrà orientare
l'apparecchio per ottenere la migliore ricezione.
USCITA AURICOLARE
4
Le cuffie devono avere una spina stereo di 3.5 mm di diametro e una impedanza di 8-32 Ohm. Quando le cuffie saranno
collegate, l'altoparlante verrà escluso automaticamente.
TRA-255
User manual
Bedienungsanleitung
Manuel d'instructions
Manuale d'istruzioni
Manual de instrucciones
Manual de instruções
Roadstar Management SA, via Passeggiata 7 CH 6883 Novazzano (Switzerland)
www.roadstar.com
is a registered Trademark of Roadstar S.A. - Switzerland. All rights reserved.
SPECIFICHE TECNICHE
Batterie: 3 x UM-3
FM:
87.5 - 108 MHz
MW:
530 - 1620 kHz
Caratteristiche soggette a variazioni senza preavviso.
Corretto smaltimento del prodotto (rifiuti elettrici ed elettronici)
II marchio riportato sul prodotto e sulla sua documentazione
indica che il prodotto non deve essere smaltito can altri rifiuti
domestici al termine del ciclo di vita. Per evitare eventuali
danni all'ambiente o alla salute causati dall'inopportuno smaltimento dei rifiuti, si invita l'utente a separare questo prodotto
da altri tipi di rifiuti e di riciclarlo in maniera responsabile per
favorire il riutilizzo sostenibile delle risorse materiali. Gli utenti
domestici sono invitati a contattare il rivenditore presso il
quale e stato acquistato il prodotto a l'ufficio locale preposto
per tutte le informazioni relative alla raccolta differenziata e al
riciclaggio per questo tipo di prodotto. Gli utenti aziendali sono
invitati a contattare il proprio fornitore e verificare i termini e le
condizioni del contratto di acquisto. Questo prodotto non deve
essere smaltito unitamente ad altri rifiuti commerciali.
1. Para encender el aparato seleccionar ON/OFF (5).
2. Seleccionar la banda deseada (FM y MW) con el selector
BANDA (3).
3. Sintonizar la estación deseada con el control SINTONIA
(1).
4. Ajuste el nivel de volumen con el control VOLUME (5).
5. Para optimizar la recepción en MW, rotar la radio en el
sentido horizontal.
1. Selecccione ON/OFF para escutar o rádio (5).
2. Seleccione a banda desejada (FM/AM) com o seletor
BAND (3).
3. Sintonize a estação desejada com o controlo TUNING (1).
4. Ajuste o volume ao nível desejado com o controlo VOLUME.
5. Para recepção em MW (ondas médias) os sinais serão
captados mediante a antena interna de ferrite. Será necessário girar o aparelho até obter a melhor recepção.
AURICULARES
FONES DE OUVIDO
Los auriculares tienen que poseer una clavija estéreo de 3.5
mm de diámetro y una i mpedanci a de 8-32 Ohmi o. Cuando
se conect arán los auriculares, el altavoz automáticamente se
desactivará.
É possível usar fones de ouvido de plugue de 3,5 mm. de
diâmetro e de 8-32 Ohm de impedância. Quando ligar os
fones de ouvido (6), o altifalante será automaticamente desativado.
ESPECIFICACIONES TÉCNICAS
ESPECIFICAÇÕES TÉCNICAS
Baterias: 3 x UM-3
FM:
87.5 - 108 MHz
MW:
530 - 1620 kHz
Las características tecnicas estan sujetas a cambios sin aviso
previo.
Piles:
3 x UM-3
FM:
87.5 - 108 MHz
MW:
530 - 1620 kHz
As características e o projeto estão sujeitos a modificações
sem prévio aviso.
Eliminación correcta de este producto (material electrico
y electrónico de descarte)
La presencia de esta marca en el producto o en el materiál
informativo que lo acompaña, indica que al finalizar su vida
útil no deberá eliminarse junto con otros residuos domésticos.
Para evitar los posi bl es daños al medi o ambi ente o a l a sal
ud humane que representa la eliminación incontrolada de
residuos, separe este producto de otros tipos de residuos y
reciclelo correctamente para promover la reutilización sostenible de recursos materiales. Los usuarios particulares pueden
contactar con el establecimiento donde adqui ri eron el producto, o con l as autori dades l ocal es pertinentes, para
informarse sobre cómo y dónde pueden lIevario para que sea
sometido a un reciclaje ecológico y seguro. Los usuarios
comerciales pueden contactar con su proveedor y consultar
las condiciones del contrato de compra. Este produco no
debe eliminarse mezclado con otros residuos comerciales.
Eliminaçao Correcta Deste Produto (Resíduo de Equipamentas Eléctricos e Electrónicos)
Esta marca, apresentada no produto ou na sua literatura
indica que ele não deverá ser eliminado juntamente com os
residuos domésticos indiferenciados no final do seu periodo
de vida útil. Para impedir danos ao ambiente e á saúde humana causados pela eliminação incontrolada de resíduos deverá
separar este equipamento de outros tipos de residuos e reciclá-lo de forma responsável, para promover uma reutilização
sustentável dos recursos materiais. Os utilizadores domesticos deverão contactar ou o estabelecimento onde adquiriram
este produto ou as entidades oficiais locais para obterem
informaçães sobre onde e de que forma podem levar este
produto para permitir efectuar uma reciclagem segura em
termos ambientais. Os utilizadores profissionais deverão
contactar o seu fornecedor e consultar os termos e condições
do contrato de compra. Este produto não devera ser misturado com outros residuos comerciais para eliminação.

* Your assessment is very important for improving the work of artificial intelligence, which forms the content of this project