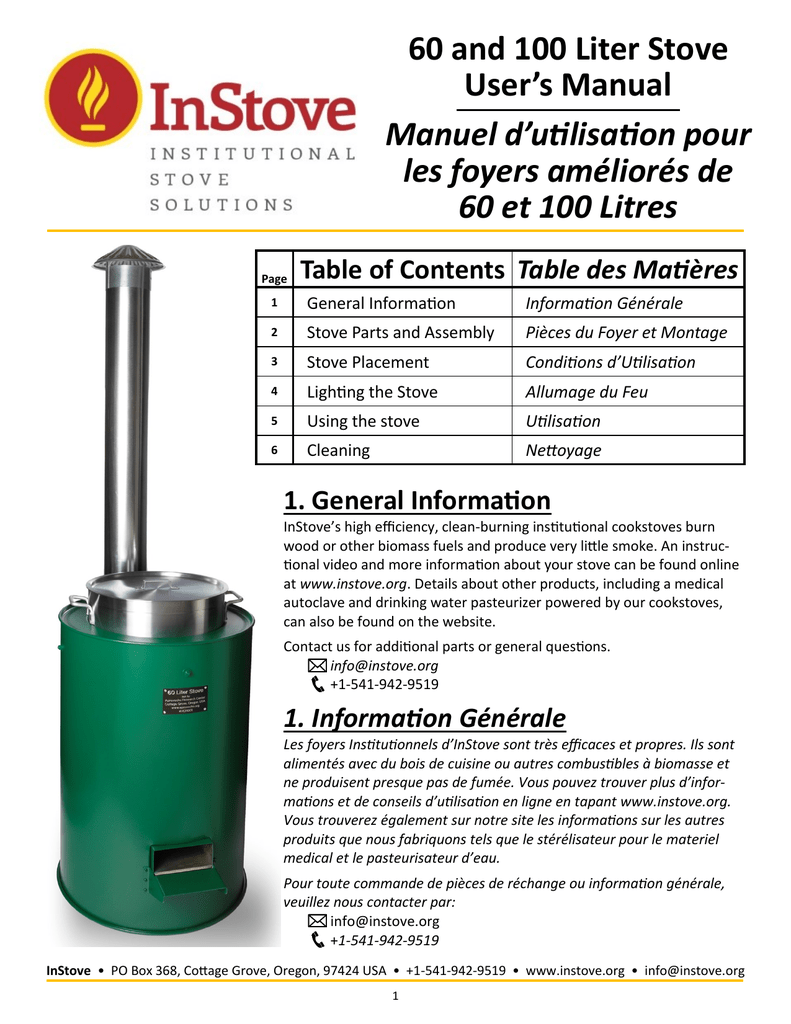 60 and 100 Liter Stove
User's Manual
Manuel d'utilisation pour
les foyers améliorés de
60 et 100 Litres
Page
Table of Contents Table des Matières
1
General Information
Information Générale
2
Stove Parts and Assembly
Pièces du Foyer et Montage
3
Stove Placement
Conditions d'Utilisation
4
Lighting the Stove
Allumage du Feu
5
Using the stove
Utilisation
6
Cleaning
Nettoyage
1. General Information
InStove's high efficiency, clean-burning institutional cookstoves burn
wood or other biomass fuels and produce very little smoke. An instructional video and more information about your stove can be found online
at www.instove.org. Details about other products, including a medical
autoclave and drinking water pasteurizer powered by our cookstoves,
can also be found on the website.
Contact us for additional parts or general questions.
info@instove.org
+1-541-942-9519
1. Information Générale
Les foyers Institutionnels d'InStove sont très efficaces et propres. Ils sont
alimentés avec du bois de cuisine ou autres combustibles à biomasse et
ne produisent presque pas de fumée. Vous pouvez trouver plus d'informations et de conseils d'utilisation en ligne en tapant www.instove.org.
Vous trouverez également sur notre site les informations sur les autres
produits que nous fabriquons tels que le stérélisateur pour le materiel
medical et le pasteurisateur d'eau.
Pour toute commande de pièces de réchange ou information générale,
veuillez nous contacter par:
info@instove.org
+1-541-942-9519
InStove • PO Box 368, Cottage Grove, Oregon, 97424 USA • +1-541-942-9519 • www.instove.org • info@instove.org
1
Parts Included/Pièces du foyer
2. Stove Parts and Assembly
Pièces du Foyer et Montage
Assembled Stove
Vue d'un foyer
déjà monté
5: Chimney Cap
Chapeau de la
cheminée
5
2: Aluminum Pot
Marmite en aluminum
3: Pot Lid
Couvercle de la marmite
4
4: Chimney
(disassembled)
(6in./150mm duct)
3
Cheminée
2
(démontée)
(Conduit de 150mm)
1
1: Stove Body
Corps du foyer
Chimney Assembly/Montage de la cheminée
1
2
Insert the chimney into the stove with the crimped
Press and join the unfolded edges of the chimney
together to make the chimney into a cylinder, as shown. end down. Place the chimney cap on top.
Insérez la cheminée dans le foyer en orientant la parties sertie ver le bas. Placez le chapeau de la
cheminée au dessus.
Aligner les bords dépliés de la cheminée ensemble pour
les joinder et donner à la cheminée la forme d'un cylinder tel que illustrée par cette image.
2
Placement/Emplacement
3. Stove Placement
Conditions d'Utilisation du Foyer
Place stove on a level, fireproof surface. Use only in well-ventilated areas, or with the chimney routed to the
outdoors (extra chimney parts not included. Use standard 6in./150mm galvanized steel ducting).
Placez le foyer sur une surface plane et non inflammable. Utilisez uniquement dans un endroit bien aéré
oubien orientez la cheminée vers l'extérieur (pièce supplémentaire non inclue. Vous pouvez utiliser pour cela
un conduit standard en acier galvanisé de 150mm).
DO NOT use stove in enclosed areas due to
risk of carbon monoxide poisoning.
DO NOT place stove on flammable
surfaces (such as wood).
N'UTILISEZ PAS le foyer dans un
endroit fermé en raison du risque
d'intoxication au monoxide de
Carbone.
NE POSEZ pas le foyer sur une surface
inflammable (comme le bois par example)
DO NOT place stove
on uneven or sloped
surfaces.
DO NOT use or leave
stove in the rain.
N'UTILISEZ PAS ET
NE LAISSEZ PAS le
foyer sous la pluie.
NE PLACEZ PAS le
foyer sur une surface
inégale , non plane.
3
1
1
Sticks
Buchettes
2
4. Lighting the Stove
Allumage du Feu
Paper
3
Bouts de bois
Wood
Shavings
Petits
morceaux
de bois
- Insert 2-4 sticks into the front of the
stove. Make sure the pot is removed.
- Mettez 2-4 tiges de bois dans la
partie avant du foyer. Prenez le soin
d'enlever d'abord la marmite.
4
or
ou
Dry Kindling
Bouts de
bois secs
- Place paper or fine wood
shavings on top of the sticks.
- Placez dessus le papier ou
les petits morceaux de bois.
- Place kindling on top of the paper.
- Light the stove.
- Placez dessus les bouts de bois secs.
- Allumez le feu.
2
Once the fire is bright and hot, put oil or water in the pot as is required by your recipe, then lift it into stove with two
people. Never move a full pot alone.
Une fois que le feu est allumé et chaud, mettre l'huile/l'eau dans la marmite selon le plat à preparer, soulevez la marmite à deux et placez sur le foyer. Ne tentez jamais de poser la marmite sur le feu sans vous faire aider par quelqu'un.
WARNING/AVERTISSEMENT
NEVER place an empty pot in a lit stove.
The pot will melt!
NE POSEZ JAMAIS la marmite vide sur le feu déjà allumé.
La marmite va fondre!
4
5. Using the Stove
Utilisation du Foyer
Wood Size/Taille du Bois
Use small sticks in the stove (about 1-5 cm. in diameter)
for best performance. Do not use large logs.
Utilisez des petits tiges de bois (environ 1-5 cm. de
diamètre) pour une meilleure performance. N'utilisez
pas de gros morceaux de bois.
Fire Tending/Entretien du Feu
Burn only a few sticks in the stove
at one time. DO NOT completely
fill the stove with wood or it will
not perform as well.
Brûlez juste quelques tiges de bois
à la fois. NE REMPLISSEZ PAS
complètement le foyer avec le bois
cela va réduire la performance.
Push the sticks further into the stove
at least once every 5-10 minutes. The
fire will die in about 15 minutes if it is
not tended.
Poussez le bois vers l'intérieur au
moins toutes les 5-10 minutes. Le feu
va s'éteindre s'il n'est pas alimenté
pendant 15mns.
5-10
min./mns.
Serving/Servir le Repas
Serve cooked food from the pot. DO NOT
remove a full pot of food from the stove.
Servir les aliments cuits en puissant directement dans la marmite. NE SOULEVEZ PAS du foyer une marmite remplie de
nourriture.
5
6. Cleaning
Nettoyage
WARNING/AVERTISSEMENT
min.
30 mns.
Attendre 30 minutes après
que le feu soit étteint pour
nettoyer le foyer.
Wait 30 minutes after
fire has died for stove
to cool before cleaning.
Removing Ashes/Enlèvement de la Cendre
Clean ashes out of the stove before each use for best performance.
Enlevez la cendre du foyer après chaque utilization pour une meilleure
performance.
1
2
Insert a long, narrow object (such
as a stick) beneath the fire grate.
Insérerz un objet long et étroit (par
exemple un baton) en dessous de la
porte du foyer.
3
Brush the ashes out of the stove.
Balayer la cendre vers l'extérieur.
General Cleaning/Nettoyage Général
Clean the stove with a rag, if desired.
Never pour water into the stove.
Essuyer le foyer avec un chiffon, si vous
le souhaitez. Ne versez pas d'eau sur le
foyer pour le nettoyer.
6
Remove ashes. DO NOT place
ashes with flammable materials.
Enlevez la cendre. NE PAS placer
la cendre sur des matériaux inflammables.

* Your assessment is very important for improving the work of artificial intelligence, which forms the content of this project