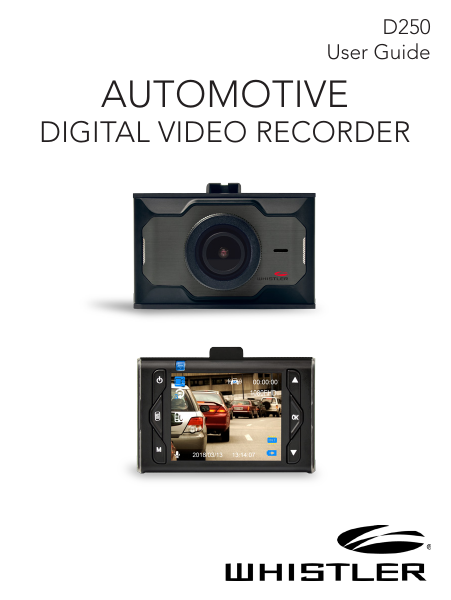 D250
User Guide
AUTOMOTIVE
DIGITAL VIDEO RECORDER
WHAT'S INCLUDED
WINDSHIELD
BRACKET
D250
Car Charger
DC POWER
CORD
USB CABLE
USER
GUIDE
Welcome
Thank you for choosing a Whistler product. We are
dedicated to providing products that represent both
quality and value. Please read the user guide carefully
before using this product. If you have additional
questions, call toll free
Customer Service Representative
1-800-531-0004
Monday - Friday • 8:00 am - 5:00 pm CT
or visit our website
www.whistlergroup.com
2
PRODUCT INTRODUCTION
Features
5
1
7
11
12
13
9
10
14
2
3
15
4 16
8
6
1.
2.
3.
4.
5.
6.
7.
8.
9.
Lens with CPL Filter
Speaker
LCD Display
Microphone
Bracket Mount
USB Jack
Status LED
Mini HDMI Jack
OK Button
10.
11.
12.
13.
14.
15.
16.
3
Mode Button
Power Button
Up / Lock Button
Menu Button
Down / Microphone
Button
Micro SD Card Slot
Reset Button
FEATURE DESCRIPTION
1. Camera Lens with CPL Filter – 170º wide-angle
lens with a Circular Polarization Lens (CPL) filter to
minimize glare.
2. Speaker – Provides audio for playback and device
tones.
3. LCD Display – To view photo and video.
4. Microphone – Audio receiver for video recording.
5. Bracket Mount – Includes windshield bracket
attachment.
6. USB Jack – Allows PC interface to access micro SD
card, PC camera and charge the battery.
7. Mini HDMI Jack – Provides connection to HDMI
monitor, (not included).
4
FEATURE DESCRIPTION
10. Mode – Press to switch modes: Video, Camera, Play
back.
11. Power Button – Press and hold to power ON/OFF.
Can also be briefly pressed during operation to
temporarily put display into screen saver.
12. Up/Lock Button – In menu allows scrolling of menu
items. Press while in record mode to lock current
file. When in camera mode press to zoom in.
13. Menu Button – Press button once to display setting
for video or camera settings. Press button twice to
display general settings.
14. Down/Microphone Button – In menu, allows
scrolling of menu items. In record mode press to
mute video audio. In camera mode press to zoom
out.
15. Micro SD Card Slot – Slot for memory card.
16. Reset Button – Using a small pin, push in to reset
the device.
5
OPERATIONS
Designed exclusively for motor vehicles operating at 12
or 24 volts DC.
Inserting a micro SD Card
Before initial use, insert a micro SD card (We suggest at
least an 8GB, Class 10 minimum, up to 32GB.)
NOTE: Turn Dash Cam off before inserting or removing
the micro SD card.
6
OPERATIONS
Installing the Windshield Bracket
The included windshield bracket securely places the
Dash Cam onto the vehicle's windshield.
Follow the procedure below to secure the bracket:
1. Slide the collar into the bracket mounting point on
top of the Dash Cam.
2. If applicable, remove protective film from the suction
cup.
3. Clean the selected area of the windshield for
mounting using a quality glass cleaner.
4. Press the bracket onto the windshield. To secure
the suction cup press the locking tab toward the
windshield.
5. Loosen the knob on the bracket to adjust the angle
of the Dash Cam. Tighten knob securely to secure
the Dash Cam position.
STEP 1
Adjustable Knob
STEP 4
STEP 5
Slide Collar
7
OPERATIONS
Power Connection in Vehicle
1. Plug the mini USB end of the vehicle power cord into
the USB jack of the Dash Cam.
2. Insert the other end of the power cord into the
vehicle's lighter socket / power port.
NOTE: Unit will automatically turn on and start
recording when power is applied. It will turn off when
power is removed.
STEP 2
STEP 1
Power ON/OFF
Power On: Press and hold to turn on.
Blue Status LED illuminates.
Power Off: Press and hold
to turn off.
NOTE: The unit will automatically power OFF when
power is removed.
8
OPERATIONS
Initial Settings
Date & Time Setting
1.
Once connected with car charger, the device will
start power ON and start recording. Press the OK
button to switch into standby mode.
2.
Press the MENU button
twice to enter General
Settings. Press  to select Date/Time. Press OK
to enter into setting.
3.
Press  or  to choose the specific number,
press OK to enter into next setting. Once finished
with settings, press MENU button
to return to
General Settings.
MENU Settings
There are 3 available levels; Video
Playback .
, Camera
, and
NOTE: Video or Camera menus have different option
selections. Use the MODE (M) button to select the
correct level.
4.
Press the menu button to see available settings.
5.
Press the  or  to scroll through the settings.
6.
Press OK to make a selection.
9
OPERATIONS
Recording or Review a Video or Image
Recording Video
1. Power on: Press and hold
to turn on Dash Cam.
2. The
icon is shown in the top left corner with a
blinking red dot when recording. Press OK to stop
recording if desired.
NOTE: When powered externally the Dash Cam will
automatically be in Video Record mode and begin
recording after initial power ON.
Wide Dynamic Range
G-Sensor
Video Mode
Video Segmentation
Time
Video Time Remaining
Video Resolution
Exposure
Compensation
Internal Memory SD
Card Icon will show
when installed
Microphone
Date
Time
10
(Charging Shown)
Recording Image
1. Take Picture: Press MODE (M) button. Camera icon
will be displayed in upper left corner.
2. Press OK to take an image.
Camera Mode
Picture Count
Exposure
Compensation
Video Resolution
Auto White Balance
Internal Memory SD
Card Icon will show
when installed
(Charging Shown)
11
OPERATIONS
Review
1.
Press MODE (M) to enter review screen.
2.
Use  or  to highlight a file. Press OK to select
it.
3.
Press OK again to play a video. Use OK to pause
the video.
4.
After video ends, press  or  to select another
file.
5.
When in this mode press MENU
Delete, Protect or Slide Show.
6.
Press MODE (M) to exit review mode.
Playback Mode
to select
File Number
Video Resolution
Video Time
Date
(Charging Shown)
Review Options
12
OPERATIONS
USB Settings – Connect the unit to a computer using
the USB cable included. Two options are available. Use
 or and OK buttons to select an option.
Mass Storage – In this mode the recorded files can be
accessed directly from the micro SD card installed into
the Dash Cam. They can be viewed directly from the
card or transferred to the computer for storage.
PC Camera – In this mode the Dash Cam can be
selected from a computer as an attached USB device
and used as a webcam (additional drivers may be
required and are not included).
View DVR Screen on TV or Monitor – Simply plug in
a compatible HDMI cable into the mini HDMI jack and
to an HDMI input on a TV or video monitor for larger
viewing.
NOTE: The unit is intended to be used with an external
power source with either cord included.
13
OPERATIONS
Special Functions
• G-sensor function - If a sudden shock is detected
(such as in an accident) the video segment recorded
is protected from being overwritten.
• Seamless loop recording - Allows camera to record
over oldest video when the micro SD card is full.
• Mini HDMI output jack - Provides connection to
HDMI monitor, (not included).
• Screen saver mode - When enabled will minimize
night time distraction by turning off screen after a
specified amount of time, while still recording.
• Wide Dynamic Range (WDR) - When enabled
enhances details to the shadows of the image.
• Lens with CPL filter - The CPL filter can reduce/
remove reflections from non-metallic surfaces like
water and glass. With this filter, color saturation can
be improved significantly especially outdoors.
14
CPL FILTER
The included CPL filter will help to reduce dashboard
reflections which can otherwise inhibit details in some
scenes.
Initial adjustment of the CPL filter is necessary. Place
an object on your dashboard and aim the camera at
the windshield where the object reflection is visible.
Rotate the outer ring of the CPL filter until the reflection
viewed in the display has been reduced/removed.
Below is an example of the reduction in glare and
reflection when using the CPL filter.
not adjusted CPL filter
adjusted CPL filter
15
TROUBLESHOOTING
Can't record or
take photo
Confirm that the micro SD card is of
proper class (class 10 min.) and has
available capacity.
Unit doesn't
work with my
SD Card
If the unit does not recognize the card,
remove the SD card and insert it again. If
still not recognized, the SD card may be
damaged or the device does not support
this type of memory card. Try another
memory card. (SanDisk recommended)
"files error"
appears during
replay
Uncompleted files due to micro SD card
storage error. Reformat or replace card.
Video or Photo
unclear
Check lens for fingerprints, protective film
or other obstruction. Use a soft cloth to
clean lens.
Black image
when recording
sky or water
scene
Scenes with large contrast can influence
the automatic exposure function of the
unit. Adjust Exposure setting in the Global
menu settings
to correct image.
Cross stripe
interference in
image
This is caused by incorrect "Light
Frequency" setting. Check setting for
50Hz or 60Hz in MENU Settings.
16
TROUBLESHOOTING
Reset
Operation can be restored by pushing the reset button.
NOTE: There are no user serviceable parts inside. Do
not open product.
Use and Care
1. This unit does not use a Touch Screen to control its
functions! Do not touch screen with any objects as
damage to screen may occur.
2. Do not leave unit in direct sunlight for extended
periods of time, especially in a vehicle.
3. Avoid using the unit in dusty and damp
environments.
17
SPECIFICATIONS
Specifications are subject to change without notice.
Features
HD camera, FHD video recording
Unit
Dimensions
HxWxD
65.3 x 45 x 37.4 mm (2.6" x 1.8" x 1.5")
Unit Weight
145 g (5.11 oz)
LCD Screen
Size
1.5" LCD
Zoom
4X Digital
Resolution
1080FHD 1920*1080 @30fps
HD 720P 1280*720 @ 30fps
Files Format
MOV
Loop
Recording
1 MIN. / 2 MIN. / 3 MIN.
Frequency
50Hz / 60Hz
Motion
Detection
Off/On
Record Audio
Off/On
Date Stamp
Off/On
18
SPECIFICATIONS
G-Sensor
Off, Low Sensitivity, Medium Sensitivity,
High Sensitivity
Screen Saver
Off / 30 Seconds / 1 Minute / 2 Minutes
Photo
JPEG
Lens
170º 6 Glass Lens
Memory
Micro SD card – C10MIN/ 32GB Max
USB
Mini USB port
Backup Power
Super Capacitor
Operating
Temperature
Range
-10° ~ 60°C (14° ~ 140°F) @ Humidity of
10% - 80%
19
MENU OPTIONS
Video resolution: 1080FHD 1920 x 1080 / 720P 1280 x 720
/ WVGA 800 x 480 / VGA 640 x 480
Loop recording: 1 Minute / 2 Minutes / 3 Minutes
WDR: OFF / ON
Exposure: -2.0 -- +2.0
Motion detection: OFF / ON
Record audio: OFF / ON
Date stamp: OFF / ON
G-sensor: OFF / Low Sensitivity / Medium Sensitivity /
High Sensitivity
Plate Number: OFF / ON
System Settings
Date/Time: 2018/01/01 00:00:00 Year / month / day
Beep Sound: OFF / ON
Language: English / Dutch / Spanish / French / Chinese /
Italian / Portuguese / Japanese / Korean
Frequency: 50Hz / 60Hz
Screen Saver: OFF / 30 Seconds / 1 Minute / 2 Minutes
Format: Cancel / OK
Default setting: Cancel / OK
Version: **************
Playback Options
Delete: Delete current / Delete all
Protect: Lock current / Unlock current / Lock all / Unlock all
Slide Show: 2 Seconds / 5 Seconds / 8 Seconds
20
WARRANTY INFORMATION
Consumer Warranty
This Whistler product is warranted to the original purchaser
for a period of one (1) year from the date of original purchase
against all defects in materials and workmanship, when
purchased from an authorized Whistler retailer. This limited
warranty is void if the unit is abused, misused, modified,
installed improperly, or if the housing and/or serial numbers
have been removed. There are no express warranties covering
this product other than those set forth in this warranty. All
express or implied warranties for this product are limited to one
(1) year. Whistler is not liable for damages arising from the use,
misuse, or operation of this product including but not limited
to loss of time, inconvenience, loss of use of your product or
property damage caused by your product or its failure to work,
or any other incidental or consequential damages including
personal injury.
DO NOT RETURN ITEM TO STORE WHERE PURCHASED
FOR WARRANTY INFORMATION, CONTACT WHISTLER
CUSTOMER SERVICE AT 1-800-531-0004
Representatives are available to answer your questions
Monday – Friday
8:00 a.m. to 5:00 p.m. CT
21
WARRANTY INFORMATION
Service Under Warranty
During the warranty period, defective units will be repaired or
replaced (with the same or a comparable model), at Whistler's
option, without charge to the purchaser when returned prepaid,
with dated proof of purchase to the address below. Units
returned without dated proof of purchase will be considered
out-of-warranty and therefore are not covered by the described
Limited Warranty. (Refer to Service Out-of-Warranty section.)
1. Due to the specialized equipment necessary for testing
Whistler products, there are no authorized service centers
other than Whistler. When returning a unit for service under
warranty, please follow these instructions:
2. Ship the unit in the original carton or in a suitable sturdy
equivalent, fully insured, with return receipt requested to:
Whistler Repair Dept.
1412 South 1st St.
Rogers, AR 72756
Please allow 3 weeks turnaround time.
IMPORTANT: Whistler will not assume responsibility for loss
or damage incurred in shipping. Therefore, please ship your
unit insured with return receipt requested. CODs will not be
accepted!
22
WARRANTY INFORMATION
3. Include with your unit the following information, clearly
printed:
• Your name and physical street address for shipping (no PO
Boxes), a daytime telephone number, and an email address
(if applicable).
• A detailed description of the problem (e.g.,"device will not
power ON").
• A copy of your dated proof of purchase or bill of sale.
4. Be certain your unit is returned with its serial number. Units
without serial numbers are not covered under warranty.
IMPORTANT: To validate that your unit is within the warranty
period, make sure you keep a copy of your dated proof of
purchase. For warranty verification purposes, a copy of your
dated store receipt must accompany any Whistler product sent
in for warranty work.
Service Out-Of-Warranty
Units will be repaired at "out-of-warranty" service rates when:
•
•
•
•
The unit's original warranty has expired.
A dated proof of purchase is not supplied.
The unit has been returned without its serial number.
The unit has been misused, abused, modified, installed
improperly, or had its housing removed.
23
WARRANTY INFORMATION
The minimum out-of-warranty service fee for your Whistler DVR
Camera is $50.00 (U.S.). If you require out-of-warranty service,
please return your unit as outlined in the section "Service Under
Warranty" along with a cashier's check or money order in the
amount of $50.00. Payment may also be made by MasterCard,
VISA or American Express. Personal checks are not accepted.
In the event repairs cannot be covered by the minimum service
fee, you will be contacted by a Whistler technical service specialist
who will outline options available to you.
IMPORTANT: When returning your unit for service, be certain to
include a daytime telephone number and an email address
(if applicable).
Customer Service
If you have questions concerning the operation of your Whistler
product, or require service during or after the warranty period,
please call
Customer Service at 1-800-531-0004.
Representatives are available to answer your questions
Monday - Friday from 8:00 a.m. to 5:00 p.m. (CT) or visit the FAQ at
www.whistlergroup.com.
24
25
26
27
CORPORATE HEADQUARTERS
1716 SW Commerce Dr. Ste. 8
Bentonville, AR 72712
Toll Free (800) 531-0004
TEL (479) 273-6012
www.whistlergroup.com
CUSTOMER RETURN CENTER
1412 South 1st St.
Rogers, AR 72756
Email: support@whistlergroup.com
P/N
03B18 © 2018 The Whistler Group, Inc.