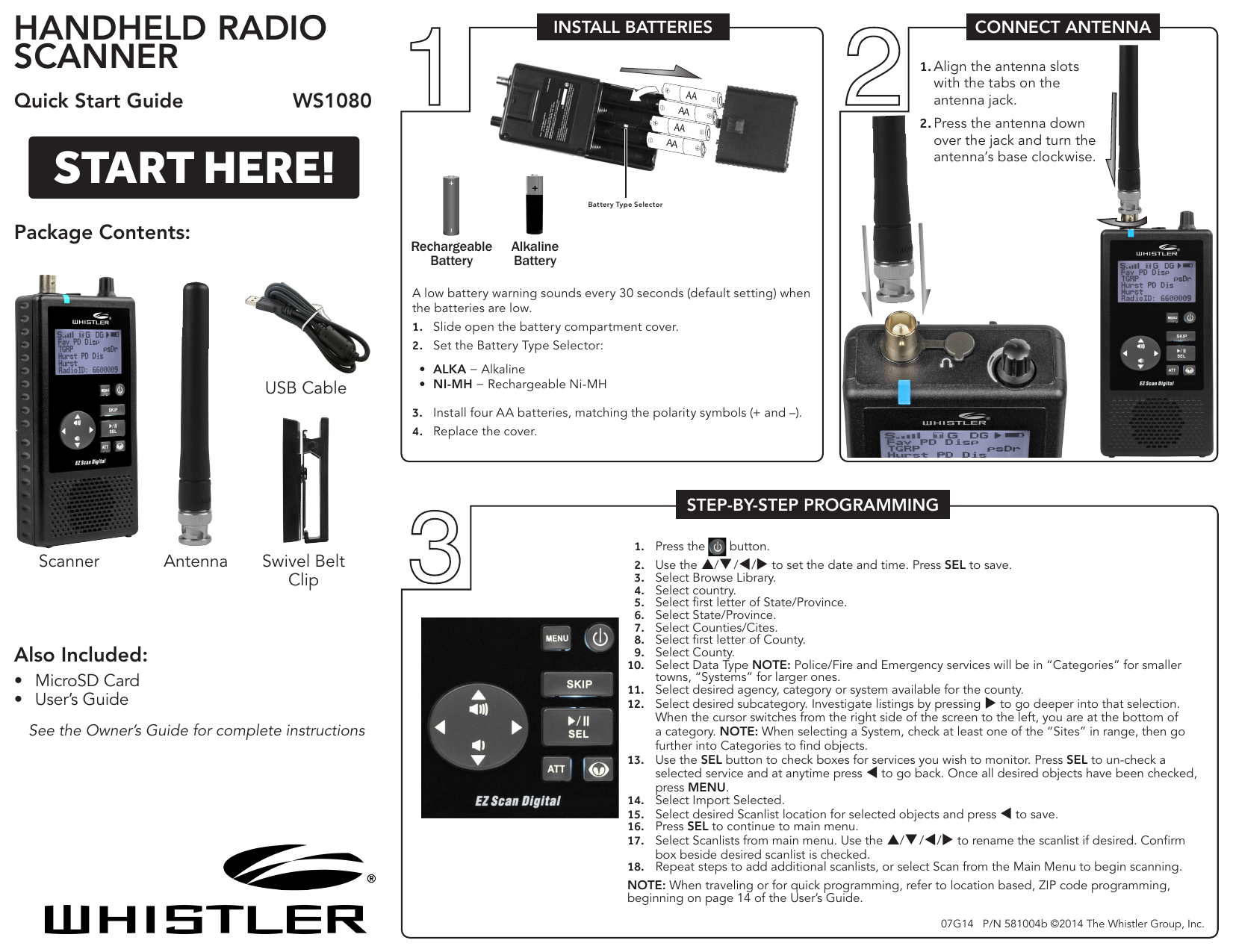 HANDHELD RADIO
SCANNER
Quick Start Guide
INSTALL BATTERIES
AA
WS1080
AA
AA
AA
START HERE!
CONNECT ANTENNA
1. Align the antenna slots
with the tabs on the
antenna jack.
2. Press the antenna down
over the jack and turn the
antenna's base clockwise.
Battery Type Selector
Package Contents:
Rechargeable
Battery
Alkaline
Battery
A low battery warning sounds every 30 seconds (default setting) when
the batteries are low.
1. Slide open the battery compartment cover.
2. Set the Battery Type Selector:
USB Cable
• ALKA − Alkaline
• NI-MH − Rechargeable Ni-MH
3. Install four AA batteries, matching the polarity symbols (+ and –).
4. Replace the cover.
STEP-BY-STEP PROGRAMMING
Scanner
Antenna
Swivel Belt
Clip
Also Included:
• MicroSD Card
• User's Guide
See the Owner's Guide for complete instructions
1.
2.
3.
4.
5.
6.
7.
8.
9.
10.
Press the
button.
Use the / / / to set the date and time. Press SEL to save.
Select Browse Library.
Select country.
Select first letter of State/Province.
Select State/Province.
Select Counties/Cites.
Select first letter of County.
Select County.
Select Data Type NOTE: Police/Fire and Emergency services will be in "Categories" for smaller
towns, "Systems" for larger ones.
11. Select desired agency, category or system available for the county.
12. Select desired subcategory. Investigate listings by pressing  to go deeper into that selection.
When the cursor switches from the right side of the screen to the left, you are at the bottom of
a category. NOTE: When selecting a System, check at least one of the "Sites" in range, then go
further into Categories to find objects.
13. Use the SEL button to check boxes for services you wish to monitor. Press SEL to un-check a
selected service and at anytime press  to go back. Once all desired objects have been checked,
press MENU.
14. Select Import Selected.
15. Select desired Scanlist location for selected objects and press  to save.
16. Press SEL to continue to main menu.
17. Select Scanlists from main menu. Use the / / / to rename the scanlist if desired. Confirm
box beside desired scanlist is checked.
18. Repeat steps to add additional scanlists, or select Scan from the Main Menu to begin scanning.
NOTE: When traveling or for quick programming, refer to location based, ZIP code programming,
beginning on page 14 of the User's Guide.
07G14 P/N 581004b ©2014 The Whistler Group, Inc.

* Your assessment is very important for improving the work of artificial intelligence, which forms the content of this project