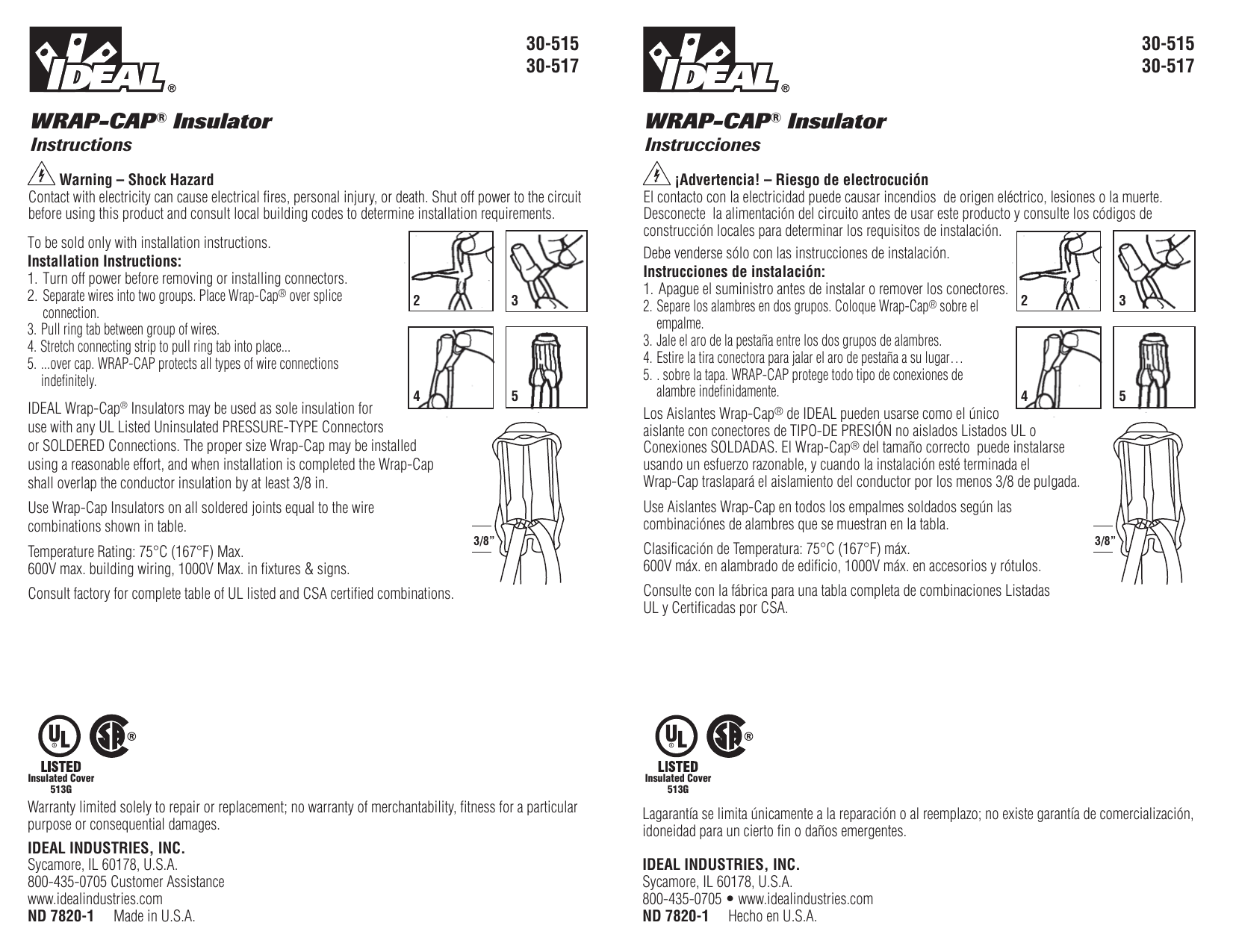 30-515
30-517
30-515
30-517
WRAP-CAP® Insulator
WRAP-CAP® Insulator
Warning – Shock Hazard
Contact with electricity can cause electrical fires, personal injury, or death. Shut off power to the circuit
before using this product and consult local building codes to determine installation requirements.
¡Advertencia! – Riesgo de electrocución
El contacto con la electricidad puede causar incendios de origen eléctrico, lesiones o la muerte.
Desconecte la alimentación del circuito antes de usar este producto y consulte los códigos de
construcción locales para determinar los requisitos de instalación.
Debe venderse sólo con las instrucciones de instalación.
Instrucciones de instalación:
1. Apague el suministro antes de instalar o remover los conectores.
2
3
2. Separe los alambres en dos grupos. Coloque Wrap-Cap® sobre el
empalme.
3. Jale el aro de la pestaña entre los dos grupos de alambres.
4. Estire la tira conectora para jalar el aro de pestaña a su lugar…
5. . sobre la tapa. WRAP-CAP protege todo tipo de conexiones de
alambre indefinidamente.
4
5
Los Aislantes Wrap-Cap® de IDEAL pueden usarse como el único
aislante con conectores de TIPO-DE PRESIÓN no aislados Listados UL o
Conexiones SOLDADAS. El Wrap-Cap® del tamaño correcto puede instalarse
usando un esfuerzo razonable, y cuando la instalación esté terminada el
Wrap-Cap traslapará el aislamiento del conductor por los menos 3/8 de pulgada.
Instructions
To be sold only with installation instructions.
Installation Instructions:
1. Turn off power before removing or installing connectors.
2. Separate wires into two groups. Place Wrap-Cap® over splice
connection.
3. Pull ring tab between group of wires.
4. Stretch connecting strip to pull ring tab into place...
5. ...over cap. WRAP-CAP protects all types of wire connections
indefinitely.
Instrucciones
2
3
4
5
IDEAL Wrap-Cap® Insulators may be used as sole insulation for
use with any UL Listed Uninsulated PRESSURE-TYPE Connectors
or SOLDERED Connections. The proper size Wrap-Cap may be installed
using a reasonable effort, and when installation is completed the Wrap-Cap
shall overlap the conductor insulation by at least 3/8 in.
Use Wrap-Cap Insulators on all soldered joints equal to the wire
combinations shown in table.
Temperature Rating: 75°C (167°F) Max.
600V max. building wiring, 1000V Max. in fixtures & signs.
Use Aislantes Wrap-Cap en todos los empalmes soldados según las
combinaciónes de alambres que se muestran en la tabla.
3/8"
Clasificación de Temperatura: 75°C (167°F) máx.
600V máx. en alambrado de edificio, 1000V máx. en accesorios y rótulos.
Consult factory for complete table of UL listed and CSA certified combinations.
Consulte con la fábrica para una tabla completa de combinaciones Listadas
UL y Certificadas por CSA.
Insulated Cover
513G
Insulated Cover
513G
Warranty limited solely to repair or replacement; no warranty of merchantability, fitness for a particular
purpose or consequential damages.
IDEAL INDUSTRIES, INC.
Sycamore, IL 60178, U.S.A.
800-435-0705 Customer Assistance
www.idealindustries.com
ND 7820-1 Made in U.S.A.
3/8"
Lagarantía se limita únicamente a la reparación o al reemplazo; no existe garantía de comercialización,
idoneidad para un cierto fin o daños emergentes.
IDEAL INDUSTRIES, INC.
Sycamore, IL 60178, U.S.A.
800-435-0705 • www.idealindustries.com
ND 7820-1 Hecho en U.S.A.

* Your assessment is very important for improving the work of artificial intelligence, which forms the content of this project