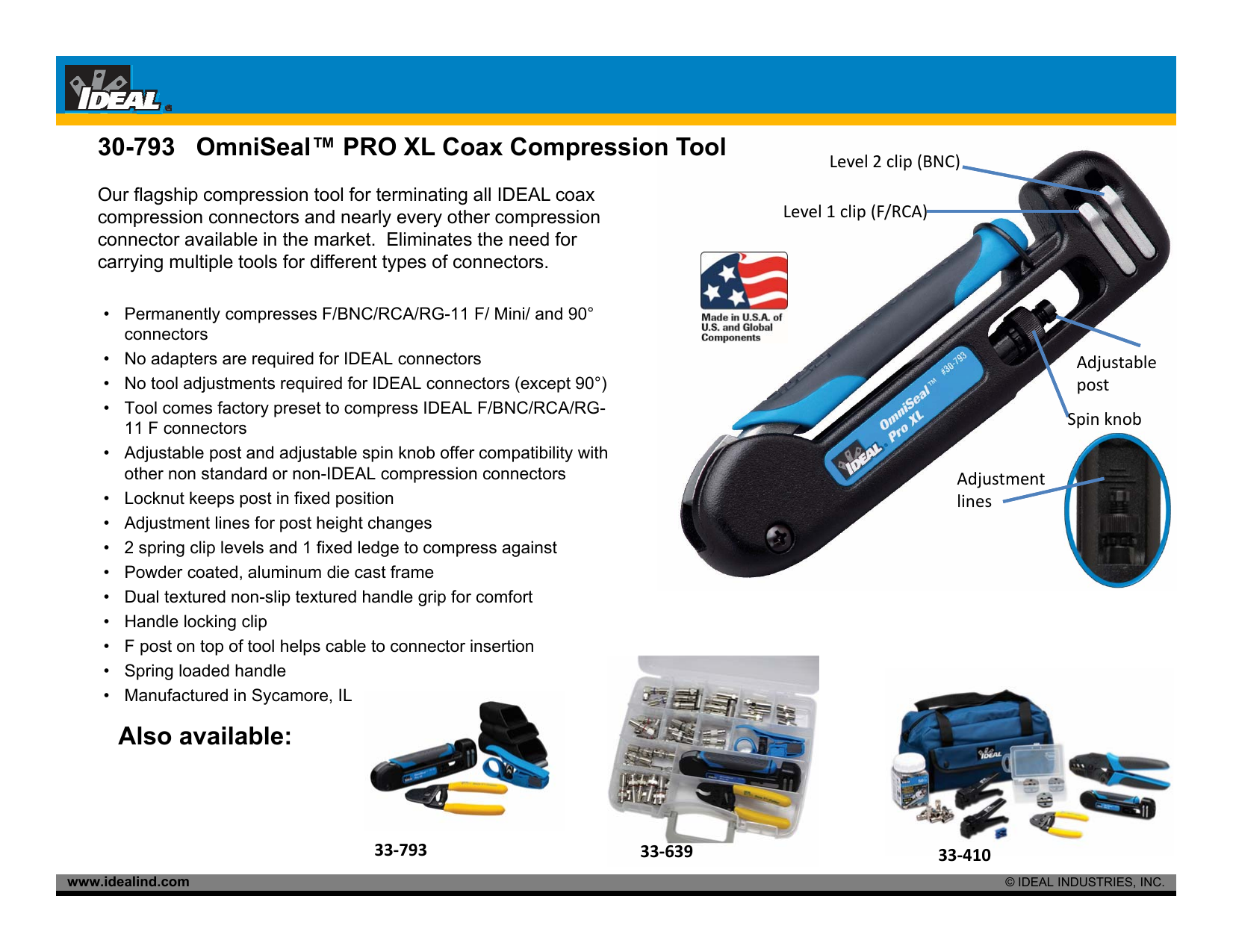 30-793 OmniSeal™ PRO XL Coax Compression Tool
Our flagship compression tool for terminating all IDEAL coax
compression connectors and nearly every other compression
connector available in the market. Eliminates the need for
carrying multiple tools for different types of connectors.
Level 2 clip (BNC)
Level 1 clip (F/RCA)
• Permanently compresses F/BNC/RCA/RG-11 F/ Mini/ and 90°
connectors
• No adapters are required for IDEAL connectors
• No tool adjustments required for IDEAL connectors (except 90°)
• Tool comes factory preset to compress IDEAL F/BNC/RCA/RG11 F connectors
• Adjustable post and adjustable spin knob offer compatibility with
other non standard or non-IDEAL compression connectors
• Locknut keeps post in fixed position
• Adjustment lines for post height changes
• 2 spring clip levels and 1 fixed ledge to compress against
• Powder coated, aluminum die cast frame
• Dual textured non-slip textured handle grip for comfort
• Handle locking clip
• F post on top of tool helps cable to connector insertion
• Spring loaded handle
• Manufactured in Sycamore, IL
Adjustable
post
Spin knob
Adjustment
lines
Also available:
33‐793
www.idealind.com
33‐639
33‐410
© IDEAL INDUSTRIES, INC.

* Your assessment is very important for improving the work of artificial intelligence, which forms the content of this project