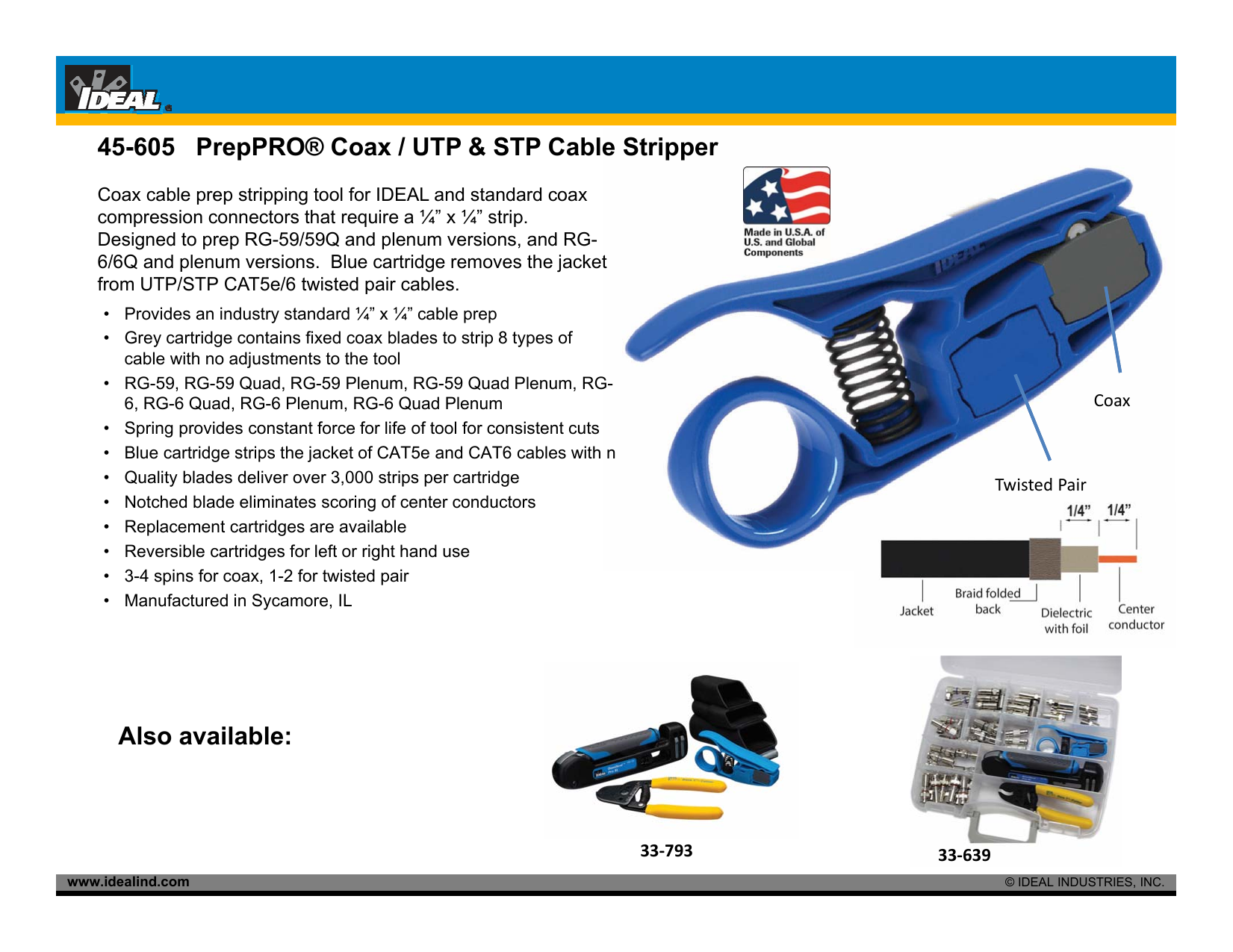 45-605 PrepPRO® Coax / UTP & STP Cable Stripper
Coax cable prep stripping tool for IDEAL and standard coax
compression connectors that require a ¼" x ¼" strip.
Designed to prep RG-59/59Q and plenum versions, and RG6/6Q and plenum versions. Blue cartridge removes the jacket
from UTP/STP CAT5e/6 twisted pair cables.
• Provides an industry standard ¼" x ¼" cable prep
• Grey cartridge contains fixed coax blades to strip 8 types of
cable with no adjustments to the tool
• RG-59, RG-59 Quad, RG-59 Plenum, RG-59 Quad Plenum, RG6, RG-6 Quad, RG-6 Plenum, RG-6 Quad Plenum
• Spring provides constant force for life of tool for consistent cuts
• Blue cartridge strips the jacket of CAT5e and CAT6 cables with n
• Quality blades deliver over 3,000 strips per cartridge
• Notched blade eliminates scoring of center conductors
• Replacement cartridges are available
• Reversible cartridges for left or right hand use
• 3-4 spins for coax, 1-2 for twisted pair
• Manufactured in Sycamore, IL
Coax
Twisted Pair
Also available:
33‐793
www.idealind.com
33‐639
© IDEAL INDUSTRIES, INC.

* Your assessment is very important for improving the work of artificial intelligence, which forms the content of this project