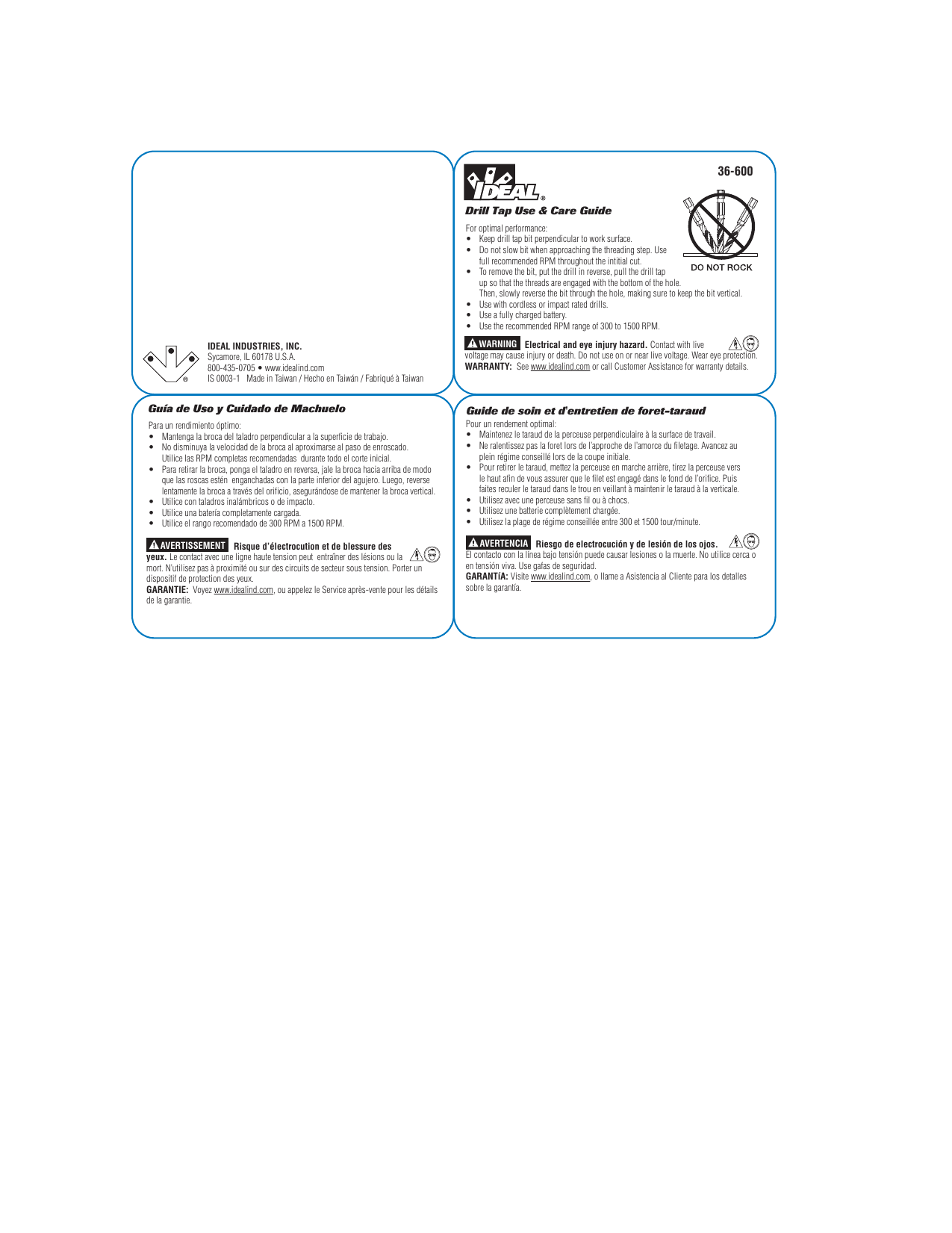 36-600
Drill Tap Use & Care Guide
For optimal performance:
• Keep drill tap bit perpendicular to work surface.
• Do not slow bit when approaching the threading step. Use
full recommended RPM throughout the intitial cut.
• To remove the bit, put the drill in reverse, pull the drill tap
up so that the threads are engaged with the bottom of the hole.
Then, slowly reverse the bit through the hole, making sure to keep the bit vertical.
• Use with cordless or impact rated drills.
• Use a fully charged battery.
• Use the recommended RPM range of 300 to 1500 RPM.
®
IDEAL INDUSTRIES, INC.
Sycamore, IL 60178 U.S.A.
800-435-0705 • www.idealind.com
IS 0003-1 Made in Taiwan / Hecho en Taiwán / Fabriqué à Taiwan
WARNING Electrical and eye injury hazard. Contact with live
voltage may cause injury or death. Do not use on or near live voltage. Wear eye protection.
WARRANTY: See www.idealind.com or call Customer Assistance for warranty details.
Guía de Uso y Cuidado de Machuelo
Guide de soin et d'entretien de foret-taraud
Para un rendimiento óptimo:
• Mantenga la broca del taladro perpendicular a la superficie de trabajo.
• No disminuya la velocidad de la broca al aproximarse al paso de enroscado.
Utilice las RPM completas recomendadas durante todo el corte inicial.
• Para retirar la broca, ponga el taladro en reversa, jale la broca hacia arriba de modo
que las roscas estén enganchadas con la parte inferior del agujero. Luego, reverse
lentamente la broca a través del orificio, asegurándose de mantener la broca vertical.
• Utilice con taladros inalámbricos o de impacto.
• Utilice una batería completamente cargada.
• Utilice el rango recomendado de 300 RPM a 1500 RPM.
Pour un rendement optimal:
• Maintenez le taraud de la perceuse perpendiculaire à la surface de travail.
• Ne ralentissez pas la foret lors de l'approche de l'amorce du filetage. Avancez au
plein régime conseillé lors de la coupe initiale.
• Pour retirer le taraud, mettez la perceuse en marche arrière, tirez la perceuse vers
le haut afin de vous assurer que le filet est engagé dans le fond de l'orifice. Puis
faites reculer le taraud dans le trou en veillant à maintenir le taraud à la verticale.
• Utilisez avec une perceuse sans fil ou à chocs.
• Utilisez une batterie complètement chargée.
• Utilisez la plage de régime conseillée entre 300 et 1500 tour/minute.
AVERTISSEMENT Risque d'électrocution et de blessure des
yeux. Le contact avec une ligne haute tension peut entraîner des lésions ou la
mort. N'utilisez pas à proximité ou sur des circuits de secteur sous tension. Porter un
dispositif de protection des yeux.
GARANTIE: Voyez www.idealind.com, ou appelez le Service après-vente pour les détails
de la garantie.
AVERTENCIA Riesgo de electrocución y de lesión de los ojos.
El contacto con la línea bajo tensión puede causar lesiones o la muerte. No utilice cerca o
en tensión viva. Use gafas de seguridad.
GARANTíA: Visite www.idealind.com, o llame a Asistencia al Cliente para los detalles
sobre la garantía.

* Your assessment is very important for improving the work of artificial intelligence, which forms the content of this project