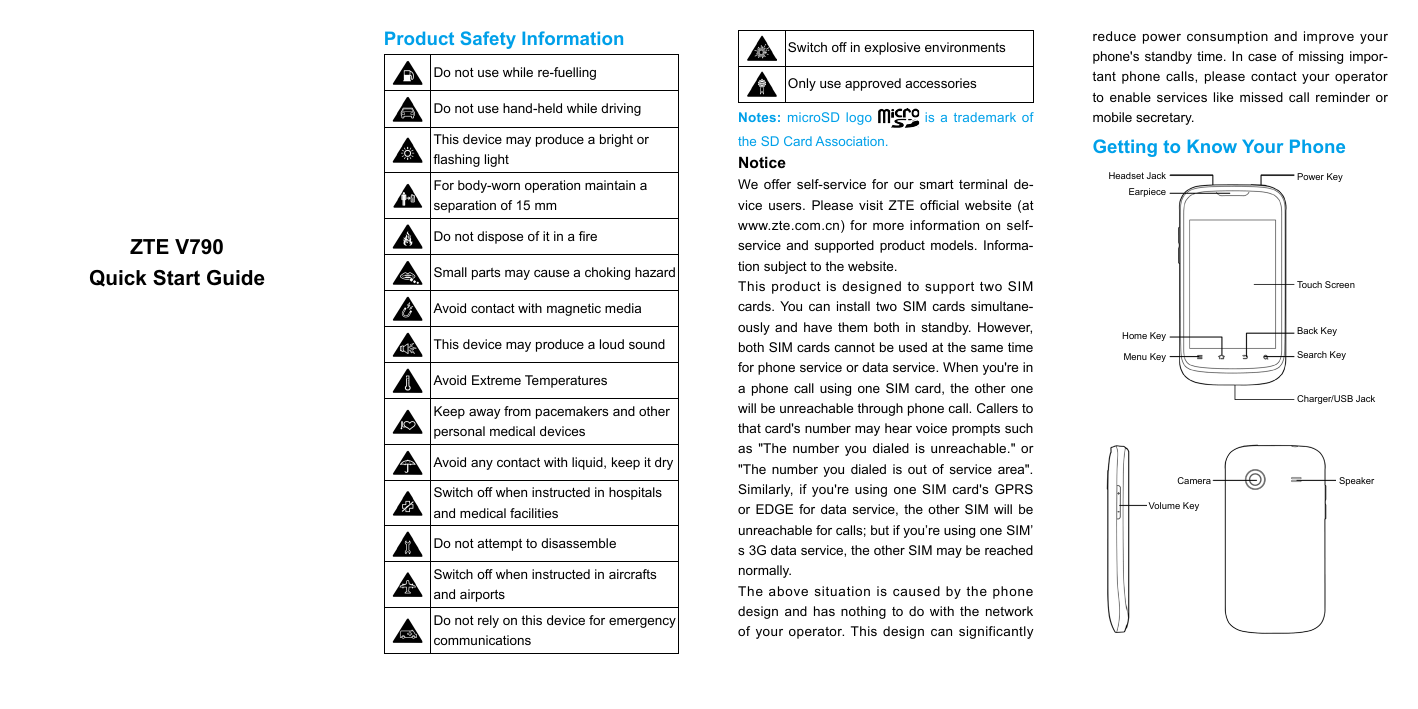 Product Safety Information
Switch off in explosive environments
Do not use while re-fuelling
Do not use hand-held while driving
This device may produce a bright or
flashing light
For body-worn operation maintain a
separation of 15 mm
ZTE V790
Quick Start Guide
Do not dispose of it in a fire
Small parts may cause a choking hazard
Avoid contact with magnetic media
This device may produce a loud sound
Avoid Extreme Temperatures
Keep away from pacemakers and other
personal medical devices
Avoid any contact with liquid, keep it dry
Switch off when instructed in hospitals
and medical facilities
Do not attempt to disassemble
Switch off when instructed in aircrafts
and airports
Do not rely on this device for emergency
communications
Only use approved accessories
Notes: microSD logo
is a trademark of
the SD Card Association.
Notice
We offer self-service for our smart terminal device users. Please visit ZTE official website (at
www.zte.com.cn) for more information on selfservice and supported product models. Information subject to the website.
This product is designed to support two SIM
cards. You can install two SIM cards simultaneously and have them both in standby. However,
both SIM cards cannot be used at the same time
for phone service or data service. When you're in
a phone call using one SIM card, the other one
will be unreachable through phone call. Callers to
that card's number may hear voice prompts such
as "The number you dialed is unreachable." or
"The number you dialed is out of service area".
Similarly, if you're using one SIM card's GPRS
or EDGE for data service, the other SIM will be
unreachable for calls; but if you're using one SIM'
s 3G data service, the other SIM may be reached
normally.
The above situation is caused by the phone
design and has nothing to do with the network
of your operator. This design can significantly
reduce power consumption and improve your
phone's standby time. In case of missing important phone calls, please contact your operator
to enable services like missed call reminder or
mobile secretary.
Getting to Know Your Phone
Headset Jack
Power Key
Earpiece
Touch Screen
Back Key
Home Key
Search Key
Menu Key
Charger/USB Jack
Camera
Volume Key
Speaker
Power Key
● Hold to select phone modes: Silent, Airplane,
or to power off.
● Press to switch your phone to Sleep mode.
● Press to wake up your phone.
Home Key
● Press to return to the Home Screen from any
application or screen.
● Hold to see recently used applications.
Menu Key
Press to get the options on the current screen.
Back Key
Press to go to the previous screen.
Installing the SIM cards
Charging the battery
SIM slot 2 (SIM2)
Before Getting Started
Removing the back cover
When you first get your new phone you'll need to
charge the battery like this…
1. Connect the adapter to the charger jack.
2. Connect the charger to a standard AC wall
outlet.
3. Disconnect the charger when the battery is
fully charged.
Powering On/Off Your Phone
Search Key
Press to start the Search application.
Volume Key
Press higher end of the key to turn the volume up
and the lower end of the key to turn it down.
If your phone is in Sleep Mode, you can wake it
up by…
1. Pressing Power Key to activate your screen
display.
SIM slot 1 (SIM1)
Caution: Install your UMTS or GSM SIM card
into SIM slot 1. Install your 2G SIM card into SIM
slot 2. SIM slot 1 is the main slot, SIM slot 2 is
the auxiliary slot.
Installing the battery
Installing the memory card
Waking Up Your Phone
1. Make sure the SIM is in your device and the
battery is charged.
2. Hold Power Key to switch on your phone.
3. To switch it off, hold Power Key to get the
phone options. Select Power off, and then
tap OK.
Switching to Sleep Mode
To save battery power, Sleep Mode suspends
your device to a low-power-consumption state
while the display is off. Your device also goes
into Sleep Mode automatically when the display
is automatically turned off after a certain period
of time, which you can set in Sleep of the display
settings.
Press Power Key to switch to Sleep Mode.
2. Press and hold
to unlock the screen.
Notes:
If you have set an 'unlock pattern', or a PIN/
password for your phone, you'll need to draw the
pattern or enter the PIN/password to unlock your
screen.

* Your assessment is very important for improving the work of artificial intelligence, which forms the content of this project