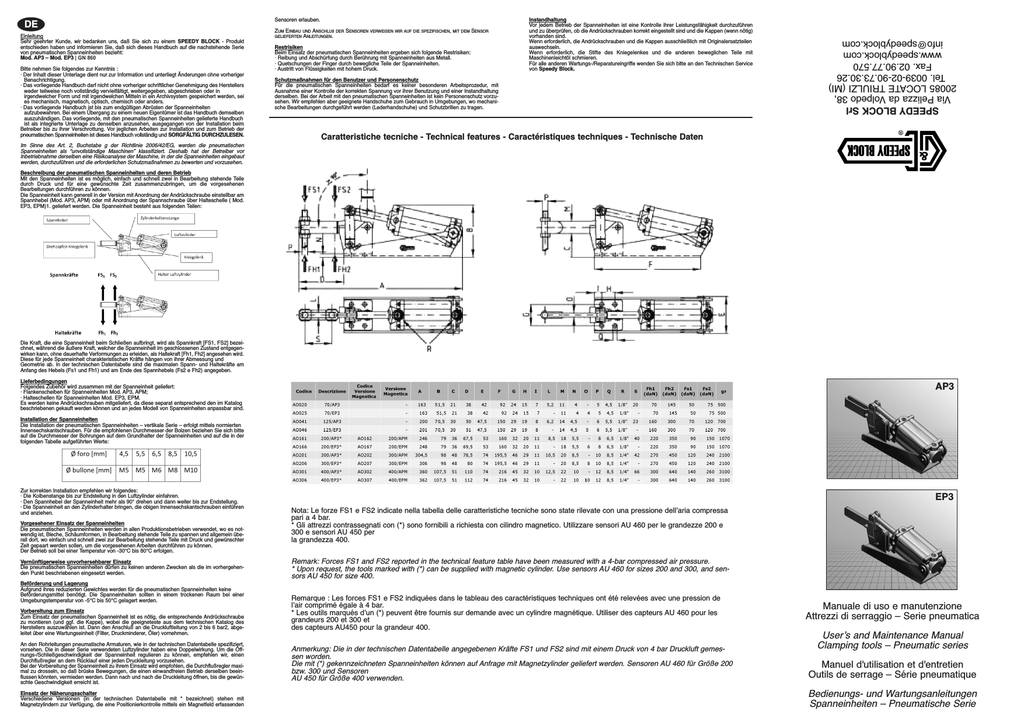 Bitte nehmen Sie folgendes zur Kenntnis :
· Der Inhalt dieser Unterlage dient nur zur Information und unterliegt Änderungen ohne vorheriger
Benachrichtigung.
· Das vorliegende Handbuch darf nicht ohne vorheriger schriftlicher Genehmigung des Herstellers
weder teilweise noch vollständig vervielfältigt, weitergegeben, abgeschrieben oder in
irgendwelcher Form und mit irgendwelchen Mitteln in ein Archivsystem gespeichert werden, sei
es mechanisch, magnetisch, optisch, chemisch oder anders.
· Das vorliegende Handbuch ist bis zum endgültigen Abrüsten der Spanneinheiten
aufzubewahren. Bei einem Übergang zu einem neuen Eigentümer ist das Handbuch demselben
auszuhändigen. Das vorliegende, mit den pneumatischen Spanneinheiten gelieferte Handbuch
ist als integrierte Unterlage zu denselben anzusehen, ausgegangen von der Installation beim
Betreiber bis zu ihrer Verschrottung. Vor jeglichen Arbeiten zur Installation und zum Betrieb der
pneumatischen Spanneinheiten ist dieses Handbuch vollständig und SORGFÄLTIG DURCHZULESEN.
Im Sinne des Art. 2, Buchstabe g der Richtlinie 2006/42/EG, werden die pneumatischen
Spanneinheiten als "unvollständige Maschinen" klassifiziert. Deshalb hat der Betreiber vor
Inbetriebnahme derselben eine Risikoanalyse der Maschine, in der die Spanneinheiten eingebaut
werden, durchzuführen und die erforderlichen Schutzmaßnahmen zu bewerten und vorzusehen.
Sensoren erlauben.
ZUM EINBAU UND ANSCHLUß DER SENSOREN VERWEISEN WIR AUF DIE SPEZIFISCHEN, MIT DEM SENSOR
GELIEFERTEN ANLEITUNGEN.
Restrisiken
Beim Einsatz der pneumatischen Spanneinheiten ergeben sich folgende Restrisiken:
· Reibung und Abschürfung durch Berührung mit Spanneinheiten aus Metall.
· Quetschungen der Finger durch bewegliche Teile der Spanneinheiten.
· Austritt von Flüssigkeiten mit hohem Druck.
Schutzmaßnahmen für den Benutzer und Personenschutz
Für die pneumatischen Spanneinheiten bedarf es keiner besonderen Arbeitsprozedur, mit
Ausnahme einer Kontrolle der korrekten Spannung vor ihrer Benutzung und einer Instandhaltung
derselben. Bei der Arbeit mit den pneumatischen Spanneinheiten ist kein Personenschutz vorzusehen. Wir empfehlen aber geeignete Handschuhe zum Gebrauch in Umgebungen, wo mechanische Bearbeitungen durchgeführt werden (Lederhandschuhe) und Schutzbrillen zu tragen.
Instandhaltung
Vor jedem Betrieb der Spanneinheiten ist eine Kontrolle ihrer Leistungsfähigkeit durchzuführen
und zu überprüfen, ob die Andrückschrauben korrekt eingestellt sind und die Kappen (wenn nötig)
vorhanden sind.
Wenn erforderlich, die Andrückschrauben und die Kappen ausschließlich mit Originalersatzteilen
auswechseln.
Wenn erforderlich, die Stifte des Kniegelenkes und die anderen beweglichen Teile mit
Maschinenleichtöl schmieren.
Für alle anderen Wartungs-/Reparatureingriffe wenden Sie sich bitte an den Technischen Service
von Speedy Block.
Caratteristiche tecniche - Technical features - Caractéristiques techniques - Technische Daten
SPEEDY BLOCK Srl
Via Pelizza da Volpedo 38,
20085 LOCATE TRIULZI (MI)
Tel. 0039-02-90.73.30.26
Fax. 02.90.77.570
www.speedyblock.com
info@speedyblock.com
DE
Einleitung
Sehr geehrter Kunde, wir bedanken uns, daß Sie sich zu einem SPEEDY BLOCK - Produkt
entschieden haben und informieren Sie, daß sich dieses Handbuch auf die nachstehende Serie
von pneumatischen Spanneinheiten bezieht:
Mod. AP3 – Mod. EP3 | GN 860
Beschreibung der pneumatischen Spanneinheiten und deren Betrieb
Mit den Spanneinheiten ist es möglich, einfach und schnell zwei in Bearbeitung stehende Teile
durch Druck und für eine gewünschte Zeit zusammenzubringen, um die vorgesehenen
Bearbeitungen durchführen zu können.
Die Spanneinheit kann generell in der Version mit Anordnung der Andrückschraube einstellbar am
Spannhebel (Mod. AP3, APM) oder mit Anordnung der Spannschraube über Halteschelle ( Mod.
EP3, EPM)1. geliefert werden. Die Spanneinheit besteht aus folgenden Teilen:
Die Kraft, die eine Spanneinheit beim Schließen aufbringt, wird als Spannkraft [FS1, FS2] bezeichnet, während die äußere Kraft, welcher die Spanneinheit im geschlossenen Zustand entgegenwirken kann, ohne dauerhafte Verformungen zu erleiden, als Haltekraft [Fh1, Fh2] angesehen wird.
Diese für jede Spanneinheit charakteristischen Kräfte hängen von ihrer Abmessung und
Geometrie ab. In der technischen Datentabelle sind die maximalen Spann- und Haltekräfte am
Anfang des Hebels (Fs1 und Fh1) und am Ende des Spannhebels (Fs2 e Fh2) angegeben.
AP3
Lieferbedingungen
Folgendes Zubehör wird zusammen mit der Spanneinheit geliefert:
· Flankenscheiben für Spanneinheiten Mod. AP3, APM;
· Halteschellen für Spanneinheiten Mod. EP3, EPM.
Es werden keine Andrückschrauben mitgeliefert, da diese separat entsprechend den im Katalog
beschriebenen gekauft werden können und an jedes Modell von Spanneinheiten anpassbar sind.
Installation der Spanneinheiten
Die Installation der pneumatischen Spanneinheiten – vertikale Serie – erfolgt mittels normierten
Innensechskantschrauben. Für die empfohlenen Durchmesser der Bolzen beziehen Sie sich bitte
auf die Durchmesser der Bohrungen auf dem Grundhalter der Spanneinheiten und auf die in der
folgenden Tabelle aufgeführten Werte:
Zur korrekten Installation empfehlen wir folgendes:
· Die Kolbenstange bis zur Endstellung in den Luftzylinder einfahren.
· Den Spannhebel der Spanneinheit mehr als 90° drehen und dann weiter bis zur Endstellung.
· Die Spanneinheit an den Zylinderhalter bringen, die obigen Innensechskantschrauben einführen
und anziehen.
Vorgesehener Einsatz der Spanneinheiten
Die pneumatischen Spanneinheiten werden in allen Produktionsbetrieben verwendet, wo es notwendig ist, Bleche, Schäumformen, in Bearbeitung stehende Teile zu spannen und allgemein überall dort, wo einfach und schnell zwei zur Bearbeitung stehende Teile mit Druck und gewünschter
Zeit gepaart werden sollen, um die vorgesehenen Arbeiten durchführen zu können.
Der Betrieb soll bei einer Temperatur von -30°C bis 80°C erfolgen.
Vernünftigerweise unvorhersehbarer Einsatz
Die pneumatischen Spanneinheiten dürfen zu keinen anderen Zwecken als die im vorhergehenden Punkt beschriebenen eingesetzt werden.
Beförderung und Lagerung
Aufgrund ihres reduzierten Gewichtes werden für die pneumatischen Spanneinheiten keine
Beförderungsmittel benötigt. Die Spanneinheiten sollten in einem trockenen Raum bei einer
Umgebungstemperatur von -5°C bis 50°C gelagert werden.
Vorbereitung zum Einsatz
Zum Einsatz der pneumatischen Spanneinheit ist es nötig, die entsprechende Andrückschraube
zu montieren (und ggf. die Kappe), wobei die geeigneteste aus dem technischen Katalog des
Herstellers auszuwählen ist. Dann den Anschluß an die Druckluftleitung von 2 bis 6 bar2, abgeleitet über eine Wartungseinheit (Filter, Druckminderer, Öler) vornehmen.
An den Rohrleitungen pneumatische Armaturen, wie in der technischen Datentabelle spezifiziert,
vorsehen. Die in dieser Serie verwendeten Luftzylinder haben eine Doppelwirkung. Um die Öffnungs-/Schließgeschwindigkeit der Spanneinheit regulieren zu können, empfehlen wir, einen
Durchflußregler an dem Rücklauf einer jeden Druckleitung vorzusehen.
Bei der Vorbereitung der Spanneinheit zu ihrem Einsatz wird empfohlen, die Durchflußregler maximal zu drosseln, so daß brüske Bewegungen, die einen einwandfreien Betrieb derselben beeinflussen könnten, vermieden werden. Dann nach und nach die Druckleitung öffnen, bis die gewünschte Geschwindigkeit erreicht ist.
Einsatz der Näherungsschalter
Verschiedene Versionen (in der technischen Datentabelle mit * bezeichnet) stehen mit
Magnetzylindern zur Verfügung, die eine Positionierkontrolle mittels ein Magnetfeld erfassenden
Nota: Le forze FS1 e FS2 indicate nella tabella delle caratteristiche tecniche sono state rilevate con una pressione dell'aria compressa
pari a 4 bar.
* Gli attrezzi contrassegnati con (*) sono fornibili a richiesta con cilindro magnetico. Utilizzare sensori AU 460 per le grandezze 200 e
300 e sensori AU 450 per
la grandezza 400.
EP3
Remark: Forces FS1 and FS2 reported in the technical feature table have been measured with a 4-bar compressed air pressure.
* Upon request, the tools marked with (*) can be supplied with magnetic cylinder. Use sensors AU 460 for sizes 200 and 300, and sensors AU 450 for size 400.
Remarque : Les forces FS1 e FS2 indiquées dans le tableau des caractéristiques techniques ont été relevées avec une pression de
l'air comprimé égale à 4 bar.
* Les outils marqués d'un (*) peuvent être fournis sur demande avec un cylindre magnétique. Utiliser des capteurs AU 460 pour les
grandeurs 200 et 300 et
des capteurs AU450 pour la grandeur 400.
Anmerkung: Die in der technischen Datentabelle angegebenen Kräfte FS1 und FS2 sind mit einem Druck von 4 bar Druckluft gemessen worden.
Die mit (*) gekennzeichneten Spanneinheiten können auf Anfrage mit Magnetzylinder geliefert werden. Sensoren AU 460 für Größe 200
bzw. 300 und Sensoren
AU 450 für Größe 400 verwenden.
Manuale di uso e manutenzione
Attrezzi di serraggio – Serie pneumatica
User's and Maintenance Manual
Clamping tools – Pneumatic series
Manuel d'utilisation et d'entretien
Outils de serrage – Série pneumatique
Bedienungs- und Wartungsanleitungen
Spanneinheiten – Pneumatische Serie
Installazione della attrezzatura di serraggio
L'installazione delle attrezzature di serraggio serie verticale pneumatica avviene attraverso viti ad
esagono incassato di tipo normalizzato. Per i diametri consigliati dei bulloni riferirsi ai diametri dei
fori presenti sulla base della attrezzatura ed ai valori riportati nella tabella seguente:
Per una corretta installazione si consiglia di:
· far rientrare lo stelo del pistone nel cilindro pneumatico fino a fine corsa
· Ruotare la leva di serraggio dell'attrezzo di oltre 90 ° e fino a fine corsa.
· Accostare l'attrezzo al supporto cilindro , applicare le viti ad esagono incassato di cui sopra e
stringere.
Uso previsto della attrezzatura di serraggio
L'attrezzatura di serraggio serie pneumatica può essere utilizzata in tutte le attività produttive ove
vi è la necessità di serrare lamiere, stampi per schiume, pezzi in lavorazione, ed in generale ovunque si debba accoppiare con facilità e rapidità due parti in lavorazione con pressione e per un
tempo desiderato, al fine di poter effettuare le operazioni di lavorazione previste. Si raccomanda
l'utilizzo a temperature comprese fra -30°C e 80°C.
Ragionevole uso non prevedibile
Le attrezzature di serraggio serie pneumatica non possono essere utilizzate per scopi differenti da
quelli specificati al paragrafo precedente.
Movimentazione e magazzinaggio
Le attrezzature di serraggio serie pneumatica, a causa della loro ridotta massa non necessitano
di attrezzature per la movimentazione.
Si suggerisce la conservazione delle attrezzature di serraggio in luogo asciutto e con temperature ambiente comprese fra -5°C e 50°C.
Predisposizione all'uso
Per poter utilizzare l'attrezzatura di serraggio serie pneumatica è necessario montare la apposita
vite di pressione ( ed eventualmente del cappuccio) scegliendo quella più adeguata alle necessità di serraggio dal catalogo tecnico del Fabbricante e predisporre l'allacciamento alla linea di alimentazione dell'aria compressa, derivata attraverso un gruppo riduttore/lubrificatore, avente pressione compresa fra 2 e 6 bar2. Predisporre sulle tubazioni raccorderie pneumatiche come specificato nella tabella delle caratteristiche tecniche.
I cilindri pneumatici usati in questa serie sono del tipo a doppio effetto, per cui per regolare la velocità di apertura/chiusura dell'attrezzatura di serraggio è consigliabile predisporre un regolatore di
flusso sulla linea di ritorno ciascuna mandata d'aria compressa.
Predisponendo l'attrezzo all'uso, è consigliabile strozzare al massimo i regolatori di flusso in modo
da evitare movimenti bruschi che potrebbero nuocere al buon funzionamento dello stesso, quindi
aprire gradualmente le mandate fino a raggiungere la velocità desiderata.
IT
Premessa
Gentile Cliente, nel ringraziarla per aver scelto un prodotto SPEEDY BLOCK, la informiamo che
il manuale in oggetto si riferisce alla seguente serie di attrezzature di serraggio pneumatiche:
Forma AP3 – Forma EP3 | GN 860
La informiamo che:
· il contenuto di questo documento ha solo scopo informativo ed è soggetto a modifiche
senza preavviso
· il presente manuale non può essere né parzialmente né interamente riprodotto, trasmesso,
trascritto o memorizzato in un sistema di archiviazione in alcuna forma o in alcun mezzo, sia
esso meccanico, magnetico, ottico, chimico o altro, senza l'autorizzazione scritta del Fabbricante.
· il presente manuale deve essere conservato fino allo smantellamento finale della attrezzatura,
in caso di passaggio di proprietà andrà consegnato al nuovo acquirente
Il presente manuale d'uso, fornito con la attrezzatura di serraggio pneumatica, deve essere considerato parte integrante della stessa, dalla sua installazione presso l'utente alla sua demolizione.
Prima di intraprendere qualsiasi attività di installazione ed uso della attrezzatura di serraggio
pneumatica,LEGGERE ATTENTAMENTE ogni parte del presente manuale.
Ai sensi dell'art. 2 comma g della Direttiva 2006/42/CE, l'attrezzatura di serraggio serie pneumatica viene classificata coma "quasi macchina"; pertanto l'utilizzatore prima della sua messa in servizio deve provvedere alla effettuazione della analisi di rischio della macchina sulla quale l'attrezzatura è stata installata e deve valutare e predisporre le necessarie misure di protezione.
Descrizione della attrezzatura di serraggio pneumatica e del suo funzionamento
L'attrezzatura di serraggio è un dispositivo tramite il quale è possibile accoppiare con facilità e
rapidità due parti in lavorazione con pressione e per un tempo desiderati, per poter effettuare le
operazioni di lavorazione previste.
L'attrezzatura in generale può essere fornita nella versione con posizionamento della vite di pressione regolabile sulla leva di serraggio (Forma AP3, APM) o con posizionamento della vite di serraggio attraverso fascetta (Forma EP3, EPM)1.
L'attrezzatura di serraggio è composta dalle seguenti parti:
Utilizzo degli interruttori di prossimità
Diverse versioni (contrassegnate con * nella tabella delle caratteristiche tecniche) sono disponibili con cilindri magnetici che permettono un controllo di posizionamento attraverso l'impiego di sensori in grado di avvertire la presenza di un campo magnetico.
PER IL MONTAGGIO ED IL COLLEGAMENTO DEI SENSORI RIFERIRSI ALLE SPECIFICHE ISTRUZIONI
CONSEGNATE COL SENSORE.
Rischi residui
Durante l'uso delle attrezzature di serraggio serie pneumatica sussistono i seguenti rischi residui:
· Attrito e abrasione derivante dal contatto con attrezzature in metallo;
· Schiacciamento delle dita dovuto agli elementi mobili delle attrezzature;
· Eiezione di fluidi ad alta pressione
Misure di protezione per l'utilizzatore e mezzi personali di protezione
L'attrezzatura di serraggio serie pneumatica, non prevede per il suo utilizzo particolari procedure
di lavoro salvo il controllo del corretto serraggio prima dell'utilizzo ed il mantenimento in efficienza della attrezzatura stessa.
L'attrezzatura di serraggio serie pneumatica non richiede l'uso di mezzi personali di protezione,
tuttavia si suggerisce l'utilizzo di guanti adatti all'uso in ambienti ove si effettuano lavorazioni meccaniche (guanti in crosta o pelle) e degli occhiali.
Manutenzione
Effettuare prima di ogni utilizzo un controllo dell'efficienza della attrezzatura e della corretta regolazione delle viti di pressione e della presenza dei cappucci (se necessari). Sostituire in caso di
necessario le viti di pressione ed i cappucci utilizzando esclusivamente ricambi originali.
Lubrificare secondo necessità i perni della ginocchiera e le atre parti in movimento mediante olio
leggero da macchina.
Per qualsiasi altra operazione di manutenzione/riparazione rivolgersi al servizio di assistenza
tecnica della Speedy Block.
EN
Foreword
Dear Customer, in thanking you for selecting a SPEEDY BLOCK PRODUCT, we wish to inform
you that subject manual refers to the following series of pneumatic tightening tools:
Form AP3 – Form EP3 | GN 860
We wish to inform you that:
· The contents of this manual are for information only and are subject to changes without
previous notice
· This manual cannot be reproduced, transmitted, transcribed or saved in a filing system in any
form – be it mechanical, magnetic, optical, chemical or other – either partially or in full,
without the written authorization issued by the Manufacturer.
· This manual is to be preserved until the final dismissal of the equipment and handed over to the
new purchaser in case of transfer of ownership
This manual, which is supplied jointly to the air clamping equipment, is to be considered as an
integral part of the equipment, from its installation at the user's premises up to its demolition.
Before undertaking any installation activity of the pneumatic series equipments, please READ
CAREFULLY every part of this manual.
In compliance with Article 2 comma g of machine Directive 2006/42/CE, the air clamping equipment is identified as "almost machine"; therefore, the user must run the risk analysis of the machine where the equipment is installed, and also assess and arrange for the required protective measures before commissioning.
La forza che un attrezzo è in grado si esprimere durante la chiusura viene definita forza di serraggio [FS1,FS2] mentre la forza esterna che l'attrezzo in posizione chiusa è in grado di contrastare
senza subire deformazioni permanenti viene definita forza di ritegno [Fh1, Fh2].
Queste forze, caratteristiche di ogni attrezzo, dipendono dalle sue dimensioni e geometria; nella
tabella delle caratteristiche tecniche sono specificate le forze di serraggio e di ritegno massime
all'inizio leva (Fs1 e Fh1) ed alla fine della leva di serraggio (Fs2 e Fh2).
Condizioni di fornitura
Nella confezione vengono forniti in dotazione all'attrezzatura di serraggio i seguenti accessori:
· rondelle piegate per attrezzature in Forma AP3, APM;
· fascette per attrezzature in Forma EP3, EPM.
Non vengono fornite le viti di pressione che possono essere acquistate separatamente scegliendo fra quelle descritte nel catalogo, adattabili a qualunque forma della attrezzatura di serraggio.
Description of the pneumatic series equipment and of its operation
The clamping equipment is a device which enables to mate two parts in process easily and quickly, by pressure and for the time required, in order to carry out the machining required.
The equipment in general can be supplied in the versions with either adjustable position of the
pressure screw on the clamping lever (Form AP3, APM) or screw location through fastener (Form
EP3, EPM)1. The clamping equipment consists of the following parts:
Description de l'équipement de serrage pneumatique et de son fonctionnement
L'équipement de serrage est un dispositif permettant d'assembler avec facilité et rapidité deux parties
en usinage avec une pression et pour un laps de temps désirés, pour pouvoir effectuer les opérations
d'usinage prévues.
En général, l'équipement peut être fourni dans la version avec positionnement de la vis de pression
réglable sur le levier de serrage (Forme AP3, APM) ou avec positionnement de la vis de serrage à travers le collier (Forme EP3, EPM)1. L'équipement de serrage se compose des parties suivantes :
The strength a tool can express during its closing is defined as "clamping force" [FS1, FS2], whilst
the external strength that the tool in closed position can counteract without being affected by permanent deformations is defined as "holding force" [Fh1, Fh2].
These forces, which are characteristic of every tool, depend on its dimensions and geometry;
the technical feature table specifies the maximum holding strength at both the beginning and at
the end of the clamping lever (Fh1 and Fh2).
Conditions of supply
The supply package of the clamping equipment includes the following accessories:
· Bent washers for equipment in Form AP3, APM;
· Holding hose for equipment in Form EP3, EPM.
The pressure screws are not supplied, and can be purchased separately by selecting amongst the
ones which are described in the catalogue, and can be adapted to any form of the clamping equipment.
Installation of the clamping equipment
The installation of the clamping equipment – pneumatic series – is made by means of hex socket
screws of the normalized type. As related to the recommended screw diameters, please refer to the
diameters of the holes on the basis of the equipment and to the values reported in the following table:
For the correct installation, we recommend to:
· Introduce the piston rod up to the end of its stroke
· Rotate the clamping lever by more than 90 ° and up to the end of its stroke.
· Draw the equipment close to the cylinder support, apply the afore mentioned hex socket screws
and tighten.
Expected use of the clamping devices
The clamping equipment – pneumatic series can be used in all the production activities where there is
need to clamp metal sheets, foam molds, parts in machining and – in general – wherever two parts in
process are to be mated easily and at the desired pressure and time, in order to carry out the required
operations. We recommend use at temperatures included between -30°C and 80°C.
La force qu'un outil est capable d'exprimer pendant la fermeture est définie force de serrage [FS1,
FS2] tandis que la force externe que l'outil est capable de supporter en position fermée sans subir
de déformations permanentes est appelée force de retenue [Fh1, Fh2].
Ces forces, caractéristiques de tout outil, dépendent de ses dimensions et géométrie. Dans
le tableau des caractéristiques techniques sont spécifiées les forces de serrage et de
retenue maximum de début de levier (Fs1 e Fh1) et de fin de levier de serrage (Fs2 e Fh2).
Conditions de fourniture
Dans la confection, sont fournis, avec l'équipement de serrage, les accessoires suivants :
· rondelles pliées pour les équipements de Forme AP3, APM ;
· colliers pour équipements de Forme EP3, EPM.
Ne sont pas fournies les vis de pression qui peuvent être achetés séparément en choisissant
parmi celles décrites dans le catalogue, adaptables à toute forme de l'équipement de serrage.
Installation de l'équipement de serrage
L'installation des outils de serrage de la série verticale pneumatique se fait à l'aide de vis à six
pans creux de type normalisé. Pour les diamètres conseillés des boulons, se référer aux diamètres
des trous présents sur la base de l'équipement et aux valeurs reportées dans le tableau suivant:
Unexpected reasonable use
The clamping equipment – pneumatic series – cannot be used for other purposes than the ones which
are specified in the paragraph above.
Handling and storage
Because of their reduced mass, the clamping tools – pneumatic series – do not require any equipment
for handling. We recommend keeping the clamping equipment in a dry area, at ambient temperature
between -5°C and 50°C.
Preparation for use
In order to use the clamping equipment – pneumatic series, the purposely allocated pressure screw
(and the cap screw, if required) must be set, selecting the one which is mostly appropriate to the clamping needs of the Manufacturer's technical catalogue. Arrange for connection to the compressed air
supply line - to be derived through a reducer/lubrication unit – at a pressure included between 2 and 6
bar2.
Arrange the pneumatic fittings as specified in the technical feature table.
The air cylinders used in this series are of the double-acting type; consequently, in order to adjust the
opening and closing speed of the camping equipment, we recommend setting a flow regulation device
on the return line of every compressed air delivery. When the equipment is being commissioned, we
recommend tightening the flow regulation devices as much as possible in order to prevent any sudden
movements, which might affect its appropriate operation, and then open the delivery progressively until
the whished speed is attained.
Use of the proximity switches
Different versions (marked by * in the technical feature table) are available with magnetic cylinders
which enable to check the positioning through proximity switches which sense the presence of a
magnetic field.
AS RELATED TO THE INSTALLATION AND CONNECTION OF THE SENSORS, PLEASE REFER TO THE SPECIFIC
INSTRUCTIONS DELIVERED WITH THEM.
Residual risk
During the use of the clamping equipment – pneumatic series, the following residual risk may subsist:
· Friction and abrasion deriving from the contact with metal tools;
· Crushing of the fingers due to the mobile elements of the tools;
· Ejection of high-pressure fluid
Protection measures and means for individual protection
The clamping equipment – pneumatic series does not dictate special working procedures for its use,
except the checking of the appropriate tightening before its use and that the equipment itself is kept efficient. The clamping equipment – pneumatic series does not require the use of means for individual protection; we nevertheless recommend the use of gloves as appropriate in environments where mechanical processing is performed (hard pan or leather) and goggles.
Maintenance
Before every use, check the efficiency of the equipment and the correct adjustment of the pressure
screws as well as the presence of the caps (if required). If and when the pressure screws and caps are
to be replaced, original spare parts should be exclusively used. Lubricate as required the toggle clamp
pins and the other moving parts with light oil for machines. For any other maintenance and/or repair
operation, please refer to Speedy Block's technical assistance.
FR
Avant-propos
Cher Client, nous vous remercions d'avoir choisi un produit SPEEDY BLOCK et nous vous informons
que le présent manuel se réfère à la série d'outils de serrage série pneumatiques suivante :
Forme AP3 – Forme EP3 | GN 860
Nous vous informons que :
· le contenu de ce document a un but purement informatif et est l'objet de modifications sans préavis ;
· le présent manuel ne peut être ni partiellement ni entièrement reproduit, transmis, transcrit ou
mémorisé dans un système d'archivage sous quelque forme ou moyen que ce soit, mécanique,
magnétique, optique, chimique ou autre, sans une autorisation écrite du Fabriquant.
· le présent manuel doit être conservé jusqu'à la démolition finale de l'équipement ; en cas de
passage de propriété, il sera livré au nouvel acquéreur.
Le présent manuel d'utilisation, fourni avec l'équipement de serrage pneumatique, doit être considéré
comme faisant partie intégrante de celui-ci, de son installation chez l'utilisateur à sa démolition.
Avant d'entreprendre toute activité d'installation et d'utilisation de l'équipement de serrage pneumatique, LIRE ATTENTIVEMENT chaque partie du présent manuel.
Aux sens de l'art. 2 alinéa g de la Directive 2006/42/CE, l'équipement de serrage série pneumatique
est classé comme « presque machine ». Par conséquent, avant sa mise en service, l'utilisateur doit
effectuer l'analyse de risque de la machine sur laquelle l'équipement a été installé, évaluer et préparer
les mesures de protection nécessaires.
Pour une bonne installation, il est conseillé de:
· faire rentrer la tige du piston dans le cylindre pneumatique jusqu'à fin de course ;
· tourner le levier de serrage de l'outil de plus de 90° et jusqu'à fin de course ;
· mettre l'outil contre le support cylindrique, appliquer les vis à six pans creux mentionnées
ci-dessus et serrer.
Utilisation prévue de l'équipement de serrage
L'équipement de serrage de la série pneumatique peut être utilisé dans toutes les activités de production où il est nécessaire de serrer des tôles, moules pour mousses, pièces en usinage, et en
général où il faut assembler avec facilité et rapidité deux parties en usinage avec une pression et
pour un laps de temps désirés, pour pouvoir effectuer les opérations d'usinage prévues.
Nous recommandons une utilisation à des températures comprises entre –30°C et 80°C.
Utilisation raisonnable non prévisible
Les équipements de serrage de la série pneumatique ne peuvent être utilisés à des fins différents
de celles spécifiées au paragraphe précédent.
Manutention et stockage
En raison de leur masse réduite, les équipements de serrage de la série pneumatique n'ont pas
besoin d'équipements pour la manutention. Il est suggéré de conserver les équipements de serrage dans un lieu sec et avec une température ambiante comprise entre –5°C et 50°C.
Prédisposition à l'utilisation
Pour pouvoir utiliser l'équipement de serrage série pneumatique, il faut monter la vis de pression
prévue à cet effet (et éventuellement du capuchon) en choisissant la plus adaptée aux besoins de
serrage du catalogue technique du Fabriquant et préparer le branchement à la ligne d'alimentation de l'air comprimé, dérivée à travers un groupe réducteur/graisseur, ayant une pression comprise entre 2 et 6 bar2. Préparer sur les tuyaux des raccords pneumatiques comme spécifié dans
le tableau des caractéristiques techniques.
Les cylindres pneumatiques utilisés dans cette série sont du type à double effet, donc, pour régler
la vitesse d'ouverture/fermeture de l'équipement de serrage, il est conseillé de préparer un régulateur de flux sur la ligne de retour de chaque refoulement d'air comprimé.
En préparant l'outil à l'utilisation, il est conseillé d'étrangler au maximum les régulateurs de flux de
manière à éviter les mouvements brusques qui pourraient nuire au bon fonctionnement de celuici, puis ouvrir progressivement les refoulements jusqu'à atteindre la vitesse désirée.
Utilisation des interrupteurs de proximité
Diverses versions (marquées d'un * dans le tableau des caractéristiques techniques) sont disponibles avec des cylindres magnétiques qui permettent un contrôle de positionnement à travers
l'utilisation de capteurs en mesure de détecter la présence d'un champ magnétique.
POUR LE MONTAGE ET LE BRANCHEMENT DES CAPTEURS, SE RÉFÉRER AUX INSTRUCTIONS SPÉCIFIQUES
LIVRÉES AVEC LE CAPTEUR.
Risques résiduels
Pendant l'utilisation des équipements de serrage de la série pneumatique, les risques résiduels
suivants subsistent :
· Frottement et abrasion dérivant du contact avec les équipements en métal ;
· Écrasement des doigts dû aux éléments mobiles des équipements ;
· Éjection de fluides à haute pression.
Mesures de protection pour l'utilisateur et moyens personnels de protection
L'équipement de serrage de la série pneumatique ne prévoit pas de procédures de travail particulières pour son utilisation, si ce n'est le contrôle du bon serrage avant l'utilisation et le maintien
efficace de l'équipement. L'équipement de serrage de la série pneumatique ne requiert pas l'utilisation de moyens personnels de protection. Cependant, il est suggéré d'utiliser des gants adaptés à l'utilisation dans des milieux où s'effectuent des travaux mécaniques (gants en croûte ou
cuir) et des lunettes.
Entretien
Avant toute utilisation, effectuer un contrôle de l'efficacité de l'équipement, du bon réglage des vis
de pression et de la présence des capuchons (si nécessaire). Remplacer, en cas de besoin, les
vis de pression et les capuchons en utilisant exclusivement des pièces de rechange originales.
Lubrifier, si nécessaire, les pivots de la genouillère et les autres parties en mouvement avec de
l'huile légère pour machine.
Pour toute autre opération d'entretien/réparation, s'adresser au service d'assistance technique de
Speedy Block.