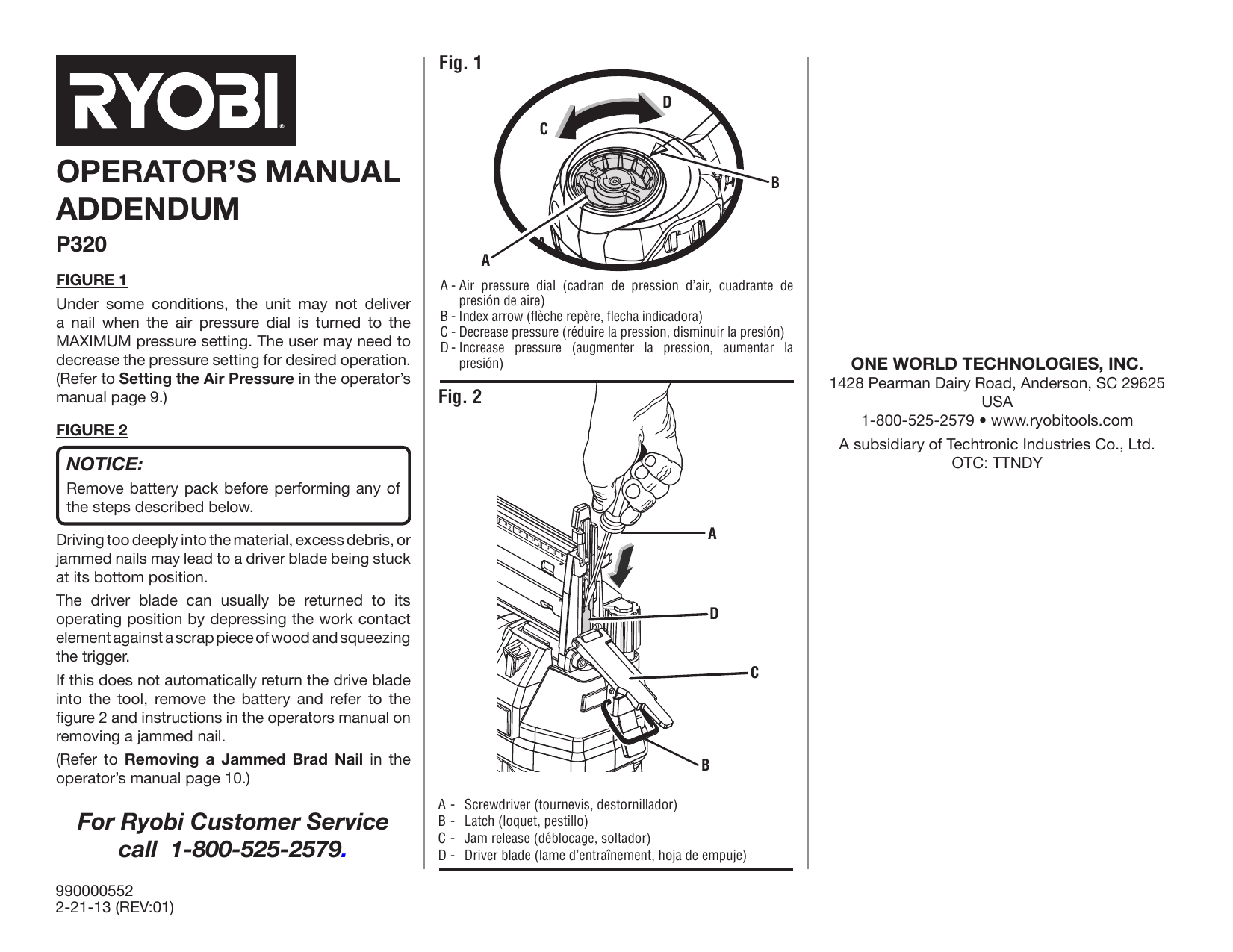 Fig. 1
D
C
OPERATOR'S MANUAL
ADDENDUM
B
P320
FIGURE 1
Under some conditions, the unit may not deliver
a nail when the air pressure dial is turned to the
MAXIMUM pressure setting. The user may need to
decrease the pressure setting for desired operation.
(Refer to Setting the Air Pressure in the operator's
manual page 9.)
A
A
A - Air pressure dial (cadran de pression d'air, cuadrante de
presión de aire)
B - Index arrow (flèche repère, flecha indicadora)
C - Decrease pressure (réduire la pression, disminuir la presión)
D - Increase pressure (augmenter la pression, aumentar la
presión)
Fig. 2
FIGURE 2
NOTICE:
Remove battery pack before performing any of
the steps described below.
3
2
Driving too deeply into the material, excess debris, or
jammed nails may lead to a driver blade being stuck
at its bottom position.
1
The driver blade can usually be returned to its
operating position by depressing the work contact
element against a scrap piece of wood and squeezing
the trigger.
A
D
C
If this does not automatically return the drive blade
into the tool, remove the battery and refer to the
figure 2 and instructions in the operators manual on
removing a jammed nail.
(Refer to Removing a Jammed Brad Nail in the
operator's manual page 10.)
For Ryobi Customer Service
call 1-800-525-2579.
990000552
2-21-13 (REV:01)
B
ABCD-
ONE WORLD TECHNOLOGIES, INC.
1428 Pearman Dairy Road, Anderson, SC 29625
USA
1-800-525-2579 • www.ryobitools.com
A subsidiary of Techtronic Industries Co., Ltd.
OTC: TTNDY
Screwdriver (tournevis, destornillador)
Latch (loquet, pestillo)
Jam release (déblocage, soltador)
Driver blade (lame d'entraînement, hoja de empuje)
P320
APÉNDICE DEL MANUAL DEL
OPERADOR
FIGURE 1
P320
Sous certaines conditions, il est possible que l'outil ne tire pas de clou si le cadran
de pression d'air est tourné vers le réglage de pression MAXIMALE. L'utilisateur
devra diminuer le réglage de pression selon le fonctionnement désiré. (Consulter
le chapitre Réglage de la pression d'air à la page 10 du manuel d'utilisation.)
FIGURA 1
ADDENDA DU MANUEL D'UTILISATION
FIGURE 2
AVIS :
Retirer le bloc-piles avant d'exécuter l'une des étapes décrites ci-dessous.
En determinadas condiciones, es posible que la unidad no pueda aplicar un clavo
cuando se lleve el indicador de presión de aire al ajuste MÁXIMO de presión.
Es posible que el usuario deba reducir el ajuste de presión para la operación
deseada. (Consulte la sección Ajuste de la presión de aire en la página 10 del
manual del operador.)
FIGURA 2
AVISO:
Un enfoncement trop profond dans le matériau, une quantité excessive de débris
ou des clous coincés peuvent provoquer le blocage de la lame d'entraînement
vers le bas.
Retire el paquete de baterías antes de efectuar cualquiera de los pasos que
se describen a continuación.
La lame d'entraînement peut habituellement être remise en position de
fonctionnement en appuyant sur l'élément de contact contre un échantillon de
bois et en appuyant sur la gâchette.
El exceso de profundidad de clavado, el exceso de residuos o los clavos atorados
pueden hacer que la hoja de empuje se atore en su posición inferior.
Si la lame d'entraînement ne se réinsère pas automatiquement dans l'outil, retirer
le bloc-piles et consulter la figure 2 et les instructions de déblocage de clous
dans le manuel d'utilisation.
(Consulter le chapitre Retrait d'un clou à parquet coincé à la page 12 du
manuel d'utilisation.)
Usualmente, se podrá hacer regresar la hoja de empuje a su posición operativa
ejerciendo presión sobre el elemento que entra en contacto con la pieza de
trabajo contra un trozo de madera de desecho y presionando el gatillo.
Si con esto la hoja de empuje no regresa automáticamente al interior de la
herramienta, retire la batería y consulte la figura 2 y las instrucciones del manual
del operador para retirar clavos atorados.
(Consulte la sección Cómo quitar un clavo de puntilla atascado en la página
12 del manual del operador.)
Pour communiquer avec le service à la clientèle
de Ryobi, composer le 1-800-525-2579.
Para comunicarse con el Servicio de atención al
cliente de Ryobi, llame al 1-800-525-2579.

* Your assessment is very important for improving the work of artificial intelligence, which forms the content of this project