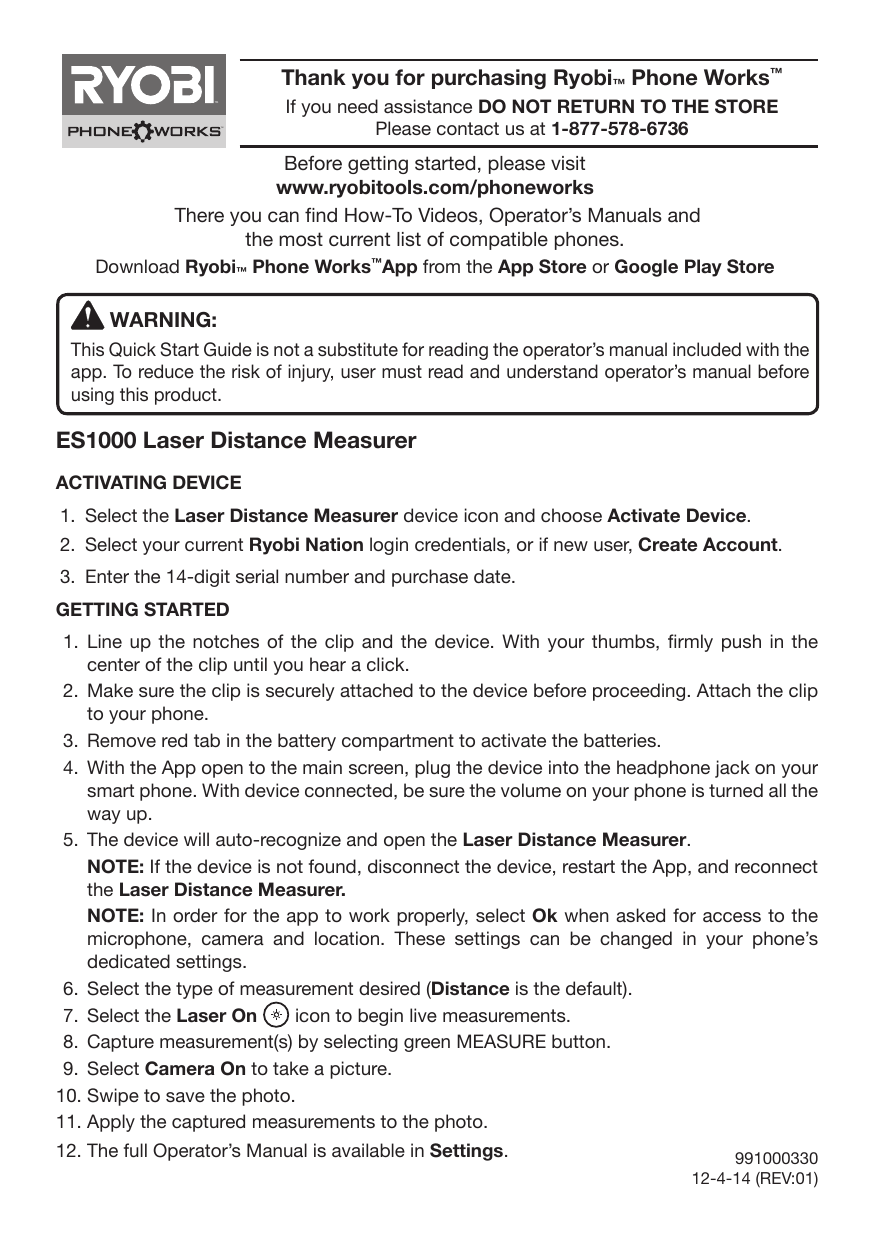 Thank you for purchasing Ryobi™ Phone Works™
TM
TM
If you need assistance DO NOT RETURN TO THE STORE
Please contact us at 1-877-578-6736
Before getting started, please visit
www.ryobitools.com/phoneworks
There you can find How-To Videos, Operator's Manuals and
the most current list of compatible phones.
Download Ryobi™ Phone Works™App from the App Store or Google Play Store
WARNING:
This Quick Start Guide is not a substitute for reading the operator's manual included with the
app. To reduce the risk of injury, user must read and understand operator's manual before
using this product.
ES1000 Laser Distance Measurer
ACTIVATING DEVICE
1. Select the Laser Distance Measurer device icon and choose Activate Device.
2. Select your current Ryobi Nation login credentials, or if new user, Create Account.
3. Enter the 14-digit serial number and purchase date.
GETTING STARTED
1. Line up the notches of the clip and the device. With your thumbs, firmly push in the
center of the clip until you hear a click.
2. Make sure the clip is securely attached to the device before proceeding. Attach the clip
to your phone.
3. Remove red tab in the battery compartment to activate the batteries.
4. With the App open to the main screen, plug the device into the headphone jack on your
smart phone. With device connected, be sure the volume on your phone is turned all the
way up.
5. The device will auto-recognize and open the Laser Distance Measurer.
NOTE: If the device is not found, disconnect the device, restart the App, and reconnect
the Laser Distance Measurer.
NOTE: In order for the app to work properly, select Ok when asked for access to the
microphone, camera and location. These settings can be changed in your phone's
dedicated settings.
6. Select the type of measurement desired (Distance is the default).
7. Select the Laser On
icon to begin live measurements.
8. Capture measurement(s) by selecting green MEASURE button.
9. Select Camera On to take a picture.
10. Swipe to save the photo.
11. Apply the captured measurements to the photo.
12. The full Operator's Manual is available in Settings.
991000330
12-4-14 (REV:01)
Merci d'avoir acheté un dispositif Ryobi™ Phone Works™
Si vous avez besoin d'aide NE RETOURNEZ PAS AU MAGASIN. Appelez au numéro 1 877 578-6736.
Gracias por comprar Ryobi™ Phone Works™
Si necesita ayuda, NO LO DEVUELVA A LA TIENDA. Por favor contáctenos al 1-877-578-6736
Avant de commencer, veuillez visiter le site www.ryobitools.com/phoneworks
Vous y trouverez des vidéos explicatifs, des manuels d'utilisation et la liste récente des téléphones compatibles.
Téléchargez l'application Ryobi™ Phone Works™ sur le site App Store ou Google Play Store.
Antes de comenzar, visite www.ryobitools.com/phoneworks.
Allí puede encontrar videos prácticos, manuales del operador y la lista más actualizada de teléfonos compatibles.
Descargue la aplicación Ryobi™ Phone Works™ de App Store o la tienda de Google Play.
AVERTISSEMENT :
Ce guide de démarrage rapide est incomplet et le manuel d'utilisation fourni avec l'application
doit être lu. Pour réduire le risque de blessure, l'utilisateur doit lire et comprendre le manuel
d'utilisation avant d'utiliser ce produit.
ADVERTENCIA:
Esta guía de inicio rápido no sustituye el manual del operador incluido con la aplicación. Para
reducir el riesgo de lesiones, el usuario debe leer y comprender el manual del operador de este
producto antes de utilizarlo.
ES1000 Laser Distance Measurer (mesureur laser)
ES1000 Laser Distance Measurer (medidor de distancia láser)
ACTIVATION DU DISPOSITIF
ACTIVACIÓN DEL DISPOSITIVO
1. Seleccione el ícono del dispositivo Laser distance measurer (medidor de distancia láser) y
elija Activar dispositivo.
2. Seleccione sus credenciales de inicio de sesión actuales de Ryobi Nation, o si es un usuario
nuevo, Create Account (Crear cuenta).
3. Ingrese el número de serie de 14 dígitos y la fecha de compra.
PASOS INICIALES
1. Alinee las muescas del clip y del dispositivo. Con los pulgares, presione firmemente el centro del
clip hasta escuchar un "clic".
2. Asegúrese de que el clip esté correctamente fijado al dispositivo antes de continuar. Conecte el
clip a su teléfono.
3. Extraiga la pestaña roja del compartimiento de la batería para conectar las baterías.
4. Con la aplicación abierta en la pantalla principal, enchufe su dispositivo en el conector de
los auriculares de su teléfono inteligente. Con el dispositivo conectado, asegúrese de que el
volumen de su teléfono esté con el ajuste más alto.
5. El dispositivo reconocerá automáticamente el Laser Distance Measurer (medidor de distancia
láser) y lo abrirá.
NOTA: Si no se encuentra el dispositivo, desconéctelo, reinicie la aplicación y vuelva a conectar
el medidor de distancia láser.
NOTA: Para que la aplicación funcione correctamente, seleccione Ok cuando se le solicite
acceso al micrófono, a la cámara y a la ubicación. Estos ajustes pueden cambiarse en la
configuración específica de su teléfono.
6. Seleccione el tipo de medición deseado (Distance [Distancia] es la opción predeterminada).
Sélectionnez l'icône du dispositif Laser Distance Measurer (mesureur laser) et sélectionnez
Activate Device pour activer le dispositif.
2. Sélectionnez votre authentifiant Ryobi Nation pour ouvrir votre session ou sur Create Account
(créer un compte).
3. Saisissez le numéro de série à 14 chiffres et la date d'achat.
POUR COMMENCER
1. Alignez les encoches de la pince avec le dispositif. Avec les pouces, poussez fermement le centre
de la pince jusqu'à ce qu'elle s'enclenche.
2. Assurez-vous que la pince est enclenchée fermement au dispositif avant de continuer. Fixez la
pince à votre téléphone.
3. Retirez la languette rouge située dans le logement de piles pour établir le contact des piles.
4. Lorsque l'application est ouverte depuis l'écran d'accueil, branchez votre dispositif dans la prise
d'écouteurs de votre téléphone intelligent. Lorsque votre dispositif est raccordé, assurez-vous
que le volume de votre téléphone intelligent est ouvert au maximum.
5. Le dispositif sera reconnu automatiquement et l'application Laser Distance Measurer
(mesureur laser) s'ouvrira.
NOTE : Si le dispositif est introuvable, débranchez le dispositif, rappelez l'application et raccordez
le mesureur laser.
NOTE : Pour que l'application fonctionne correctement, veuillez sélectionner « Ok » lors de l'invite
d'accès au microphone, à la caméra et de l'emplacement. Ces réglages peuvent être modifiés à
partir du menu de réglages de votre téléphone.
6. Sélectionnez la catégorie de mesure désirée. (Distance est réglée par défaut).
1.
Sélectionnez l'icône de mise en marche du Laser « ON » (allumer le laser)
pour commencer
la lecture en direct des mesures.
8. Capturez les mesures en sélectionnant le bouton vert MEASURE (mesureur).
9. Sélectionnez Camera « On » pour activer la caméra et prendre une photo.
10. Faites glisser la photo pour la sauvegarder.
11. Appliquez les mesures capturées à la photo.
12. Le manuel d'utilisation complet se trouve dans le menu Settings (réglages).
7.
7.
8.
9.
10.
11.
12.
Seleccione el ícono de Laser On (láser encendido)
para comenzar con las mediciones en
tiempo real.
Capture medición(es) seleccionando el botón verde MEDIR (medidor).
Seleccione Camera On (Cámara encendida) para tomar una fotografía.
Arrastre la fotografía para guardarla.
Aplique las medidas capturadas a la fotografía.
El manual del operador completo está disponible en Settings (Ajustes).

* Your assessment is very important for improving the work of artificial intelligence, which forms the content of this project