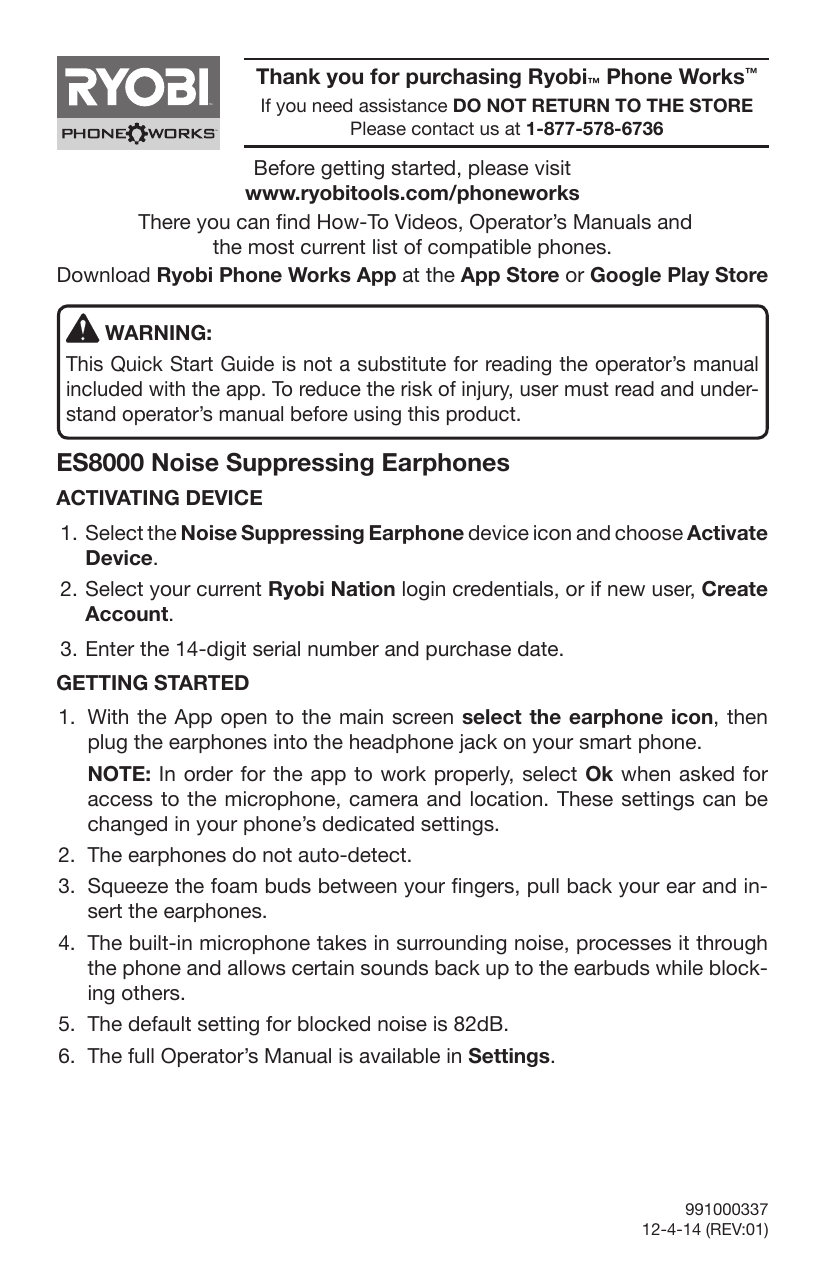 Thank you for purchasing Ryobi™ Phone Works™
TM
TM
If you need assistance DO NOT RETURN TO THE STORE
Please contact us at 1-877-578-6736
Before getting started, please visit
www.ryobitools.com/phoneworks
There you can find How-To Videos, Operator's Manuals and
the most current list of compatible phones.
Download Ryobi Phone Works App at the App Store or Google Play Store
WARNING:
This Quick Start Guide is not a substitute for reading the operator's manual
included with the app. To reduce the risk of injury, user must read and understand operator's manual before using this product.
ES8000 Noise Suppressing Earphones
ACTIVATING DEVICE
1. Select the Noise Suppressing Earphone device icon and choose Activate
Device.
2. Select your current Ryobi Nation login credentials, or if new user, Create
Account.
3. Enter the 14-digit serial number and purchase date.
GETTING STARTED
1. With the App open to the main screen select the earphone icon, then
plug the earphones into the headphone jack on your smart phone.
NOTE: In order for the app to work properly, select Ok when asked for
access to the microphone, camera and location. These settings can be
changed in your phone's dedicated settings.
2. The earphones do not auto-detect.
3. Squeeze the foam buds between your fingers, pull back your ear and insert the earphones.
4. The built-in microphone takes in surrounding noise, processes it through
the phone and allows certain sounds back up to the earbuds while blocking others.
5. The default setting for blocked noise is 82dB.
6. The full Operator's Manual is available in Settings.
991000337
12-4-14 (REV:01)
Merci d'avoir acheté un dispositif Ryobi™ Phone Works™
Si vous avez besoin d'aide NE RETOURNEZ PAS AU MAGASIN. Appelez au numéro 1 877 578-6736.
Gracias por comprar Ryobi™ Phone Works™
Si necesita ayuda, NO LO DEVUELVA A LA TIENDA. Por favor contáctenos al 1-877-578-6736
Avant de commencer, veuillez visiter le site www.ryobitools.com/phoneworks
Vous y trouverez des vidéos explicatifs, des manuels d'utilisation et la liste récente des téléphones compatibles.
Téléchargez l'application Ryobi™ Phone Works™ sur le site App Store ou Google Play Store.
Antes de comenzar, visite www.ryobitools.com/phoneworks.
Allí puede encontrar videos prácticos, manuales del operador y la lista más actualizada de teléfonos compatibles.
Descargue la aplicación Ryobi™ Phone Works™ de App Store o la tienda de Google Play.
AVERTISSEMENT :
Ce guide de démarrage rapide est incomplet et le manuel d'utilisation fourni avec l'application
doit être lu. Pour réduire le risque de blessure, l'utilisateur doit lire et comprendre le manuel
d'utilisation avant d'utiliser ce produit.
ADVERTENCIA:
Esta guía de inicio rápido no sustituye el manual del operador incluido con la aplicación. Para
reducir el riesgo de lesiones, el usuario debe leer y comprender el manual del operador de este
producto antes de utilizarlo.
ES8000 Noise Suppressing Earphones (casque d'écoute avec élimination de bruit)
ES8000 Noise Suppressing Earphones (Auriculares supresores de ruido)
ACTIVATION DU DISPOSITIF
ACTIVACIÓN DEL DISPOSITIVO
1. Sélectionnez l'icône du dispositif Noise Suppressing Earphones (casque d'écoute avec
élimination de bruit) et sélectionnez Activate Device (activer le dispositif).
2. Sélectionnez votre authentifiant Ryobi Nation pour ouvrir votre session ou sur Create Account
(créer un compte).
3. Saisissez le numéro de série à 14 chiffres et la date d'achat.
POUR COMMENCER
1. Lorsque l'application est ouverte depuis l'écran d'accueil, branchez votre dispositif dans la prise
d'écouteurs de votre téléphone intelligent. Lorsque votre dispositif est raccordé, assurez-vous
que le volume de votre téléphone intelligent est ouvert au maximum.
NOTE : Pour que l'application fonctionne correctement, veuillez sélectionner « Ok » lors de l'invite
d'accès au microphone, à la caméra et de l'emplacement. Ces réglages peuvent être modifiés à
partir du menu de réglages de votre téléphone.
1.
2.
3.
Seleccione el ícono del dispositivo Noise Suppressing Earphones (Auriculares supresores
de ruido) y elija Activate Device (Activar dispositivo).
Seleccione sus credenciales de inicio de sesión actuales de Ryobi Nation, o si es un usuario
nuevo, Create Account (Crear cuenta).
Ingrese el número de serie de 14 dígitos y la fecha de compra.
PASOS INICIALES
1.
Con la aplicación abierta en la pantalla principal, enchufe su dispositivo en el conector de
los auriculares de su teléfono inteligente. Con el dispositivo conectado, asegúrese de que el
volumen de su teléfono esté con el ajuste más alto.
NOTA: Para que la aplicación funcione correctamente, seleccione "Ok" cuando se le solicite
acceso al micrófono, a la cámara y a la ubicación. Estos ajustes pueden cambiarse en la
configuración específica de su teléfono.
2. Le dispositif n'effectue pas la reconnaissance automatique des écouteurs.
2.
Los auriculares no se detectan automáticamente.
3. Pressez les mini-écouteurs en mousse entre vos doigts, tirez le pavillon d'oreille vers l'arrière et
insérez les oreillettes.
3.
Apriete los auriculares de goma espuma con los dedos, tire de la oreja hacia atrás y coloque los
auriculares.
4. Le microphone intégré capte les bruits environnants et les traitent par le téléphone de manière à ce
que certains sons soient entendus par les mini-écouteurs alors que d'autres seront inaudibles.
4.
El micrófono integrado capta el ruido ambiente, lo procesa a través del teléfono y permite que
determinados sonidos vuelvan a los auriculares y a la vez bloquea otros.
5. Le réglage par défaut des sons inaudibles est de 82dB.
5.
El ajuste predeterminado para el ruido bloqueado es 82 dB.
6. Le manuel d'utilisation complet se trouve dans le menu Settings (réglages).
6.
El manual del operador completo está disponible en Settings (Ajustes).

* Your assessment is very important for improving the work of artificial intelligence, which forms the content of this project