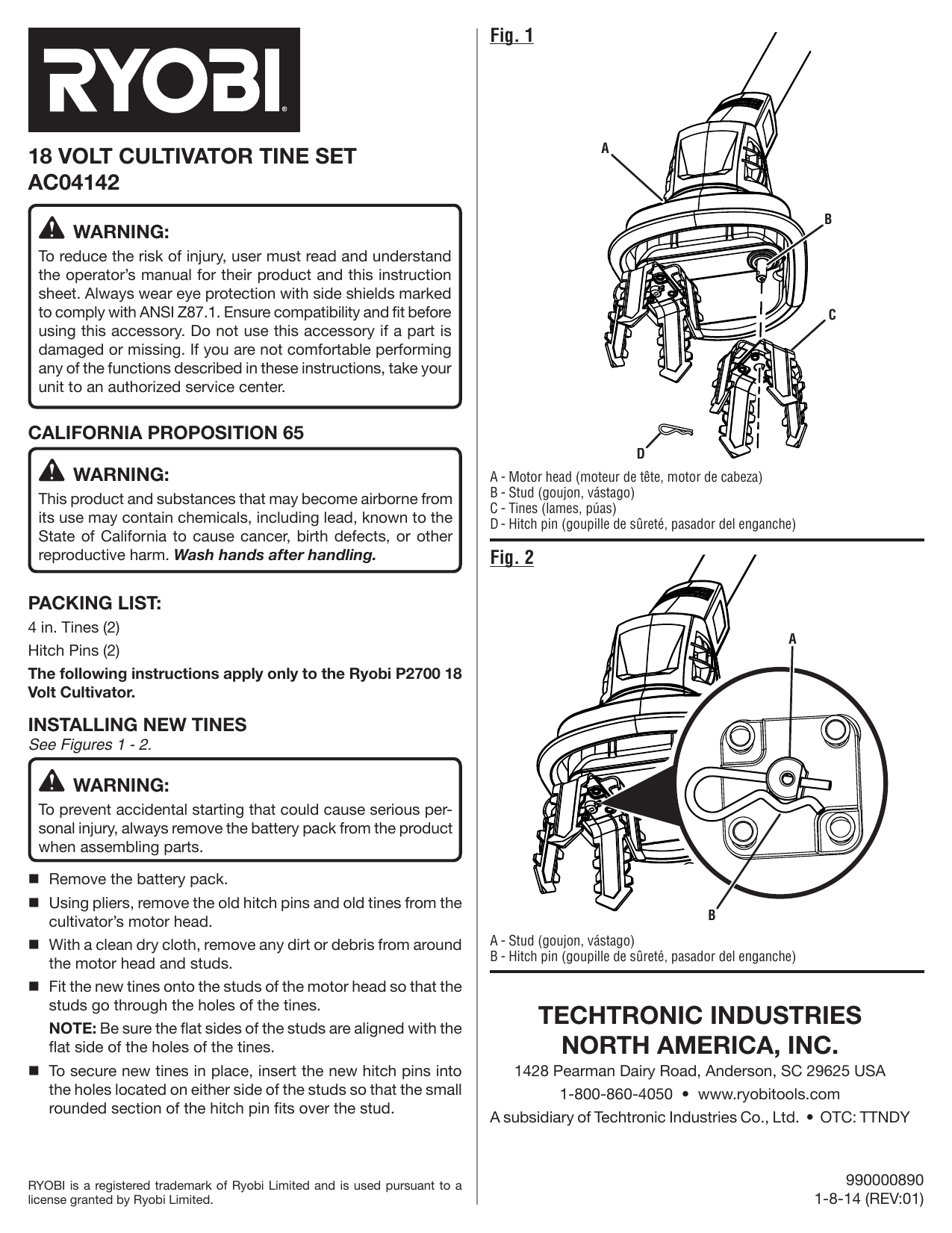 Fig. 1
A
18 VOLT CULTIVATOR TINE SET
AC04142
B
WARNING:
To reduce the risk of injury, user must read and understand
the operator's manual for their product and this instruction
sheet. Always wear eye protection with side shields marked
to comply with ANSI Z87.1. Ensure compatibility and fit before
using this accessory. Do not use this accessory if a part is
damaged or missing. If you are not comfortable performing
any of the functions described in these instructions, take your
unit to an authorized service center.
C
CALIFORNIA PROPOSITION 65
D
WARNING:
This product and substances that may become airborne from
its use may contain chemicals, including lead, known to the
State of California to cause cancer, birth defects, or other
reproductive harm. Wash hands after handling.
A - Motor head (moteur de tête, motor de cabeza)
B - Stud (goujon, vástago)
C - Tines (lames, púas)
D - Hitch pin (goupille de sûreté, pasador del enganche)
Fig. 2
PACKING LIST:
4 in. Tines (2)
A
Hitch Pins (2)
The following instructions apply only to the Ryobi P2700 18
Volt Cultivator.
INSTALLING NEW TINES
See Figures 1 - 2.
WARNING:
To prevent accidental starting that could cause serious personal injury, always remove the battery pack from the product
when assembling parts.
 Remove the battery pack.
 Using pliers, remove the old hitch pins and old tines from the
cultivator's motor head.
 With a clean dry cloth, remove any dirt or debris from around
the motor head and studs.
 Fit the new tines onto the studs of the motor head so that the
studs go through the holes of the tines.
NOTE: Be sure the flat sides of the studs are aligned with the
flat side of the holes of the tines.
 To secure new tines in place, insert the new hitch pins into
the holes located on either side of the studs so that the small
rounded section of the hitch pin fits over the stud.
RYOBI is a registered trademark of Ryobi Limited and is used pursuant to a
license granted by Ryobi Limited.
B
A - Stud (goujon, vástago)
B - Hitch pin (goupille de sûreté, pasador del enganche)
TECHTRONIC INDUSTRIES
NORTH AMERICA, INC.
1428 Pearman Dairy Road, Anderson, SC 29625 USA
1-800-860-4050 • www.ryobitools.com
A subsidiary of Techtronic Industries Co., Ltd. • OTC: TTNDY
990000890
1-8-14 (REV:01)
ENSEMBLE DE DENTS DE
CULTIVATEUR DE 18 V / AC04142
AVERTISSEMENT :
Pour réduire les risques de blessures, l'utilisateur doit lire et
veiller à bien comprendre le manuel d'utilisation du produit
ainsi que cette feuille d'instruction. Toujours porter une
protection oculaire avec écrans latéraux certifiée conforme
à la norme ANSI Z87.1. S'assurer que l'accessoire est
compatible et qu'il est bien installé avant de l'utiliser. Ne pas
utiliser cet accessoire si des pièces sont endommagées ou
manquantes. Si vous n'êtes pas à l'aise pour effectuer l'une
ou l'autre des tâches décrites dans les présentes instructions,
confiez l'unité à un centre de réparations agréé.
PROPOSITION 65 DE L'ÉTAT DE CALIFORNIE
AVERTISSEMENT :
Ce produit et les autres substances rejetées dans l'air suite
à son utilisation peuvent contenir des produits chimiques,
notamment du plomb qui, selon l'État de la Californie, peuvent
causer le cancer, des anomalies congénitales et d'autres
dommages au système reproducteur. Bien se laver les mains
après toute manipulation.
JUEGO DE PÚAS DE LA
CULTIVADORA DE 18 V / AC04142
ADVERTENCIA:
Para reducir el riesgo de lesiones, el usuario debe leer y
comprender el manual del operador de el producto y esta
hoja de instrucciones. Siempre póngase protección ocular
con protección lateral con la marca de cumplimiento de
la norma ANSI Z87.1. Asegúrese de que sea compatible
con el accesorio antes de utilizarlo. No use este accesorio
si está dañado o si falta alguna pieza.Si no se siente
cómodo al realizar alguna de las funciones descritas en
estas instrucciones, lleve su unidad a un centro de servicio
autorizado.
CALIFORNIA - PROPUESTA DE LEY NÚM. 65
ADVERTENCIA:
Este producto y las sustancias que puedan llegar a ser
aerotransportadas por su uso pueden contener sustancias
químicas (incluido el plomo) reconocidas por el estado de
California como causantes de cáncer, defectos congénitos y
otras afecciones del aparato reproductor. Lávese las manos
después de utilizar el aparato.
LISTE DE CONTRÔLE D'EXPÉDITION :
LISTA DE EMPAQUETADO:
Dents de 101,6 mm (4 po) (2)
Púas de 101,6 mm (4 pulg.) (2)
Goupilles de sûreté (2)
Pasadors de enganche (2)
Les instructions suivantes s'appliquent uniquement à la
P2700 cultivateur de 18 V de Ryobi.
Las siguientes instrucciones se aplican únicamente a la
P2700 cultivadora de 18 V de Ryobi.
INSTALLATION DE DENTS NOUVEAUX
INSTALACIÓN DE LAS NUEVAS PÚAS
Voir les figures 1 et 2.
Vea las figuras 1 y 2.
AVERTISSEMENT :
Ne pas brancher sur le secteur avant d'avoir terminé
l'assemblage. Le non respect de cet avertissement peut
causer un démarrage accidentel, entraînant des blessures
graves.
 Retirer le bloc-piles.
 Utiliser les pinces, enlevez les vieilles goupilles de sûreté et
dents sur la tête du moteur.
 À l'aide d'un chiffon sec, retirer la saleté et les débris se
trouvant sur la tête du moteur et goujons.
 Insérer les dents neuves aux goujons du boitier du moteur
de manière à ce que les goujons s'insèrent dans les orifices
des dents.
NOTE : S'assurer que les côtés plats des goujons sont alignés
avec le côté plat des orifices des dents.
ADVERTENCIA:
Para evitar un arranque accidental que podría causar lesiones
corporales graves, siempre desconecte el cable de la bujía
del motor de la bujía misma al ensamblar las piezas.
 Retire el paquete de baterías.
 Con las pinzas, retire las pasadors de enganche y púas viejas
en el cabezal del motor.
 Con un paño seco, retire la tierra y la basura del cabezal del
motor y los vástagos.
 Encastre las púas nuevas en los vástagos de la carcasa del
motor de manera que los pernos atraviesen los orificios de
las púas.
NOTA: Asegúrese de que los lados planos de los pernos estén
alineados con el lado plano de los orificios de las púas.
 Pour fixer les dents neuves en place, insérer les goupilles
de sûreté neuves dans les orifices situés de chaque côté
des goujons de manière à ce que le petite partie ronde de la
goupille de sûreté soit placée par-dessus le goujon.
 Para asegurar las púas nuevas en su lugar, vuelva a insertar
los pasadores de enganche nuevas en los orificios ubicados
en cada lado de los pernos para que la pequeña sección
redondeada del pasador de enganche encastre sobre del
perno.
RYOBI est une marque déposée de RYOBI Limited et est utilisée en vertu d'une
licence accordée par Ryobi Limited.
RYOBI es una marca registrada de Ryobi Limited y se utiliza conforme a una
licencia otorgada por Ryobi Limited.

* Your assessment is very important for improving the work of artificial intelligence, which forms the content of this project