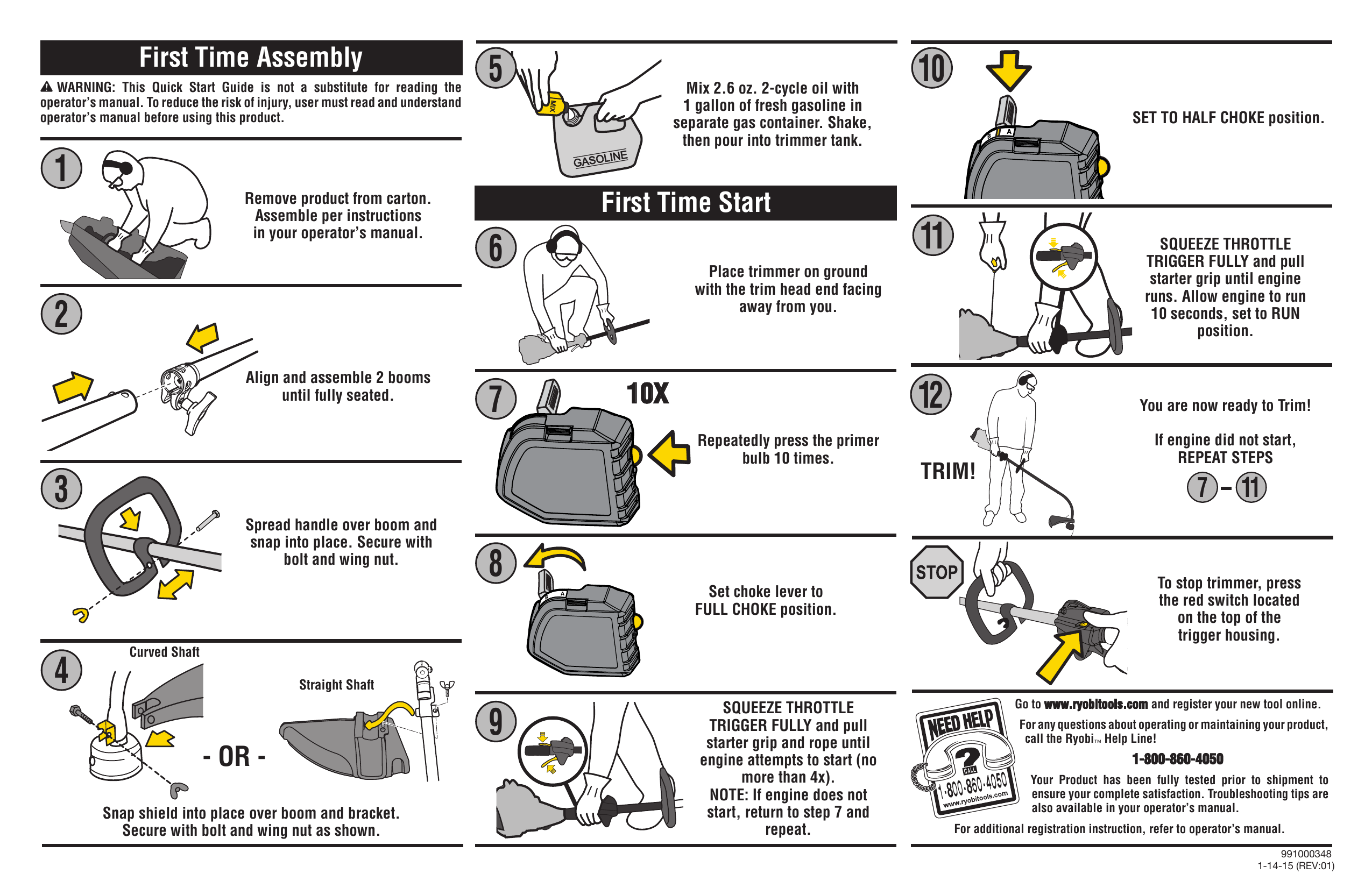 First Time Assembly
WARNING: This Quick Start Guide is not a substitute for reading the
operator's manual. To reduce the risk of injury, user must read and understand
operator's manual before using this product.
1
Remove product from carton.
Assemble per instructions
in your operator's manual.
5
Mix 2.6 oz. 2-cycle oil with
1 gallon of fresh gasoline in
separate gas container. Shake,
then pour into trimmer tank.
First Time Start
6
7
Spread handle over boom and
snap into place. Secure with
bolt and wing nut.
4
8
11
SQUEEZE THROTTLE
TRIGGER FULLY and pull
starter grip until engine
runs. Allow engine to run
10 seconds, set to RUN
position.
12
10X
Repeatedly press the primer
bulb 10 times.
3
SET TO HALF CHOKE position.
Place trimmer on ground
with the trim head end facing
away from you.
2
Align and assemble 2 booms
until fully seated.
10
Set choke lever to
FULL CHOKE position.
Curved Shaft
You are now ready to Trim!
TRIM!
If engine did not start,
REPEAT STEPS
7
–
11
To stop trimmer, press
the red switch located
on the top of the
trigger housing.
Straight Shaft
- OR Snap shield into place over boom and bracket.
Secure with bolt and wing nut as shown.
9
SQUEEZE THROTTLE
TRIGGER FULLY and pull
starter grip and rope until
engine attempts to start (no
more than 4x).
NOTE: If engine does not
start, return to step 7 and
repeat.
Go to www.ryobitools.com and register your new tool online.
For any questions about operating or maintaining your product,
call the Ryobi™ Help Line!
1-800-860-4050
Your Product has been fully tested prior to shipment to
ensure your complete satisfaction. Troubleshooting tips are
also available in your operator's manual.
For additional registration instruction, refer to operator's manual.
991000348
1-14-15 (REV:01)
Assemblage Initial / Montaje Inicial
AVERTISSEMENT : Cette Guide de démarrage rapide n'est pas un substitut au manuel
d'utilisation, qu'il importe de lire. Pour réduire les risques de blessures, l'utilisateur doit
lire et veiller à bien comprendre le manuel d'utilisation avant d'employer ce produit.
ADVERTENCIA: Comprender el Guía inicial rápida no equivale a leer el manual del
operador. Para reducir el riesgo de lesiones, el usuario debe leer y comprender el manual
del operador antes de usar este producto.
1
Retirer le produit de son emballage.
Assembler le produit selon les instructions
contenues dans le manuel d'utilisation.
Quite el producto de la caja. Arme el
producto según las instrucciones del
manual del operador.
2
3
Démarrage Initial / Arrancer Inicial
6
Arbre courbe / Eje curvo
7
Placer le taille-bordures au sol,
en vous assurant que
la tête de celui-ci n'est pas
tournée vers vous.
Installer le protecteur par-dessus le bras et le support. Puis le fixer
à l'aide d'un boulon et d'un écrou à oreilles, tel qu'illustré.
Coloque la protector en su lugar, sobre la barra y el soporte.
Luego, sujétela con un perno y una tuerca mariposa, como
se muestra en la figura.
10X
Appuyer la poire d'amorçage à
plusieurs reprises de 10 fois.
Presiónela la bomba de cebado
10 veces.
Mueva la palanca del anegador
en la posición de HALF CHOKE.
11
APPUYER À FOND SUR LA GÂCHETTE et tirer
vigoureusement sur le cordon lanceur, jusqu'à
ce que le moteur démarre. Laisser le moteur se
réchauffer pendant 10 secondes, puis mettre le
volet de départ sur « RUN » (marche).
OPRIMA COMPLETAMENTE EL GATILLO DEL
ACELERADOR y tire del mango del arrancador hasta
que arranque el motor. Permita que funcione el
motor durante 10 segundos, y después póngalo en
la posición "RUN" (FUNCIONAMIENTO).
12
TAILLER !
¡CORTAR!
Vous êtes maintenant prêt à
utiliser votre taille-bordure!
Si le moteur ne démarre pas,
RÉPÉTER LES ÉTAPES
7
8
9
á
11
¡Ya puede usar la recortadora! Si el
motor no arranca, REPITA LOS PASOS
7
Arbre droit / Eje recto
- OU -O-
Mettre le levier du volet de départ
en position de HALF CHOKE.
Coloque la recortadora sobre el
piso, con el extremo de la cabeza
recortadora lejos de usted.
Positionner la poignée en la passant par
dessus la perche et enclencher. Fixer à
l'aide d'un boulon et d'un écrou à oreilles.
Coloque el mango sobre el brazo y trabe
en su lugar. Sujétela con un perno y una
tuerca mariposa.
10
Mezcle 77 ml (2,6 oz) de aceite de 2 tiempos con
3,8 l (1 gal) de gasolina fresca en un contenedor
para combustible independiente. Agite la mezcla
y luego viértala en el tanque de la recortadora.
Aligner et assembler les
deux bras jusqu'à ce qu'ils soient
adéquatement positionnés.
Alinee y arme los dos brazos
hasta que estén firmemente asentados.
4
5
Mélanger 77 ml (2,6 oz) d'huile 2 temps et
3,8 l (1 gal) d'essence fraîche dans
un jerrycan séparé. Agiter, puis verser
dans le réservoir du taille-bordures.
a
11
Mettre le levier du volet de départ
en position de FULL CHOKE
(complètement ouvert).
Pour éteindre le taille-bordures, appuyer sur
l'interrupteur rouge situé sur le dessus du
boîtier de la gâchette.
Mueva la palanca del anegador
en la posición de FULL CHOKE
(anegación máxima).
Para detener la recortadora, presione el
interruptor rojo ubicado en la parte superior
de la carcasa del gatillo.
Enfoncer complètement la gâchette
d'accélérateur, et tirer brusquement sur la
poignée du démarreur jusqu'à ce que le
moteur tente de démarrer (pas plus de 4 tirs).
Si le moteur ne démarre pas, RÉPÉTER LES
ÉTAPE 7.
Apriete el gatillo acelerador a fondo y jale del
mango de arranque firmemente hasta que el
motor trate de arrancar (no más de 4 veces).
Si el motor no arranca, REPITA LOS PASO 7.
D'AIDE?
BESOIN A AYUDA?
IT
¿NECES
LE
APPELERAL
LLAME
50
1-800-860-40
m
itools.co
www.ryob
Visitez le site www.ryobitools.com pour enregistrer votre nouvel outil en ligne.
Pour toute question concernant l'utilisation ou l'entretien du produit, appeler le
service d'assistance téléphonique Ryobi™!
1-800-860-4050
Ce produit à été entièrement testé avant expédition pour assurer la complète satisfaction
de l'utilisateur. Le manuel d'utilisation donne des conseils pour le dépannage. Pour
plus d'information sur l'enregistrement, consulter le manuel de d'utilisation.
Dirijase a www.ryobitools.com y registre en linea su nueva herramienta.
¡Si tiene preguntas sobre el funcionamiento o el mantenimiento del producto, llame al teléfono de
atención al consumidor de Ryobi™!
1-800-860-4050
Este producto ha sido probado enteramente antes de embarcarse para asegurar la completa
satisfacción del consumidor. El manual del operador ofrece sugerencias para la solución de
problemas. Para ver las instrucciones de registro adicionales, consulte el manual del operador.

* Your assessment is very important for improving the work of artificial intelligence, which forms the content of this project