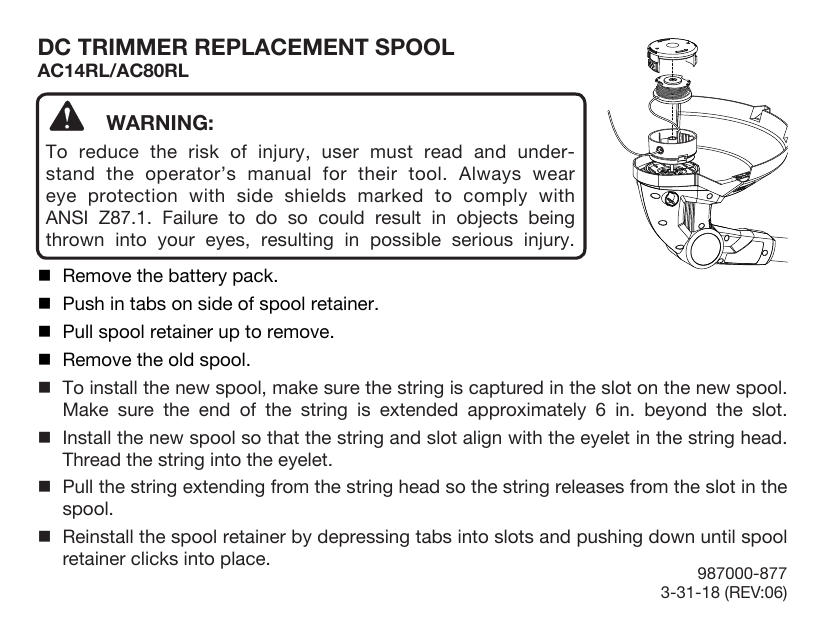 DC TRIMMER REPLACEMENT SPOOL
AC14RL/AC80RL
WARNING:
To reduce the risk of injury, user must read and understand the operator's manual for their tool. Always wear
eye protection with side shields marked to comply with
ANSI Z87.1. Failure to do so could result in objects being
thrown into your eyes, resulting in possible serious injury.
Remove the battery pack.
Push in tabs on side of spool retainer.
Pull spool retainer up to remove.
Remove the old spool.
To install the new spool, make sure the string is captured in the slot on the new spool.
Make sure the end of the string is extended approximately 6 in. beyond the slot.
 Install the new spool so that the string and slot align with the eyelet in the string head.
Thread the string into the eyelet.
 Pull the string extending from the string head so the string releases from the slot in the
spool.
 Reinstall the spool retainer by depressing tabs into slots and pushing down until spool
retainer clicks into place.





987000-877
3-31-18 (REV:06)
BOBINE DE REMPLACEMENT DE TAILLEBORDURES DE C.C.
AC14RL/AC80RL
AVERTISSEMENT :
Pour réduire les risques de blessures, l'utilisateur doit
lire et veiller à bien comprendre le manuel d'utilisation
de l'outil. Toujours porter protection oculaire avec
écrans latéraux certifiée conforme à la norme ANSI
Z87.1. Si cette précaution n'est pas prise, des objets
peuvent être projetés dans les yeux et causer des
lésions graves.
 Retirer le bloc de piles.
 Enfoncer les languettes sur le côté de la retenue de
bobine.
 Tourner la retenue de bobine vers le haut, pour la retirer.
 Retirer la tête de coupe.
 Lors de l'installation d'une bobine neuve, s'assurer
que les deux fils sont engagés dans les deux fentes
diamétralement opposées de la bobine neuve. Veiller à
ce que les deux fils dépassent chaque fente d'environ
152 mm (6 po).
 Installer la nouvelle bobine de sorte que le fil et les
fentes soient alignés avec l'oeillet le plus proche de
la tête de coupe. Passer les fils dans les œillet de la
tête de coupe.
 Tirer sur les fils qui dépassent de la tête de coupe afin
de dégager le fil des fentes de la bobine.
 Réinstaller la retenue de bobine en insérant les
languettes dans les fentes et en enfonçant jusqu'à ce
que la retenue de bobine s'insère en place.
­CARRETE DEL REEMPLAZO DE
RECORTADORA DE LA C.C.
AC14RL/AC80RL
ADVERTENCIA:
Para reducir el riesgo de lesiones, el usuario debe leer
y comprender el manual del operador correspondiente
a la herra mienta. Siempre use protección ocular con
protección lateral con la marca de cumplimiento
de la norma ANSI Z87.1. La inobservancia de esta
advertencia puede permitir que los objetos lanzados
hacia los ojos puedan provocarle lesiones graves.
 Retire el paquete de baterías.
 Presione hacia dentro las pestañas laterales del retén
del carrete.
 Empuje el retén del carrete hacia arriba para extraerlo.
 Extraiga el cabezal de hilo.
 Para instalar el nuevo carrete, asegúrese de que se
capturen los dos hilo en las ranuras opuestas entre sí
en el nuevo carrete. Asegúrese de que los extremos
de cada hilo sobresalgan aproximadamente 152 mm
(6 in.) de cada ranura.
 Instale el nuevo carrete de manera que el hilo y las
ranuras queden alineados con el ojillo más cercano
del cabezal del hilo. Pase los hilo por los ojales.
 Tire de los hilo desde el cabezal del hilo para que el
hilo se suelte de las ranuras del carrete.
 Vuelva a instalar el retén del carrete presionando las
pestañas en sus ranuras y empujándolas hacia abajo
hasta que el retén quede sujeto en su lugar.

* Your assessment is very important for improving the work of artificial intelligence, which forms the content of this project