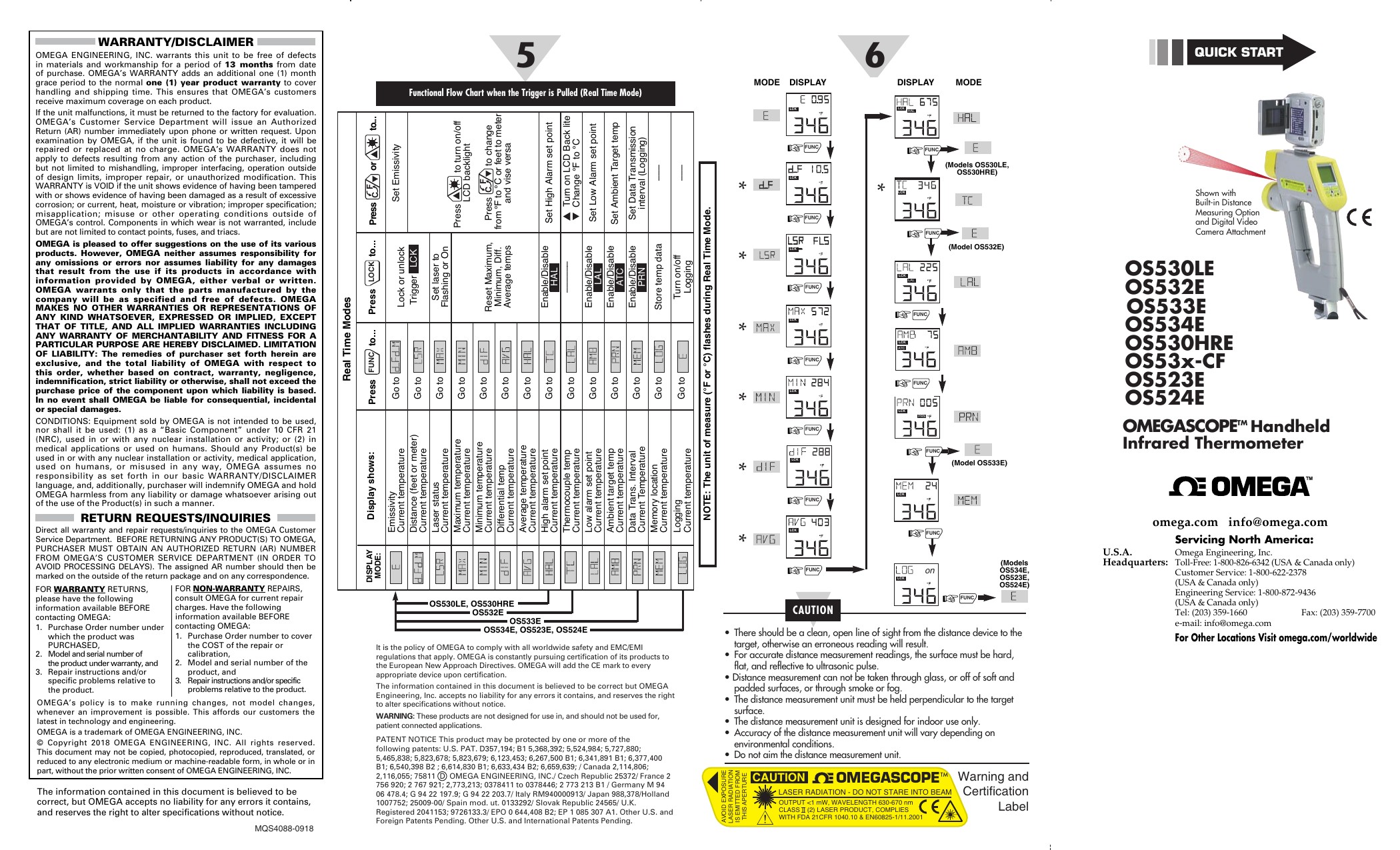 WARRANTY/DISCLAIMER
FOR NON-WARRANTY REPAIRS,
consult OMEGA for current repair
charges. Have the following
information available BEFORE
contacting OMEGA:
1. Purchase Order number to cover
the COST of the repair or
calibration,
2. Model and serial number of the
product, and
3. Repair instructions and/or specific
problems relative to the product.
OMEGA's policy is to make running changes, not model changes,
whenever an improvement is possible. This affords our customers the
latest in technology and engineering.
OMEGA is a trademark of OMEGA ENGINEERING, INC.
© Copyright 2018 OMEGA EN GIN EERIN G, IN C. All rights reserved.
This document may not be copied, photocopied, reproduced, translated, or
reduced to any electronic medium or machine-readable form, in whole or in
part, without the prior written consent of OMEGA ENGINEERING, INC.
The information contained in this document is believed to be
correct, but OMEGA accepts no liability for any errors it contains,
and reserves the right to alter specifications without notice.
MQS4088-0918
MODE
QUICK START
DISPLAY
DISPLAY
LCK
LCK
LCK
MODE
–––
Store temp data
–––
☞
FUNC
*
*
☞
The information contained in this document is believed to be correct but OMEGA
Engineering, Inc. accepts no liability for any errors it contains, and reserves the right
to alter specifications without notice.
WARNING: These products are not designed for use in, and should not be used for,
patient connected applications.
PATENT NOTICE This product may be protected by one or more of the
following patents: U.S. PAT. D357,194; B1 5,368,392; 5,524,984; 5,727,880;
5,465,838; 5,823,678; 5,823,679; 6,123,453; 6,267,500 B1; 6,341,891 B1; 6,377,400
B1; 6,540,398 B2 ; 6,614,830 B1; 6,633,434 B2; 6,659,639; / Canada 2,114,806;
2,116,055; 75811 D OMEGA ENGINEERING, INC./ Czech Republic 25372/ France 2
756 920; 2 767 921; 2,773,213; 0378411 to 0378446; 2 773 213 B1 / Germany M 94
06 478.4; G 94 22 197.9; G 94 22 203.7/ Italy RM940000913/ Japan 988,378/Holland
1007752; 25009-00/ Spain mod. ut. 0133292/ Slovak Republic 24565/ U.K.
Registered 2041153; 9726133.3/ EPO 0 644,408 B2; EP 1 085 307 A1. Other U.S. and
Foreign Patents Pending. Other U.S. and International Patents Pending.
(Models OS530LE,
OS530HRE)
*
Shown with
Built-in Distance
Measuring Option
and Digital Video
Camera Attachment
FUNC
☞
FUNC
(Model OS532E)
LCK
OS530LE
OS532E
OS533E
OS534E
OS530HRE
OS53x-CF
OS523E
OS524E
LCK
☞
*
LAL
FUNC
☞
LCK
FUNC
LCK
ATC
☞
*
FUNC
☞
LCK
FUNC
LCK
PRN
☞
*
OMEGASCOPETM Handheld
FUNC
☞
LCK
☞
Infrared Thermometer
FUNC
(Model OS533E)
LCK
FUNC
☞
LCK
☞
It is the policy of OMEGA to comply with all worldwide safety and EMC/EMI
regulations that apply. OMEGA is constantly pursuing certification of its products to
the European New Approach Directives. OMEGA will add the CE mark to every
appropriate device upon certification.
FUNC
LCK
*
OS530LE, OS530HRE
OS532E
OS533E
OS534E, OS523E, OS524E
HAL
LCK
NOTE: The unit of measure (°F or °C) flashes during Real Time Mode.
Go to
Turn on/off
Logging
Go to
Go to
Go to
Set Data Transmission
interval (Logging)
Set Ambient Target temp
Set Low Alarm set point
Enable/Disable
LAL
Enable/Disable
ATC
Enable/Disable
PRN
Go to
Go to
Enable/Disable
HAL
––––––
Go to
Go to
Go to
Turn on LCD Back lite
Change °F to °C
Set High Alarm set point
F
Reset Maximum,
Minimum, Diff.
Average temps
Go to
Go to
Set laser to
Flashing or On
Go to
Go to
Press C
to change
from °F to °C or feet to meter
and vise versa
to turn on/off
LCD backlight
Press
Set Emissivity
Lock or unlock
Trigger LCK
Go to
☞
Emissivity
Current temperature
Distance (feet or meter)
Current temperature
Laser status
Current temperature
Maximum temperature
Current temperature
Minimum temperature
Current temperature
Differential temp
Current temperature
Average temperature
Current temperature
High alarm set point
Current temperature
Thermocouple temp
Current temperature
Low alarm set point
Current temperature
Ambient target temp
Current temperature
Data Trans. Interval
Current Temperature
Memory location
Current temperature
Logging
Current temperature
Display shows:
Press FUNC to...
Press LOCK to...
Press C F
or
to...
Functional Flow Chart when the Trigger is Pulled (Real Time Mode)
FUNC
omega.com info@omega.com
FUNC
Servicing North America:
(Models
OS534E,
OS523E,
OS524E)
on
LCK
☞
CAUTION
FUNC
• There should be a clean, open line of sight from the distance device to the
target, otherwise an erroneous reading will result.
• For accurate distance measurement readings, the surface must be hard,
flat, and reflective to ultrasonic pulse.
• Distance measurement can not be taken through glass, or off of soft and
padded surfaces, or through smoke or fog.
• The distance measurement unit must be held perpendicular to the target
surface.
• The distance measurement unit is designed for indoor use only.
• Accuracy of the distance measurement unit will vary depending on
environmental conditions.
• Do not aim the distance measurement unit.
AVOID EXPOSURE
LASER RADIATION
IS EMITTED FROM
THIS APERTURE
FOR WARRANTY RETURNS,
please have the following
information available BEFORE
contacting OMEGA:
1. Purchase Order number under
which the product was
PURCHASED,
2. Model and serial number of
the product under warranty, and
3. Repair instructions and/or
specific problems relative to
the product.
6
DISPLAY
MODE:
RETURN REQUESTS/INQUIRIES
Direct all warranty and repair requests/inquiries to the OMEGA Customer
Service Department. BEFORE RETURNING ANY PRODUCT(S) TO OMEGA,
PURCHASER MUST OBTAIN AN AUTHORIZED RETURN (AR) N UMBER
FROM OMEGA'S CUSTOMER SERVICE DEPARTMEN T (IN ORDER TO
AVOID PROCESSIN G DELAYS). The assigned AR number should then be
marked on the outside of the return package and on any correspondence.
5
Real Time Modes
OMEGA EN GIN EERIN G, IN C. warrants this unit to be free of defects
in materials and workmanship for a period of 13 months from date
of purchase. OMEGA's WARRAN TY adds an additional one (1) month
grace period to the normal one (1) year product warranty to cover
handling and shipping time. This ensures that OMEGA's customers
receive maximum coverage on each product.
If the unit malfunctions, it must be returned to the factory for evaluation.
OMEGA's Customer Service Department will issue an Authorized
Return (AR) number immediately upon phone or written request. Upon
examination by OMEGA, if the unit is found to be defective, it will be
repaired or replaced at no charge. OMEGA's WARRAN TY does not
apply to defects resulting from any action of the purchaser, including
but not limited to mishandling, improper interfacing, operation outside
of design limits, improper repair, or unauthorized modification. This
WARRANTY is VOID if the unit shows evidence of having been tampered
with or shows evidence of having been damaged as a result of excessive
corrosion; or current, heat, moisture or vibration; improper specification;
misapplication; misuse or other operating conditions outside of
OMEGA's control. Components in which wear is not warranted, include
but are not limited to contact points, fuses, and triacs.
OMEGA is pleased to offer suggestions on the use of its various
products. However, OMEGA neither assumes responsibility for
any omissions or errors nor assumes liability for any damages
that result from the use if its products in accordance with
information provided by OMEGA, either verbal or written.
OMEGA warrants only that the parts manufactured by the
company will be as specified and free of defects. OMEGA
MAKES NO OTHER WARRANTIES OR REPRESENTATIONS OF
ANY KIND WHATSOEVER, EXPRESSED OR IMPLIED, EXCEPT
THAT OF TITLE, AND ALL IMPLIED WARRANTIES INCLUDING
ANY WARRANTY OF MERCHANTABILITY AND FITNESS FOR A
PARTICULAR PURPOSE ARE HEREBY DISCLAIMED. LIMITATION
OF LIABILITY: The remedies of purchaser set forth herein are
exclusive, and the total liability of OMEGA with respect to
this order, whether based on contract, warranty, negligence,
indemnification, strict liability or otherwise, shall not exceed the
purchase price of the component upon which liability is based.
In no event shall OMEGA be liable for consequential, incidental
or special damages.
CONDITIONS: Equipment sold by OMEGA is not intended to be used,
nor shall it be used: (1) as a "Basic Component" under 10 CFR 21
(N RC), used in or with any nuclear installation or activity; or (2) in
medical applications or used on humans. Should any Product(s) be
used in or with any nuclear installation or activity, medical application,
used on humans, or misused in any way, OMEGA assumes no
responsibility as set forth in our basic WARRAN TY/DISCLAIMER
language, and, additionally, purchaser will indemnify OMEGA and hold
OMEGA harmless from any liability or damage whatsoever arising out
of the use of the Product(s) in such a manner.
CAUTION
OMEGASCOPE
TM
LASER RADIATION - DO NOT STARE INTO BEAM
OUTPUT <1 mW, WAVELENGTH 630-670 nm
CLASS II (2) LASER PRODUCT, COMPLIES
WITH FDA 21CFR 1040.10 & EN60825-1/11.2001
Warning and
Certification
Label
U.S.A.
Omega Engineering, Inc.
Headquarters: Toll-Free: 1-800-826-6342 (USA & Canada only)
Customer Service: 1-800-622-2378
(USA & Canada only)
Engineering Service: 1-800-872-9436
(USA & Canada only)
Tel: (203) 359-1660
Fax: (203) 359-7700
e-mail: info@omega.com
For Other Locations Visit omega.com/worldwide
TM
OMEGASCOPE
2
START HERE
4
3
Using this Quick Start Manual
OMEGASCOPE
Use this Quick Start Manual with your OS530E/
OS520E series Handheld Infrared Thermometer to set
up and perform basic operations. These tasks are:
2 Types of Laser Beams
TM
Laser Dot
• Installing the Batteries
• Operating the Laser Sight
• Taking Temperature Readings
• Measuring Distance
For detailed information, refer to the
User's Guide (M4088).
LCK
ATC
HAL LOBAT
LAL PRN °F °C
Laser Circle
Figure 5. Two Laser Configurations
The thermometer is ready for operation.
Laser
Power
Switch
Taking Temperature Readings
1.
TM
Getting Started
FUNC
Parts of the Thermometer
C
Digital/Video
Camera
(Optional)
LOCK
Aim at the target. If you are not using the Laser
Sighting, use the "V" groove on top of the
thermometer to align the target to the
thermometer's field of view.
Field of View
F
Figure 3. Display and Keypad View
Lens Rubber
Boot
Built-in
Distance Module
(Optional)
Laser
Beam
Aperture
Backlit
LCD
F
ac Adapter Input Jack
Wrist
Strap
Figure 1. OS530E/OS520E Series Handheld Infrared
Thermometer Front View
Pull and hold the trigger. To use the laser
sighting, set the laser power switch to the ON
position. The Power Indicator LED and the laser
beam will turn on. The laser beam will stay on as
long as the trigger is pulled. The target
temperature and emissivity (E) will be displayed
and C
on the LCD. You can press the
key to increment or decrement the target
emissivity. The laser beam is switchable between
dot and circle using the switch on the right side.
Thermocouple Input
Socket (SMP) (standard
on OS532E, OS533E,
OS534E)
Battery
Compartment
Door
(UNACCEPTABLE)
Figure 6. Field of View Positions
2.
Laser
Dot/Circle
Switch
Trigger
(ACCEPTABLE)
Invert the unit and install 4 fresh AA size batteries
as shown in Figure 4.
Display
Rubber
Boot
Distance
Power
Switch
Tripod
Mount
Target
Installing the Batteries
"V" Groove
Analog Output Jack
(1mV/deg)
RS-232 Phone Jack
(standard on OS533E,
OS534E, OS523E,
OS524E)
Figure 2. OS530E/OS520E Series Handheld Infrared
Thermometer Various Views
Measuring Distance
Figure 4. Installing the Batteries
Operating the Laser Sight Function
WARNING: DO NOT AIM THE LASER BEAM AT
ANYONE'S EYES.
CAUTION: Use of controls or adjustments or performance of
procedures other than those specified here may result in hazardous
radiation exposure. Refer to the Operator's Manual for complete
warnings and cautions.
Distance measurement is offered either as field
mountable or built-in. The field mountable version
(HH-DM) is a stand alone device. Press the
key
to measure distance. The build-in version (-DM) is an
integral part of the thermometer. Go to the d_F or
d_M display menu. Set the power switch on the
distance module to the ON position. Pull the trigger
for about 2 seconds. The upper display will show the
distance in feet or meters. Releasing the trigger will
turn off distance measurement.