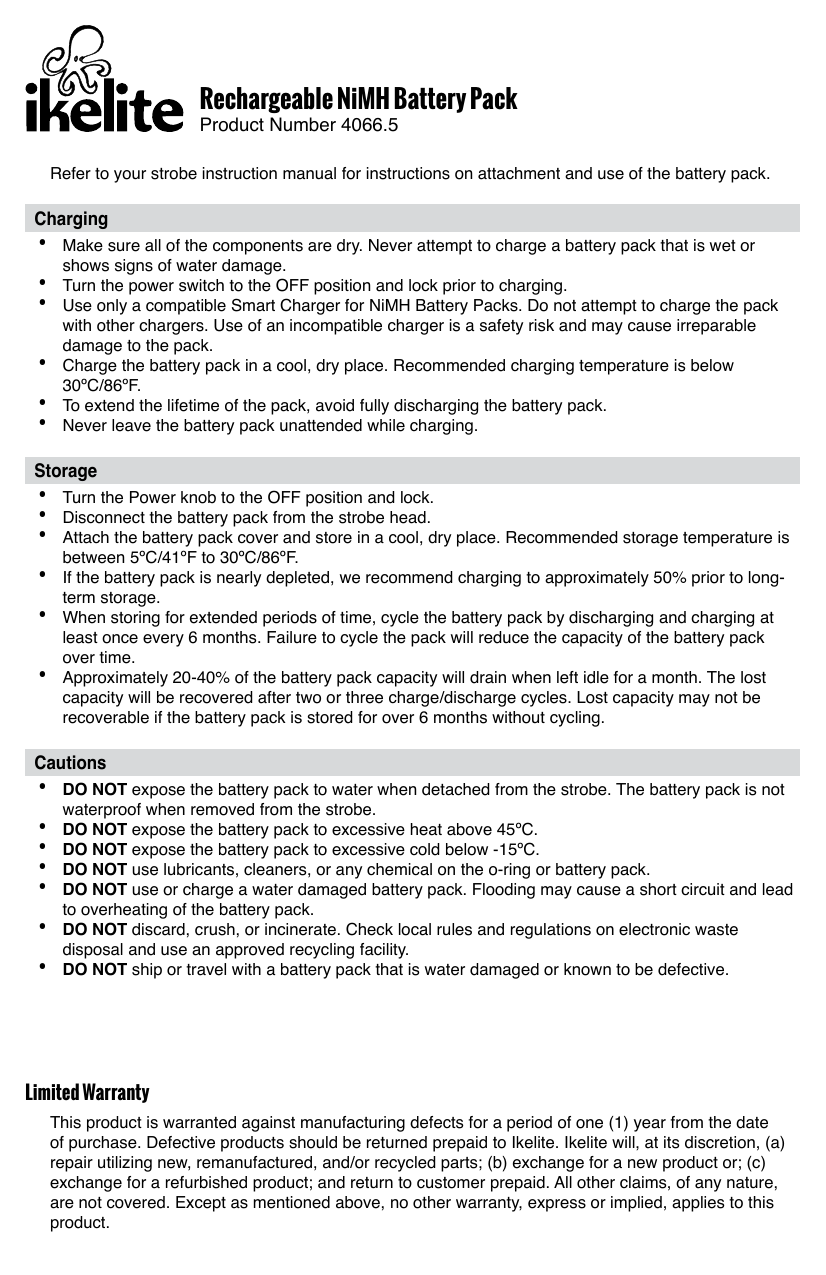 Rechargeable NiMH Battery Pack
Product Number 4066.5
Refer to your strobe instruction manual for instructions on attachment and use of the battery pack.
Charging
• Make sure all of the components are dry. Never attempt to charge a battery pack that is wet or
shows signs of water damage.
• Turn the power switch to the OFF position and lock prior to charging.
• Use only a compatible Smart Charger for NiMH Battery Packs. Do not attempt to charge the pack
•
•
•
with other chargers. Use of an incompatible charger is a safety risk and may cause irreparable
damage to the pack.
Charge the battery pack in a cool, dry place. Recommended charging temperature is below
30ºC/86ºF.
To extend the lifetime of the pack, avoid fully discharging the battery pack.
Never leave the battery pack unattended while charging.
Storage
• Turn the Power knob to the OFF position and lock.
• Disconnect the battery pack from the strobe head.
• Attach the battery pack cover and store in a cool, dry place. Recommended storage temperature is
between 5ºC/41ºF to 30ºC/86ºF.
• If the battery pack is nearly depleted, we recommend charging to approximately 50% prior to longterm storage.
• When storing for extended periods of time, cycle the battery pack by discharging and charging at
•
least once every 6 months. Failure to cycle the pack will reduce the capacity of the battery pack
over time.
Approximately 20-40% of the battery pack capacity will drain when left idle for a month. The lost
capacity will be recovered after two or three charge/discharge cycles. Lost capacity may not be
recoverable if the battery pack is stored for over 6 months without cycling.
Cautions
• DO NOT expose the battery pack to water when detached from the strobe. The battery pack is not
•
•
•
•
•
•
waterproof when removed from the strobe.
DO NOT expose the battery pack to excessive heat above 45ºC.
DO NOT expose the battery pack to excessive cold below -15ºC.
DO NOT use lubricants, cleaners, or any chemical on the o-ring or battery pack.
DO NOT use or charge a water damaged battery pack. Flooding may cause a short circuit and lead
to overheating of the battery pack.
DO NOT discard, crush, or incinerate. Check local rules and regulations on electronic waste
disposal and use an approved recycling facility.
DO NOT ship or travel with a battery pack that is water damaged or known to be defective.
Limited Warranty
This product is warranted against manufacturing defects for a period of one (1) year from the date
of purchase. Defective products should be returned prepaid to Ikelite. Ikelite will, at its discretion, (a)
repair utilizing new, remanufactured, and/or recycled parts; (b) exchange for a new product or; (c)
exchange for a refurbished product; and return to customer prepaid. All other claims, of any nature,
are not covered. Except as mentioned above, no other warranty, express or implied, applies to this
product.

* Your assessment is very important for improving the work of artificial intelligence, which forms the content of this project