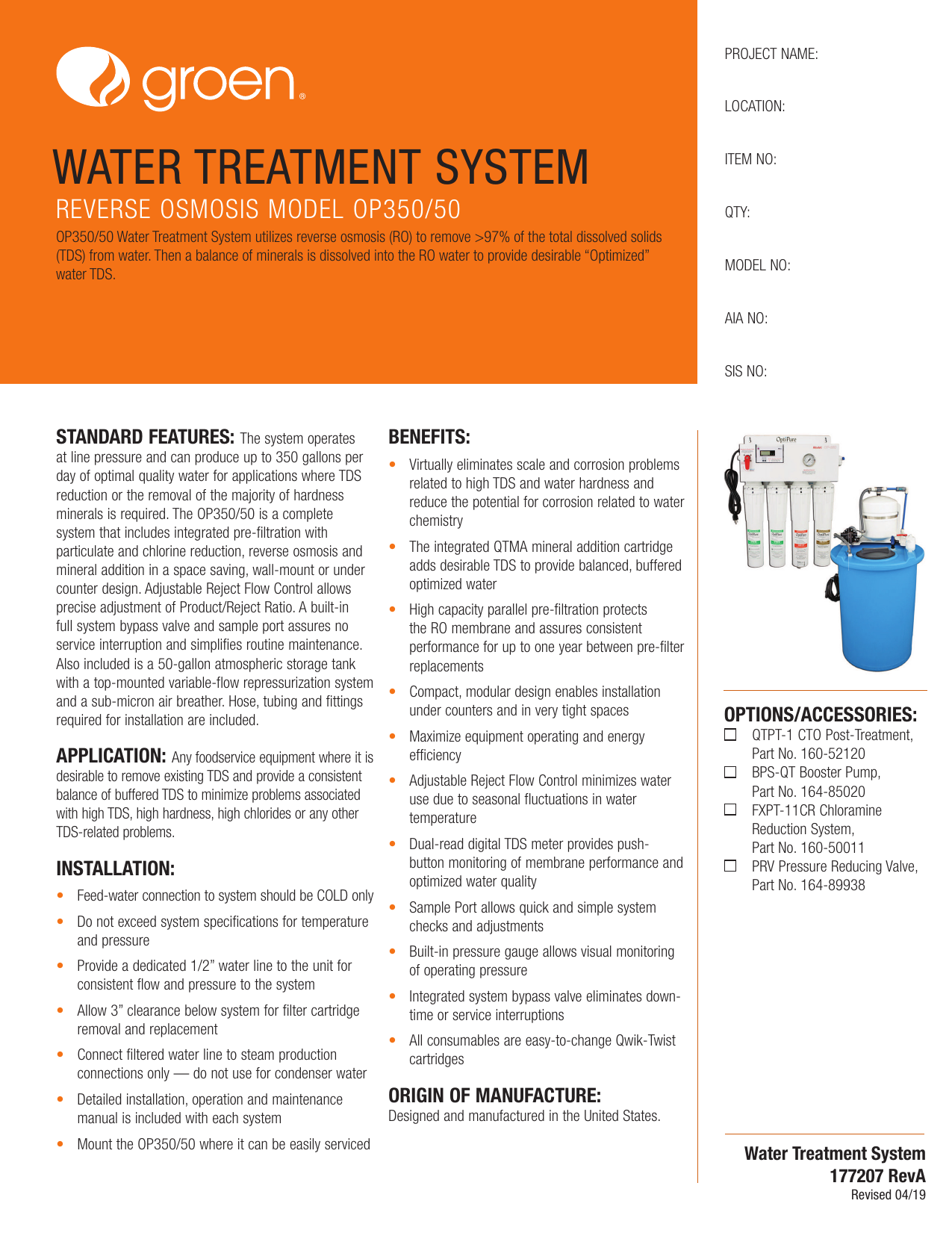 PROJECT NAME:
LOCATION:
WATER TREATMENT SYSTEM
REVERSE OSMOSIS MODEL OP350/50
OP350/50 Water Treatment System utilizes reverse osmosis (RO) to remove >97% of the total dissolved solids
(TDS) from water. Then a balance of minerals is dissolved into the RO water to provide desirable "Optimized"
water TDS.
ITEM NO:
QTY:
MODEL NO:
AIA NO:
SIS NO:
STANDARD FEATURES: The system operates
at line pressure and can produce up to 350 gallons per
day of optimal quality water for applications where TDS
reduction or the removal of the majority of hardness
minerals is required. The OP350/50 is a complete
system that includes integrated pre-filtration with
particulate and chlorine reduction, reverse osmosis and
mineral addition in a space saving, wall-mount or under
counter design. Adjustable Reject Flow Control allows
precise adjustment of Product/Reject Ratio. A built-in
full system bypass valve and sample port assures no
service interruption and simplifies routine maintenance.
Also included is a 50-gallon atmospheric storage tank
with a top-mounted variable-flow repressurization system
and a sub-micron air breather. Hose, tubing and fittings
required for installation are included.
APPLICATION: Any foodservice equipment where it is
desirable to remove existing TDS and provide a consistent
balance of buffered TDS to minimize problems associated
with high TDS, high hardness, high chlorides or any other
TDS-related problems.
INSTALLATION:
• Feed-water connection to system should be COLD only
• Do not exceed system specifications for temperature
and pressure
• Provide a dedicated 1/2" water line to the unit for
consistent flow and pressure to the system
• Allow 3" clearance below system for filter cartridge
removal and replacement
• Connect filtered water line to steam production
connections only — do not use for condenser water
• Detailed installation, operation and maintenance
manual is included with each system
• Mount the OP350/50 where it can be easily serviced
BENEFITS:
• Virtually eliminates scale and corrosion problems
related to high TDS and water hardness and
reduce the potential for corrosion related to water
chemistry
• The integrated QTMA mineral addition cartridge
adds desirable TDS to provide balanced, buffered
optimized water
• High capacity parallel pre-filtration protects
the RO membrane and assures consistent
performance for up to one year between pre-filter
replacements
• Compact, modular design enables installation
under counters and in very tight spaces
• Maximize equipment operating and energy
efficiency
• Adjustable Reject Flow Control minimizes water
use due to seasonal fluctuations in water
temperature
• Dual-read digital TDS meter provides pushbutton monitoring of membrane performance and
optimized water quality
OPTIONS/ACCESSORIES:
QTPT-1 CTO Post-Treatment,
Part No. 160-52120
BPS-QT Booster Pump,
Part No. 164-85020
FXPT-11CR Chloramine
Reduction System,
Part No. 160-50011
PRV Pressure Reducing Valve,
Part No. 164-89938
• Sample Port allows quick and simple system
checks and adjustments
• Built-in pressure gauge allows visual monitoring
of operating pressure
• Integrated system bypass valve eliminates downtime or service interruptions
• All consumables are easy-to-change Qwik-Twist
cartridges
ORIGIN OF MANUFACTURE:
Designed and manufactured in the United States.
Water Treatment System
177207 RevA
Revised 04/19
OP350/50
Feed-Water Chemistry
888-994-7636, unifiedbrands.net
© 2019 Unified Brands. All Rights Reserved. Unified Brands is a wholly-owned subsidiary of Dover Corporation.

* Your assessment is very important for improving the work of artificial intelligence, which forms the content of this project