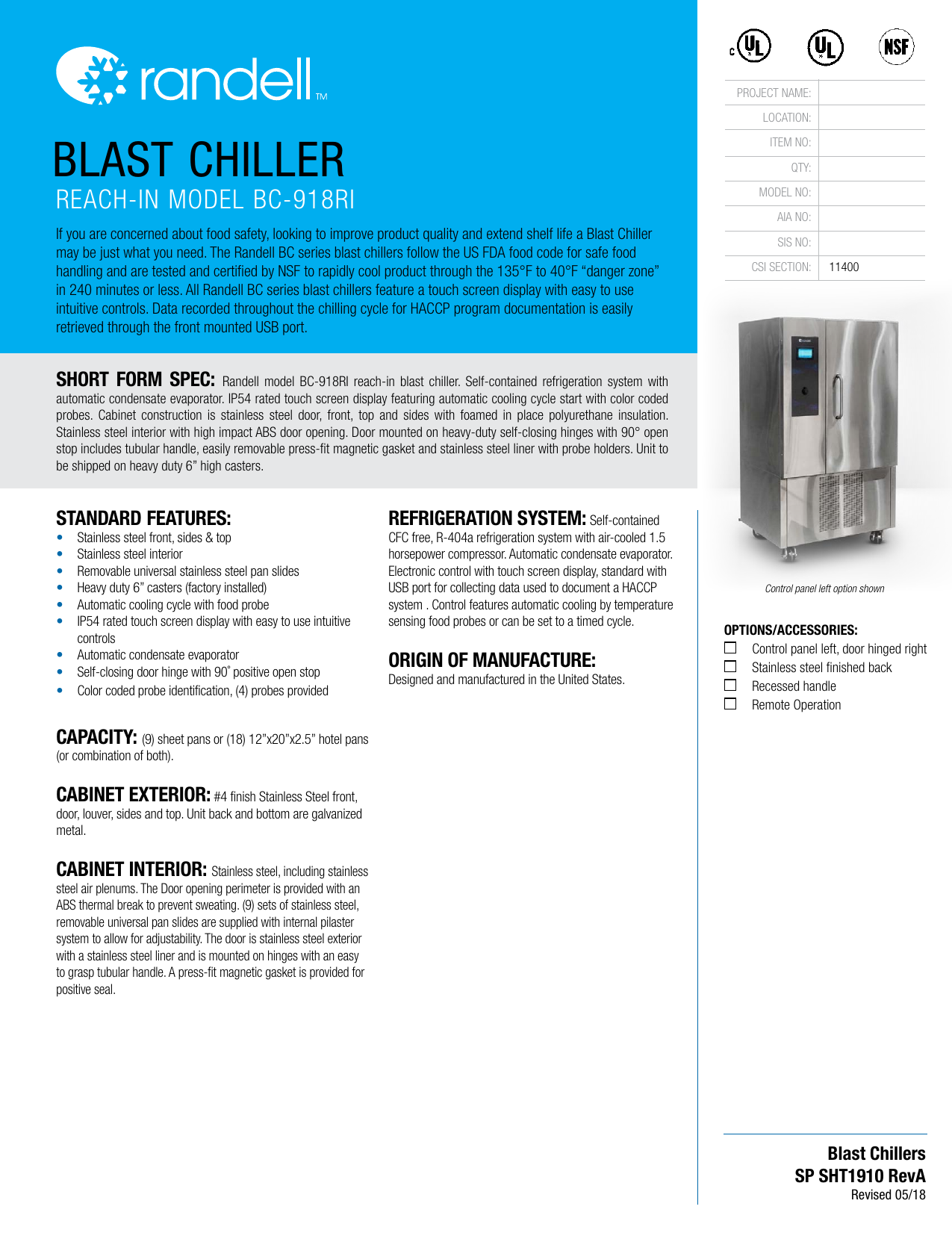 PROJECT NAME:
LOCATION:
BLAST CHILLER
ITEM NO:
QTY:
REACH-IN MODEL BC-918RI
MODEL NO:
AIA NO:
If you are concerned about food safety, looking to improve product quality and extend shelf life a Blast Chiller
may be just what you need. The Randell BC series blast chillers follow the US FDA food code for safe food
handling and are tested and certified by NSF to rapidly cool product through the 135°F to 40°F "danger zone"
in 240 minutes or less. All Randell BC series blast chillers feature a touch screen display with easy to use
intuitive controls. Data recorded throughout the chilling cycle for HACCP program documentation is easily
retrieved through the front mounted USB port.
SIS NO:
CSI SECTION:
11400
SHORT FORM SPEC:
Randell model BC-918RI reach-in blast chiller. Self-contained refrigeration system with
automatic condensate evaporator. IP54 rated touch screen display featuring automatic cooling cycle start with color coded
probes. Cabinet construction is stainless steel door, front, top and sides with foamed in place polyurethane insulation.
Stainless steel interior with high impact ABS door opening. Door mounted on heavy-duty self-closing hinges with 90° open
stop includes tubular handle, easily removable press-fit magnetic gasket and stainless steel liner with probe holders. Unit to
be shipped on heavy duty 6" high casters.
STANDARD FEATURES:
•
•
•
•
•
•
•
•
•
Stainless steel front, sides & top
Stainless steel interior
Removable universal stainless steel pan slides
Heavy duty 6" casters (factory installed)
Automatic cooling cycle with food probe
IP54 rated touch screen display with easy to use intuitive
controls
Automatic condensate evaporator
Self-closing door hinge with 90˚ positive open stop
Color coded probe identification, (4) probes provided
REFRIGERATION SYSTEM: Self-contained
CFC free, R-404a refrigeration system with air-cooled 1.5
horsepower compressor. Automatic condensate evaporator.
Electronic control with touch screen display, standard with
USB port for collecting data used to document a HACCP
system . Control features automatic cooling by temperature
sensing food probes or can be set to a timed cycle.
ORIGIN OF MANUFACTURE:
Designed and manufactured in the United States.
Control panel left option shown
OPTIONS/ACCESSORIES:
Control panel left, door hinged right
Stainless steel finished back
Recessed handle
Remote Operation
CAPACITY: (9) sheet pans or (18) 12"x20"x2.5" hotel pans
(or combination of both).
CABINET EXTERIOR: #4 finish Stainless Steel front,
door, louver, sides and top. Unit back and bottom are galvanized
metal.
CABINET INTERIOR: Stainless steel, including stainless
steel air plenums. The Door opening perimeter is provided with an
ABS thermal break to prevent sweating. (9) sets of stainless steel,
removable universal pan slides are supplied with internal pilaster
system to allow for adjustability. The door is stainless steel exterior
with a stainless steel liner and is mounted on hinges with an easy
to grasp tubular handle. A press-fit magnetic gasket is provided for
positive seal.
Blast Chillers
SP SHT1910 RevA
Revised 05/18
BC-918RI
L
D
H
40"
35.12"
71"
Pan Capacity
12"x20"x2.5"
18"x26" Sheet
18
9
HP
Amps. Min.
Volt/Hz/Ph
Circuit
Ampacity
NEMA
Crated
Wt.
1-1/2
120/208-230/60/1
20
L14-20P
858
888-994-7636, unifiedbrands.net
© 2019 Unified Brands. All Rights Reserved. Unified Brands is a wholly-owned subsidiary of Dover Corporation.

* Your assessment is very important for improving the work of artificial intelligence, which forms the content of this project