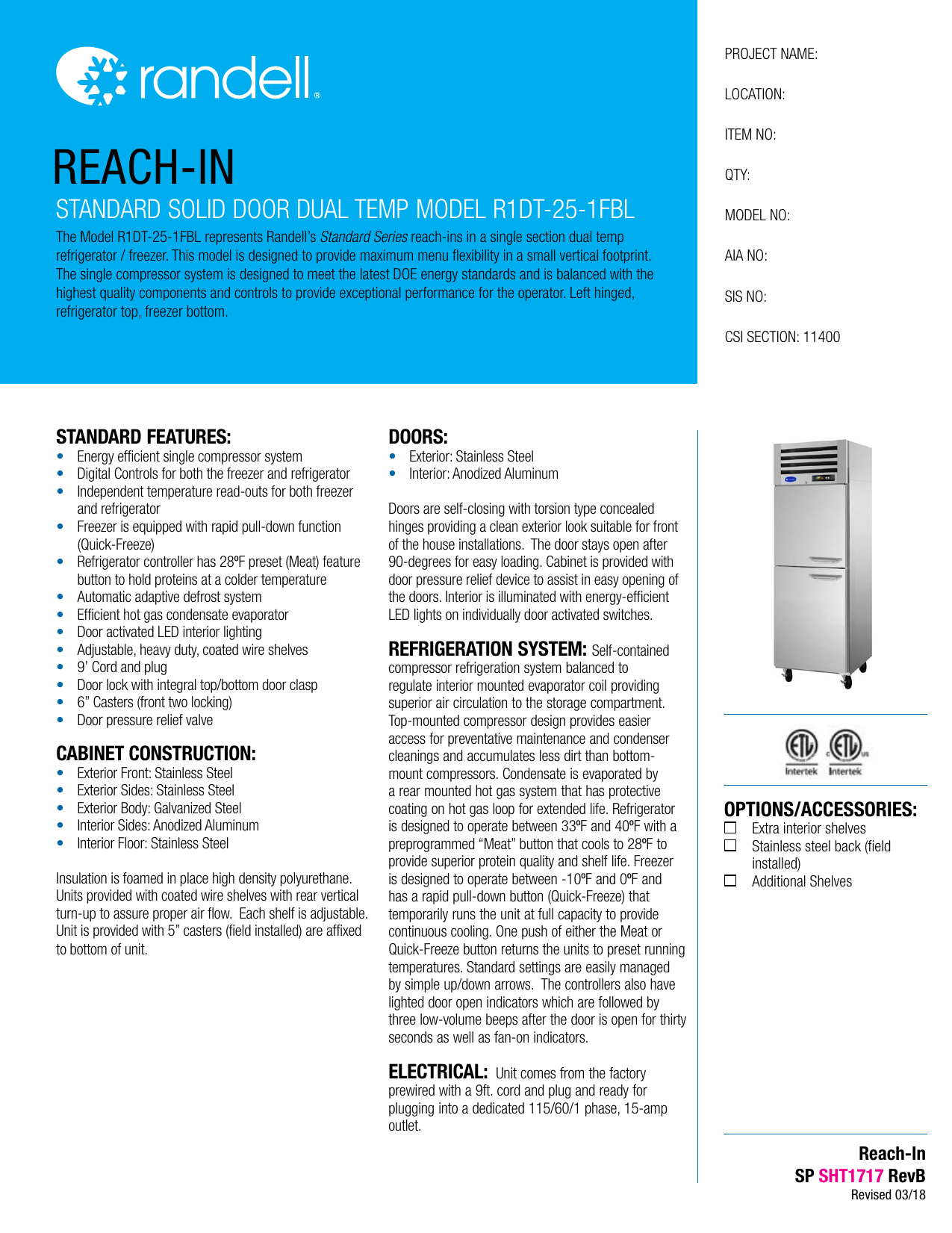 PROJECT NAME:
LOCATION:
ITEM NO:
REACH-IN
QTY:
STANDARD SOLID DOOR DUAL TEMP MODEL R1DT-25-1FBL
The Model R1DT-25-1FBL represents Randell's Standard Series reach-ins in a single section dual temp
refrigerator / freezer. This model is designed to provide maximum menu flexibility in a small vertical footprint.
The single compressor system is designed to meet the latest DOE energy standards and is balanced with the
highest quality components and controls to provide exceptional performance for the operator. Left hinged,
refrigerator top, freezer bottom.
MODEL NO:
AIA NO:
SIS NO:
CSI SECTION: 11400
STANDARD FEATURES:
• Energy efficient single compressor system
• Digital Controls for both the freezer and refrigerator
• Independent temperature read-outs for both freezer
and refrigerator
• Freezer is equipped with rapid pull-down function
(Quick-Freeze)
• Refrigerator controller has 28ºF preset (Meat) feature
button to hold proteins at a colder temperature
• Automatic adaptive defrost system
• Efficient hot gas condensate evaporator
• Door activated LED interior lighting
• Adjustable, heavy duty, coated wire shelves
• 9' Cord and plug
• Door lock with integral top/bottom door clasp
• 6" Casters (front two locking)
• Door pressure relief valve
CABINET CONSTRUCTION:
•
•
•
•
•
Exterior Front: Stainless Steel
Exterior Sides: Stainless Steel
Exterior Body: Galvanized Steel
Interior Sides: Anodized Aluminum
Interior Floor: Stainless Steel
Insulation is foamed in place high density polyurethane.
Units provided with coated wire shelves with rear vertical
turn-up to assure proper air flow. Each shelf is adjustable.
Unit is provided with 5" casters (field installed) are affixed
to bottom of unit.
DOORS:
• Exterior: Stainless Steel
• Interior: Anodized Aluminum
Doors are self-closing with torsion type concealed
hinges providing a clean exterior look suitable for front
of the house installations. The door stays open after
90-degrees for easy loading. Cabinet is provided with
door pressure relief device to assist in easy opening of
the doors. Interior is illuminated with energy-efficient
LED lights on individually door activated switches.
REFRIGERATION SYSTEM: Self-contained
compressor refrigeration system balanced to
regulate interior mounted evaporator coil providing
superior air circulation to the storage compartment.
Top-mounted compressor design provides easier
access for preventative maintenance and condenser
cleanings and accumulates less dirt than bottommount compressors. Condensate is evaporated by
a rear mounted hot gas system that has protective
coating on hot gas loop for extended life. Refrigerator
is designed to operate between 33ºF and 40ºF with a
preprogrammed "Meat" button that cools to 28ºF to
provide superior protein quality and shelf life. Freezer
is designed to operate between -10ºF and 0ºF and
has a rapid pull-down button (Quick-Freeze) that
temporarily runs the unit at full capacity to provide
continuous cooling. One push of either the Meat or
Quick-Freeze button returns the units to preset running
temperatures. Standard settings are easily managed
by simple up/down arrows. The controllers also have
lighted door open indicators which are followed by
three low-volume beeps after the door is open for thirty
seconds as well as fan-on indicators.
OPTIONS/ACCESSORIES:
Extra interior shelves
Stainless steel back (field
installed)
Additional Shelves
ELECTRICAL:
Unit comes from the factory
prewired with a 9ft. cord and plug and ready for
plugging into a dedicated 115/60/1 phase, 15-amp
outlet.
Reach-In
SP SHT1717 RevB
Revised 03/18
R1DT-25-1FBL
Model
R1DT-25-1FBL
Top
Section
Bottom
Section
Hinged
L
D
H
Doors
Cu. Ft.
Top/Btm
Shelves
HP
Power
Amps
NEMA
Ship
Wt.
Refrigerator
Freezer
Left
25 1/8"
31 1/2"
77"
(2) 1/2
8.5(R)
7.9(F)
2
3/8
115/60/1
4.8
5-15P
220
888-994-7636, unifiedbrands.net
© 2018 Unified Brands. All Rights Reserved. Unified Brands is a wholly-owned subsidiary of Dover Corporation.

* Your assessment is very important for improving the work of artificial intelligence, which forms the content of this project