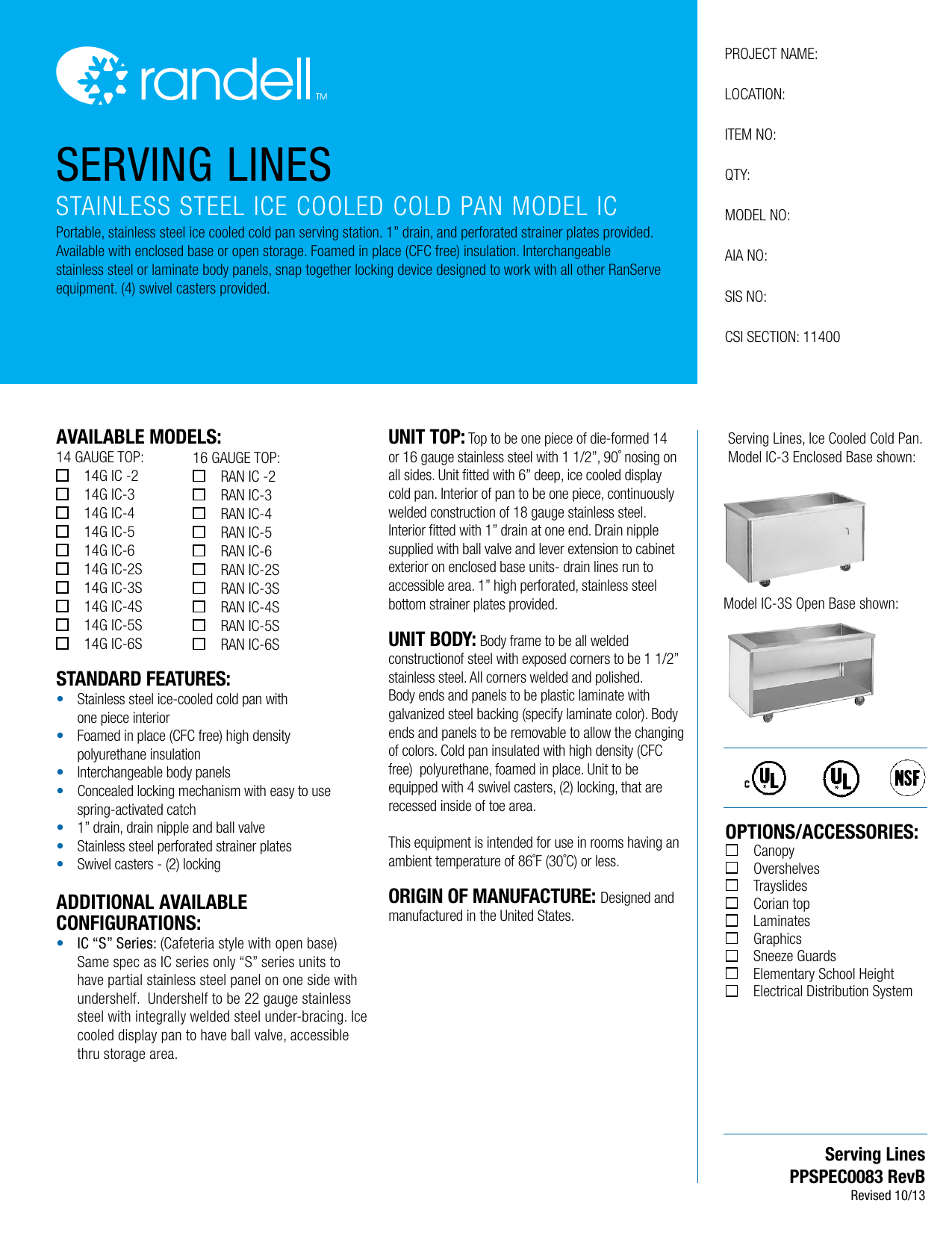 PROJECT NAME:
LOCATION:
ITEM NO:
SERVING LINES
QTY:
STAINLESS STEEL ICE COOLED COLD PAN MODEL IC
Portable, stainless steel ice cooled cold pan serving station. 1" drain, and perforated strainer plates provided.
Available with enclosed base or open storage. Foamed in place (CFC free) insulation. Interchangeable
stainless steel or laminate body panels, snap together locking device designed to work with all other RanServe
equipment. (4) swivel casters provided.
MODEL NO:
AIA NO:
SIS NO:
CSI SECTION: 11400
AVAILABLE MODELS:
14 GAUGE TOP:
14G IC -2
14G IC-3
14G IC-4
14G IC-5
14G IC-6
14G IC-2S
14G IC-3S
14G IC-4S
14G IC-5S
14G IC-6S
16 GAUGE TOP:
RAN IC -2
RAN IC-3
RAN IC-4
RAN IC-5
RAN IC-6
RAN IC-2S
RAN IC-3S
RAN IC-4S
RAN IC-5S
RAN IC-6S
STANDARD FEATURES:
• Stainless steel ice-cooled cold pan with
one piece interior
• Foamed in place (CFC free) high density
polyurethane insulation
• Interchangeable body panels
• Concealed locking mechanism with easy to use
spring-activated catch
• 1" drain, drain nipple and ball valve
• Stainless steel perforated strainer plates
• Swivel casters - (2) locking
ADDITIONAL AVAILABLE
CONFIGURATIONS:
• IC "S" Series: (Cafeteria style with open base)
Same spec as IC series only "S" series units to
have partial stainless steel panel on one side with
undershelf. Undershelf to be 22 gauge stainless
steel with integrally welded steel under-bracing. Ice
cooled display pan to have ball valve, accessible
thru storage area.
UNIT TOP: Top to be one piece of die-formed 14
or 16 gauge stainless steel with 1 1/2", 90˚ nosing on
all sides. Unit fitted with 6" deep, ice cooled display
cold pan. Interior of pan to be one piece, continuously
welded construction of 18 gauge stainless steel.
Interior fitted with 1" drain at one end. Drain nipple
supplied with ball valve and lever extension to cabinet
exterior on enclosed base units- drain lines run to
accessible area. 1" high perforated, stainless steel
bottom strainer plates provided.
Serving Lines, Ice Cooled Cold Pan.
Model IC-3 Enclosed Base shown:
Model IC-3S Open Base shown:
UNIT BODY: Body frame to be all welded
constructionof steel with exposed corners to be 1 1/2"
stainless steel. All corners welded and polished.
Body ends and panels to be plastic laminate with
galvanized steel backing (specify laminate color). Body
ends and panels to be removable to allow the changing
of colors. Cold pan insulated with high density (CFC
free) polyurethane, foamed in place. Unit to be
equipped with 4 swivel casters, (2) locking, that are
recessed inside of toe area.
This equipment is intended for use in rooms having an
ambient temperature of 86˚F (30˚C) or less.
ORIGIN OF MANUFACTURE: Designed and
manufactured in the United States.
OPTIONS/ACCESSORIES:
Canopy
Overshelves
Trayslides
Corian top
Laminates
Graphics
Sneeze Guards
Elementary School Height
Electrical Distribution System
Serving Lines
PPSPEC0083 RevB
Revised 10/13
IC
Drawings are to be viewed in the same order as the chart
LEGEND FOR
RAN IC
AFF =
ABOVE FIXED FLOOR
1" DIA PVC DRAIN
LINE EXTENDS TO 1"
DELOW BOTTOM OF
UNIT
2.5"
DRAIN HANDLE
2.5"
DRAIN LINE
PANEL
PANEL
PANEL
36"
48"
60"
35"
PANEL
30"
S/S PANEL
PANEL
PANEL
78"
86"
OPEN STORAGE
"S" Model
IC DRAWINGS SHOWN, IC-S FRONT VIEW SHOWN AS REPRESENTATION OF "S" MODELS
ENCLOSED BASE
MODELS
L
D
H
12"X20" Pan
Capacity
Coldpan
Interior Dimensions
Ship
Wt.
IC-2
36"
30"
35"
2
25" x 20" x 6"
140
IC-3
48"
30"
35"
3
38" x 20" x 6"
175
IC-4
60"
30"
35"
4
50.75" x 20" x 6"
215
IC-5
72"
30"
35"
5
63.75" x 20" x 6"
260
IC-6
86"
30"
35"
6
76.5" x 20" x 6"
310
IC-2S
36"
30"
35"
2
25" x 20" x 6"
140
IC-3S
48"
30"
35"
3
38" x 20" x 6"
175
OPEN BASE
IC-4S
60"
30"
35"
4
52" x 20" x 6"
215
IC-5S
72"
30"
35"
5
63.75" x 20" x 6"
260
IC-6S
86"
30"
35"
6
76.5" x 20" x 6"
310
888-994-7636, unifiedbrands.net
© 2019 Unified Brands. All Rights Reserved. Unified Brands is a wholly-owned subsidiary of Dover Corporation.

* Your assessment is very important for improving the work of artificial intelligence, which forms the content of this project