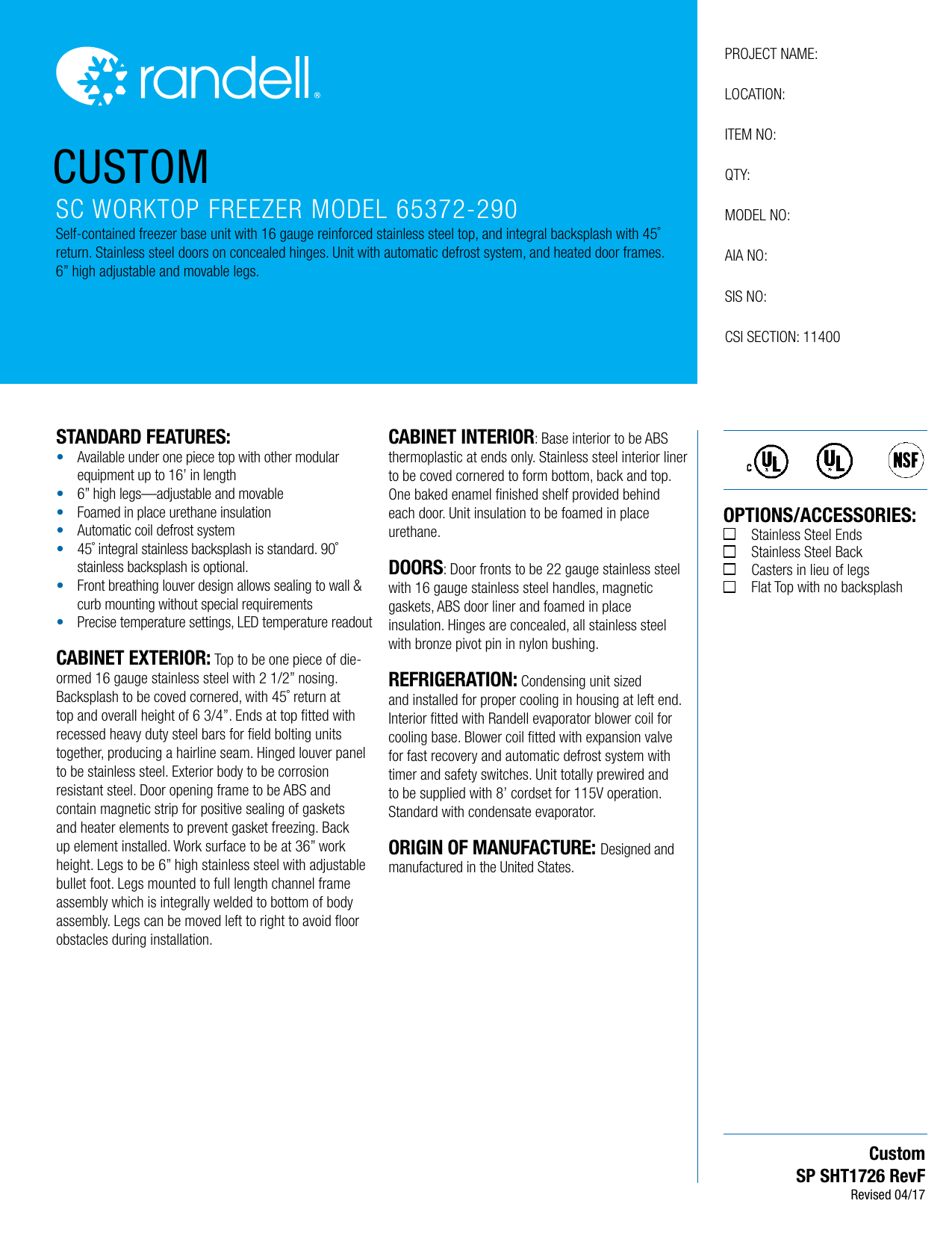 PROJECT NAME:
LOCATION:
ITEM NO:
CUSTOM
QTY:
SC WORKTOP FREEZER MODEL 65372-290
MODEL NO:
Self-contained freezer base unit with 16 gauge reinforced stainless steel top, and integral backsplash with 45˚
return. Stainless steel doors on concealed hinges. Unit with automatic defrost system, and heated door frames.
6" high adjustable and movable legs.
AIA NO:
SIS NO:
CSI SECTION: 11400
STANDARD FEATURES:
• Available under one piece top with other modular
equipment up to 16' in length
• 6" high legs—adjustable and movable
• Foamed in place urethane insulation
• Automatic coil defrost system
• 45˚ integral stainless backsplash is standard. 90˚
stainless backsplash is optional.
• Front breathing louver design allows sealing to wall &
curb mounting without special requirements
• Precise temperature settings, LED temperature readout
CABINET EXTERIOR: Top to be one piece of dieormed 16 gauge stainless steel with 2 1/2" nosing.
Backsplash to be coved cornered, with 45˚ return at
top and overall height of 6 3/4". Ends at top fitted with
recessed heavy duty steel bars for field bolting units
together, producing a hairline seam. Hinged louver panel
to be stainless steel. Exterior body to be corrosion
resistant steel. Door opening frame to be ABS and
contain magnetic strip for positive sealing of gaskets
and heater elements to prevent gasket freezing. Back
up element installed. Work surface to be at 36" work
height. Legs to be 6" high stainless steel with adjustable
bullet foot. Legs mounted to full length channel frame
assembly which is integrally welded to bottom of body
assembly. Legs can be moved left to right to avoid floor
obstacles during installation.
CABINET INTERIOR: Base interior to be ABS
thermoplastic at ends only. Stainless steel interior liner
to be coved cornered to form bottom, back and top.
One baked enamel finished shelf provided behind
each door. Unit insulation to be foamed in place
urethane.
DOORS: Door fronts to be 22 gauge stainless steel
with 16 gauge stainless steel handles, magnetic
gaskets, ABS door liner and foamed in place
insulation. Hinges are concealed, all stainless steel
with bronze pivot pin in nylon bushing.
OPTIONS/ACCESSORIES:
Stainless Steel Ends
Stainless Steel Back
Casters in lieu of legs
Flat Top with no backsplash
REFRIGERATION: Condensing unit sized
and installed for proper cooling in housing at left end.
Interior fitted with Randell evaporator blower coil for
cooling base. Blower coil fitted with expansion valve
for fast recovery and automatic defrost system with
timer and safety switches. Unit totally prewired and
to be supplied with 8' cordset for 115V operation.
Standard with condensate evaporator.
ORIGIN OF MANUFACTURE: Designed and
manufactured in the United States.
Custom
SP SHT1726 RevF
Revised 04/17
65372-290
SELF-CONTAINED FREEZER WITH STAINLESS STEEL TOP
Length
72"
Depth
33"
Work Height
36"
No. of Doors
(2)27"
+ 4" mullion
Storage (Cu. Ft.)
14.89
Power Usage (Kw Per Day)
4.61
Compressor
1/2
BTU Design
782/Hr
BTU System Capacity
1071/Hr
Volt
115/60/1
Amps
5.6
NEMA
5-15P
Ship Wt. (lbs.)
505*
* Weight with out stainless steel back
888-994-7636, unifiedbrands.net
© 2018 Unified Brands. All Rights Reserved. Unified Brands is a wholly-owned subsidiary of Dover Corporation.

* Your assessment is very important for improving the work of artificial intelligence, which forms the content of this project