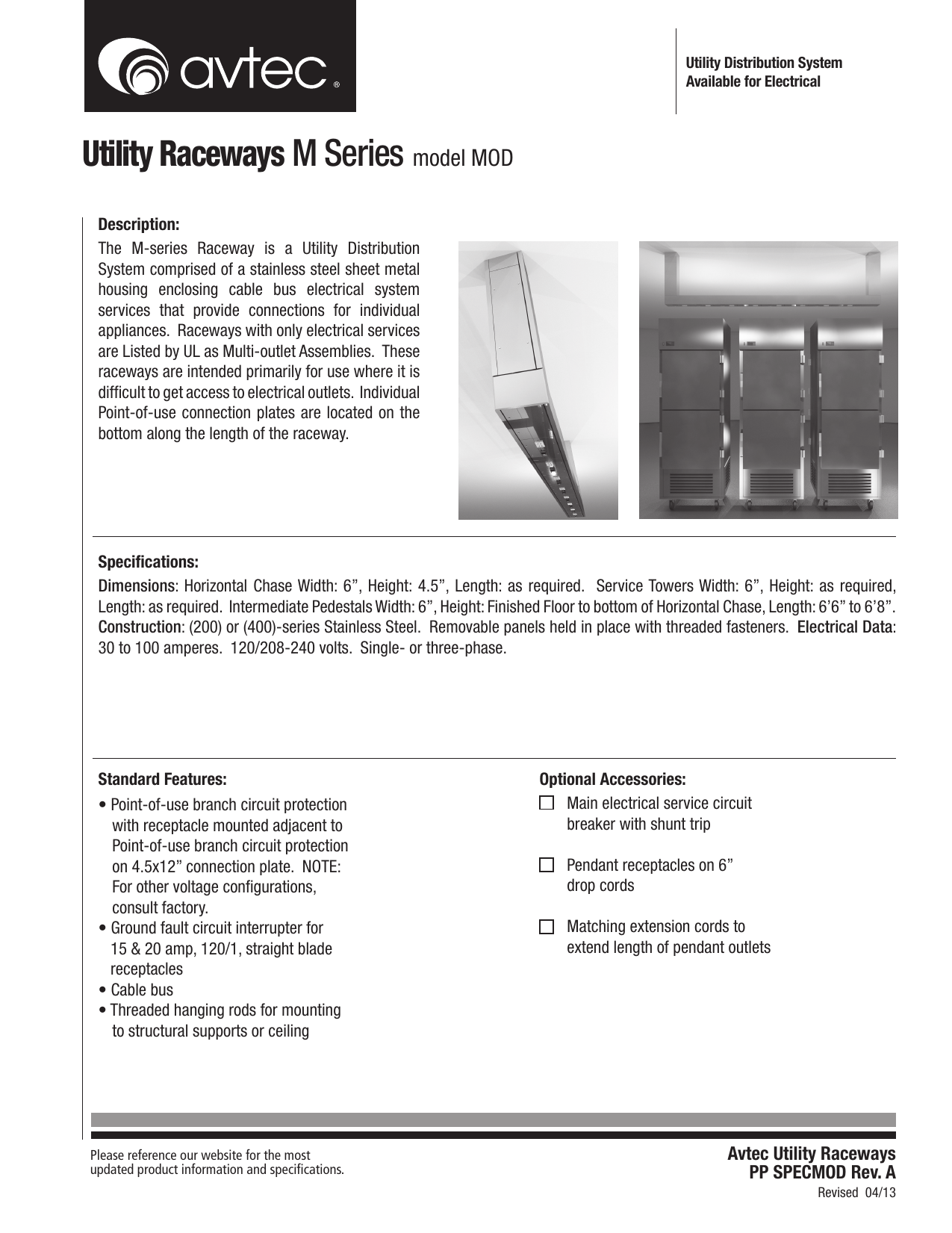 Utility Distribution System
Available for Electrical
Utility Raceways M Series model MOD
Description:
The M-series Raceway is a Utility Distribution
System comprised of a stainless steel sheet metal
housing enclosing cable bus electrical system
services that provide connections for individual
appliances. Raceways with only electrical services
are Listed by UL as Multi-outlet Assemblies. These
raceways are intended primarily for use where it is
difficult to get access to electrical outlets. Individual
Point-of-use connection plates are located on the
bottom along the length of the raceway.
Specifications:
Dimensions: Horizontal Chase Width: 6", Height: 4.5", Length: as required. Service Towers Width: 6", Height: as required,
Length: as required. Intermediate Pedestals Width: 6", Height: Finished Floor to bottom of Horizontal Chase, Length: 6'6" to 6'8".
Construction: (200) or (400)-series Stainless Steel. Removable panels held in place with threaded fasteners. Electrical Data:
30 to 100 amperes. 120/208-240 volts. Single- or three-phase.
Standard Features:
• Point-of-use branch circuit protection
with receptacle mounted adjacent to
Point-of-use branch circuit protection
on 4.5x12" connection plate. NOTE:
For other voltage configurations,
consult factory.
• Ground fault circuit interrupter for
15 & 20 amp, 120/1, straight blade
receptacles
• Cable bus
• Threaded hanging rods for mounting
to structural supports or ceiling
Please reference our website for the most
updated product information and specifications.
Optional Accessories:
Main electrical service circuit
breaker with shunt trip
Pendant receptacles on 6"
drop cords
Matching extension cords to
extend length of pendant outlets
Avtec Utility Raceways
PP SPECMOD Rev. A
Revised 04/13
Model MOD
Front,
Top
& Side Views
Optional
Accessories:
(AVAILABLE EITHER END)
Front, Top & Side Views
888-994-7636, unifiedbrands.net
© 2018 Unified Brands. All Rights Reserved. Unified Brands is a wholly-owned subsidiary of Dover Corporation.

* Your assessment is very important for improving the work of artificial intelligence, which forms the content of this project