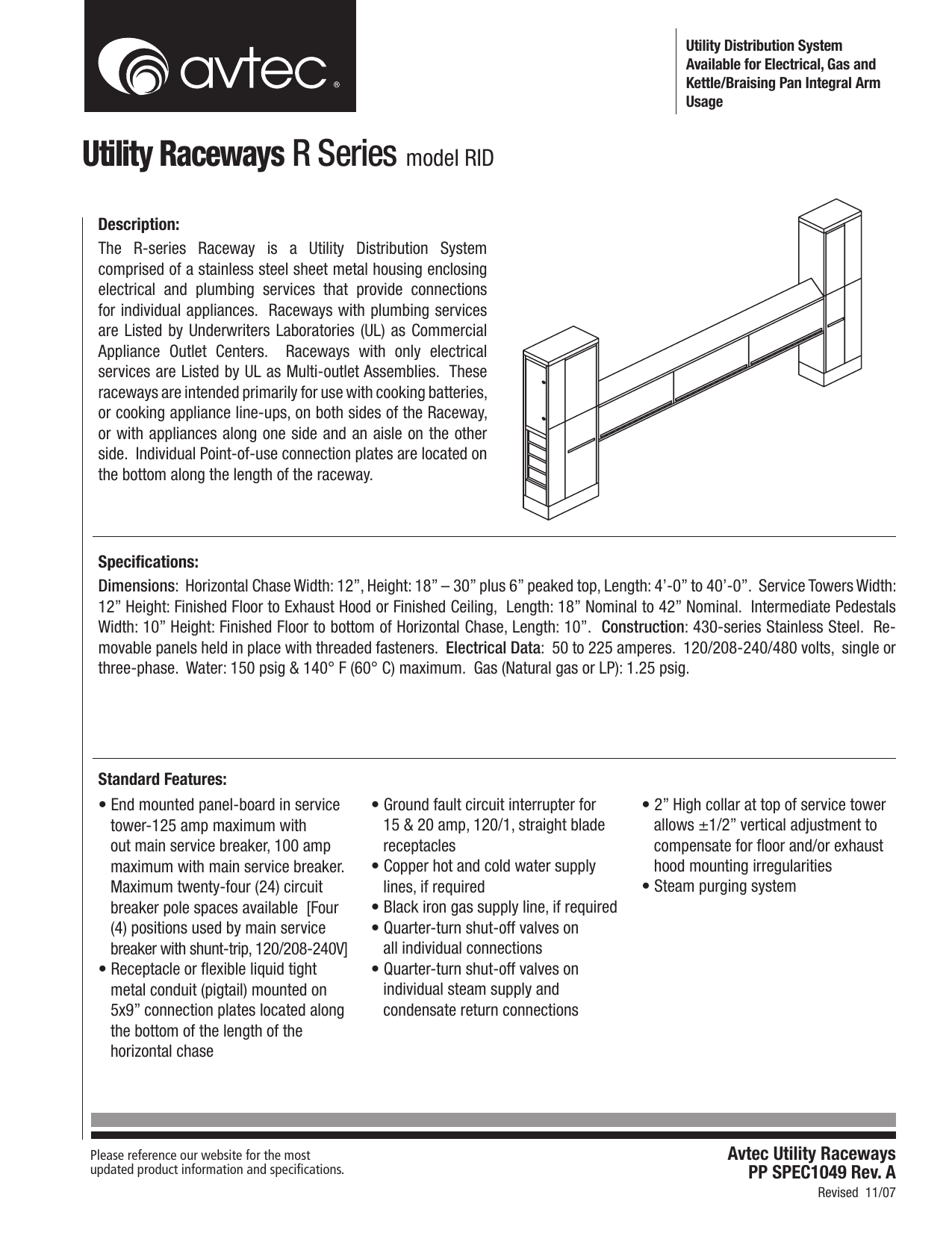 Utility Distribution System
Available for Electrical, Gas and
Kettle/Braising Pan Integral Arm
Usage
Utility Raceways R Series model RID
Description:
The R-series Raceway is a Utility Distribution System
comprised of a stainless steel sheet metal housing enclosing
electrical and plumbing services that provide connections
for individual appliances. Raceways with plumbing services
are Listed by Underwriters Laboratories (UL) as Commercial
Appliance Outlet Centers. Raceways with only electrical
services are Listed by UL as Multi-outlet Assemblies. These
raceways are intended primarily for use with cooking batteries,
or cooking appliance line-ups, on both sides of the Raceway,
or with appliances along one side and an aisle on the other
side. Individual Point-of-use connection plates are located on
the bottom along the length of the raceway.
Specifications:
Dimensions: Horizontal Chase Width: 12", Height: 18" – 30" plus 6" peaked top, Length: 4'-0" to 40'-0". Service Towers Width:
12" Height: Finished Floor to Exhaust Hood or Finished Ceiling, Length: 18" Nominal to 42" Nominal. Intermediate Pedestals
Width: 10" Height: Finished Floor to bottom of Horizontal Chase, Length: 10". Construction: 430-series Stainless Steel. Removable panels held in place with threaded fasteners. Electrical Data: 50 to 225 amperes. 120/208-240/480 volts, single or
three-phase. Water: 150 psig & 140° F (60° C) maximum. Gas (Natural gas or LP): 1.25 psig.
Standard Features:
Optional Accessories:
• 2" High collar at top of service tower
• Ground fault circuit interrupter for
• End mounted panel-board in service
allows ±1/2" vertical adjustment to
15 & 20 amp, 120/1, straight blade
tower-125 amp maximum with
receptacles
compensate for floor and/or exhaust
out main service breaker, 100 amp
hood mounting irregularities
• Copper hot and cold water supply
maximum with main service breaker.
• Steam purging system
lines, if required
Maximum twenty-four (24) circuit
• Black iron gas supply line, if required
breaker pole spaces available [Four
• Quarter-turn shut-off valves on
(4) positions used by main service
all individual connections
breaker with shunt-trip, 120/208-240V]
• Quarter-turn shut-off valves on
• Receptacle or flexible liquid tight
individual steam supply and
metal conduit (pigtail) mounted on
condensate return connections
5x9" connection plates located along
the bottom of the length of the
horizontal chase
Please reference our website for the most
updated product information and specifications.
Avtec Utility Raceways
PP SPEC1049 Rev. A
Revised 11/07
Model RID
Optional Accessories:
Quick-disconnect fittings for individual
gas connections in addition to quarter-turn shut-off valves for movable
appliances
Quick-disconnect fittings for individual
water connections in addition to quarter-turn shut-off valves for movable
appliances
Vent light switch in service tower
Duplex convenience outlet in
Service tower(s)
Gas delay reset (GDRI)
120V AC fire-fuel shut-off solenoid
valve(s) for gas supply. 1 1/2" And
smaller located in service tower(s)
(2" and larger are remotely located)
Ventilation system control panel
Temperature/pressure gauge at water
incoming service location
Security package (includes):
• exposed fasteners to be tamper-resistant, pin-in-head torx-head, shipped
loose and installed in field
• hinged doors equipped with eye for
customer-supplied padlock
Dormer mounted faucet or pot filler
Dormer mounted point-of-use
connection plate
Optional Electrical:
100 To 225 amperes ,480Y/277 volts,
three-phase, Four-wire. Eighteen
(18) single-pole positions (100 amp
maximum)
Main service breaker with shunt trip
available. (Does not use any of the
available branch breaker positions.)
Front, Top & Side Views
Front, Top & Side Views
888-994-7636, unifiedbrands.net
© 2018 Unified Brands. All Rights Reserved. Unified Brands is a wholly-owned subsidiary of Dover Corporation.

* Your assessment is very important for improving the work of artificial intelligence, which forms the content of this project