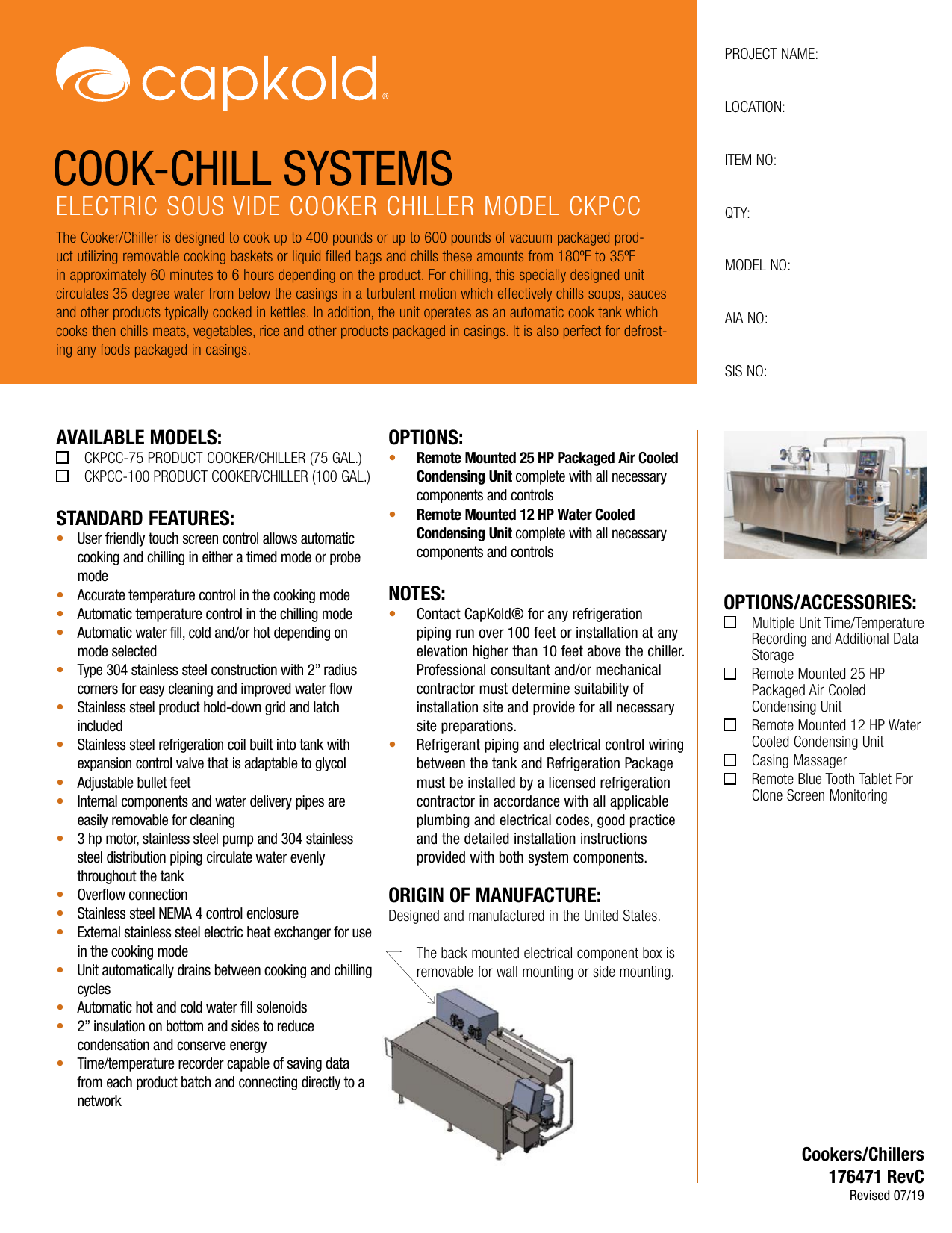 PROJECT NAME:
LOCATION:
COOK-CHILL SYSTEMS
ELECTRIC SOUS VIDE COOKER CHILLER MODEL CKPCC
The Cooker/Chiller is designed to cook up to 400 pounds or up to 600 pounds of vacuum packaged product utilizing removable cooking baskets or liquid filled bags and chills these amounts from 180ºF to 35ºF
in approximately 60 minutes to 6 hours depending on the product. For chilling, this specially designed unit
circulates 35 degree water from below the casings in a turbulent motion which effectively chills soups, sauces
and other products typically cooked in kettles. In addition, the unit operates as an automatic cook tank which
cooks then chills meats, vegetables, rice and other products packaged in casings. It is also perfect for defrosting any foods packaged in casings.
ITEM NO:
QTY:
MODEL NO:
AIA NO:
SIS NO:
AVAILABLE MODELS:
CKPCC-75 PRODUCT COOKER/CHILLER (75 GAL.)
CKPCC-100 PRODUCT COOKER/CHILLER (100 GAL.)
STANDARD FEATURES:
•User friendly touch screen control allows automatic
cooking and chilling in either a timed mode or probe
mode
•Accurate temperature control in the cooking mode
•Automatic temperature control in the chilling mode
•Automatic water fill, cold and/or hot depending on
mode selected
•Type 304 stainless steel construction with 2" radius
corners for easy cleaning and improved water flow
•Stainless steel product hold-down grid and latch
included
•Stainless steel refrigeration coil built into tank with
expansion control valve that is adaptable to glycol
•Adjustable bullet feet
•Internal components and water delivery pipes are
easily removable for cleaning
•3 hp motor, stainless steel pump and 304 stainless
steel distribution piping circulate water evenly
throughout the tank
•Overflow connection
•Stainless steel NEMA 4 control enclosure
•External stainless steel electric heat exchanger for use
in the cooking mode
•Unit automatically drains between cooking and chilling
cycles
•Automatic hot and cold water fill solenoids
•2" insulation on bottom and sides to reduce
condensation and conserve energy
•Time/temperature recorder capable of saving data
from each product batch and connecting directly to a
network
OPTIONS:
• Remote Mounted 25 HP Packaged Air Cooled
Condensing Unit complete with all necessary
components and controls
• Remote Mounted 12 HP Water Cooled
Condensing Unit complete with all necessary
components and controls
NOTES:
• Contact CapKold® for any refrigeration
piping run over 100 feet or installation at any
elevation higher than 10 feet above the chiller.
Professional consultant and/or mechanical
contractor must determine suitability of
installation site and provide for all necessary
site preparations.
• Refrigerant piping and electrical control wiring
between the tank and Refrigeration Package
must be installed by a licensed refrigeration
contractor in accordance with all applicable
plumbing and electrical codes, good practice
and the detailed installation instructions
provided with both system components.
OPTIONS/ACCESSORIES:
Multiple Unit Time/Temperature
Recording and Additional Data
Storage
Remote Mounted 25 HP
Packaged Air Cooled
Condensing Unit
Remote Mounted 12 HP Water
Cooled Condensing Unit
Casing Massager
Remote Blue Tooth Tablet For
Clone Screen Monitoring
ORIGIN OF MANUFACTURE:
Designed and manufactured in the United States.
The back mounted electrical component box is
removable for wall mounting or side mounting.
Cookers/Chillers
176471 RevC
Revised 07/19
CKPCC
POWER
SUPPLY
COMPRESSOR
FAN MOTOR
MCA*
MOP**
EVAP FAN
DEFROST
TIMER
VOLTS/PH/HZ
RLA
LRA
QTY.
HP
AIR
ELEC.
AIR
ELEC.
AMPS
AMPS
208-230/3/60
39.1
215
2
1/3
54.3
87.5
90
110
20
70
MCA* = MINIMUM CIRCUIT AMPACITY
MOP** = MAXIMUM OVERCURRENT PROTECTION
CAPKOLD
888-994-7636, unifiedbrands.net
© 2019 Unified Brands. All Rights Reserved. Unified Brands is a wholly-owned subsidiary of Dover Corporation.

* Your assessment is very important for improving the work of artificial intelligence, which forms the content of this project