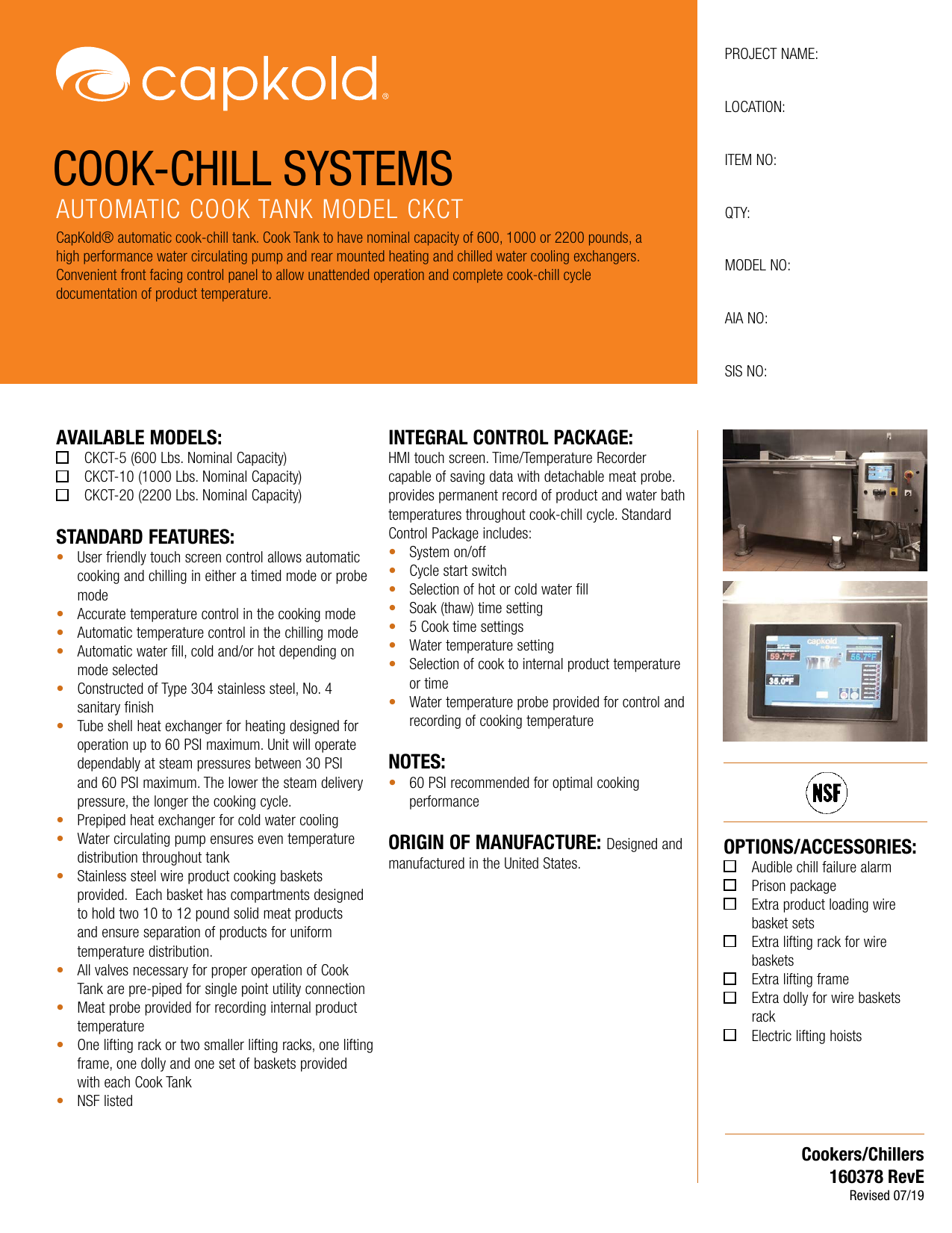 PROJECT NAME:
LOCATION:
COOK-CHILL SYSTEMS
ITEM NO:
AUTOMATIC COOK TANK MODEL CKCT
QTY:
CapKold® automatic cook-chill tank. Cook Tank to have nominal capacity of 600, 1000 or 2200 pounds, a
high performance water circulating pump and rear mounted heating and chilled water cooling exchangers.
Convenient front facing control panel to allow unattended operation and complete cook-chill cycle
documentation of product temperature.
MODEL NO:
AIA NO:
SIS NO:
AVAILABLE MODELS:
CKCT-5 (600 Lbs. Nominal Capacity)
CKCT-10 (1000 Lbs. Nominal Capacity)
CKCT-20 (2200 Lbs. Nominal Capacity)
STANDARD FEATURES:
INTEGRAL CONTROL PACKAGE:
HMI touch screen. Time/Temperature Recorder
capable of saving data with detachable meat probe.
provides permanent record of product and water bath
temperatures throughout cook-chill cycle. Standard
Control Package includes:
•System on/off
•Cycle start switch
•Selection of hot or cold water fill
•Soak (thaw) time setting
•5 Cook time settings
•Water temperature setting
•Selection of cook to internal product temperature
or time
•Water temperature probe provided for control and
recording of cooking temperature
•User friendly touch screen control allows automatic
cooking and chilling in either a timed mode or probe
mode
•Accurate temperature control in the cooking mode
•Automatic temperature control in the chilling mode
•Automatic water fill, cold and/or hot depending on
mode selected
•Constructed of Type 304 stainless steel, No. 4
sanitary finish
•Tube shell heat exchanger for heating designed for
operation up to 60 PSI maximum. Unit will operate
NOTES:
dependably at steam pressures between 30 PSI
•60 PSI recommended for optimal cooking
and 60 PSI maximum. The lower the steam delivery
performance
pressure, the longer the cooking cycle.
•Prepiped heat exchanger for cold water cooling
•Water circulating pump ensures even temperature
ORIGIN OF MANUFACTURE: Designed and
distribution throughout tank
manufactured in the United States.
•Stainless steel wire product cooking baskets
provided. Each basket has compartments designed
to hold two 10 to 12 pound solid meat products
and ensure separation of products for uniform
temperature distribution.
•All valves necessary for proper operation of Cook
Tank are pre-piped for single point utility connection
•Meat probe provided for recording internal product
temperature
•One lifting rack or two smaller lifting racks, one lifting
frame, one dolly and one set of baskets provided
with each Cook Tank
•NSF listed
OPTIONS/ACCESSORIES:
Audible chill failure alarm
Prison package
Extra product loading wire
basket sets
Extra lifting rack for wire
baskets
Extra lifting frame
Extra dolly for wire baskets
rack
Electric lifting hoists
Cookers/Chillers
160378 RevE
Revised 07/19
CKCT
160376 REV A
888-994-7636, unifiedbrands.net
© 2019 Unified Brands. All Rights Reserved. Unified Brands is a wholly-owned subsidiary of Dover Corporation.

* Your assessment is very important for improving the work of artificial intelligence, which forms the content of this project