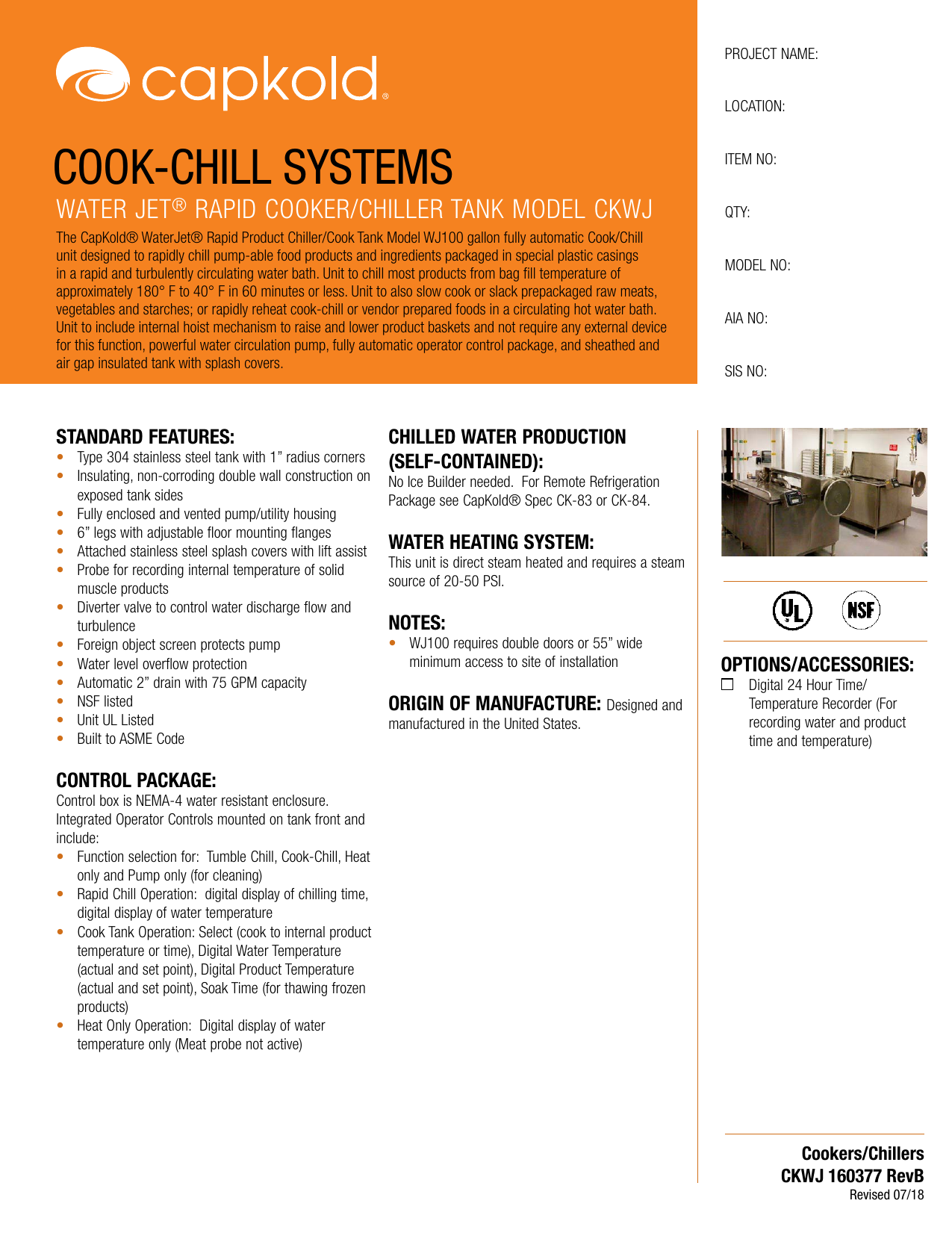 PROJECT NAME:
LOCATION:
COOK-CHILL SYSTEMS
WATER JET® RAPID COOKER/CHILLER TANK MODEL CKWJ
The CapKold® WaterJet® Rapid Product Chiller/Cook Tank Model WJ100 gallon fully automatic Cook/Chill
unit designed to rapidly chill pump-able food products and ingredients packaged in special plastic casings
in a rapid and turbulently circulating water bath. Unit to chill most products from bag fill temperature of
approximately 180° F to 40° F in 60 minutes or less. Unit to also slow cook or slack prepackaged raw meats,
vegetables and starches; or rapidly reheat cook-chill or vendor prepared foods in a circulating hot water bath.
Unit to include internal hoist mechanism to raise and lower product baskets and not require any external device
for this function, powerful water circulation pump, fully automatic operator control package, and sheathed and
air gap insulated tank with splash covers.
STANDARD FEATURES:
•Type 304 stainless steel tank with 1" radius corners
•Insulating, non-corroding double wall construction on
exposed tank sides
•Fully enclosed and vented pump/utility housing
•6" legs with adjustable floor mounting flanges
•Attached stainless steel splash covers with lift assist
•Probe for recording internal temperature of solid
muscle products
•Diverter valve to control water discharge flow and
turbulence
•Foreign object screen protects pump
•Water level overflow protection
•Automatic 2" drain with 75 GPM capacity
•NSF listed
•Unit UL Listed
•Built to ASME Code
ITEM NO:
QTY:
MODEL NO:
AIA NO:
SIS NO:
CHILLED WATER PRODUCTION
(SELF-CONTAINED):
No Ice Builder needed. For Remote Refrigeration
Package see CapKold® Spec CK-83 or CK-84.
WATER HEATING SYSTEM:
This unit is direct steam heated and requires a steam
source of 20-50 PSI.
NOTES:
•WJ100 requires double doors or 55" wide
minimum access to site of installation
ORIGIN OF MANUFACTURE: Designed and
manufactured in the United States.
OPTIONS/ACCESSORIES:
Digital 24 Hour Time/
Temperature Recorder (For
recording water and product
time and temperature)
CONTROL PACKAGE:
Control box is NEMA-4 water resistant enclosure.
Integrated Operator Controls mounted on tank front and
include:
•Function selection for: Tumble Chill, Cook-Chill, Heat
only and Pump only (for cleaning)
•Rapid Chill Operation: digital display of chilling time,
digital display of water temperature
•Cook Tank Operation: Select (cook to internal product
temperature or time), Digital Water Temperature
(actual and set point), Digital Product Temperature
(actual and set point), Soak Time (for thawing frozen
products)
•Heat Only Operation: Digital display of water
temperature only (Meat probe not active)
Cookers/Chillers
CKWJ 160377 RevB
Revised 07/18
CKWJ
100 GALLON WATERJET
UTILITY REQUIREMENTS
2
CW = COLD POTABLE WATER INLET
HW = HOT POTABLE WATER INLET
42
MINIMUM
160663 REV A
42
MINIMUM
55 1/
4
3/4" NPT - 15 GPM
DR = DRAIN LINE
2" NPT 75 GPM
SI = STEAM INPUT 3/4" NPT
3/4" NPT - 90 PSI MAX
98 3/
4
400 lbs/Hr MIN
91
SO = STEAM OUTLET
3/4" NPT
81 7/
8
SS = STEAM SAFETY VALVE
1-1/4" NPT
REFRIGERATION INSTALLATION
RL=REFRIGERANT LIQUID LINE
RG=REFRIGERANT GAS LINE
74 3/
4
R19 1/4
WAL L
7/8" OD
1-5/8" OD
EP
(dependant on distance and elevation)
12 MINIMUM
EP = POWER SUPPLY
208/240-20 AMPS
480-20 AMPS
CONNECTION PER LOCAL CODES
5 3/4
SI SO
2 1/8
208 OR 230/460/3/60
DISCONNECT SUPPLIED BY OTHERS
(CUSTOMER TO SPECIFY REQUIRMENTS)
9 3/
8
EP
SS
TOP VI
EW
APROX. SHIPPING WEIGHT
1560 LBS
APPROX. OPERATING WEIGHT
3700 LBS
NOTES:
1) PRIOR TO INSTALLATION OF THIS EQUIPMENT,
CAPKOLD SERVICE DEPARTMENT MUST AUTHORIZE
THE USE OF RSES CERTIFIED REFRIGERATION
TECHNICIANS.
2) MINIMAL REQUIREMENT FOR FUNCTION ONLY.
CONSULT STATE LOCAL CODES BEFORE INSTALLING.
18
CW
20 5/8
HW
24 1/4HW
69 3/4
13 /14 SI
21 5/8CW
45
7 1/4SS
10 1/4 RG RL
36
7 SO
36 /58
SI
35 /14
SS
34 /18
RIGHT DE
SI VI
EW
RL
2 1/2 DR
16 3/4
DR
RL
RG
46 3/4
REAR VIEW
5
1 5/8
RG
24
DR
22 1/4
18 1/2
HW
CW
13 1/8
46 3/4
LEFT SIDEVIEW
888-994-7636, unifiedbrands.net
© 2018 Unified Brands. All Rights Reserved. Unified Brands is a wholly-owned subsidiary of Dover Corporation.

* Your assessment is very important for improving the work of artificial intelligence, which forms the content of this project