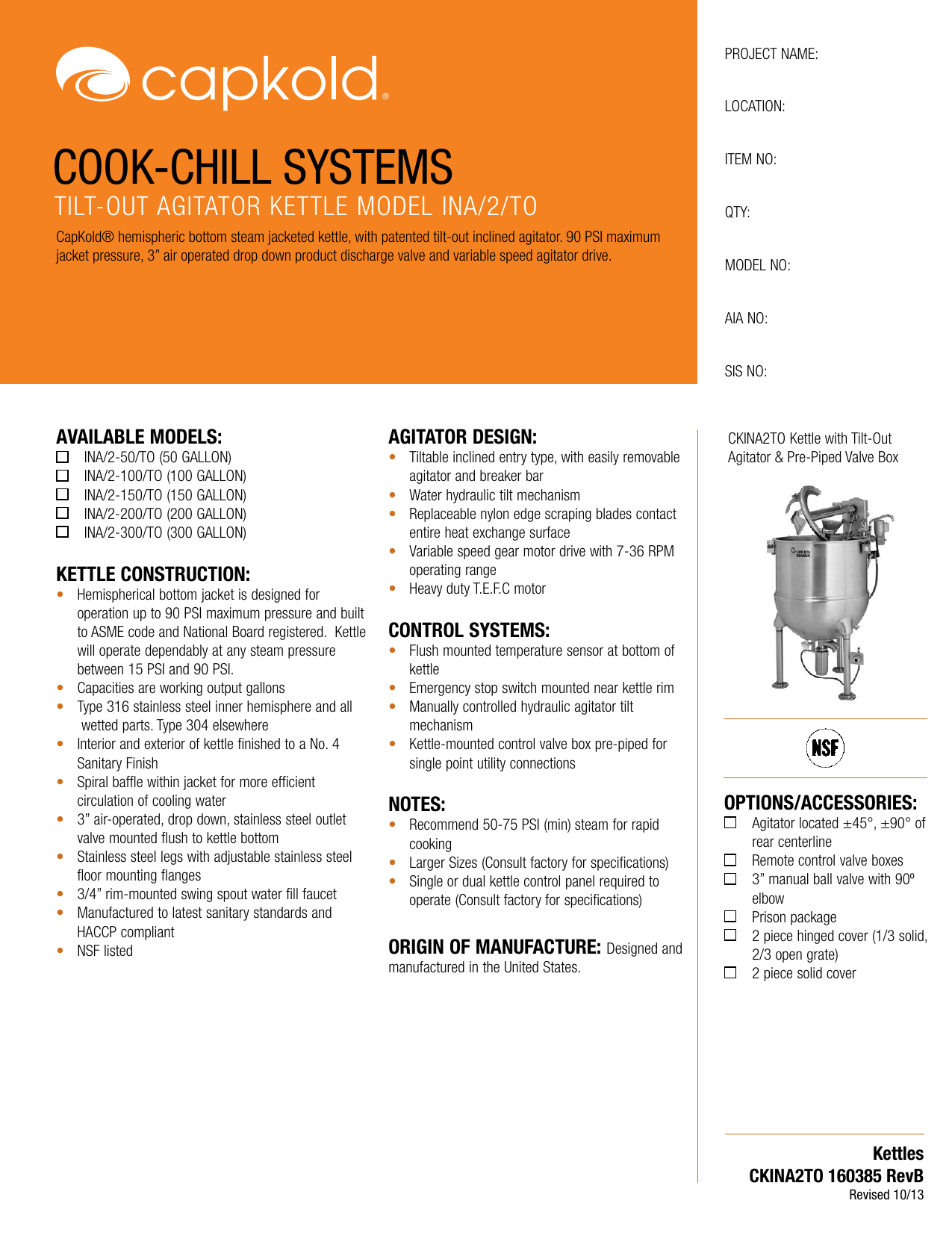 PROJECT NAME:
LOCATION:
COOK-CHILL SYSTEMS
TILT-OUT AGITATOR KETTLE MODEL INA/2/TO
CapKold® hemispheric bottom steam jacketed kettle, with patented tilt-out inclined agitator. 90 PSI maximum
jacket pressure, 3" air operated drop down product discharge valve and variable speed agitator drive.
ITEM NO:
QTY:
MODEL NO:
AIA NO:
SIS NO:
AVAILABLE MODELS:
INA/2-50/TO (50 GALLON)
INA/2-100/TO (100 GALLON)
INA/2-150/TO (150 GALLON)
INA/2-200/TO (200 GALLON)
INA/2-300/TO (300 GALLON)
KETTLE CONSTRUCTION:
•Hemispherical bottom jacket is designed for
operation up to 90 PSI maximum pressure and built
to ASME code and National Board registered. Kettle
will operate dependably at any steam pressure
between 15 PSI and 90 PSI.
•Capacities are working output gallons
•Type 316 stainless steel inner hemisphere and all
wetted parts. Type 304 elsewhere
•Interior and exterior of kettle finished to a No. 4
Sanitary Finish
•Spiral baffle within jacket for more efficient
circulation of cooling water
•3" air-operated, drop down, stainless steel outlet
valve mounted flush to kettle bottom
•Stainless steel legs with adjustable stainless steel
floor mounting flanges
•3/4" rim-mounted swing spout water fill faucet
•Manufactured to latest sanitary standards and
HACCP compliant
•NSF listed
AGITATOR DESIGN:
•Tiltable inclined entry type, with easily removable
agitator and breaker bar
•Water hydraulic tilt mechanism
•Replaceable nylon edge scraping blades contact
entire heat exchange surface
•Variable speed gear motor drive with 7-36 RPM
operating range
•Heavy duty T.E.F.C motor
CKINA2TO Kettle with Tilt-Out
Agitator & Pre-Piped Valve Box
CONTROL SYSTEMS:
•Flush mounted temperature sensor at bottom of
kettle
•Emergency stop switch mounted near kettle rim
•Manually controlled hydraulic agitator tilt
mechanism
•Kettle-mounted control valve box pre-piped for
single point utility connections
NOTES:
•Recommend 50-75 PSI (min) steam for rapid
cooking
•Larger Sizes (Consult factory for specifications)
•Single or dual kettle control panel required to
operate (Consult factory for specifications)
ORIGIN OF MANUFACTURE: Designed and
manufactured in the United States.
OPTIONS/ACCESSORIES:
Agitator located ±45°, ±90° of
rear centerline
Remote control valve boxes
3" manual ball valve with 90º
elbow
Prison package
2 piece hinged cover (1/3 solid,
2/3 open grate)
2 piece solid cover
Kettles
CKINA2TO 160385 RevB
Revised 10/13
INA/2-TO
160386 REV A
F
(
)
12" MINIMUM
HEIGHT CLEARANCE
AGITATOR EMERGENCY STOP
AGITATOR TILT
LEVER
CA
CWT
IWT
DROP DOWN VALVE
CONTROL
D*
E*
3" AIR OPERATED
DROP DOWN VALVE
TEMPERATURE
SENSOR
STAINLESS STEEL
FLOOR FLANGE
EP
CR, IW, CWI, S
3" MIN CLEARANCE
FRONT VIEW
CW, HW
CWO
SIDE VIEW
888-994-7636, unifiedbrands.net
© 2018 Unified Brands. All Rights Reserved. Unified Brands is a wholly-owned subsidiary of Dover Corporation.

* Your assessment is very important for improving the work of artificial intelligence, which forms the content of this project