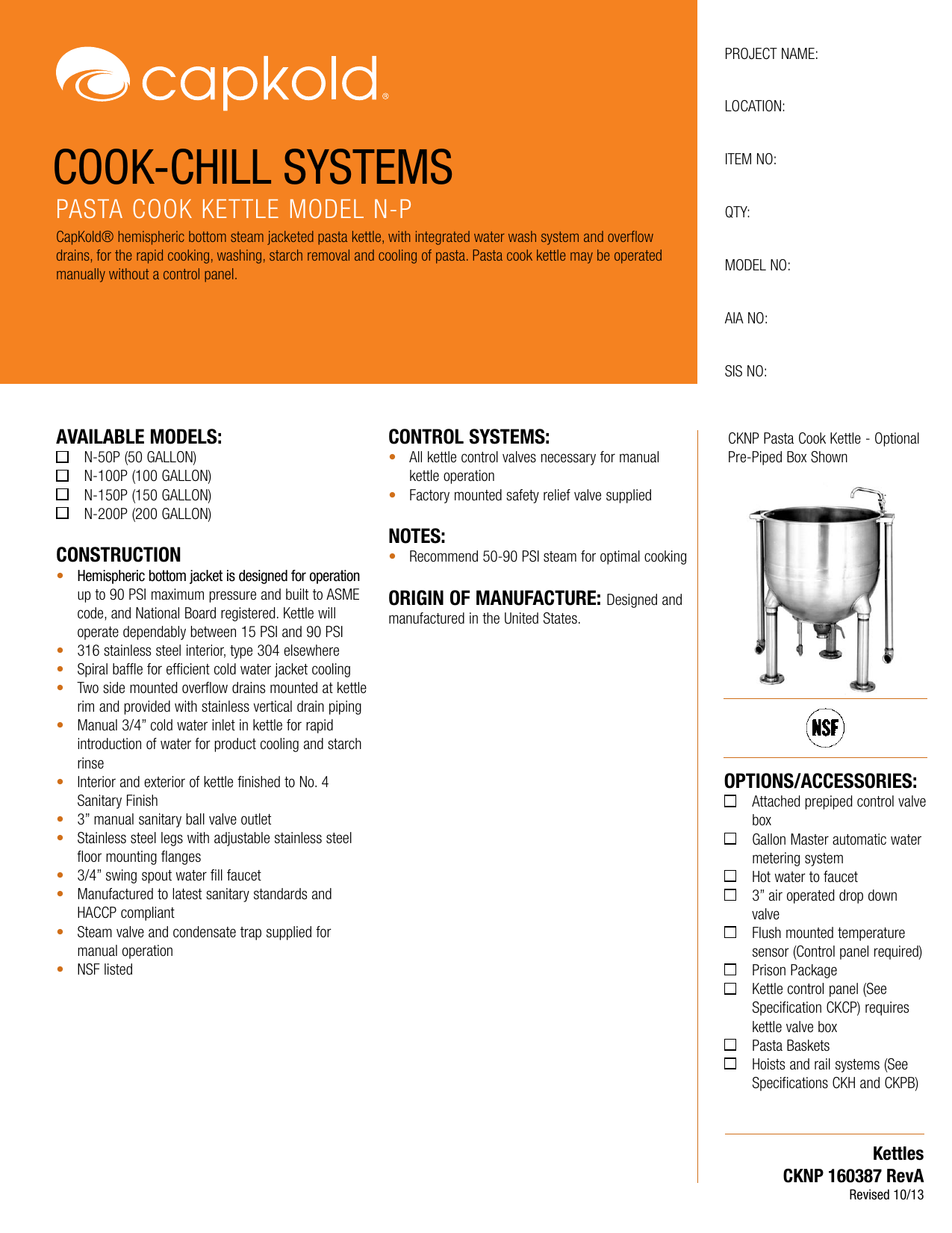 PROJECT NAME:
LOCATION:
COOK-CHILL SYSTEMS
PASTA COOK KETTLE MODEL N-P
CapKold® hemispheric bottom steam jacketed pasta kettle, with integrated water wash system and overflow
drains, for the rapid cooking, washing, starch removal and cooling of pasta. Pasta cook kettle may be operated
manually without a control panel.
ITEM NO:
QTY:
MODEL NO:
AIA NO:
SIS NO:
AVAILABLE MODELS:
N-50P (50 GALLON)
N-100P (100 GALLON)
N-150P (150 GALLON)
N-200P (200 GALLON)
CONSTRUCTION
•Hemispheric bottom jacket is designed for operation
up to 90 PSI maximum pressure and built to ASME
code, and National Board registered. Kettle will
operate dependably between 15 PSI and 90 PSI
•316 stainless steel interior, type 304 elsewhere
•Spiral baffle for efficient cold water jacket cooling
•Two side mounted overflow drains mounted at kettle
rim and provided with stainless vertical drain piping
•Manual 3/4" cold water inlet in kettle for rapid
introduction of water for product cooling and starch
rinse
•Interior and exterior of kettle finished to No. 4
Sanitary Finish
•3" manual sanitary ball valve outlet
•Stainless steel legs with adjustable stainless steel
floor mounting flanges
•3/4" swing spout water fill faucet
•Manufactured to latest sanitary standards and
HACCP compliant
•Steam valve and condensate trap supplied for
manual operation
•NSF listed
CONTROL SYSTEMS:
•All kettle control valves necessary for manual
kettle operation
•Factory mounted safety relief valve supplied
CKNP Pasta Cook Kettle - Optional
Pre-Piped Box Shown
NOTES:
•Recommend 50-90 PSI steam for optimal cooking
ORIGIN OF MANUFACTURE: Designed and
manufactured in the United States.
OPTIONS/ACCESSORIES:
Attached prepiped control valve
box
Gallon Master automatic water
metering system
Hot water to faucet
3" air operated drop down
valve
Flush mounted temperature
sensor (Control panel required)
Prison Package
Kettle control panel (See
Specification CKCP) requires
kettle valve box
Pasta Baskets
Hoists and rail systems (See
Specifications CKH and CKPB)
Kettles
CKNP 160387 RevA
Revised 10/13
N-P
160388 REV A
888-994-7636, unifiedbrands.net
© 2018 Unified Brands. All Rights Reserved. Unified Brands is a wholly-owned subsidiary of Dover Corporation.

* Your assessment is very important for improving the work of artificial intelligence, which forms the content of this project