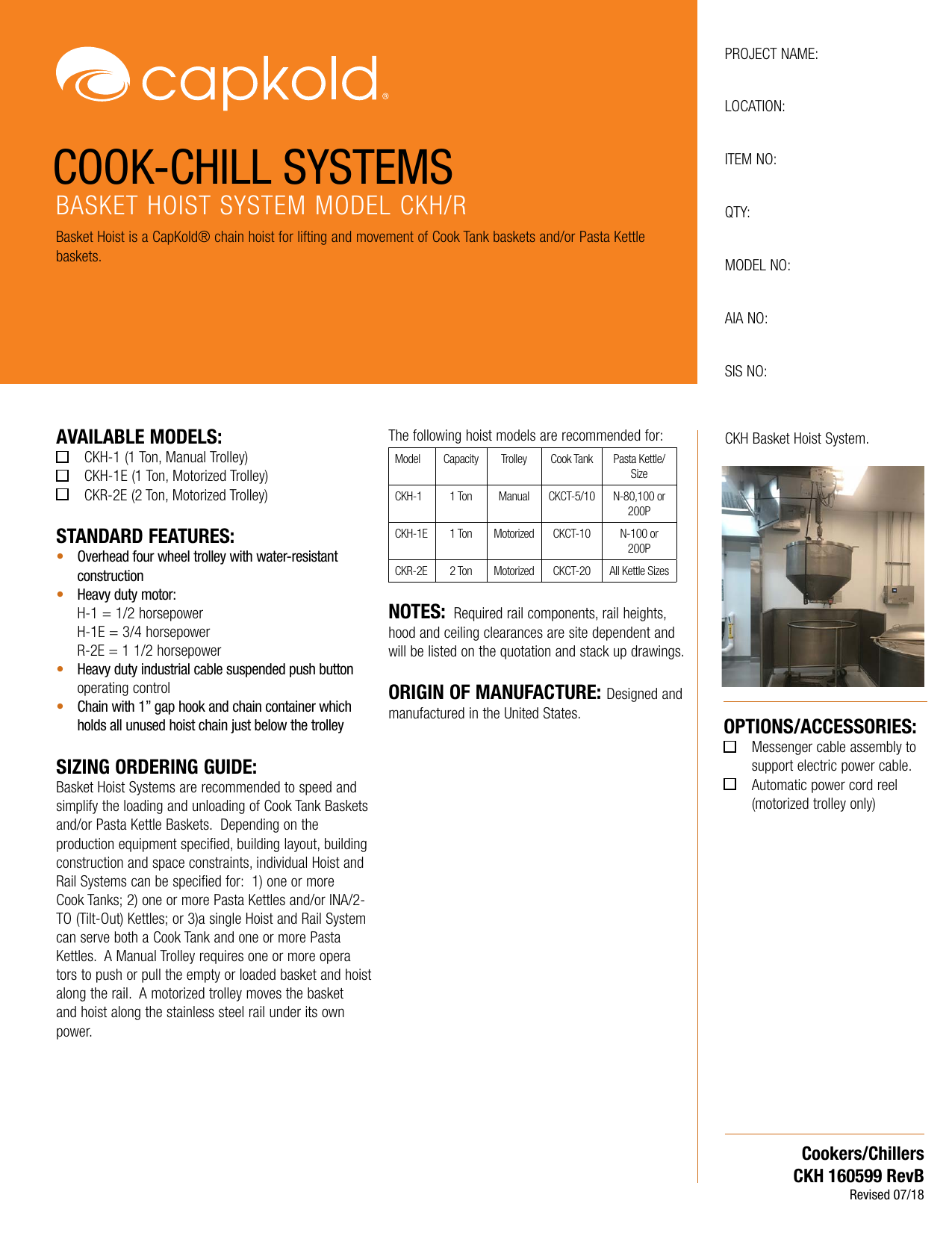 PROJECT NAME:
LOCATION:
COOK-CHILL SYSTEMS
ITEM NO:
BASKET HOIST SYSTEM MODEL CKH/R
QTY:
Basket Hoist is a CapKold® chain hoist for lifting and movement of Cook Tank baskets and/or Pasta Kettle
baskets.
MODEL NO:
AIA NO:
SIS NO:
AVAILABLE MODELS:
CKH-1 (1 Ton, Manual Trolley)
CKH-1E (1 Ton, Motorized Trolley)
CKR-2E (2 Ton, Motorized Trolley)
STANDARD FEATURES:
•Overhead four wheel trolley with water-resistant
construction
•Heavy duty motor:
H-1 = 1/2 horsepower
H-1E = 3/4 horsepower
R-2E = 1 1/2 horsepower
•Heavy duty industrial cable suspended push button
operating control
•Chain with 1" gap hook and chain container which
holds all unused hoist chain just below the trolley
SIZING ORDERING GUIDE:
Basket Hoist Systems are recommended to speed and
simplify the loading and unloading of Cook Tank Baskets
and/or Pasta Kettle Baskets. Depending on the
production equipment specified, building layout, building
construction and space constraints, individual Hoist and
Rail Systems can be specified for: 1) one or more
Cook Tanks; 2) one or more Pasta Kettles and/or INA/2TO (Tilt-Out) Kettles; or 3)a single Hoist and Rail System
can serve both a Cook Tank and one or more Pasta
Kettles. A Manual Trolley requires one or more opera
tors to push or pull the empty or loaded basket and hoist
along the rail. A motorized trolley moves the basket
and hoist along the stainless steel rail under its own
power.
The following hoist models are recommended for:
Model
Capacity
Trolley
Cook Tank
Pasta Kettle/
Size
CKH-1
1 Ton
Manual
CKCT-5/10
N-80,100 or
200P
CKH-1E
1 Ton
Motorized
CKCT-10
N-100 or
200P
CKR-2E
2 Ton
Motorized
CKCT-20
All Kettle Sizes
CKH Basket Hoist System.
NOTES: Required rail components, rail heights,
hood and ceiling clearances are site dependent and
will be listed on the quotation and stack up drawings.
ORIGIN OF MANUFACTURE: Designed and
manufactured in the United States.
OPTIONS/ACCESSORIES:
Messenger cable assembly to
support electric power cable.
Automatic power cord reel
(motorized trolley only)
Cookers/Chillers
CKH 160599 RevB
Revised 07/18
CKH
160660 REV A
888-994-7636, unifiedbrands.net
© 2018 Unified Brands. All Rights Reserved. Unified Brands is a wholly-owned subsidiary of Dover Corporation.

* Your assessment is very important for improving the work of artificial intelligence, which forms the content of this project