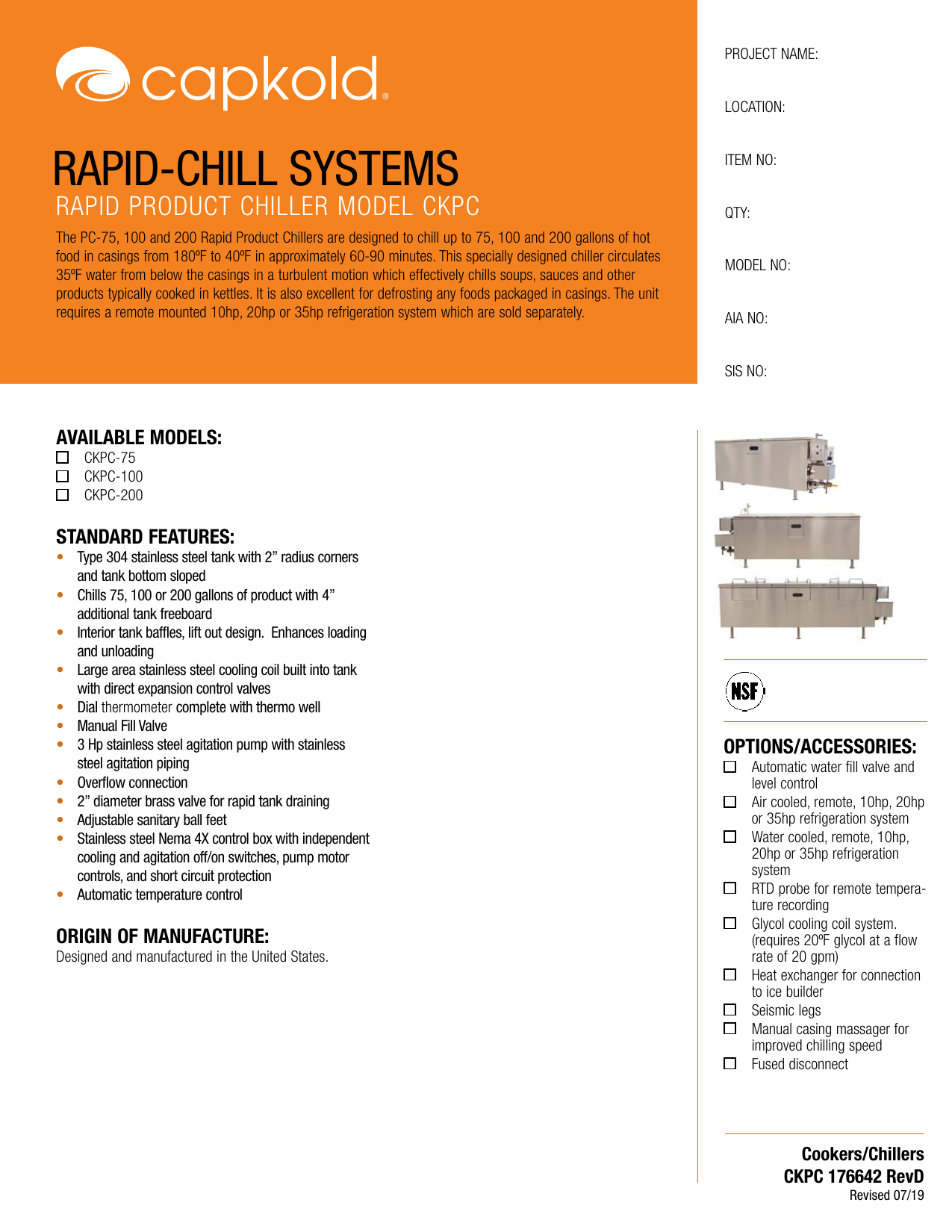 PROJECT NAME:
LOCATION:
RAPID-CHILL SYSTEMS
RAPID PRODUCT CHILLER MODEL CKPC
The PC-75, 100 and 200 Rapid Product Chillers are designed to chill up to 75, 100 and 200 gallons of hot
food in casings from 180ºF to 40ºF in approximately 60-90 minutes. This specially designed chiller circulates
35ºF water from below the casings in a turbulent motion which effectively chills soups, sauces and other
products typically cooked in kettles. It is also excellent for defrosting any foods packaged in casings. The unit
requires a remote mounted 10hp, 20hp or 35hp refrigeration system which are sold separately.
ITEM NO:
QTY:
MODEL NO:
AIA NO:
SIS NO:
AVAILABLE MODELS:
CKPC-75
CKPC-100
CKPC-200
STANDARD FEATURES:
•Type 304 stainless steel tank with 2" radius corners
and tank bottom sloped
•Chills 75, 100 or 200 gallons of product with 4"
additional tank freeboard
•Interior tank baffles, lift out design. Enhances loading
and unloading
•Large area stainless steel cooling coil built into tank
with direct expansion control valves
•Dial thermometer complete with thermo well
•Manual Fill Valve
•3 Hp stainless steel agitation pump with stainless
steel agitation piping
•Overflow connection
•2" diameter brass valve for rapid tank draining
•Adjustable sanitary ball feet
•Stainless steel Nema 4X control box with independent
cooling and agitation off/on switches, pump motor
controls, and short circuit protection
•Automatic temperature control
ORIGIN OF MANUFACTURE:
Designed and manufactured in the United States.
OPTIONS/ACCESSORIES:
Automatic water fill valve and
level control
Air cooled, remote, 10hp, 20hp
or 35hp refrigeration system
Water cooled, remote, 10hp,
20hp or 35hp refrigeration
system
RTD probe for remote temperature recording
Glycol cooling coil system.
(requires 20ºF glycol at a flow
rate of 20 gpm)
Heat exchanger for connection
to ice builder
Seismic legs
Manual casing massager for
improved chilling speed
Fused disconnect
Cookers/Chillers
CKPC 176642 RevD
Revised 07/19
CKPC-75
Controls available on either side. Specify at time of order.
888-994-7636, unifiedbrands.net
© 2019 Unified Brands. All Rights Reserved. Unified Brands is a wholly-owned subsidiary of Dover Corporation.

* Your assessment is very important for improving the work of artificial intelligence, which forms the content of this project