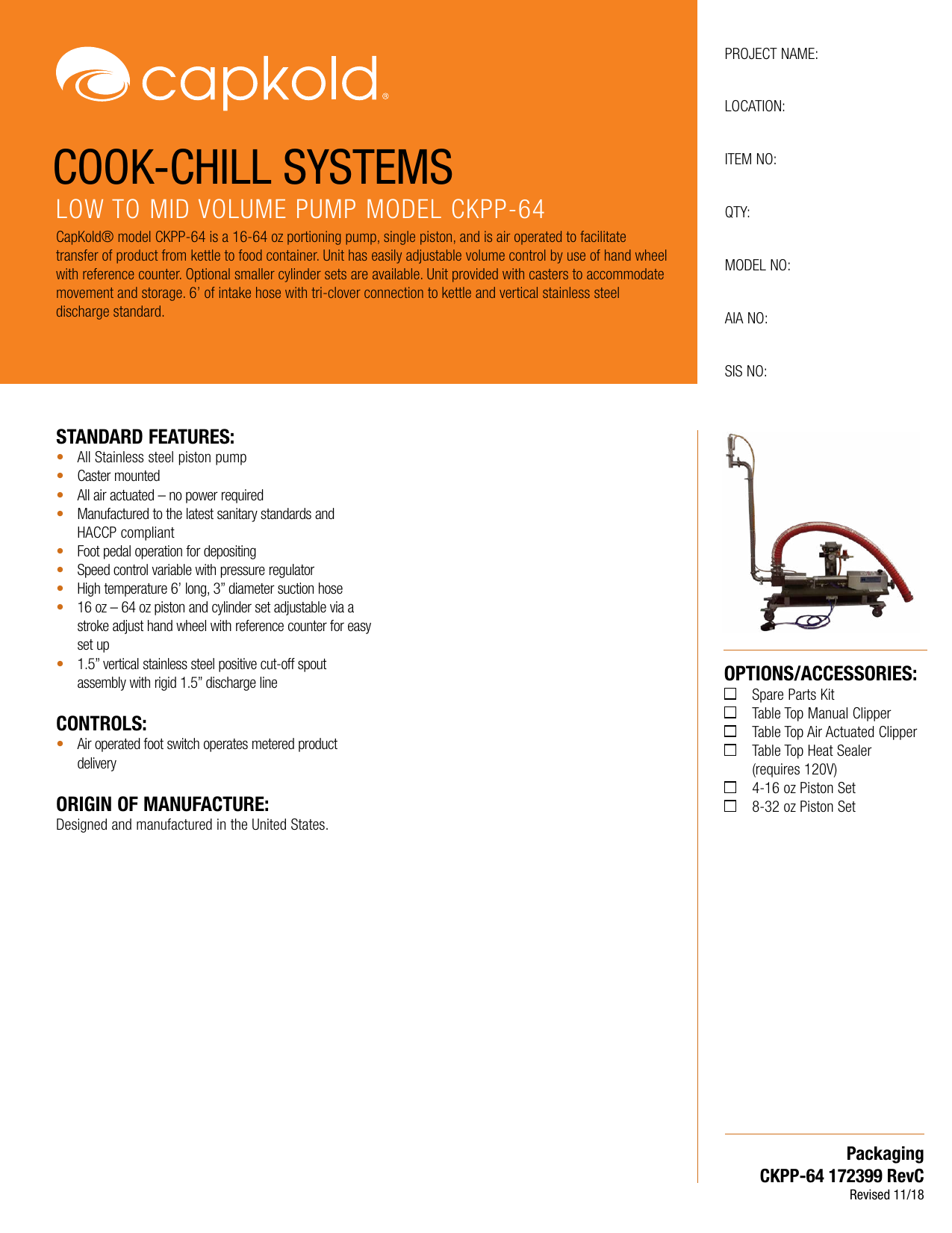 PROJECT NAME:
LOCATION:
COOK-CHILL SYSTEMS
LOW TO MID VOLUME PUMP MODEL CKPP-64
CapKold® model CKPP-64 is a 16-64 oz portioning pump, single piston, and is air operated to facilitate
transfer of product from kettle to food container. Unit has easily adjustable volume control by use of hand wheel
with reference counter. Optional smaller cylinder sets are available. Unit provided with casters to accommodate
movement and storage. 6' of intake hose with tri-clover connection to kettle and vertical stainless steel
discharge standard.
ITEM NO:
QTY:
MODEL NO:
AIA NO:
SIS NO:
STANDARD FEATURES:
•All Stainless steel piston pump
•Caster mounted
•All air actuated – no power required
•Manufactured to the latest sanitary standards and
HACCP compliant
•Foot pedal operation for depositing
•Speed control variable with pressure regulator
•High temperature 6' long, 3" diameter suction hose
•16 oz – 64 oz piston and cylinder set adjustable via a
stroke adjust hand wheel with reference counter for easy
set up
•1.5" vertical stainless steel positive cut-off spout
assembly with rigid 1.5" discharge line
CONTROLS:
•Air operated foot switch operates metered product
delivery
ORIGIN OF MANUFACTURE:
OPTIONS/ACCESSORIES:
Spare Parts Kit
Table Top Manual Clipper
Table Top Air Actuated Clipper
Table Top Heat Sealer
(requires 120V)
4-16 oz Piston Set
8-32 oz Piston Set
Designed and manufactured in the United States.
Packaging
CKPP-64 172399 RevC
Revised 11/18
CKPP-64
888-994-7636, unifiedbrands.net
© 2018 Unified Brands. All Rights Reserved. Unified Brands is a wholly-owned subsidiary of Dover Corporation.

* Your assessment is very important for improving the work of artificial intelligence, which forms the content of this project