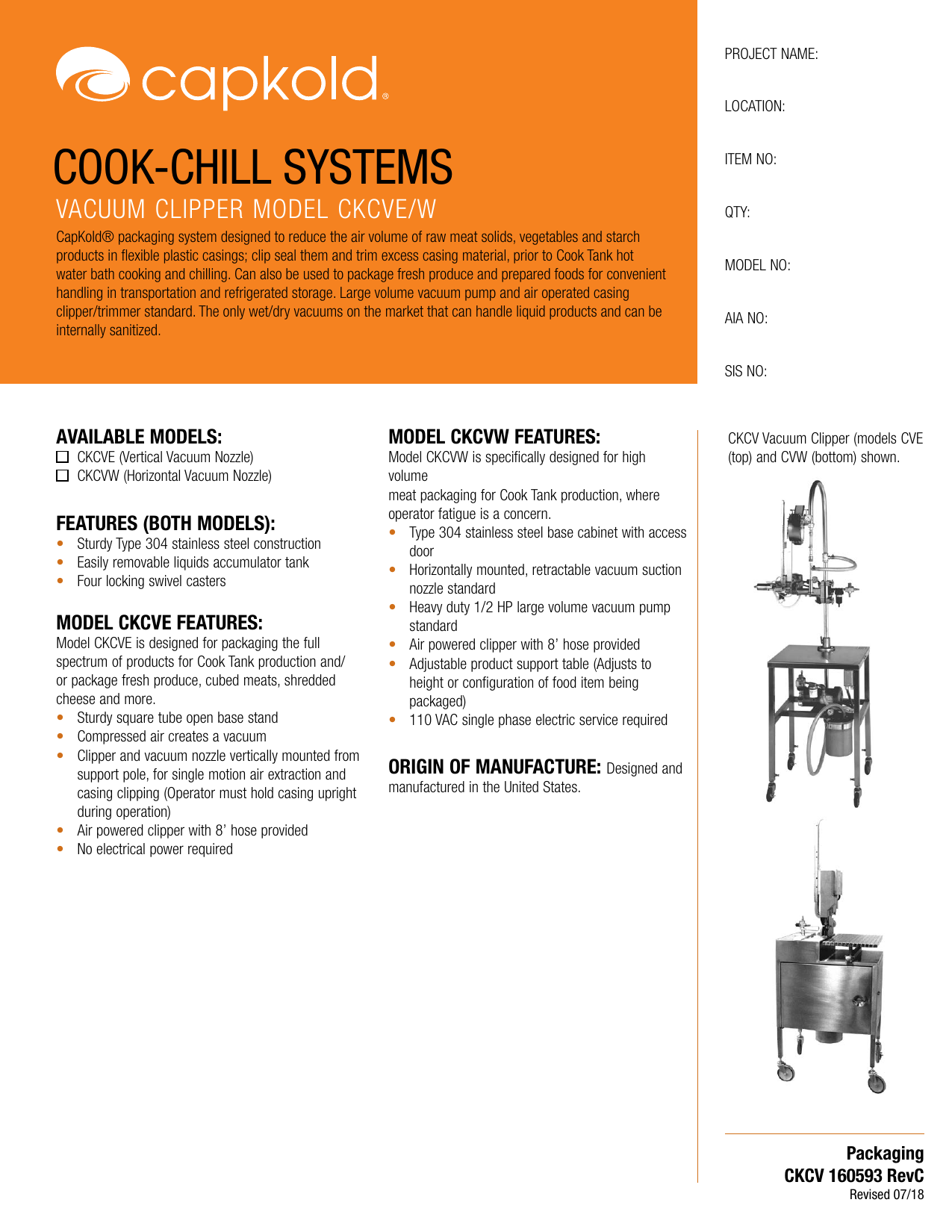 PROJECT NAME:
LOCATION:
COOK-CHILL SYSTEMS
VACUUM CLIPPER MODEL CKCVE/W
CapKold® packaging system designed to reduce the air volume of raw meat solids, vegetables and starch
products in flexible plastic casings; clip seal them and trim excess casing material, prior to Cook Tank hot
water bath cooking and chilling. Can also be used to package fresh produce and prepared foods for convenient
handling in transportation and refrigerated storage. Large volume vacuum pump and air operated casing
clipper/trimmer standard. The only wet/dry vacuums on the market that can handle liquid products and can be
internally sanitized.
ITEM NO:
QTY:
MODEL NO:
AIA NO:
SIS NO:
AVAILABLE MODELS:
CKCVE (Vertical Vacuum Nozzle)
CKCVW (Horizontal Vacuum Nozzle)
FEATURES (BOTH MODELS):
•Sturdy Type 304 stainless steel construction
•Easily removable liquids accumulator tank
•Four locking swivel casters
MODEL CKCVE FEATURES:
Model CKCVE is designed for packaging the full
spectrum of products for Cook Tank production and/
or package fresh produce, cubed meats, shredded
cheese and more.
•Sturdy square tube open base stand
•Compressed air creates a vacuum
•Clipper and vacuum nozzle vertically mounted from
support pole, for single motion air extraction and
casing clipping (Operator must hold casing upright
during operation)
•Air powered clipper with 8' hose provided
•No electrical power required
MODEL CKCVW FEATURES:
Model CKCVW is specifically designed for high
volume
meat packaging for Cook Tank production, where
operator fatigue is a concern.
•Type 304 stainless steel base cabinet with access
door
•Horizontally mounted, retractable vacuum suction
nozzle standard
•Heavy duty 1/2 HP large volume vacuum pump
standard
•Air powered clipper with 8' hose provided
•Adjustable product support table (Adjusts to
height or configuration of food item being
packaged)
•110 VAC single phase electric service required
CKCV Vacuum Clipper (models CVE
(top) and CVW (bottom) shown.
ORIGIN OF MANUFACTURE: Designed and
manufactured in the United States.
Packaging
CKCV 160593 RevC
Revised 07/18
CKCVE & CKCVW
MODEL CKCVE VACUUM CLIPPER
26-1/2"
NOTE:
1. 8 FOOT HOSE AND 3/8" QUICK
DISCONNECT PROVIDED
CA
TOP VIEW
160594 REV A
26-1/2"
CLIPPER
VACUUM
NOZZLE
CA
CA
SIDE VIEW
80"
LIQUID
ACCUMULATOR
TANK
FRONT VIEW
40"
LOCKING
CASTER WHEELS
MODEL CKCVW VACUUM CLIPPER
CA
27"
NOTE:
1. 8 FOOT HOSE AND 3/8" QUICK DISCONNECT
COUPLING PROVIDED
TOP VIEW
23"
VACUUM NOZZLE
CLIPPER
CA
66"
FRONT VIEW
40"
ADJUSTABLE
EP
EP
UTILITY REQUIREMENTS
MODEL
CKVE
CKVW
SIDE VIEW
COMPRESSED
WEIGHTS (lbs.)
AIR 90 PSI
ELECTRICAL
OPERATING
SHIPPING
60SCFM BURSTS
8 CFM
8 CFM
NONE
6 AMP
270
310
240
280
LOCKING
CASTER WHEELS
UTILITY CONNECTIONS
SYMBOL
CA
EP
COMPRESSED
ELECTRICAL
DESCRIPTION
AIR
POWER
MODEL
INLET
CKVE
CKVW
3/8", 8 FOOT HOSE
3/8", 8 FOOT HOSE
NONE
110 V, 1 PH
888-994-7636, unifiedbrands.net
© 2018 Unified Brands. All Rights Reserved. Unified Brands is a wholly-owned subsidiary of Dover Corporation.

* Your assessment is very important for improving the work of artificial intelligence, which forms the content of this project