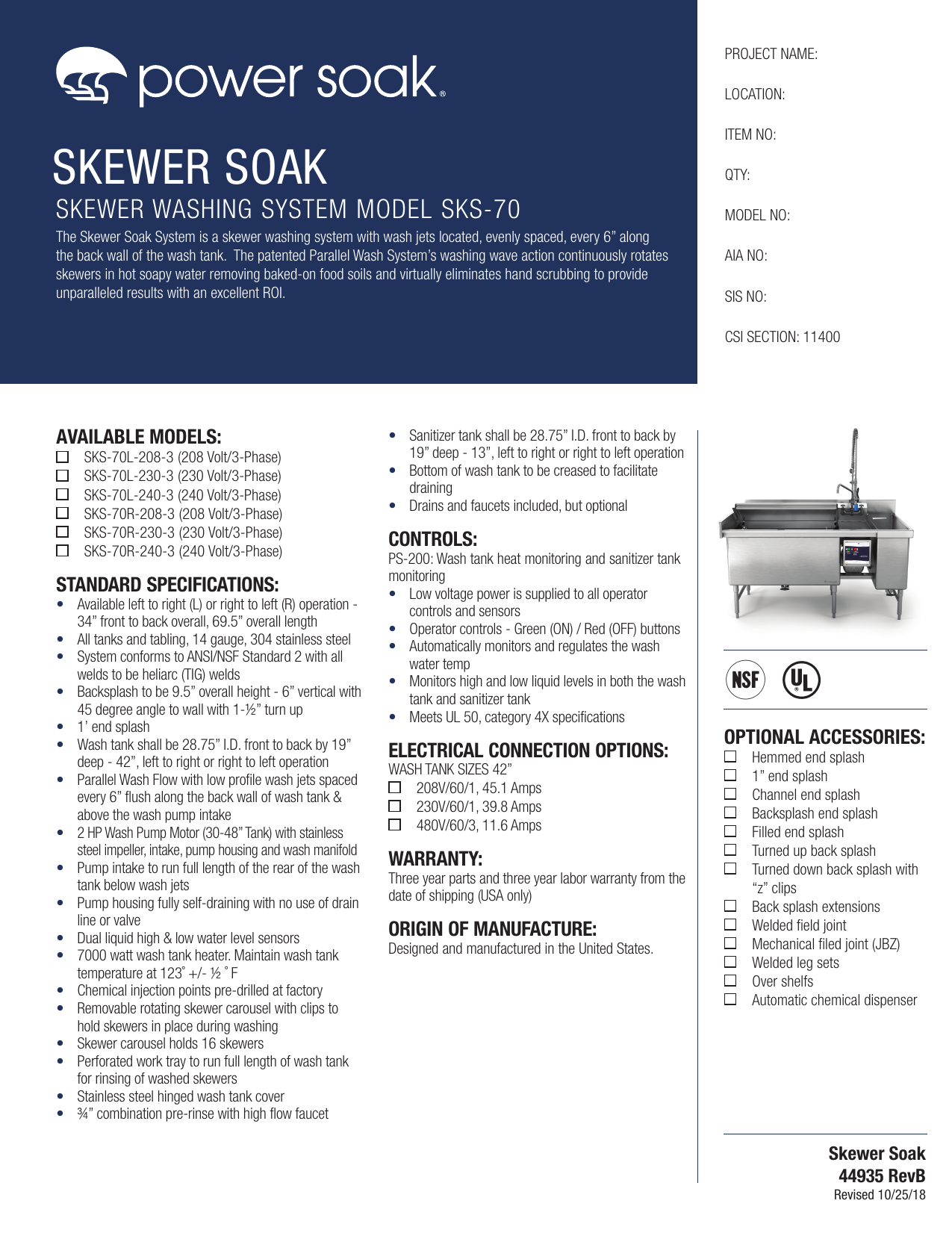 PROJECT NAME:
LOCATION:
ITEM NO:
SKEWER SOAK
QTY:
SKEWER WASHING SYSTEM MODEL SKS-70
The Skewer Soak System is a skewer washing system with wash jets located, evenly spaced, every 6" along
the back wall of the wash tank. The patented Parallel Wash System's washing wave action continuously rotates
skewers in hot soapy water removing baked-on food soils and virtually eliminates hand scrubbing to provide
unparalleled results with an excellent ROI.
MODEL NO:
AIA NO:
SIS NO:
CSI SECTION: 11400
AVAILABLE MODELS:
SKS-70L-208-3 (208 Volt/3-Phase)
SKS-70L-230-3 (230 Volt/3-Phase)
SKS-70L-240-3 (240 Volt/3-Phase)
SKS-70R-208-3 (208 Volt/3-Phase)
SKS-70R-230-3 (230 Volt/3-Phase)
SKS-70R-240-3 (240 Volt/3-Phase)
STANDARD SPECIFICATIONS:
• Available left to right (L) or right to left (R) operation 34" front to back overall, 69.5" overall length
• All tanks and tabling, 14 gauge, 304 stainless steel
• System conforms to ANSI/NSF Standard 2 with all
welds to be heliarc (TIG) welds
• Backsplash to be 9.5" overall height - 6" vertical with
45 degree angle to wall with 1-½" turn up
• 1' end splash
• Wash tank shall be 28.75" I.D. front to back by 19"
deep - 42", left to right or right to left operation
• Parallel Wash Flow with low profile wash jets spaced
every 6" flush along the back wall of wash tank &
above the wash pump intake
• 2 HP Wash Pump Motor (30-48" Tank) with stainless
steel impeller, intake, pump housing and wash manifold
• Pump intake to run full length of the rear of the wash
tank below wash jets
• Pump housing fully self-draining with no use of drain
line or valve
• Dual liquid high & low water level sensors
• 7000 watt wash tank heater. Maintain wash tank
temperature at 123˚ +/- ½ ˚ F
• Chemical injection points pre-drilled at factory
• Removable rotating skewer carousel with clips to
hold skewers in place during washing
• Skewer carousel holds 16 skewers
• Perforated work tray to run full length of wash tank
for rinsing of washed skewers
• Stainless steel hinged wash tank cover
• ¾" combination pre-rinse with high flow faucet
• Sanitizer tank shall be 28.75" I.D. front to back by
19" deep - 13", left to right or right to left operation
• Bottom of wash tank to be creased to facilitate
draining
• Drains and faucets included, but optional
CONTROLS:
PS-200: Wash tank heat monitoring and sanitizer tank
monitoring
• Low voltage power is supplied to all operator
controls and sensors
• Operator controls - Green (ON) / Red (OFF) buttons
• Automatically monitors and regulates the wash
water temp
• Monitors high and low liquid levels in both the wash
tank and sanitizer tank
• Meets UL 50, category 4X specifications
ELECTRICAL CONNECTION OPTIONS:
WASH TANK SIZES 42"
208V/60/1, 45.1 Amps
230V/60/1, 39.8 Amps
480V/60/3, 11.6 Amps
WARRANTY:
Three year parts and three year labor warranty from the
date of shipping (USA only)
ORIGIN OF MANUFACTURE:
Designed and manufactured in the United States.
OPTIONAL ACCESSORIES:
Hemmed end splash
1" end splash
Channel end splash
Backsplash end splash
Filled end splash
Turned up back splash
Turned down back splash with
"z" clips
Back splash extensions
Welded field joint
Mechanical filed joint (JBZ)
Welded leg sets
Over shelfs
Automatic chemical dispenser
Skewer Soak
44935 RevB
Revised 10/25/18
SKS-70
Skewer Soak
®
Power Soak
®
888-994-7636, unifiedbrands.net
© 2018 Unified Brands. All Rights Reserved. Unified Brands is a wholly-owned subsidiary of Dover Corporation.

* Your assessment is very important for improving the work of artificial intelligence, which forms the content of this project