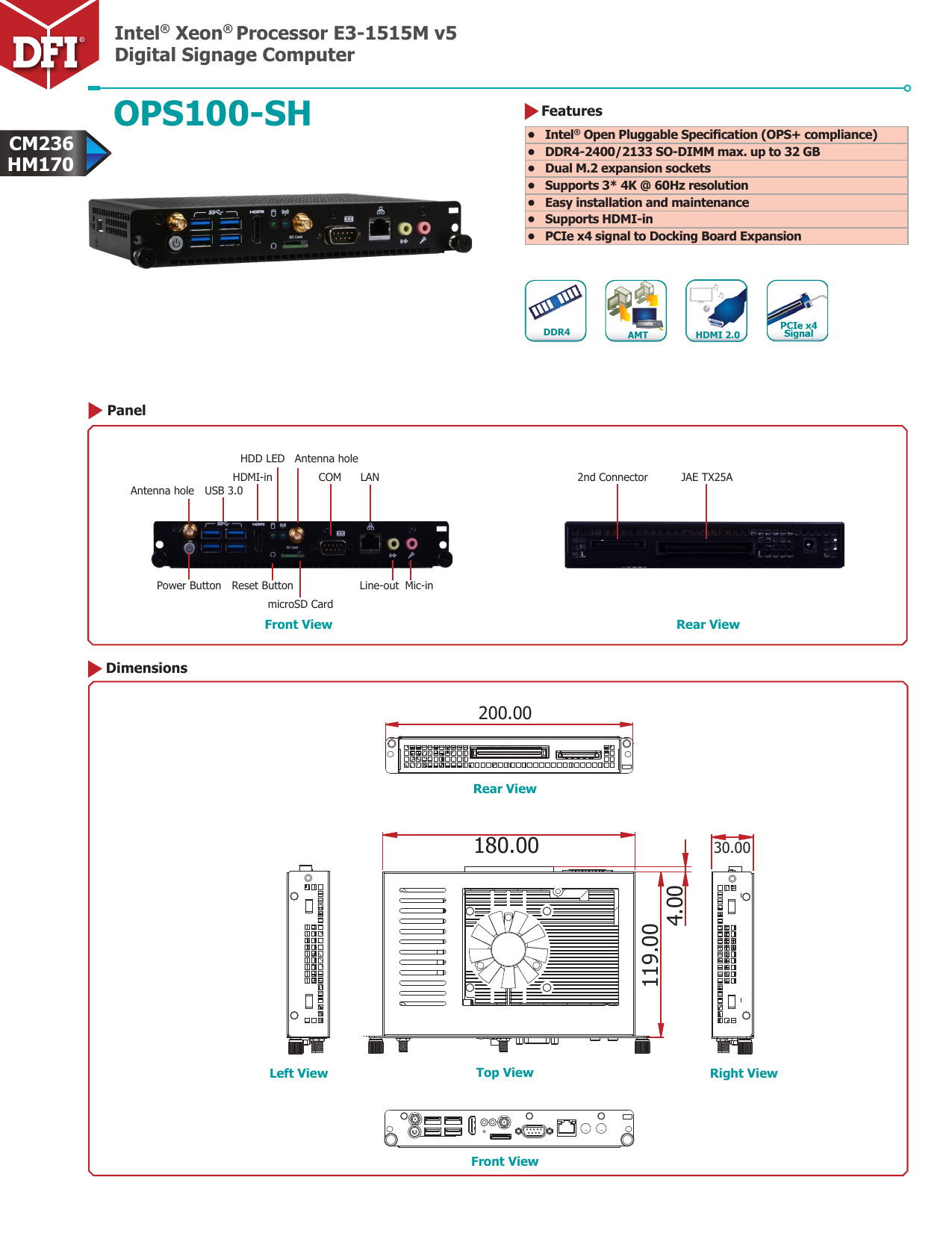 Intel® Xeon® Processor E3-1515M v5
Digital Signage Computer
Features
•
•
•
•
•
•
•
Intel® Open Pluggable Specification (OPS+ compliance)
DDR4-2400/2133 SO-DIMM max. up to 32 GB
Dual M.2 expansion sockets
Supports 3* 4K @ 60Hz resolution
Easy installation and maintenance
Supports HDMI-in
PCIe x4 signal to Docking Board Expansion
DDR4
AMT
Panel
HDD LED Antenna hole
HDMI-in
Antenna hole USB 3.0
COM
Power Button Reset Button
LAN
2nd Connector
JAE TX25A
Line-out Mic-in
microSD Card
Front View
Rear View
Dimensions
200.00
Rear View
180.00
30.00
119.00
4.00
CM236
HM170
OPS100-SH
Left View
Top View
Front View
Right View
OPS100-SH
Specifications
SYSTEM
GRAPHICS
Processor
Chipset
Memory
BIOS
Controller
Feature
Display
EXPANSION
Triple Displays
Interface
ETHERNET
LED
Controller
Indicators
FRONT I/O
Ethernet
Serial
USB
Display
Audio
Buttons
REAR I/O
COOLING
WATCHDOG TIMER
SECURITY
POWER
OS SUPPORT
MECHANISM
ENVIRONMENT
Wi-Fi Antenna
OPS Interface
Fan
Output & Interval
TPM
Type
Connector
Construction
Dimensions
Weight
Operating Temperature
Storage Temperature
Relative Humidity
Intel® Xeon® Processor E3-1515M v5, Quad Core, 8M Cache, 2.8GHz (3.7GHz)
Intel® Core™ i5-6440EQ Processor, Quad Core, 6M Cache, 2.7GHz (3.4GHz)
Intel® Core™ i3-6100E Processor, Dual Core, 3M Cache, 2.7GHz
Intel® CM236 Chipset (Xeon)
Intel® HM170 Chipset (Core-i)
Two 260-pin SODIMM up to 32GB
Dual Channel DDR4 2400/2133MHz
Insyde SPI 16Mbit
Intel® HD Gen 9 Graphics
OpenGL 5.0, DirectX 12, OpenCL 2.1
HW Decode: AVC/H.264, MPEG2, VC1/WMV9, JPEG/MJPEG, HEVC/H265, VP8, VP9
HW Encode: MPEG2, AVC/H264, JPEG, HEVC/H265, VP8, VP9
1 x HDMI-in
HDMI: resolution up to 3840x2160 @ 60Hz
1 x HDMI 2.0 Output + 2 x DP 1.2 Output DP: resolution up to 4096x2160 @ 60Hz
(via JAE & 2nd Connector interface)
HDMI + 2 DP
1 x M.2 (2280 M Key) (PCIe x4/SATA)
1 x M.2 (2230 E Key) (PCIe/USB)
1 x micro SD Card Slot
1 x Intel® I219LM PCIe with iAMT11.6 (10/100/1000Mbps)
1 x Power LED
1 x HDD LED
1 x GbE (RJ-45)
1 x RS-232 (DB-9)
4 x USB 3.0 (type A)
1 x HDMI-in
1 x Line-out
1 x Mic-in
1 x Power Button
1 x Reset Button
2 x Wi-Fi Module Antenna Hole
JAE TX25A:
2nd Connector:
1 x HDMI 2.0
1 x DP 1.2
1 x DP 1.2
2 x USB 3.0
2 x USB 2.0
PCIe x4 signal
1 x USB 3.0
1 x 12~19V DC-in
Active Cooling
System Reset, Programmable via Software from 1 to 255 Seconds
TPM 2.0
Wide Range 12~19V
DC-in Connector Available Upon Request
Windows 10 Enterprise (64-bit)
Windows 8.1
Aluminum + SGCC
180mm x 30mm x 119mm (W x H x D)
TBD
0 to 45°C
-40 to 85°C
10 to 90% RH (non-condensing)
OPS100-SH
Ordering Information
Model Name
Part Number
Description
OPS100-SH
750-OPS100-000G
OPS+ Computer, Intel Xeon E3-1515M v5, Intel CM236, DDR4 8GB, SSD 64GB, docking
board, RoHS
OPS100-SH
750-OPS100-002G
OPS+ Computer, Intel i3-6100E, Intel HM170, DDR4 4GB, SSD 64GB, Windows 10 IoT,
docking board, RoHS
OPS100-SH
TBD
OPS+ Computer, Intel i5-6440EQ, Intel HM170, RoHS
OPS100-SH
TBD
OPS+ Computer, Intel i3-6100E, Intel HM170, RoHS
Optional Items
Optional Items
Part Number
Description
Memory
TBD
SODIMM, DDR4 Module, 8GB, RoHS
TBD
SODIMM, DDR4 Module, 4GB, RoHS
635-600642-500G
M.2 2280 SATAIII, 64GB MLC
635-601282-1K0G
M.2 2280 SATAIII, 128GB MLC
635-602566-100G
M.2 2280 PCIe x4, 256GB MLC, Intel 600p SSDPEKKW256G7
Wi-Fi + BT
TBD
M.2 2230 802.11a/b/g/n/ac + Bluetooth 4.1, Intel AC8260, 2 cables, 2 antennas
Capture Card
TBD
4K@60 HDMI Capture Card PCIe x4, Yuan SC560N14K
Power Adapter
671-712001-000G
120W, 12V, Level 6, RoHS
Docking Board
774-ACD411-181G
Docking board, JAE TX24A+2nd High Speed Conn./DC-in Jack/2DP/HDMI/USB/COM
SSD
Packing List
• 1 OPS100-SH system unit
• 1 Quick Installation Guide
www.dfi.com
DFI reserves the right to change the specifications at any time prior to the product's release. Changes thereafter will be based on the product's revision. Please contact your sales
representative for the exact revision offered in your area. All product names mentioned are trademarks of their respective companies. © January 21, 2020 DFI Inc.