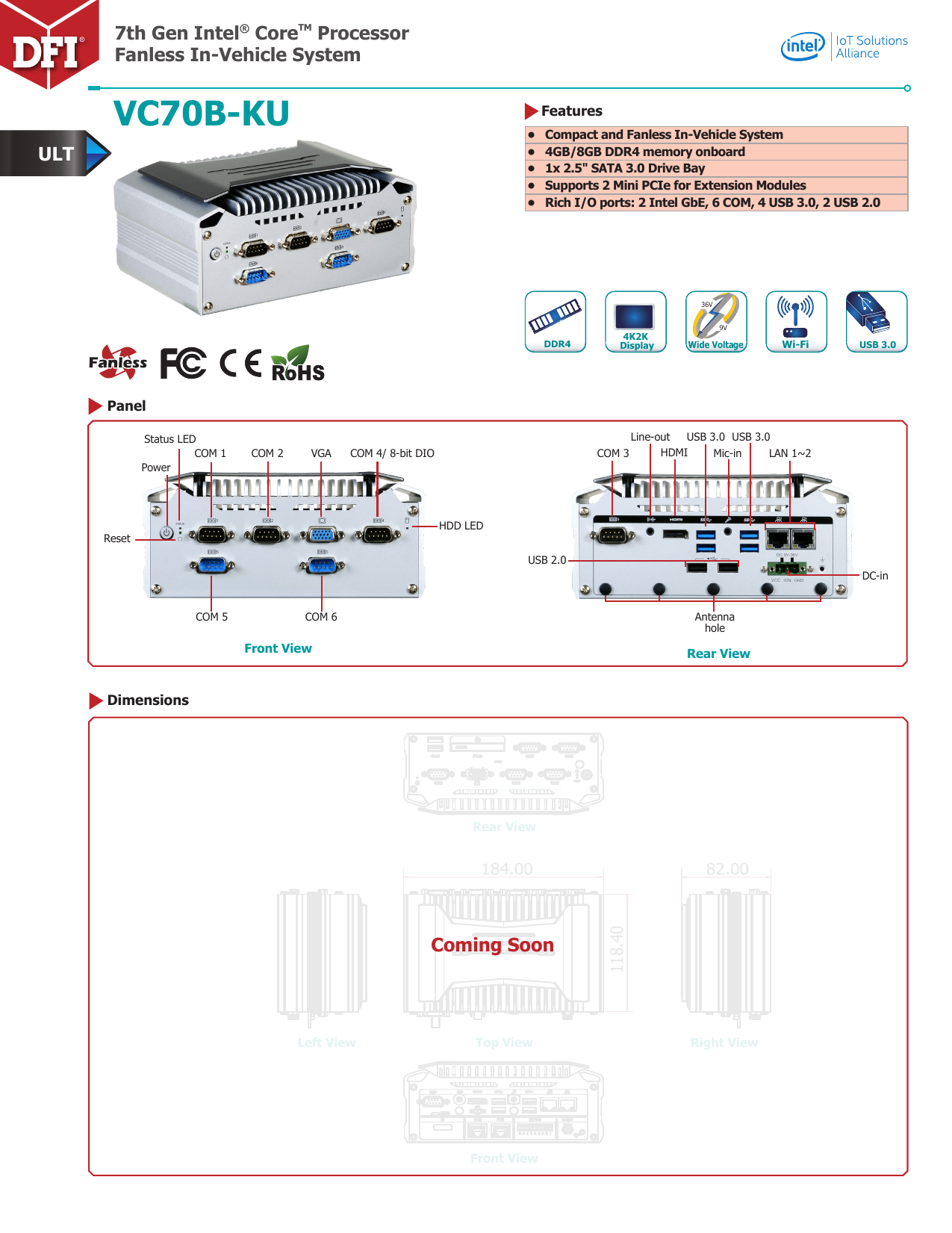 7th Gen Intel® CoreTM Processor
Fanless In-Vehicle System
VC70B-KU
Features
•
•
•
•
•
ULT
Compact and Fanless In-Vehicle System
4GB/8GB DDR4 memory onboard
1x 2.5" SATA 3.0 Drive Bay
Supports 2 Mini PCIe for Extension Modules
Rich I/O ports: 2 Intel GbE, 6 COM, 4 USB 3.0, 2 USB 2.0
36V
DDR4
4K2K
Display
9V
Wide Voltage
Wi-Fi
USB 3.0
Panel
Status LED
COM 1
Power
COM 2
VGA
COM 3
COM 4/ 8-bit DIO
Line-out
USB 3.0 USB 3.0
HDMI
Mic-in
LAN 1~2
HDD LED
Reset
USB 2.0
COM 5
DC-in
COM 6
Antenna
hole
Front View
Rear View
Dimensions
Rear View
Rear View
82.00
Coming Soon
Left View
Top View
Front View
118.40
184.00
Right View
VC70B-KU
Specifications
SYSTEM
GRAPHICS
STORAGE
EXPANSION
AUDIO
ETHERNET
LED
FRONT I/O
REAR I/O
WATCHDOG TIMER
POWER
OS SUPPORT
MECHANISM
ENVIRONMENT
STANDARDS AND
CERTIFICATIONS
Processor
7th Generation Intel® Core™ Processors, FCBGA 1356
Intel® Core™ i7-7600U Processor, Dual Core, 4M Cache, 2.8GHz, 15W
Intel® Core™ i5-7300U Processor, Dual Core, 3M Cache, 2.6GHz, 15W
Intel® Core™ i3-7100U Processor, Dual Core, 3M Cache, 2.4GHz, 15W
Memory
4GB/8GB Memory Onboard
Dual Channel DDR4 2133MHz
BIOS
Insyde SPI 128Mbit
Controller
Intel® HD Graphics GT Series
Display
1 x VGA
VGA: resolution up to 1920x1200 @ 60Hz
1 x HDMI
HDMI: resolution up to 4096x2160 @ 24Hz
Dual Displays
VGA + HDMI
1 x 2.5" SATA 3.0 Drive Bay
Interface
1 x Full-size Mini PCIe (PCIe+USB)
1 x Half-size Mini PCIe (PCIe+USB+SATA)
Audio Codec
Realtek ALC888 5.1-channel
Controller
1 x Intel® I210IT (10/100/1000Mbps)
1 x Intel® I219LM (10/100/1000Mbps)
Indicators
1 x Status LED
1 x HDD LED
Serial
2 x RS-232/422/485 (DB-9, COM 1~2)
3 x RS-232 (DB-9, COM 4~6, COM 4 supports 8-bit DIO or CAN-Bus )
Display
1 x VGA
Buttons
1 x Power Button
1 x Reset Button
Ethernet
2 x GbE (RJ-45)
Serial
1 x RS-232 (DB-9, COM 3)
USB
4 x USB 3.0 (type A)
2 x USB 2.0 (type A)
Display
1 x HDMI
Audio
1 x Line-out
1 x Mic-in
Wi-Fi Antenna
5 x Wi-Fi Module Antenna Hole
Output & Interval
System Reset, Programmable via Software from 1 to 255 Seconds
Type
Wide Range 9~36V
Connector
DC Jack
Windows 10 (64-bit)
Windows 10 IoT Enterprise (64-bit)
Linux
Construction
Aluminum + Sheet Metal
Mounting
Wall/VESA/DIN Rail Mount
Dimensions (W x H x D) 184mm x 82mm x 118.4mm
Weight
1.6 Kg
Operating Temperature -20 to 60°C
Storage Temperature
-20 to 85°C
Relative Humidity
5 to 95% RH (non-condensing)
Shock
MIL-STD 810G 516.6
Operating: 10G, 11ms
Non-Operating: 40G, 11ms
Vibration
MIL-STD 810G 514.6C-3
Certification
CE, FCC Class A, RoHS
VC70B-KU
Wall Mounting
16.00
5.00
108.00
80.00
46.00
25.00
Ø8.50
Ø3.50
192.80
VESA Mounting
DIN Rail Mounting
VC70B-KU
Ordering Information
Model Name
Part Number
Description
VC70B-KU6862-714
750-VC70B0-000G Intel Core i3-7100U, 1 HDMI, 1 VGA, 2 LAN, 6 COM, 6 USB, 4GB DDR4 onboard
VC70B-KU6862-738
750-VC70B0-100G Intel Core i5-7300U, 1 HDMI, 1 VGA, 2 LAN, 6 COM, 6 USB, 8GB DDR4 onboard
VC70B-KU6862-768
750-VC70B0-200G Intel Core i7-7600U, 1 HDMI, 1 VGA, 2 LAN, 6 COM, 6 USB, 8GB DDR4 onboard
Optional Items
Optional Items
Part Number
Description
SSD
635-610002-110G
2.5" SATA SSD, 1TB MLC, RoHS
635-605122-110G
2.5" SATA SSD, 512G MLC, RoHS
635-602562-120G
2.5" SATA SSD, 256G MLC, RoHS
635-601282-190G
2.5" SATA SSD, 128G MLC, RoHS
635-600642-150G
2.5" SATA SSD, 64G MLC, RoHS
638-712803-100G
mSATA Card, 128GB MLC, RoHS
638-706405-110G
mSATA Card, 64GB MLC, RoHS
638-703206-100G
mSATA Card, 32GB MLC, RoHS
Wi-Fi
761-110091-000G
Wi-Fi Kit, RoHS
3G+GPS
761-110040-600G
3G + GPS Kit, RoHS
Power Adapter
671-112005-100G
120W, 24V/5A for test/validation only
Wall Mount
761-EC8000-000G
EC700/800/70A/80A Wall Mount Kit, RoHS
VESA Mount
761-EC7000-100G
EC700/EC70A/EC70B VESA Mount Kit, RoHS
DIN Rail Mount
761-EC70B0-000G
EC70B DIN Rail Mount Kit, RoHS
mSATA
Packing List
• 1 VC70B-KU system unit
• 4 Mounting screws for Mini PCIe module
• 1 Power Connector
www.dfi.com
TBD
531-510180-000G
342-360030-110G
DFI reserves the right to change the specifications at any time prior to the product's release. Changes thereafter will be based on the product's revision. Please contact your sales
representative for the exact revision offered in your area. All product names mentioned are trademarks of their respective companies. © December 24, 2019 DFI Inc.