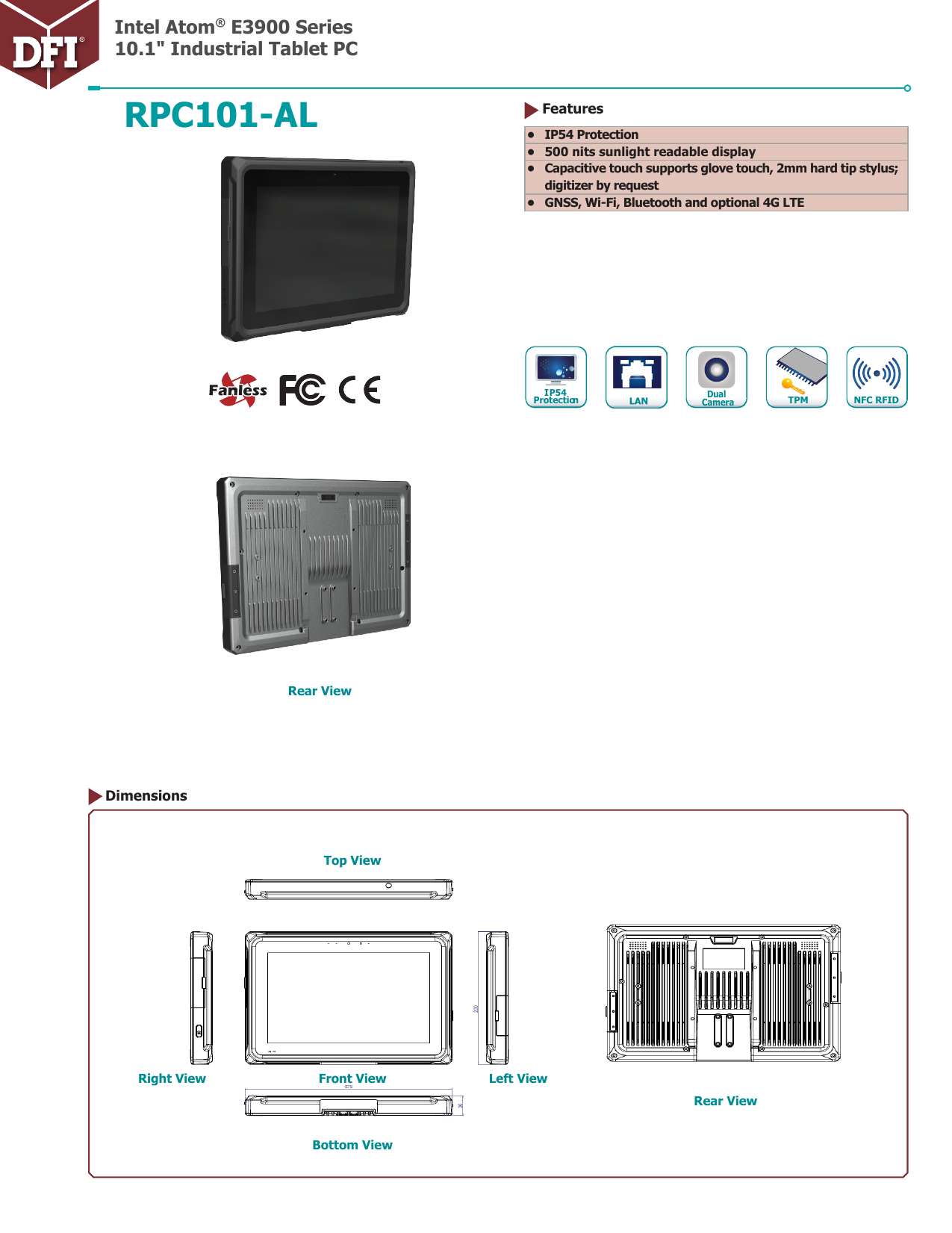 Intel Atom® E3900 Series
10.1" Industrial Tablet PC
RPC101-AL
Features
• IP54 Protection
• 500 nits sunlight readable display
• Capacitive touch supports glove touch, 2mm hard tip stylus;
digitizer by request
• GNSS, Wi-Fi, Bluetooth and optional 4G LTE
I P54
Protection
Dual
Camera
Rear View
Dimensions
Top View
Right View
Front View
Left View
Rear View
Bottom View
TPM
NFC RFID
RPC101P-AL
Specifications
SYSTEM
Processor
Memory
Display
Brightness
Sensor
Intel Atom® x7-E3950 Processor Quad Core 1.6GHz, 2.0GHz
4GB 2 LPDDR4 SDRAM 16Gb (512M*32)
10.1" Panel (1280*800)
500 cd/m2
InvenSense
STORAGE
COMMUNICATION
SSD
Wireless
CAMERA
LED
I/O
Rear Camera
Indicator
Left
Option (mSATA for storage By M.2 2230), eMMC Reserve
By M.2 2230 connector, Option
By Mini-PCIe Connector, Option
GPS module, SMD,(16x12.2x2.4mm),NEO-M8L(UBLOX)
1 x 5M Auto focus, Flash Light SOC CMOS Camera
1 x LED (Color Red + Green), 1 x LED (color: Blue)
1 x USB Type C
1 x Line out
1 x Sim Card Cover
1 x Power Button
1 x 5M Auto focus, Flash Light SOC CMOS Camera with DOE-N02(USB Signal) GOTEK
1 x 4G Antenna inside
2 x Speaker 0.8W
1 x GPS Antenna inside + 1 x Wifi Antenna
24V DC in By POGO & DC Jack
2S1P 7.3V min 3,750mAh / typ 4,100mAh , 4 hours@ film with speaker, 50% brightness
Windows 10 loT Enterprise
IP54 Protection
278mm x 200mm x 30mm (W x H x D)
2kg
-20~60°C Fixed Mount, 0~40°C Handheld
-20~70°C
5 to 85% RH (non-condensing)
1 M Drop Tested
CE/FCC e-Mark UNECE10
DISPLAY AND
TOUCH SCREEN
Rear
POWER
OS SUPPORT
MECHANISM
ENVIRONMENT
STANDARDS AND
CERTIFICATIONS
Mounting
www.dfi.com
Up Side
AC/DC Adapter
Battery
IP Rating
Dimensions ( W x H x D)
Weight
Operating Temperature
Storage Temperature
Relative Humidity
Drop
Certification
VESA 75*75 , Cradle
DFI reserves the right to change the specifications at any time prior to the product's release. Changes thereafter will be based on the product's revision. Please contact your sales
representative for the exact revision offered in your area. All product names mentioned are trademarks of their respective companies. © December 19, 2019 DFI Inc.

* Your assessment is very important for improving the work of artificial intelligence, which forms the content of this project