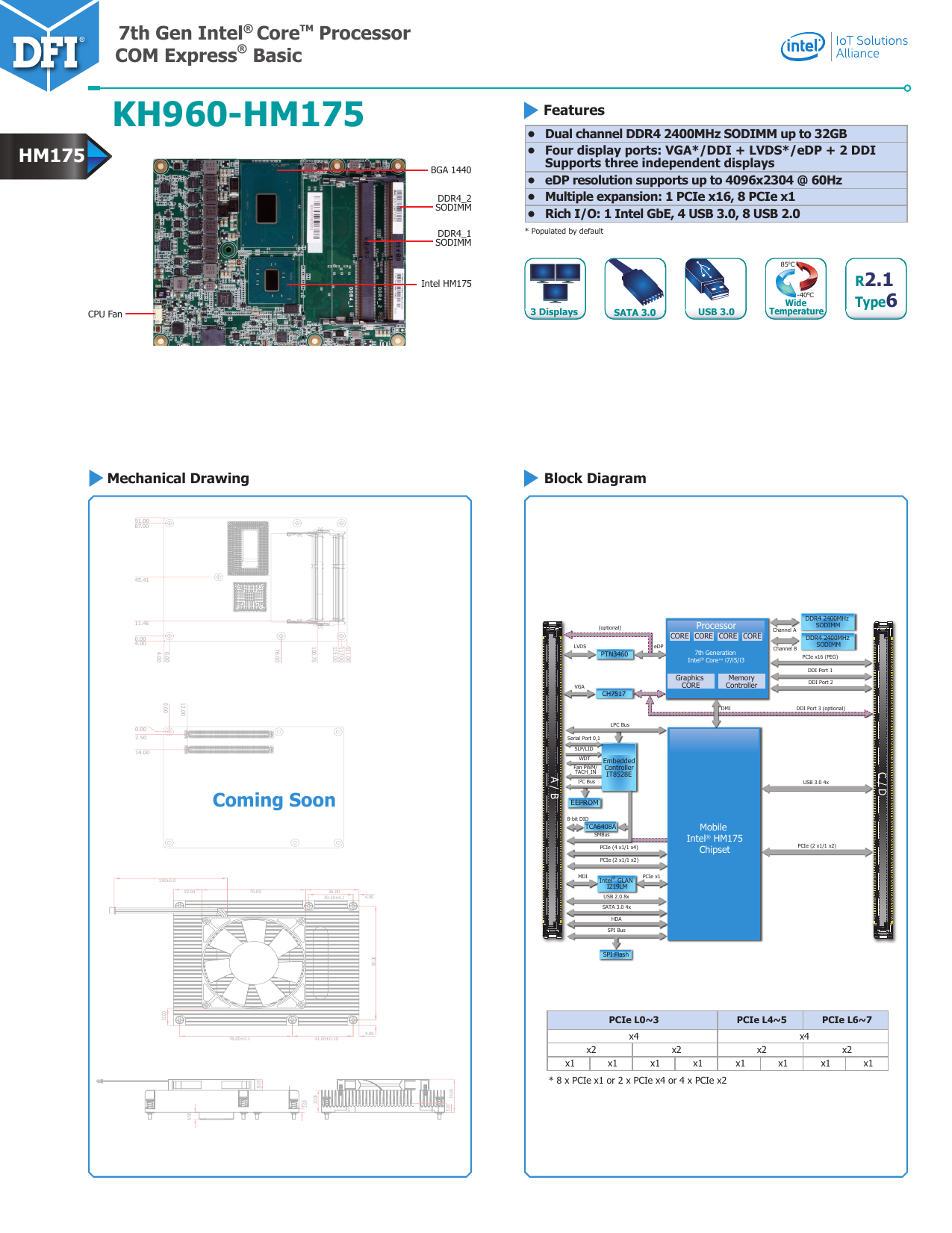 7th Gen Intel® CoreTM Processor
COM Express® Basic
KH960-HM175
Features
HM175
BGA 1440
DDR4_2
SODIMM
DDR4_1
SODIMM
• Dual channel DDR4 2400MHz SODIMM up to 32GB
• Four display ports: VGA*/DDI + LVDS*/eDP + 2 DDI
Supports three independent displays
• eDP resolution supports up to 4096x2304 @ 60Hz
• Multiple expansion: 1 PCIe x16, 8 PCIe x1
• Rich I/O: 1 Intel GbE, 4 USB 3.0, 8 USB 2.0
* Populated by default
850C
Intel HM175
3 Displays
CPU Fan
Mechanical Drawing
R2.1
Type6
-400C
Wide
Temperature
USB 3.0
SATA 3.0
Block Diagram
91.00
87.00
45.41
11.46
Processor
(optional)
0.00
4.00
100.78
121.00
117.00
115.00
0.00
4.00
76.00
LVDS
CORE CORE CORE CORE
eDP
PTN3460
VGA
Channel B
7th Generation
Intel® Core™ i7/i5/i3
Graphics
CORE
CH7517
DDR4 2400MHz
SODIMM
Channel A
DDR4 2400MHz
SODIMM
PCIe x16 (PEG)
DDI Port 1
Memory
Controller
DDI Port 2
12.00
0.00
DDI Port 3 (optional)
DMI
LPC Bus
0.00
2.50
Serial Port 0,1
SLP/LID
14.00
WDT
A/B
Coming Soon
I2C Bus
Embedded
Controller
IT8528E
USB 3.0 4x
EEPROM
8-bit DIO
Mobile
Intel® HM175
Chipset
TCA6408A
SMBus
PCIe (4 x1/1 x4)
PCIe (2 x1/1 x2)
MDI
150±5.0
19.00
70.00
36.00
30.20±0.1
C/D
Fan PWM/
TACH_IN
Intel® GLAN
I219LM
PCIe (2 x1/1 x2)
PCIe x1
USB 2.0 8x
4.00
SATA 3.0 4x
HDA
SPI Bus
12.60
87.00
SPI Flash
PCIe L0~3
41.00±0.10
x2
x1
x1
x2
x1
* 8 x PCIe x1 or 2 x PCIe x4 or 4 x PCIe x2
30.00
8.00
20.00
3.00
10.00
PCIe L6~7
x4
x2
x1
6.58
PCIe L4~5
x4
4.00
76.00±0.1
x1
x2
x1
x1
x1
KH960-HM175
Specifications
SYSTEM
Processor
Chipset
Memory
BIOS
Controller
Feature
GRAPHICS
Display
EXPANSION
Triple Displays
Interface
AUDIO
ETHERNET
I/O
Interface
Controller
USB
SATA
DIO
Output & Interval
TPM
Type
Consumption
WATCHDOG TIMER
SECURITY
POWER
OS SUPPORT
ENVIRONMENT
Temperature
Humidity
MTBF
Dimensions
Compliance
MECHANICAL
7th Generation Intel® CoreTM Processors, BGA 1440
Intel® Core™ i7-7820EQ Processor, Quad Core, 8M Cache, 3.0GHz (3.7GHz), 45W
Intel® Core™ i5-7440EQ Processor, Quad Core, 6M Cache, 2.9GHz (3.6GHz), 45W
Intel® Core™ i5-7442EQ Processor, Quad Core, 6M Cache, 2.1GHz (2.9GHz), 25W
Intel® Core™ i3-7100E Processor, Dual Core, 3M Cache, 2.9GHz, 35W
Intel® Core™ i3-7102E Processor, Dual Core, 3M Cache, 2.1GHz, 25W
Intel® HM175 Chipset
Two 260-pin SODIMM up to 32GB
Dual Channel DDR4 2400MHz
Insyde SPI 128Mbit
Intel® HD Graphics
OpenGL up to 5.0, DirectX 11, OpenCL 2.1
HW Decode: HEVC/H.265, H.264, M/JPEG, MPEG2, VC1/WMV9, VP8 (8-bit), VP9 (10-bit)
HW Encode: HEVC/H.265, M/JPEG, MPEG2, VP8
1 x VGA/DDI (DDI available upon request)
VGA: resolution up to 1920x1200 @ 60Hz
1 x LVDS/eDP (eDP available upon request)
LVDS: dual channel 24-bit, resolution up to 1920x1200 @ 60Hz
2 x DDI (HDMI/DVI/DP++)
HDMI: resolution up to 4096x2160 @ 30 24bpp
DVI: resolution up to 1920x1200 @ 60Hz
DP++/eDP: resolution up to 4096x2304 @ 60Hz
VGA + LVDS + DDI or VGA + DDI1 + DDI2 eDP + 2 DDI (available upon request)
1 x PCIe x16 or 2 x PCIe x8 (Gen 3)
8 x PCIe x1 or 2 x PCIe x4 or 4 x PCIe x2 (Gen 3)
1 x LPC
1 x I2C
1 x SMBus
2 x UART (TX/RX)
HD Audio
1 x Intel® I219LM PCIe (10/100/1000Mbps)
4 x USB 3.0
8 x USB 2.0
4 x SATA 3.0 (up to 6Gb/s)
1 x 8-bit DIO (Default 4 inputs and 4 outputs)
System Reset, Programmable via Software from 1 to 255 Seconds
Available Upon Request
12V, 5VSB, VCC_RTC (ATX mode)
12V, VCC_RTC (AT mode)
TBD
Windows: Windows 10 IoT Enterprise 64-bit LINUX: Yocto Project v2.2
Operating: 0 to 60°C
Storage: -40 to 85°C
-40 to 85°C
Operating: 5 to 90% RH
Storage: 5 to 90% RH
TBD
COM Express® Basic
95mm (3.74") x 125mm (4.9")
PICMG COM Express® R2.1, Type 6
Ordering Information
Model Name
KH960-HM175BS-7100E
KH960-HM175BS-7102E
P/N
770-KH9602-500G
770-KH9602-600G
Processor
i3-7100E
i3-7102E
Memory
VGA/DDI
2 SODIMM VGA
2 SODIMM VGA
LVDS/eDP GbE
LVDS
1
LVDS
1
USB 3.0 USB 2.0 Power Thermal
4
8
ATX/AT Cooler
4
8
ATX/AT Cooler
Temp.
0 to 60oC
0 to 60oC
Note: Core i5 and i7 are supported upon request with MOQ requirement.
Optional Items
Packing List
• 1 KH960-HM175 board
• 1 DVD
• 1 Cooler (Height: 36.58mm)
www.dfi.com
• COM332-B carrier board kit
• Heat spreader (Height: 11mm)
770-CM3321-000G
A71-011073-000G
A71-111026-000G
DFI reserves the right to change the specifications at any time prior to the product's release. Changes thereafter will be based on the product's revision. Please contact your sales
representative for the exact revision offered in your area. All product names mentioned are trademarks of their respective companies. © August 2, 2019 DFI Inc.