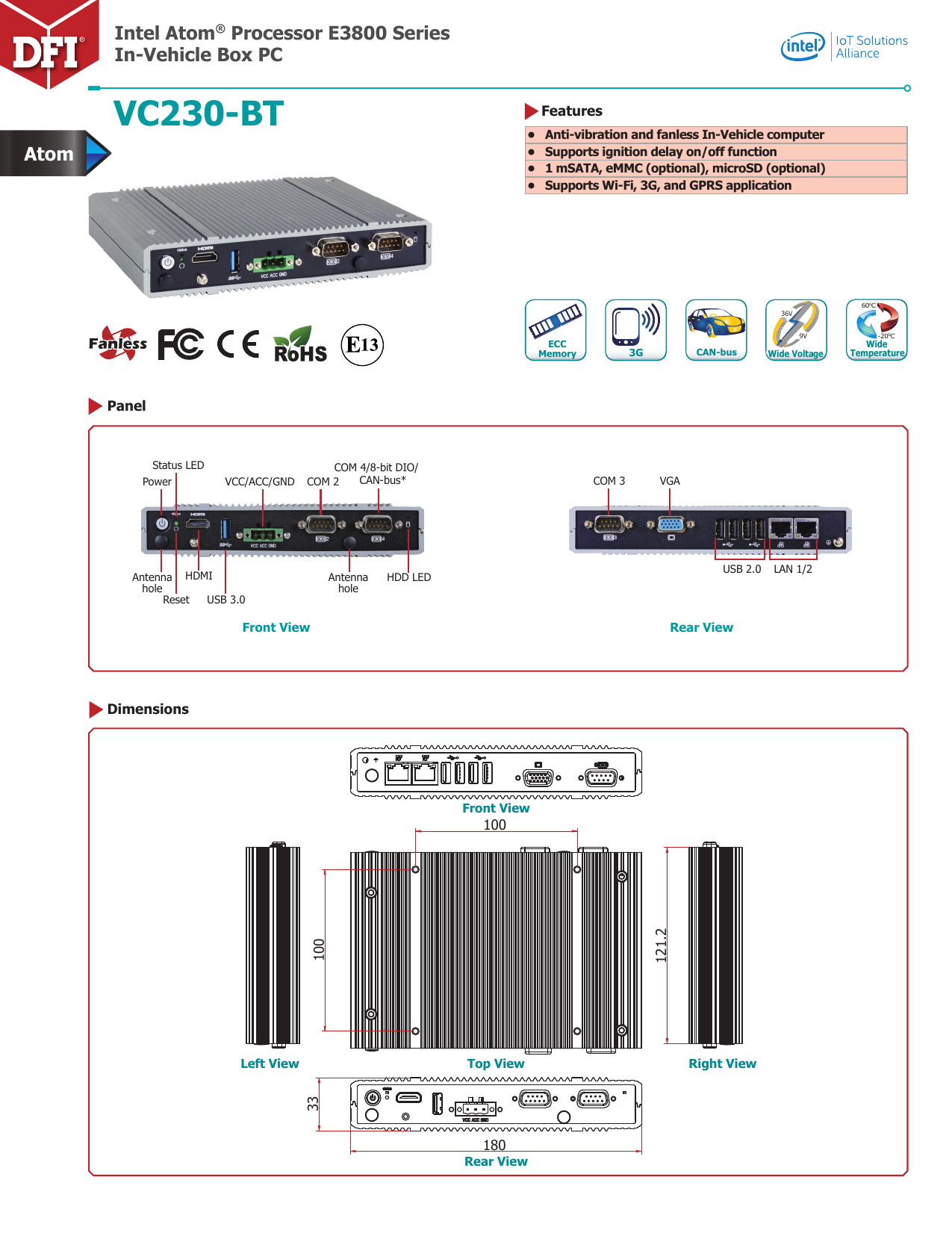 Intel Atom® Processor E3800 Series
In-Vehicle Box PC
VC230-BT
Features
•
•
•
•
Atom
Anti-vibration and fanless In-Vehicle computer
Supports ignition delay on/off function
1 mSATA, eMMC (optional), microSD (optional)
Supports Wi-Fi, 3G, and GPRS application
600C
36V
9V
ECC
Memory
CAN-bus
3G
Wide Voltage
Panel
Status LED
Power
VCC/ACC/GND
COM 4/8-bit DIO/
CAN-bus*
COM 2
Antenna HDMI
hole
Reset
USB 3.0
Antenna
hole
COM 3
VGA
USB 2.0
HDD LED
Rear View
Front View
Dimensions
Front View
100
121.2
100
Top View
33
Left View
180
Rear View
Right View
LAN 1/2
-200C
Wide
Temperature
VC230-BT
Specifications
SYSTEM
GRAPHICS
STORAGE
EXPANSION
ETHERNET
LED
FRONT I/O
REAR I/O
WATCHDOG TIMER
POWER
OS SUPPORT
MECHANISM
ENVIRONMENT
STANDARDS AND
CERTIFICATIONS
Processor
Intel Atom® Processor E3800 Series, BGA 1170
Intel Atom® E3845, Quad Core, 2M Cache, 1.91GHz, 10W
Intel Atom® E3825, Dual Core, 1M Cache, 1.33GHz, 6W
Memory
4GB/2GB ECC Memory Onboard
Single Channel DDR3L 1333MHz (-E45)
Single Channel DDR3L 1066MHz (-E25)
BIOS
AMI SPI 64Mbit
Controller
Intel® HD Graphics
Display
1 x VGA
HDMI: resolution up to 1920x1080 @ 60Hz
1 x HDMI
VGA: 24-bit, resolution up to 2560x1600 @ 60Hz
Dual Displays
VGA + HDMI
External/Internal
4GB/8GB/16GB/32GB eMMC Onboard (available upon request)
Interface
1 x Full-size Mini PCIe (PCIe/USB/3G/GPRS/CAN-Bus)
1 x Full-size Mini PCIe (SATA)
1 x Half-size Mini PCIe (PCIe/USB/LPC)
1 x SIM
1 x microSD (available upon request)
Controller
2 x Intel® I210AT PCIe (10/100/1000Mbps)
Indicators
1 x Status LED
1 x HDD LED
Serial
2 x RS-232/422/485 (DB-9) (one supports 8-bit DIO or CAN-Bus)
USB
1 x USB 3.0 (type A)
Display
1 x HDMI
Buttons
1 x Power Button
1 x Reset Button
Wi-Fi Antennas
2 x Wi-Fi Module Antenna Hole
Ethernet
2 x GbE (RJ-45)
Serial
1 x RS-232/422/485 (DB-9)
USB
4 x USB 2.0 (type A)
Display
1 x VGA
Audio
1 x Line-out (available upon request)
Wi-Fi Antennas
1 x Wi-Fi Module Antenna Hole
Output & Interval
System Reset, Programmable via Software from 1 to 255 Seconds
Type
Wide Range 9~36V
In-Vehicle Power Management Includes Ignition On/Off and System On/Off Delay Time Control
Connector
3-pin Terminal Block (VCC/ACC/GND)
Windows 7, WES 7, Windows 8, WES 8, Windows 8.1
Linux (Distribution available upon request)
Note: Windows 10 will be available upon request. Please contact DFI for more information.
Construction
Aluminum + Metal Aluminum
Mounting
Wall/VESA/DIN Rail Mount (available upon request)
Dimensions (W x H x D) 180mm x 33mm x 121.2mm (W x H x D)
Weight
800g
Operating Temperature -20 to 60°C
Storage Temperature
-40 to 85°C
Shock
Half Sine Wave 15G, 11ms, 3 Shock Per Axis
Vibration
MIL-STD 810G 514.5C-II
Certifications
CE, FCC Class A, RoHS, E-Mark (E13)
VC230-BT
Wall Mounting
Ø5.00
100.00
46.00
121.20
108.00
25.00 41.50
192.80
180.00
100.00
VESA Mounting
46.00
75.00
100.00
192.80
Ø5.00
DIN Rail Mounting
75.00
100.00
VC230-BT
Ordering Information
Model Name
Part Number
VC230-BT3051-252
750-EC7000-E00G
VC230-BT3051-454
750-EC7000-F00G
Description
Fanless, Intel Atom E3825, 2 LAN, 1 HDMI, 1 VGA, 3 COM, 5 USB, 2GB DDR3L
memory down, RoHS
Fanless, Intel Atom E3845, 2 LAN, 1 HDMI, 1 VGA, 3 COM, 5 USB, 4GB DDR3L
memory down, RoHS
Optional Items
Optional Items
Part Number
Description
mSATA
785-MS64GMF
mSATA Card, 64GB MLC, RoHS
785-MS32GMF
mSATA Card, 32GB MLC, RoHS
785-MS16GMF
mSATA Card, 16GB MLC, RoHS
785-MS08GMF
mSATA Card, 8GB MLC, RoHS
Wi-Fi
761-110091-000G
Wi-Fi kit, RoHS
Power Cord
785-PWRD
Power cord, Standards (USA/EUR/CH), 1.8m, RoHS
Power Adapter
671-106002-102G
60W, 12V/5A
671-106009-000G
60W, 19V/3.15A
Wall Mount
761-EC7000-000G
VC230-BT Wall Mount Kit, RoHS
VESA Mount
761-EC7000-100G
VC230-BT VESA Mount Kit, RoHS
785-XXX is a group number instead of a unique part number. Please contact your regional sales representative if you need more information.
Packing List
•
•
•
•
•
1 VC230-BT system unit
6 mounting screws for Mini PCIe module
1 3-pole female terminal block
1 Quick Installation Guide
1 CD disk includes:
- Drivers / Manual
www.dfi.com
DFI reserves the right to change the specifications at any time prior to the product's release. Changes thereafter will be based on the product's revision. Please contact your sales
representative for the exact revision offered in your area. All product names mentioned are trademarks of their respective companies. © June 21, 2019 DFI Inc.