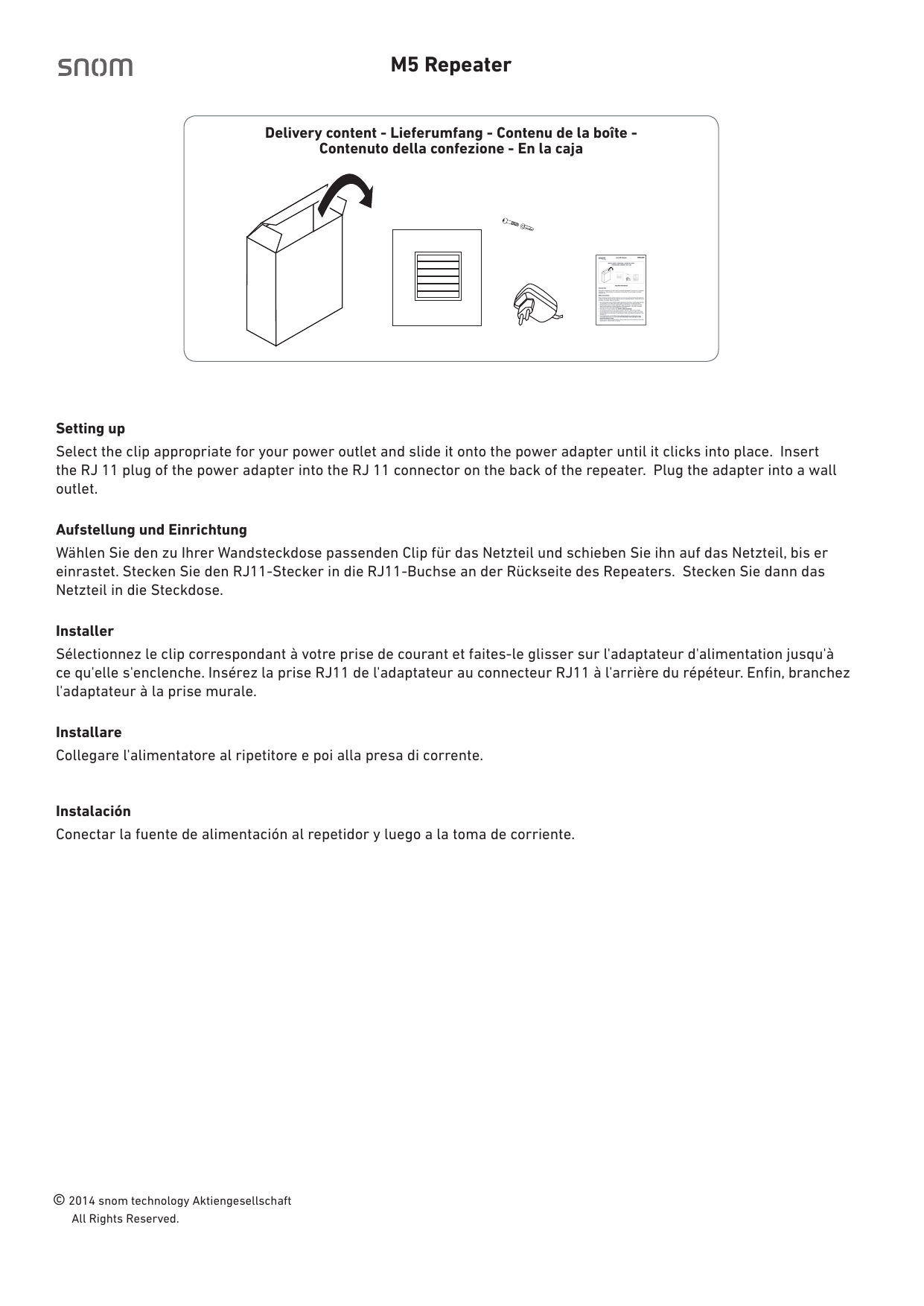 M5 Repeater
Delivery content - Lieferumfang - Contenu de la boîte Contenuto della confezione - En la caja
Setting up
Select the clip appropriate for your power outlet and slide it onto the power adapter until it clicks into place. Insert
the RJ 11 plug of the power adapter into the RJ 11 connector on the back of the repeater. Plug the adapter into a wall
outlet.
Aufstellung und Einrichtung
Wählen Sie den zu Ihrer Wandsteckdose passenden Clip für das Netzteil und schieben Sie ihn auf das Netzteil, bis er
einrastet. Stecken Sie den RJ11-Stecker in die RJ11-Buchse an der Rückseite des Repeaters. Stecken Sie dann das
Netzteil in die Steckdose.
Installer
Sélectionnez le clip correspondant à votre prise de courant et faites-le glisser sur l'adaptateur d'alimentation jusqu'à
ce qu'elle s'enclenche. Insérez la prise RJ11 de l'adaptateur au connecteur RJ11 à l'arrière du répéteur. Enfin, branchez
l'adaptateur à la prise murale.
Installare
Collegare l'alimentatore al ripetitore e poi alla presa di corrente.
Instalación
Conectar la fuente de alimentación al repetidor y luego a la toma de corriente.
© 2014 snom technology Aktiengesellschaft
All Rights Reserved.

* Your assessment is very important for improving the work of artificial intelligence, which forms the content of this project