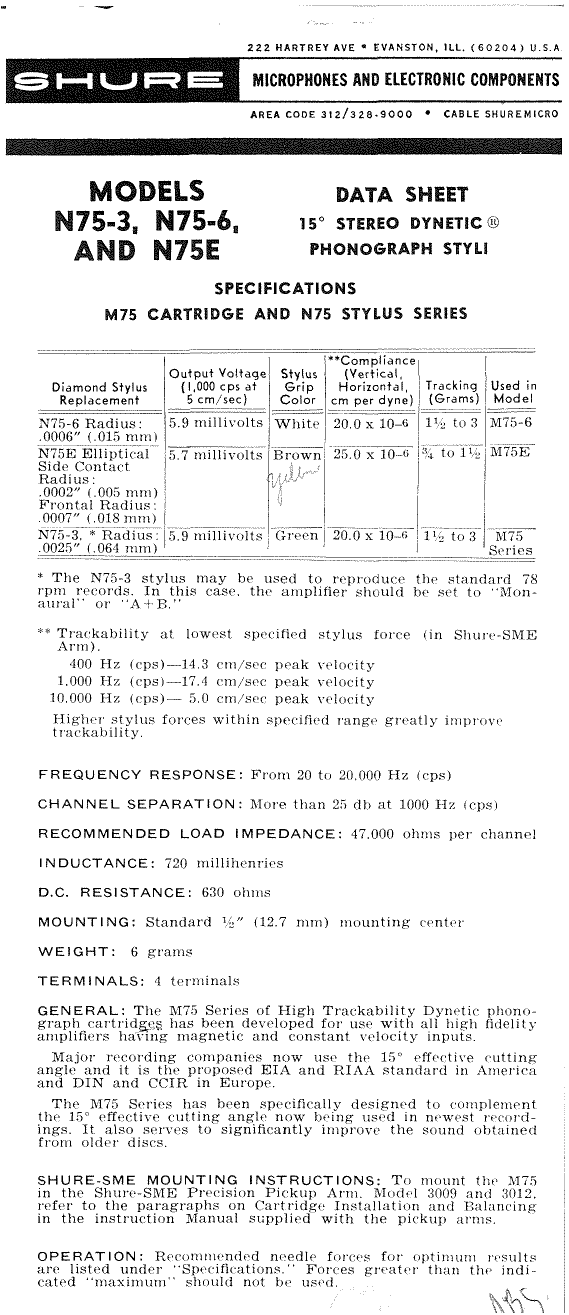 -
-
2 2 2 H A R T R E Y AVE
*
EVANSTON. ILL 1 6 0 2 0 4 )
AREA C O D E 3 1 2 / 3 2 8 . 9 0 0 0
MODELS
N75-3, N75-6,
AND N75E
U
5 R
CABLE S H U R E M I C R O
DATA SI4EET
150 STEREO DYNETIC
o
PHONOGRAPH STY LI
SPECIFICATIONS
M75 CARTRIDGE AND N75 STYLUS SERIES
*
T h e N75-3 s t y l u s m a y bc used t o r i ~ p ~ . o d u ctlic
t ~ st;rndarti 78
l'prrl r r c o r d s . I n t h i s cast,. thts a r l l p i l f i e ~slluulti
~
ht* 3c.t t o "Alon:tur;rlM o r " A - + R . "
F R E Q U E N C Y R E S P O N S E : Fro111 20 to 20 000 FI/ ( c p s )
C H A N N E L S E P A R A T I O N : nlole tt1:tn 25 d h :It 1000 I T / l r p s i
R E C O M M E N D E D L O A D I M P E D A N C E : 47000 ohrlis ])el ciiannrl
I N D U C T A N C E : 720 rnilliht~nrit~s
D.C.
R E S I S T A N C E : 630 ollnis
M O U N T I N G : Stantlard
WEIGHT:
'L"
(12 7 nrln) ~ l ~ i ~ ~ i n ct1ntt.r
ting
6 granis
T E R M I N A L S : 4 ti1111iin:rls
G E N E R A L : Tlrt, I1175 Si'rif7s o f FIig11 T r a c k a b i l i t y Dyntxtic. plionog r a p h cal'tl'idgc',q h a s betw tlevi.lop?ed f o r ~1st.wit11 all Iiigli fiilclity
arng1ifit.r~ l ~ : r v ~ n m
g a g n e t i c a n d constant vt.locity Inputs.
M:ijor recording ci)nip:inic~ n o w ust. tht, 15" t ~ f f ~ ~ c , t(.utting
irt
:rnglr :mri i t is tile. pl'011osc~I E I A anti RIA.?. st:intiarci in i\lne1.1c:t
: ~ n d D I N a n d CCIR in Erlsopc.
T l ~ c&I75 Scrit\s 11:is h e n spi.c~ific;llly ticsigncd t o i.or~iplenic-nt
1111. 15" c,fft,ctirc clitting a n g l e n o w bi~irrg1 i s t ~ I111 niswt>st l,i,(.i,r.clings. T t :tlso sor.vcls to significantly iniprovtx t h e soiind ol~l;iine(i
fl.on~o1tit.1. discs.
S H U R E - S M E M O U N T 1 N G I N S T R U C T I O N S : T o nrount tiits 117;
In t l ~ cS l i i i ~ ~ t ~ - S M
Prc>(.ision
E
Pic,kup A r m . XTodf~l3009 anti :ii?l2.
r.c,fiar to t l ~ nparagraptis o n Cnrtl'idgc, 111stnll:rtion :inti I::tl:~ncing
in t h e instruction 1Rianual supglicd w i t h t h e pickiip :il'nis.
OPERATION: ricc~~~r~tiit~n
11t.edlt>
c l t ~ d fijr.c.i,s fol. o j ~ t i n i i i n ~ v s i l l t s
; i r ~1istt.d undixr "Spt'c~ifi~~atit)nsS"
F o r c e s g r t ~ i t i . r th:m t i r ~ .i n d i c a t c d "~~i:rsir~lurn"
shi111lt1 not bt, i1st.d
;\A<\
i
CONNECTIONS
4 - L E A D S T E R E O C O N N E C T I O N : Connect "hot"
lead of r l g h t
channel to trrminal R" and shleld o r ground lead of right channel to terminal "RG " Connect ' hot" lead of left channrl to t e r ;
minal "L" a n d shield o r ground lead of l e f t channel t o 1.G
T o p r c ~ c n t " g ~ o u n d loops" a n d hum no corrrlnon connrctlon
should be used a t cartridge tcrmmnals
M O N A U R A L C O N N E C T I O N : F o r single channel reproduction of
Mona,ura? or Sterco recordings, connect "hot" lead to both "R"
and
I,
t c n n i n a l s a n d connivt ground o r shield lead to both
ground terminals markcd "RG" a n d "LC,."
C A U T I O N : Do not innkc solder csonnections to cartridge terlliin:tls.
Maki? all solder connections to tt,rniinal jacks provided bt.forc slipping them over the terminals.
If h u m is experienced when c a r t r i d g r i s inst:lllcd in a tliiltal
head, remove thc ground tab from the r i g h t ground terminal.
(See F i g u r e 1 )
GROUNDED
TO CASE
TERMINAL DIAGRAM
FIGURE I
STYLUS REPLACEMENT
REMPLAZO DE LA AGUJA
REMPLACER L'AIGUILLE
ERSATZ-ABTASTSTIFT-ElNSCHU B
FIGURE 2
EASY STYLUS REPLACEMENT
Grasp moldrd housing of stylus between thunth a n d forf,fingi,r.
Gently withdraw stylus b y pulling forward o u t of cartridge. Grasp
replacement stylus between thurnh a n d forefinger a n d insert i n t o
stylus socket. P r c s s stylus into socket until t h e molded houslng
of t h e stylus mates with the cartridge case. Care must be taken
not to allow the finger t o slip off the molded housing of tho
stylus, resulting in damage to t h e stylus tip o r shank.
S P E C I A L N O T E : The Dynetic s t y l u s asscmbiy uscd in thcsc c a r tridges is the niost critical component. T o rnaintain tirc original
pt!rformance standards of your cartridge, be certain th?t any r r p l a c e n ~ r n ts t y l ~ l syou b u y b r a r s t h e following certificat~onon thi.
package: "This Dynetic stylus is precision mannfaeturc,d by
Shnrc Brotlrers. Inc."
Avoid inferior imitations. They will seriously d r g r a d c tht, p e r formance of your cartridgr. All genuine "Dynetic" styli art'
manufactured b y Shurr! Brothcrs. Inc.
Guarantee
The Stixrco Dynrtic Cat'tritfgcs and Stci.eo Dyni.ti(, Styli arc.
g u a ~ . a n t r e dto bi, fri,r from t.lcctrica1 :rnd ~l~c('li:rnic:rl
d<~f'ccts
for.
i,nt3 yc:rr f~.otrit h e datix o f s h i p r r t c ~ ~fro111
t
t h e f a c t o ~ ' y .proritle(l
iill instructions at,<. co~tipliectwith fnlly. Thr. Gi~:rlantc~rtio(,s not
c ~ v ( s~t yr l u s wear. nor dot,; it cortXl.datllage t o tht. stylns asst,rlibly fro111 abusi, o r nrisl~andling.
Service Protection-Accidental
Damage
Stlure Dynrtic Styli will withstand long, continued iis:tgi>. IIowelsrr, if stylus a s s t m b l y should b r damagi-(1 dut. to accidental
mistlandling, and dialliond tip is still intact. return t h e styllis
asselr~bly to the factory f o r serricirig a n d testing to ol'igin:rl
pt>rfor.rn;tnce stanii:rr'ds :I! a nonlinal s e ~ ' ~ i c i x(~11:~t.g~~
01' $5.50
(N75,-3. N75-6) or $6.00 iN75Ei. Plc:xsc i~nclosts:I c t i i ~ l i f o ~ ,tilt.
~ ( ~ r v ~i.h:rrgf:
i.e
with the ~.etiirnt>d
:rssi~n~t)ly.)
R e t u r n Styl11s t o
ScrlILC Ui'p'll t l l l ~ l l t
StIURE RROTIIERS I N C
222 HL211TTIEY AVE:NUE
EVANSTON II,T,INOIS 60201
P A T E N T N O T I C E : Iv~:tnlifnctilrcd under I!. S. P a t r n t s 3.055.988.
3,077,521, a n d 3,077,522. Othcr patents prntiing.
Copyright 1966, Shurc Brothers, l n c .
27A329 (7-66)
q<-%,\
i,
"i
I'rinted in U.S.A.